Lark Pro Sleep Coach Monitor acts like your personal sleep coach that coaches based on your personal sleep habits and provides more insight into daily sleep pattern. Thus, it helps you to sleep better and wake up fresh with its intelligently designed silent alarm.
Sleep is one of the most vital things that you need to live healthy. Lack of it would make you insane, physically sick and you will not be able to function. Its direct effect would be on your performance that would diminish significantly. Therefore, you have to get good night's sleep to be able to live healthy and perform better.
You should be sleeping better before an encumbering activity, but how can you actually measure if you have a good sleep? Measuring your performance is easy by several means, but doing so with your sleep seems impossible. But now you have got a technology to let you monitor your sleep when your brain is by all purpose in the standby mode.
Lark Pro Sleep Coach Monitor is what you need. The device has got a charging base, wrist strap, sensor and the iOS applications. It has to be charged almost every day to ensure that the battery works efficiently and doesn't go to rest in the mid of your sleep cycle. A small LED is provided that changes color from red to green when fully charged.
The device provides your complete sleep stats on iPad, iPhone or iPod. You can see how much sleep you are getting, time spent on the bed while waiting for sleep and how many times you woke up from your sleep. The device is intelligent and also keeps a record of your progress over time. With the data, you can tag factors hindering your sleep and then compare to conclude all those factors affecting your sleep. So, you have got a good chance to improve your daily sleep pattern and awake fresh in the morning.
Lark Pro is your personal sleep coach that provides you with an effective sleep assessment, and personalized feedback. It gives important tips on improving your sleep on the basis of your unique sleep habits.
Its silent alarm is the wonderful feature that you can make good use of in the morning for waking up without disturbing your partner. You can set the alarm on your iPad, iPod or iPhone, and the alarm sensor of your Lark Pro Sleep Coach Monitor would vibrate to wake you up silently. The silent alarm is technologically smart as it has been designed by some of the renowned sleep experts for wake up that feels you woke up without any external factor, naturally yourself. It vibrates gently, reducing the heart rate variability and stress – basic factors that give a groggy feeling in the morning. Thus, it helps you sleep better and wake up fresh.
Buy Lark Pro Sleep Coach Monitor
Some important features: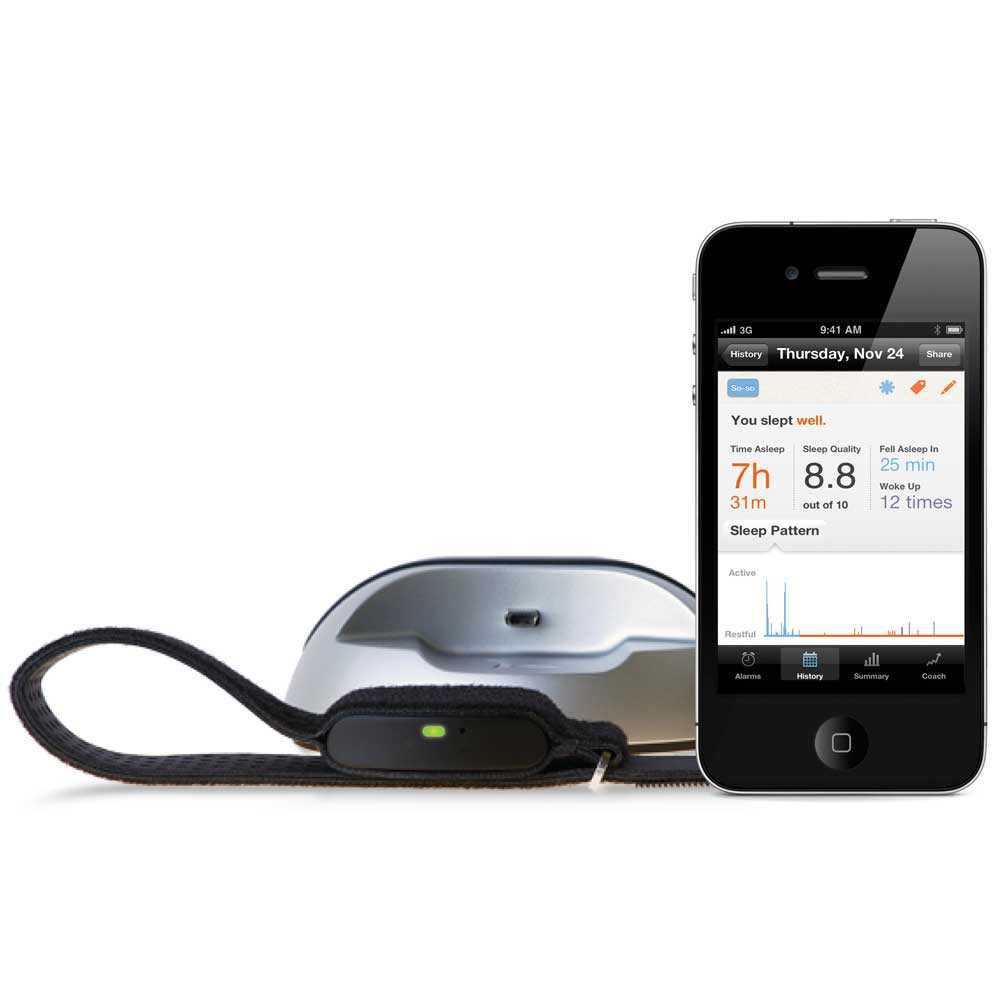 You can transform your iPod, iPad or iPhone into your personal sleep coach with this device by Lark, which is one of a kind sleep coach and silent alarm.
The device uses year long award winning personal sleep coach program to help you sleep better
With the LARK UP mobile app and personal online dashboard, you get a good coach based on your unique sleep habits
Its nighttime wristband is to nudge you awake silently
Tells you how to sleep better, and how well you slept
Cons:
Although the device is designed to be your personal coach with its app, but the app would not provide you enough information on your sleep patterns unless you happen to invest in the Pro version that costs $59/year. Also, it is compatible only with the iPhone, iPad and iPod, and that too should be 3rd generation and beyond.
The micro-USB port is also a concern for being at an awkward angle that makes it difficult to dock the gadget.
The verdict:
Undoubtedly, Lark Pro Sleep Coach Monitor helps to improve your sleep by providing insight into your daily sleep habits. While it tells how much time you took to fall asleep, it also reveals how many times you woke up during the night. With the app, you get complete information. But, the choice of device is perfect if you own any of the Apple devices of third generation or above. Also, it makes a great choice if you are ready to spend a few dollars on purchasing the Pro version of the app. With an average rating of 6 out of 10, it raises some concerns too.
Do you feel what other users feel about the product is same like you do? Share your opinion to let others know more about this product.
Buy Lark Pro Sleep Coach Monitor