When we talk about Shahid Kapoor, the first thing that attracts Shahid Kapoor's hairstyles. Why do girls love Shahid Kapoor's hair looks? The major reason behind it is that women find him cute, attractive, and almost like a chocolatey boy whom every woman would just wish to fall in love with.
Besides having an attractive personality, he has a perfect physique that adds to his manliness. The most appealing element that most women fall for in him is his hairstyle. No matter what hairstyle he carries at a specific moment, every hairstyle seems to suit him well and enhance his personality.
Some websites claim that Shahid Kapoor's face shape is square, but it is actually oval, as evident from his fit and lean facial features.
How to Get Hair Like Shahid Kapoor?
You can follow Shahid Kapoor's hair care routine to achieve the desired results.
Here are some tips to follow Shahid Kapoor hair care routine:
Grow your hair longer on top and sides. Shahid typically sports longer hair on top of his head and medium to long-length hair on the sides and back. Let your hair grow out for at least 3-4 months to achieve a similar length and style.

Get regular trims. While growing your hair longer, get trims every 4-6 weeks to trim split ends and shape your hair. Shahid's hairstyle looks untidy yet stylish, so ask your barber to just do light shaping and not cut too much length.

Style your hair messy and tousled. Shahid's hair often looks casually messy and tousled. To get this style, apply a matte pomade or wax and run your fingers through the hair to mess it up and give it a stylishly unkempt look. Make sure to not over style it – it should still look natural.

Experiment with different parts. Shahid is seen sporting side parts, and center parts as well as without any distinct parts. Try different parts to find what flatters your face shape the best. A deep side part can make a long face appear more oval while a center part is more symmetrical.

Get subtle highlights (optional). Shahid's natural hair color is black but he often gets subtle highlights and lowlights in shades of brown to add dimension and texture to his hairstyle. Subtle highlighting is optional but can enhance the hairstyle.

Use a mild shampoo and conditioner. To maintain hair health and natural oils, use a mild shampoo and conditioner. Shampoo 2-3 times a week or as needed based on how oily your scalp is. Limit the use of heat styling which can damage hair.

Consider hair supplements (optional). For some added hair nutrition, you can take supplements like biotin, fish oil, or a multivitamin to promote hair growth and health. This step is optional but may be helpful for some.
Since we are talking so much about his hair so let us have a look the pics have best Shahid Kapoor's hairstyles in 2023:
Farzi Hairstyle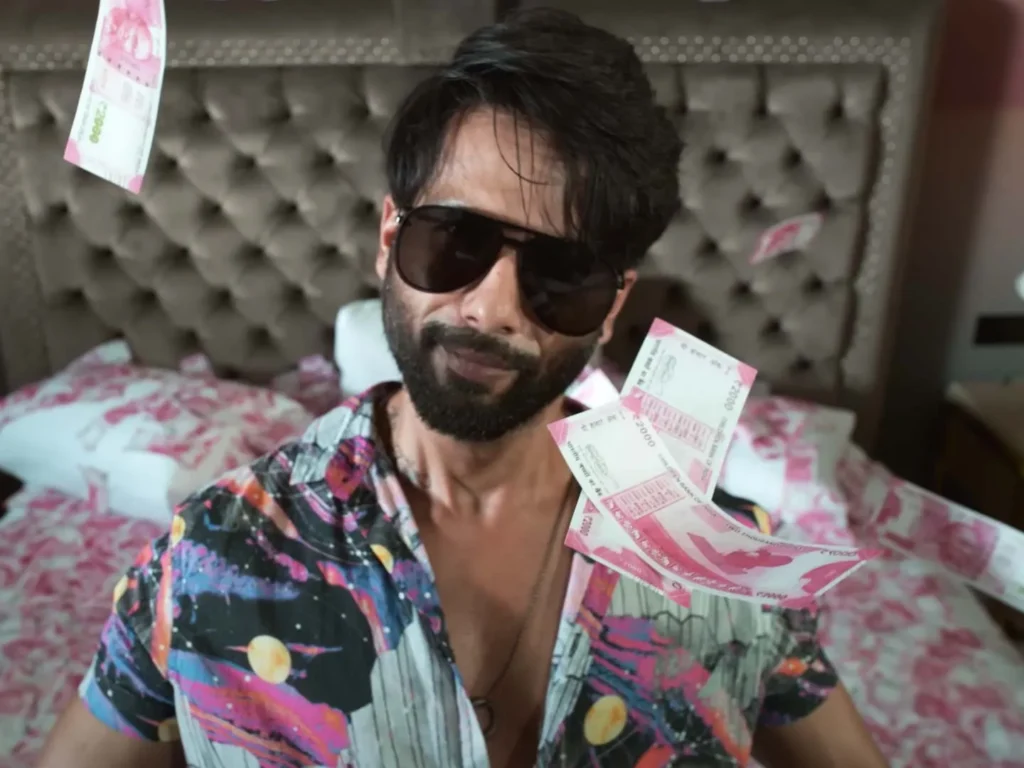 Bearded and Ruffled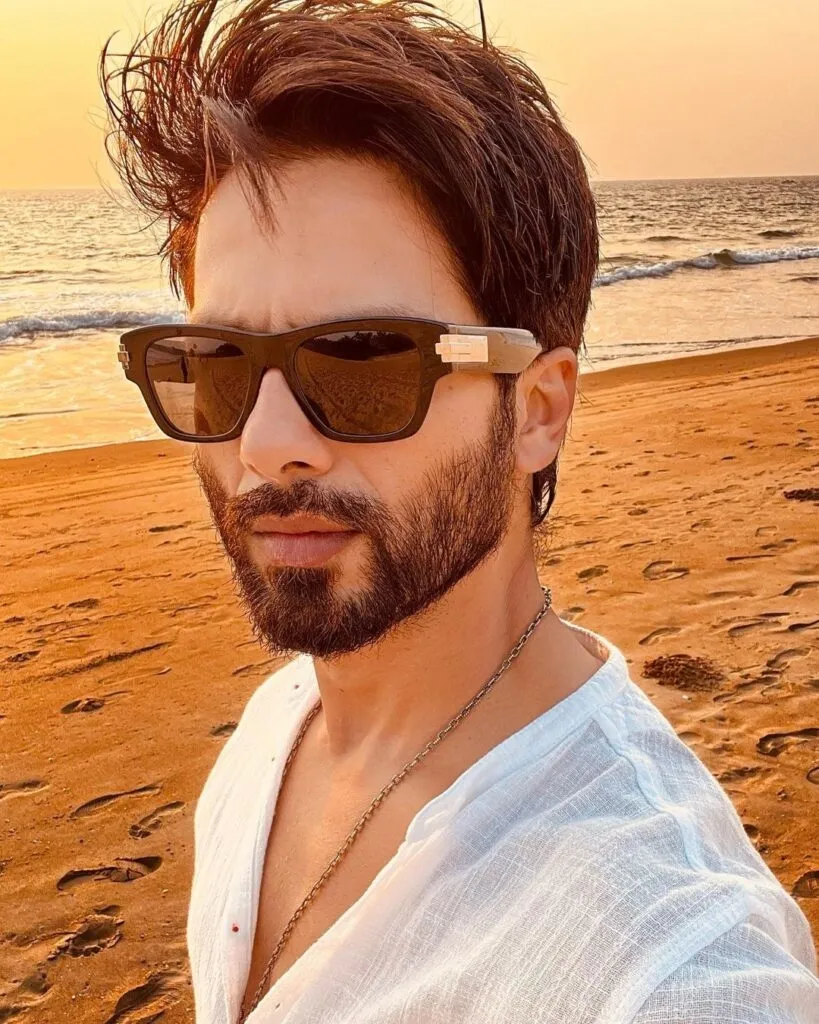 With a thick beard and mustache covering his lower jaw, Shahid just gives the feel of a perfect macho man that is just too manly for any girl, but his real manliness is portrayed by the hairstyle he had adopted in this picture. He has placed all his hair in one particular direction and this hairstyle gives one a classy and manly look. It suits well if one has spectacles too.
2. Medium Undercut
If you'll compare both the above pictures, most of you will say that there is not much difference in both. But the reality is that there is a huge difference. In the first pic, Shahid has combed all his hair in one direction whereas in this one he has balanced his hair equally on both sides. Shahid Kapoor's short hairstyle can be adopted for a casual look and is suitable for short hair.
3. The Short Bangs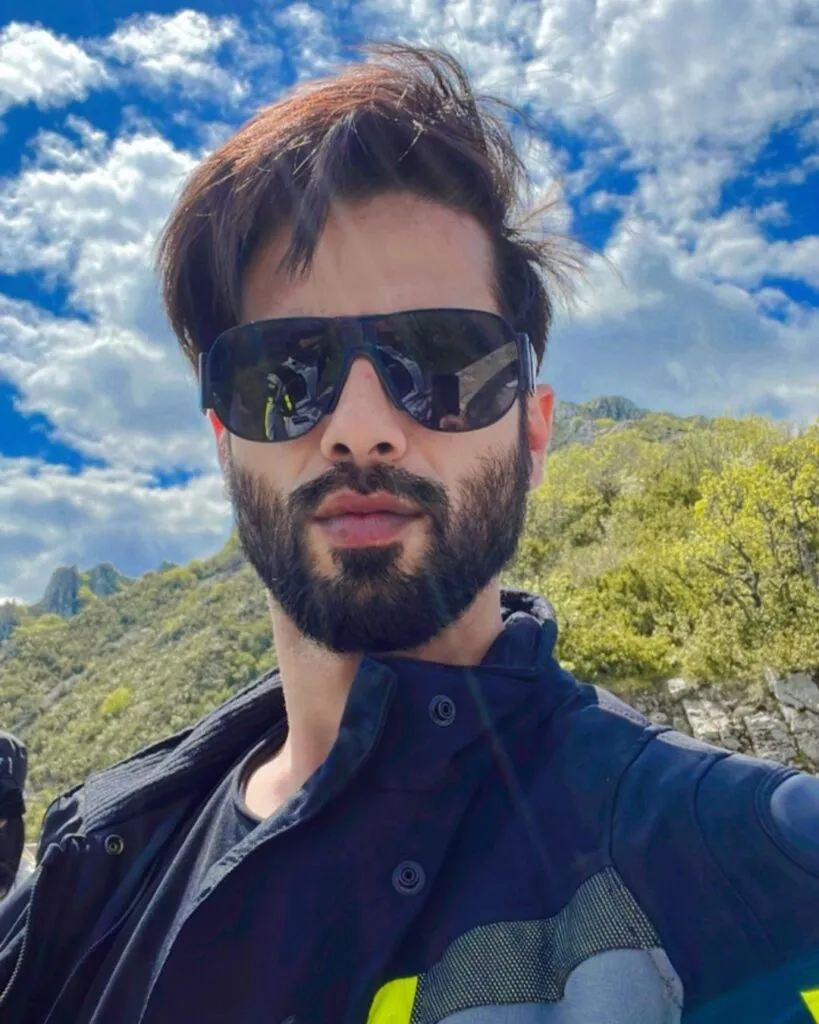 Many men try to imitate this hairstyle but fail to achieve authentic Shahid Kapoor hairstyles. This is a very Shahid Kapoor new look hairstyle that has been recently adopted in one of the sets of his film. It just makes him look chubby, cute, and adorable.
This hairstyle accompanied with a little beard can just make any woman fall for your looks. The little hair strands falling on his forehead adds on to his cuteness in a very flawless manner.
4. Straight Long
Long hair is something that the majority of men urge, but such hair does not fit every guy. It only suits the personality and appearance of a few men, such as Shahid Kapoor.
His long hair strands look prettier than the hair of a lady. Cute guys often adopt this hairstyle just to resemble a little bit of our 'adorable Shahid Kapoor.' Not only women but men too like this hairstyle of Shahid Kapoor.
5. The Pompadour
In this Shahid Kapoor hairstyle pic, he has styled a pompadour. He perfectly balanced his look with hair at the top. Go shorter on the sides and leave a layered length at the top, and set your hair with hair gel.
Define the individual pieces, and you will have the perfect Pompadour.
Recommended Post
6. The Straight Shag
It is a part of Shahid Kapoor's hairstyle in 2021. The cool and casual haircut name Straight Shag was worn by him in R. Rajkumar. The messy look with a rough beard suited the love-stricken character. This haircut involves medium-length hair with long hair at the front and medium layers at the back so start growing your hair. Then, tousle your hair for the out–of–the–bed look.
7. The Man Bun
This Shahid Kapoor hairstyle's name itself tells about the manly style. With a perfect attitude and right beard, he made all the girls swoon. It is a bold style to flaunt, but Shahid does it like a cakewalk. Grow your hair at the top with keeping hair at the sides and back short. Tie a top knot and rock the bun with confidence.
8. Shaggy Medium Length Hair
The effortless, messy hairstyle worn by Kabir Singh resonates with lazy guys who don't want to spend extra hours styling their hair. Shahid 'Kabir Singh long hair' look dashing in this out-of-the-bed-look. A ruffled volume hairstyle, make sure to keep away from the trimmer or razor—glorious hair and a stache complement the hair.
Recommended Post
9. The Short Spikes
Shahid Kapoor's Hairstyle short proves that you need not run behind trends. Short Spikes make a great summer hairstyle. A perfect summer hairstyle, all you need to style this hairstyle is some hair wax or hair gel.
10. Worn Down Undercut Hairstyle of Shahid Kapoor
Shahid Kapoor's new hair looks sports an undercut with hair left down rather than standing up. Creating this controlled, messy look is difficult. Accompanied by a thin beard style makes him look adorable. He was seen in this hairstyle in the movie Shandaar. A simple experiment with the fade haircut and sides worked wonders for him.
11. The Buzz Cut
Shahid Kapoor's new hairstyle, buzz-cut for his role in Haider had been appreciated by his fans a lot. Well, we must say the role he portrayed was perfect for such a type of haircutting. This haircut showed the depth of his role and how far he is willing to go for the role. Moreover, his outfit in the movie also went well with his hairstyle.
Recommended Post
12. The Tommy Singh Hairstyle
Shahid Kapoor's latest hairstyle is long and disheveled, a perfect hairstyle for a rock star. This Gabru hairstyle from the movie inspired many to grow their hair. Shahid was seen wearing many hairstyles during the promotions of this film; a benefit of having long hair is that it can be styled in many ways with varying lengths.
13. Bald Look
Shahid Kapoor shaved his head for Haider. It showed his commitment to delivering perfection. The Bald look makes him look chubby and serious. After all, he had to gain considerable weight for playing this character.
14. Navy Cut Look
Shahid Kapoor styled this sleek dapper short hair for the movie Mausam. He made our heartthrob in those black shades and the military uniform. Whether long or short, Shahid can carry any hairstyle like a Pro. His face looks small due to this hairstyle.
15. Crew Cut Hairstyle
This is the hairstyle that can make every girl crazy about Shahid Kapoor. His crew-cut hairstyle perfectly enhanced his jawline and hairline. Shahid has a sharp cut, and haircuts like these show his face cut dashingly. He looks macho in every hairdo, but this hairstyle makes him look very handsome.
16. Side Parted Quiff hairstyle
Shahid Kapoor's side look gives voluminous hair, as seen in his pictures. This side-parted quiff hairstyle really accentuated his shiny and voluminous hair. All the attention is shifted to his face now because of his unique hairstyle. It's a great look for formal events like award shows.
Shahid Kapoor Back Hairstyles
Shahid Kapoor from the back, he is often seen with his hair styled in a sleek and straight manner, or tied back into a ponytail or bun.
Long, Sleek, and Straight Hairstyle
Shahid Kapoor's padmavat hairstyle got set as per demand of his role. He had sported a traditional Rajput hairstyle in the movie, which was a long, sleek, and straight hairdo with a center parting. This rajputi hair was tied back into a low ponytail with a golden hair accessory.
Shahid Kapoor hairstyle in Kismat Connection
In the 2008 romantic comedy film "Kismat Konnection," Shahid Kapoor sported a short and spiky hairstyle. His hair was cut short on the sides and back, while the hair on the top was left longer and styled into short spikes. The hair was styled using a hair gel or wax to give it hold and texture having professional haircut.
Shahid Kapoor Ponytail Haircut
Shahid Kapoor has been seen sporting a ponytail haircut on several occasions. The ponytail haircut is a simple and classic hairstyle, which is really famous among rockstars that role he had played in Udta Punjab.
148 Images of Shahid Kapoor's Hairstyles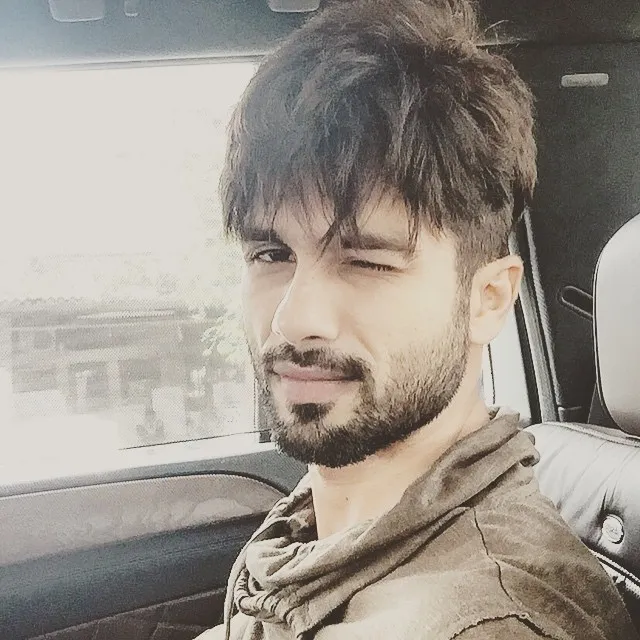 Now, friends, how much would you like to rate Shahid's hairstyle out of 10? Please comment below and also mention the hairstyle that you love the most in the post. If you are a Shahid Kapoor fan, then do like and share this post.