'Suicide' the word is enough to give you chills to your bones. The tragic meaning behind the word and the pain before and after is something that spooks us all to the core. The silent cries of the person before the act and the loud cries of the loved ones after the act is the real essence of the word suicide. It becomes way more shocking when your favorite celebrity from the film industry take this path.
Let's not deny it; we all think that being an actor or actress means living in heaven! However, it's completely opposite. Under all those luxury, glitz and glamour filled world of theirs, there lies a scary and painful life, which remains hidden from the common people.
You must have even heard your favorite celebrities confess how much they wish to live like ordinary people. At such time, we feel like they are joking but it's not so. Being a celebrity isn't that easy my friend! The mistake we do is we think that these celebrities aren't normal like us.
The recent suicide case of 'Pratyusha Banerjee' of 'BalikaVadhu' has just revealed that the stardom life we all admire isn't that pretty and glamorous as we assume. The famed serial actress's body was found hanging from the ceiling fan of her room. The real reason that is being considered at the moment is her relationship problems with her boyfriend Rahul Raj Singh.
However she isn't the only one, there are many others who had taken the path of suicide in order to relieve themselves of all the problems.
Must Read
Here take a look at the life of such actors and actresses:
Naga Jhansi

:

Well known Television actress Naga Jhansi committed suicide a her Sri Sai Apartment in Arinagar colony, Hyderabad on Tuesday.

It was her brother, Durga Prasad who rang her door bell. When she didn't respond for quite long time, then he broke the door and found her hanging from the ceiling. He immediately informed the police.

Sources have confirmed that the girl was in love with a boy Surya. They wanted to tie the knot. But Surya's parents were against the marriage and thus the boy refused. He was also distancing himself from Naga and this was what made her upset. And may be that's why she took this extreme step. Naga's parents have also confirmed the same.

Post this incident the boy is absconding and the police is conducting search for the boy.

Jiah Khan

: She was a jolly and a bubbly actress who is famed for her acting in the movies Ghajni, Nishabd and Her body was found hanging from the ceiling fan of her room by her mother and sister. The actress was going through depression and believed that she was failing at everything.
Nafisa Joseph

: The former Miss India and TV actress hanged herself in her house few years ago. Her suicide was more shocking because her wedding was just weeks away. She took the drastic step when she learned that her husband-to-be was married although he claimed that he had divorced two years back.
Manmohan Desai

: A producer and director of Indian movies, Manmohan Desai committed suicide by jumping from his balcony in 1994. The great movies likeAmar Akbar Anthonyand Dharam Veer were his creations. The reason for his suicide was career failure.
Silk Smitha: She was the south Indian sex symbol in her days. She committed suicide by hanging herself in her house. The reason for her suicide mentioned in her suicide note is her constant failure in her acting career.
Viveka Babaji

: The beautiful model who is famed for her Kamasutra ad,committed suicide in the year 2010. She hanged herself from the ceiling fan. Career Failure and relationship problems were cited as reasons for her suicide.
Kunal Singh: He was best known for his role in the movie Dil Hi Dil Mein. Kunal Singh committed suicide by hanging himself. Although, he was doing well in his career but his strained relationship with his spouse and the fact that he couldn't meet his children were the reasons for his suicide.
Kuljeet Randhawa: She was a popular supermodel and a TV actress who committed suicide by hanging herself. Her suicide letter stated that she was unable to cope with the pressures of life.
Guru Dutt

: The actor was found dead in his house. His death was due to lethal combination of sleeping pills combined with liquor. It is believed that relationship problems with his wife, Geeta Dutt and problems with his girlfriend Waheeda Rehman led to his death.
Divya Bharti

: She died at the starting point of her acting career at the mere age of 19 years. She died after falling from the window of 5th However, it is still not clear whether she died due to suicide or it was an accident. But most people believe that she died due to heart break.
These are only few names among many. As I was researching about the celebrities mentioned in the above list, I learned that the most of them had taken the choice of suicide because of career failure, relationship problems and depression.
However, these aren't the only reasons for suicide.
Celebrities attempted for suicide and later recovered successfullyt
WHAT ARE REASONS FOR SUICIDE FOR ACTORS AND ACTRESSES?
Generally, people in the acting world, kill themselves, for the following reasons.
They are depressed and stressed with their lives

:
Most of the actors and actresses kill themselves, because of depression. The constant pressure of giving their best, the paparazzi pressure, financial problems, maintaining good relationship with everyone in life causes stress. Their main fear is of defamation. Defamation not only ruins their career but also hampers their personal life. Nowadays, depression arises from relationship problems, career problems etc. A love failure or a career failure can lead not only an actor but even a normal person to go into a state of severe depression. A state of severe depression ultimately forces a person to take the step of suicide.
They turn to more and more alcohol consumption or drug intake to cope up with their day to day stresses:
Acting career isn't an easy one because it demands a lot of hard work and dedication. The actors and actresses, who are fully devoted to their movies, do not even get enough time to spend with their family and friends. Most of their time is spent on shooting sets where they are constantly under the pressure of their directors. At the end of their shootings, they have to battle with the crazy paparazzi. All the limelight and expectations drives the actor or actress towards alcohols and take drugs to relieve themselves from the huge stress. A little depression can turn into a severe depression once the person gets into a state of drunkenness. In such situations, sometimes these people turn to suicide since they are not in the right mind.
They have a motive of hurting others by hurting themselves: Some actors and actresses who commit suicide don't really have the motive of committing suicide. However, their main motive is to alert others that they are in some huge problem or otherwise the person they wish to hurt is the reason for their pain. They have this thought in mind that terrifying those people will aid him or her in solving the problem he or she is facing. This type of situation is mostly found in relationship problems. The person simply wishes to hurt the ones who are the reasons for the problem in his or her relationship by killing herself or himself. However, in most of the cases, they never wish to die, but to simply hurt.
Leakage of personal information to the media: Actors and actresses are always under the eagle eyes of the paparazzi. The paparazzi sometimes can be completely inhuman and do things that can ruin someone's life. In order to gain some steamy news and information about the most talked about actors and actresses they try to steal their personal stuff. Leakage of sex video clippings, information of their involvement in some illegal stuff or personal text messagescauses huge scandals. Sometimes, these actors and actresses' careers are ruined due to such things. They even get jailed. Once such thing happen in someone life, it becomes very difficult to get out of that.
Scandalous rumors: One thing that almost every person in the acting world has to face is scandalous rumors. The media people have a very clever way of portraying their relationship or friendship with other celebrities. The steamy and catchy words that they use to indicate a simple friendship or acquaintance with other celebrities give a complete different meaning to the reality. For example, maybe the truth is that a male actor is a best friend to another female actor but the media will portray it as if they are in an affair, sparking rumors and talks. Most of the experienced actors and actresses ignore such things, but sometimes, these small rumors turn into a huge scandal which ruins their career life and also sometimes personal life leading to huge severe depression.
There are some other reasons for suicide as well such as mental illness, psychosis, accidental suicide etc but the above reasons are the ones which mainly force a celeb to commit suicide.
The one who suicides, has to suffer only till death but the ones who love him or her which he or she was unaware of are the ones to really suffer. Their decision of ending their life causes his or her lovers to live in sadness and guilt all their life.
Notable personalities who killed themselves, follow the list here
HOW CAN SUICIDE BE PREVENTED?
If you ever get suicidal thoughts, you should seek for immediate help and assistance. No, it's not absurd, it's actually completely normal. There are many people around who are always ready to help you out. Here are few things you need to consider before you take the drastic step.
Stop believing that you are the only one to suffer in the world

:You need to know that you are not the only one who is suffering in this world. There is a solution to every problem. You should start believing that you can go through this. Statistically, there is a good chance that you will live. Don't lose hope, there is always a way out of every problem.
Give yourself some time to think: Distance yourself from everything for some time. Don't rush to commit the mistake. Give yourself some time to think and rethink the solution to the problem. Stop all your thoughts about killing yourself. There are many reasons to live than one reason to die.
Sleeping does help! :Getting some sleep and stopping all your thoughts about the bad things in your life can also help you a lot.
Try to stay away from the deadly objects:When your mind is fogged with suicidal thoughts avoid yourself from going near harmful objects.
You can't get peace by suicide:People often turn to suicide because they wish to seek relief from the pain they are going through. However, relief is a feeling, it can be felt only when you are alive.You are really can't get the peace you desire for desperately after you die.
Understand the fears of your loved ones: When you go to people seeking for help they might react badly to your suicidal feelings. This may happen because they are frightened, or angry. By doing so they may actually increase your pain instead of helping you.However, their true intentions are not so. Their fright or anger may cause them to say or do things that will cause harm to you or your feelings but you need to understand that their reactions are not against you but for you. Their concern and care for you causes them to react badly. This proves how much they love you and they don't wish to lose you.
Seek for help:If even these don't help you, then there are many helplines where you can seek for help. They won't judge you, argue with you, or send you to hospital. They will simply talk to you so that you can tell them what you are going through. They will listen and also give your proper guidance and suggestions so that you don't have to take that path.
Celebrities who beat depression and suicidal thoughts successfully.
Top 10 Countries, famous for bad reason, highest suicide rate: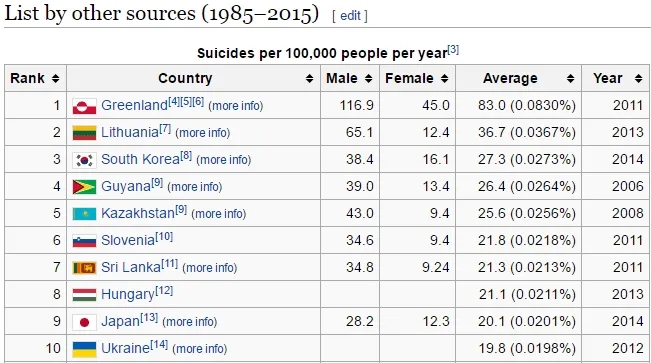 Source Wiki
If you find someone who is getting suicidal thoughts, here are few things you can do to help them out:-
Try to

talk

:It's more aching to learn that someone close to you is having suicidal thoughts in his or her mind. They won't come up to you and say you all the things openly but at least they might try to hint you sometimes knowingly and sometime unknowingly. When this happens, you must try to talk to them about the problems and help the find solution if you can.
Listen and understand their problems: Try to connect to such person, be close to them. Try listening to them speak about their problems and understand their problems. Generally when people are in pain and depression they confess their problems easily. Although, if someone doesn't you must try to get closer to them and try to converse with them more. Let them know that you are there to help them and care for them.
Take help from professionals: You should seek for professional help like doctors, if you get to know that things are going out of hand.
Take them seriously even though you feel they won't do anything:Don't let the person feel as if you don't care for them. Avoid saying "you will get out of it" or "things will get better". These things make them feel as if you don't care about him or her. You should rather be serious about it and say "Are you planning to kill yourself? How you plan to do so?"saying these things may sound weirdbut it makes the person feel better as he or she realizes that you are serious about him or her.
Gather more information about their plans:If you get to know that the person is really serious about committing suicide and also has a plan of doing so, try to get to know how is she or he going to do so. Ask them the method they are opting to kill themselves, and if things turn serious, you will thus know how to stop them for doing it.
Ask for help if needed:Don't try to do the things all alone, if you feel like you need someone else's help you should seek for help from other friends. Helping a suicidal friend get out of suicidal thoughts is also quite depressing. Even I have been through that so I know. So in such time, you can talk to someone else who can give you some ideas. I generally talk to elders when I get into such situation and honestly their suggestions do help.Is some facing depression or need prevention from Suicidal thoughts, in any country in the world. Call to the hotlines number given in this list
Thus, the main thing is suicide is a very common phenomenon nowadays and you should not take the matter too lightly. The problem of depression can happen to anyone no matter whether he or she is a common person or a celebrity. In such situation, instead of ignoring the whole thing or calling it 'attention seeking drama or publicity stunt', we should rather try to help the person because by saving someone from committing suicide we are actually doing a heroic job.