Weight loss is one big challenge for fitness freaks across the globe , but those exotic diet plans are difficult to follow. I bring you today an Indian balanced diet chart for weight loss which will not be difficult to follow and will alter your eating habits positively.
It is better to have homemade meal than outside even if they claim it to be fatless. If you are going for a party it is better not to go empty stomach.
Let us discuss in detail Indian diet plan for weight loss which can be followed for a month:
Here I am presenting a vegetarian diet chart for weight loss. This chart will provide you with around 1200 calories a day and also cover all basic nutrition required by the body. You can change your food plan every week with a similar diet, if you get bored with your regular diet food.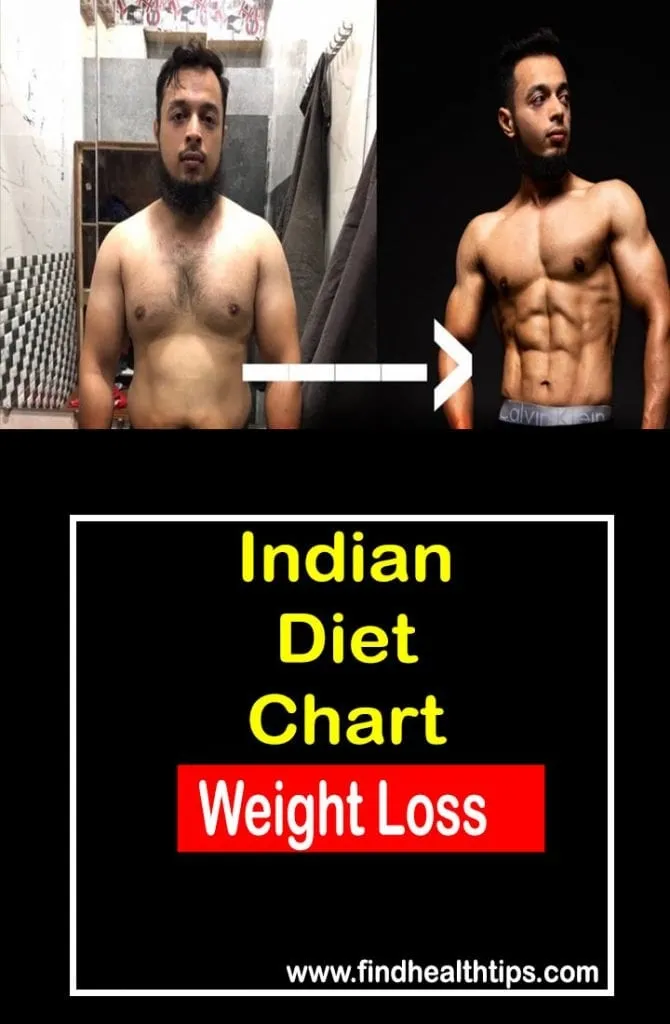 After waking up
In our Indian diet chart for weight loss it is very important what you have immediately after waking up.
You can start with a glass of warm water.
It can be followed by a glass of ajwain water or lemon water with honey.
Both of them are excellent for enhancing metabolism.
Breakfast
Start with some soaked nuts.
You can take a bowl of poha or millet upma.
You can also take 2 pieces of palak rawa chilla or 2 pieces of idly with sambhar.
If you want to take uncooked food a bowl of sprout salad will work for you.
You can take green tea or herbal tea which are quite beneficial.
If you are in habit of taking tea or coffee, do not take it more than one cup and avoid sugar.
Mid morning
This meal though ignored is very important in our balanced diet chart for weight loss.
You can eat a bowl full of papaya or pomegranate or watermelon.
It is good to take seasonal fruits which are grown locally.
You should avoid grapes and other high sugar content fruits.
Lunch
Start with a salad which can include cucumber, lettuce, tomato, chinese cabbage, onion , coriander leaves etc.
Avoid any kind of processed salad dressings available in market.
In lunch you can take 2 tawa rotis or 1 paratha or 1 bajra roti or 1 bowl of rice.
Add big bowl of vegetables like spinach, pumpkin, carrot or any other seasonal vegetables cooked preferably on desi ghee or less oil.
You can also add one bowl of dal or soya beans or lentils along with it. A small bowl of raita can also be taken.
Recommended Post
Evening snacks
One cup of green tea or milk tea with not more than 1 tsp sugar .
You can take small bowl of roasted grams or makhana or puffed rice or 6 to 7 almonds.
Dinner
Early dinner is preferable in our Indian diet chart for weight loss.
By 7pm to 7:30 pm one can start. Take a small bowl of salad, a bowl of khichdi or a bowl of vegetable dalia .
You can also take one roti of made up of jowar, bajra or ragi .
Include a bowl of dal with it.
It is best to avoid sweets as they are high in calories but if you get craving for sweets or you are a sweet tooth
You can take 1 tilgul or a small piece of jaggery.
It is good to compliment your diet plan with some exercises. Do follow this balanced diet chart for weight loss in an Indian style for one month and see wonderful results.