As they say, it's written in the stars. So, let's ask the stars. Every zodiac signs have it's won personality traits but you must remember that not all of them are highly compatible in nature. But that doesn't mean that if you are having some serious differences in your relationship, then you should throw your hand up in the air and say "This is not working". Give it some time and patience. And work hard on the relationship. Every relationship goes through a rough patch every now and then and thus you should work hard on the same. Things don't come out easily and love does not at all.
Plus, every zodiac signs personality is different from one another. Some of the zodiac signs like to stay aloof whereas some of them are highly social. Some are too focused on their work whereas some of the zodiac signs personality is day dreaming.
So, let's have a look at individual zodiac signs, understand their personality traits and then we will have a look at their compatibility signs and also what zodiac signs will work for them and whatnot.
1.

Aries (March 21 – April 19)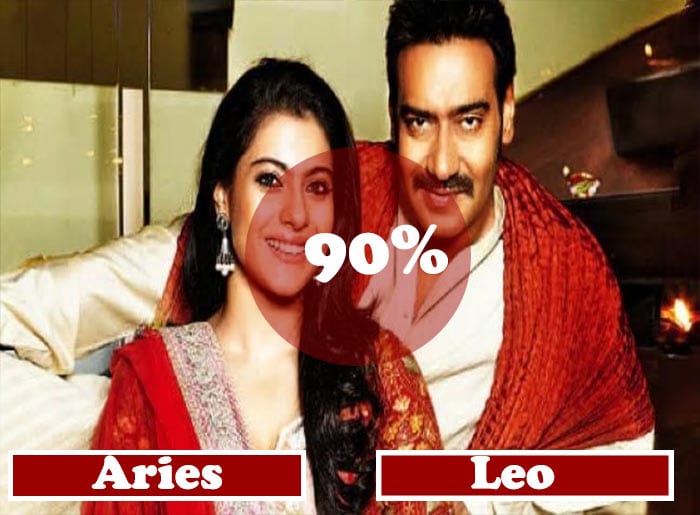 Aries is a very strong and dominant zodiac sign. They love to control and dominate surroundings. They are an excellent boss and one of the best zodiac signs in terms of taking risk and braving. They are a quite strong personality and pretty blunt.
Bluntness is one of the major character of Aries which is not like by many star signs. Zodiac signs like Taurus, cancer, Virgo and Capricorn find Aries very restless and impatient. Even other star signs like Cancer, Scorpio, Pisces will find Aries quite pushy, reckless and rude.
Aries compatible signs are - Gemini, Leo, Sagittarius, and Aquarius
Celebrity couple – Ajay Devgan & Kajol – Two of the biggest 90s superstar who are in a married relationship since more than 15 years. Their marriage is rock steady which is extremely unusual in Bollywood. Both of them belong to Aries and Leo which is an extremely passionate relationship. Leo women is attracted to Aries man's assertiveness and Aries man is attracted to Leo women's glamour and confidence.
2.

Taurus (April 20 – May 20)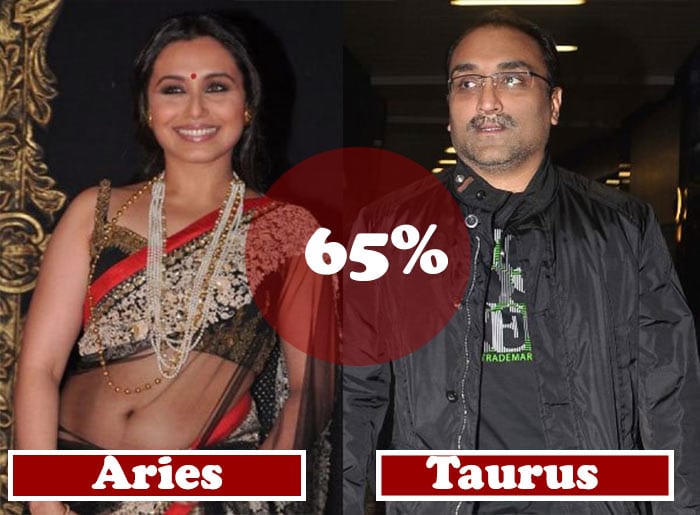 Taurus is one of the zodiac signs who are extremely sensual and kind of romantic in their relationships. Taurus people are known to be extremely practical and reliable. But they are very good in their relationships because they respect the relationship and want to give their full inputs into that.
If you looking to date or impress a Taurus person then make sure that you are not Aries, Gemini, Scorpio, Sagittarius or even Aquarius.
So, the Taurus best compatibility is with Cancer, Virgo, Capricorn and Pisces.
Celebrity Couple – Rani Mukherji & Aditya Chopra – Aries and Taurus are into an extremely strong relationship. They have a common love and interest for creativity and both of them share a casual attitude towards money, fame and power.
3.

Gemini (May 21 – June 20)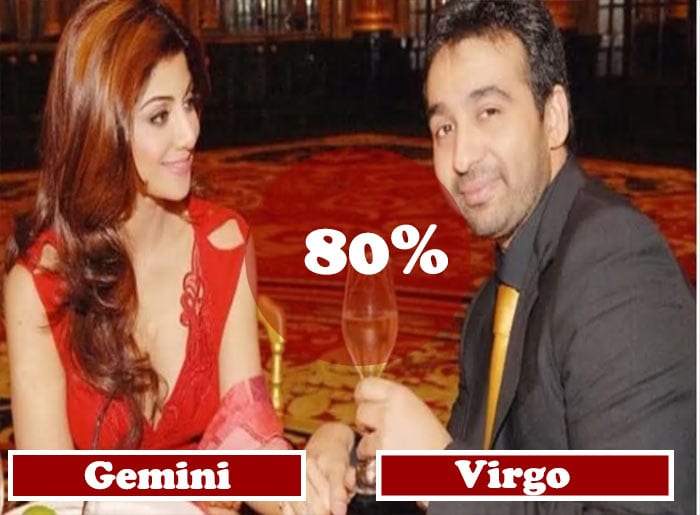 Gemini people are the one who is always looking out for a good time. They are mostly into making adventures and thus they are always on the lookout for some of the other planning for their next trip. Taurus, cancer, Virgo, and Capricorn will try to maintain a distance from Gemini but it's
Sagittarius will come closer to Gemini and love to spend some quality time with the person. Gemini is compatible with Aries, Leo, Libra, and Aquarius.
Celebrity Couple – Shilpa Shetty and Raj Kundra – This amazing power couple have a zodiac sign of Gemini and Virgo respectively. Both of them have amazing chemistry and their marital life will be a sure shot bliss going forward. They are known to be extremely aspirational when it comes to career but at the same time both of them are quite grounded when it comes to family values.
4.

Cancer (June 21 – July 22)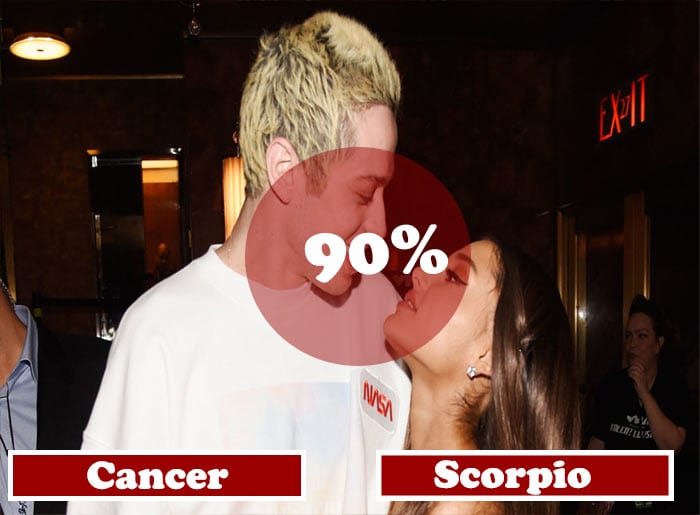 Cancer people are extremely sensitive and emotional. They are extremely attached to their relationships and their partner. Cancer people tend to feel protected and loved when they have an issue especially a relationship crisis. cancer people are also highly creative and they tend to show their creative side even on their relationships and on their partners too.
when it comes to cancer best computability then the best suited zodiac signs are Scorpio, Taurus, Virgo, and Pisces. With Scorpio, it has infinite compatibility - these are the people who love to be protected by the cancers. Scorpio's infinite energy and the protective side will help cancer to flourish in the relationship. This will also make sure that cancer gets the love and depth in the relationship which he wants from Scorpio.
Celebrity Couple – Ariana Grande and Pete Davidson – Cancer and Scorpio, astrological predictability shows that their relationship is truly epic. They are characterized with matching tattoos, surprise engagements and likewise. both of them have infinite energy for one another which makes their relationship strong.
5.

Leo (July 23- August 22)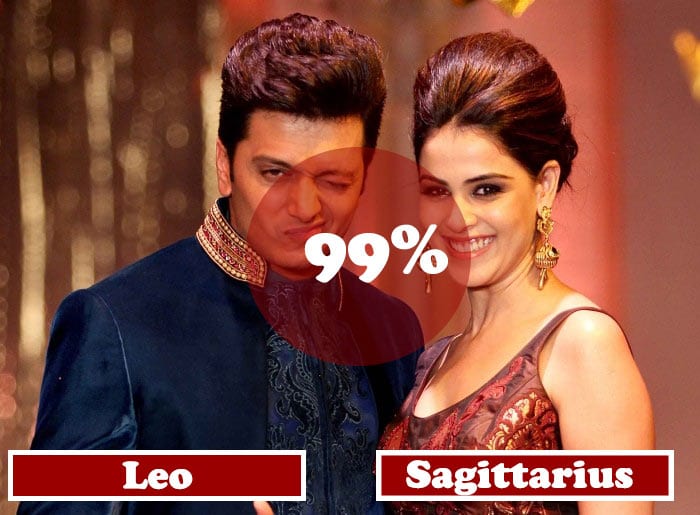 Leo people are known to be extremely responsible and emotional in their life. They are also known to be one of the best when it comes to family and personal relationships. They tend to give a lot of weightage and value to their family. Leo people are extremely sensible and they tend to provide extra time and weightage to their emotions.
Aquarius is just opposite to Leo and thus they are placed in the relationship cycle. Both of them are quite contrary to each other.
Aries, Gemini, Libra and Sagittarius are some the most trustworthy signs for Leo. When it comes to Leo best computability, then Aries and Sagittarius are highly trustworthy.
Celebrity Couple – Ritiesh Deshmukh and Genelia D'souza – Both of them are fire signs, an extremely favorable relationship. Sagittarius man is a philosophical person whereas Leo women is a sun disposition. Both of them are kind spirits and thus in a happy relationship.
6.

Virgo (August 23 – September 22)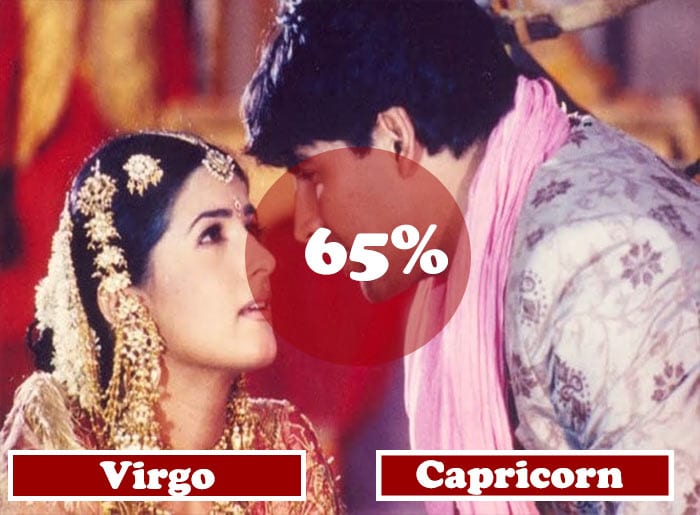 People say that Scorpio is always well-loved. But when it comes to Virgo then this can be difficult. This is because Virgo is known to be serious and well balanced. They are the ones who like to invest completely in whatever they are doing. Zodiac signs like Aries, Leo, Gemini, Cancer could find Virgo extremely difficult to please.
And the best part is that Virgos are actually not liked by Virgo because they think that the two are quite boring and thus best to be ignored. So, Scorpio, Taurus, Cancer, and Capricorn can be the virgo best compatibility sign.
Celebrity couple – Akshay Kumar and Twinkle Khanna – This Virgo and capricon relationship is a very hard working and extremely practical relationship. They appreciate and admire each other and thus they are in perfect conduct. Both of them are extremely career oriented.
7.

Libra (September 23 – October 22)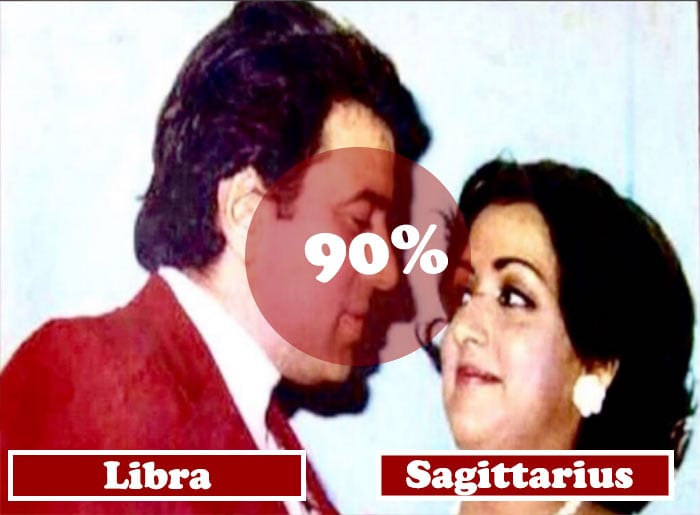 Libras are known to be extremely loyal. But they are difficult to please. They are one of the most intellectual zodiac signs. Libra love being in the relationships and they will do what they think should be done at that point of time.
Libra best combability sign is with Aquarius and other stars sign who can please libra are Gemini, Leo, and Sagittarius are known to be one of the best signs when it comes to individual traits.
Some signs such as Capricorn might think that libra people are too far distant. Or they are into making conservations. And that is true because pleasing libra is not easy.
Celebrity Couple – Hema and Dharmendra – Libra women respect honesty and idealism which are ideally found in a Sagittarius man. She enjoys partying and socializing but needs to stay grounded with her mental beliefs.
8.

Scorpio (October 23 – November 22)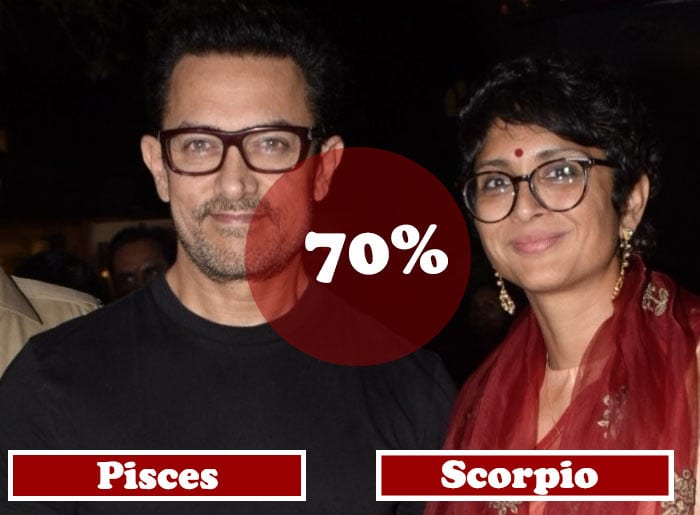 Scorpio people are known to be extremely emotional and volatile at the same time. Their emotions are running quite strongly in their veins almost all the time. That is the reason they intend to put pieces together and thus look at the larger picture.
Scorpio is an extremely loyal person. Also, when it comes to relationships then Scorpio demands some extra time. They will look much beyond that what you actually tell them and they will not trust you also easily. Scorpio zodiac sign is known to read between the words and thus they are trustworthy but once when they believe you absolutely and that will take some time.
Scorpios are also quite bold, courageous, stubborn and mysterious and too direct. Scorpio is a water sign and thus they are quite compatible with other water signs like Pisces and cancer. Some other earth signs like Capricorn and virgo also perform well with scorpio best compatibility. Cancer and scorpio have a great relationship together. They are quite contrasting to each other and both of them balance each other's negative and positive points.
When you want to ask that what zodiac signs go well with each other in terms of Scorpio then the best zodiac signs are – Leo, Libra, Aries, and Aquarius. These zodiac signs are quite compatible with each other and they are extremely good when it comes to sharing a similar wavelength.
Celebrity Couple – Aamir Khan and Kiran Rao – Their match is a genuine and perfect match which is because both of them are water signs. Pisces man finds Scorpio women extremely passionate and thus interesting. Physical relationship-wise also, both of them are extremely strong and steady.
9.

Sagittarius (November 23 – December 21)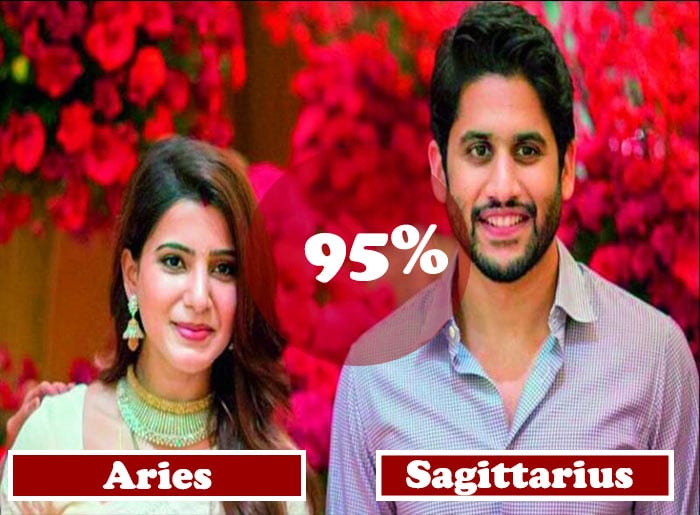 Sagittarius is known for their search for knowledge. They are known to be extremely knowledgeable and are constantly living in the quest for getting their knowledge level satisfied. Sagittarius is also known to be quite brave and they also take up challenging work against each other. They complete the challenging work with such ease that many star signs will not be able to do in such a manner.
Sagittarius are great admirers of freedom and they believe that staying free will help to get the best out of their own self.
Can you believe that Sagittarius and Sagittarius are the strongest zodiac matches? Both of them bring unique amount of positivity and optimism which is totally not to be ignored. Also, both of them are one of the strongest zodiac signs personality and it seems like they are perfectly made for each other. The other signs with most compatability with Sagittarius are - Aries, Leo, Libra and Aquarius.
Celebrity Couple – Samantha Akkineni and Naga Chaitanya – This is again a match made in heaven, Aries and Sagittarius. Both of them are quite strong and positive which is what attracts them towards each other. They are one of the strongest zodiac signs. Both of them enjoy freedom and thus love to give space to each other.
10.

Capricorn (December 22 – January 19)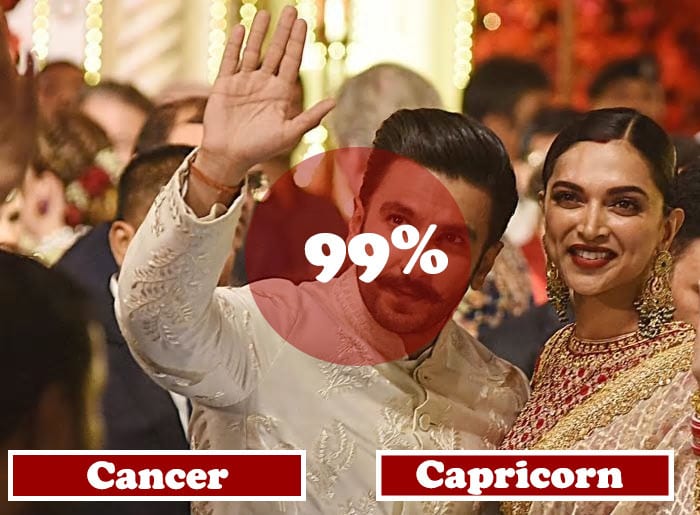 Capricorns are quite serious and often misunderstood, very few people get along with Capricorn and thus they understand the true nature of Capricorn. If you want to look for the perfect life partner or soul mate for Capricorn then ignore zodiac signs like Aries, Gemini, Leo, Sagittarius or Aquarius.
When it comes to love relationships then Capricorns are not that dreamy romantic partners. They are known to be a private person and thus they keep their relationship inside them only. They are quite less spoken and reserved when it comes to relationships. Cancer is one of the strongest signs when it comes to Capricorn best compatibility. Both of them are known to take their relationship quite seriously and cancer is the emotional one here. And the emotional content softens Capricorn and thus they are into the relationship. And cancer gets the commitment and sincerity they want from Capricorns.
Celebrity Couple – Deepika Padukone and Ranveer Singh – This is a match of cancer man and Capricorn women. Cancer man is extremely home bound whereas Capricorn women is a career oriented. The man here is extremely emotional but the women is practical yet has a romantic and caring side.
11.

Aquarius (January 20 – February 19)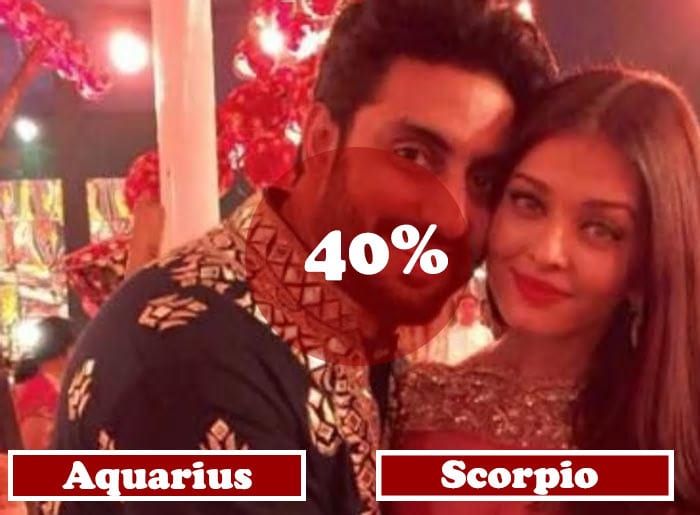 Aquarius rule different sides of unexpected and unconventional characters and rules of life. They are not known to go by the flow and thus these Aquarians are quite happy go lucky in life. They make up their own set of rules and love to live by those rules only.
They are highly independent in nature and no doubt they are extremely intelligent. But they are not the ones whom you can pin down with societal pressure or with conventional norms. They are quite adventurous and love to take challenges and go daring when it comes to society and family.
Now, when it comes to what zodiac signs go well together with Aquarius then the answer is Gemini, Libra, and Aquarius himself. They understand each other and are quite well adapted with each other.
Celebrity Couple – Abhishek Bachchan and Aishwarya Rai Bachchan – This is an Aquarius and Scorpio relationship which is an indeed power relationship. This compatibility can be challenging at times but extremely rewarding too. But both of them have a stubborn side which can even end their relationship.
12.

Pisces (February 20 – March 20)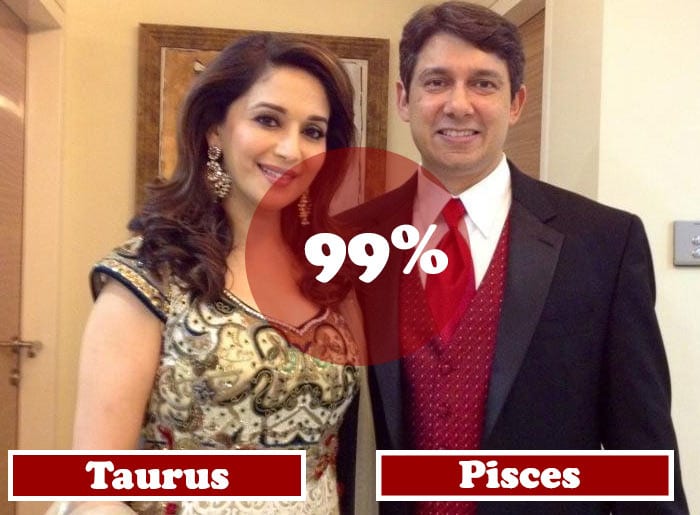 You have an extremely gentle and affectionate nature when you are the one who belongs to Pisces zodiac sign. Pisces people are mostly very well behaved, and soft spoken to the core. They are extremely friendly and romantic and are known to make everyone quite comfortable with each other. But you must remember that Pisces people can be quite needy and jealous at the same time too.
When it comes to Pisces compatibility then some of the strongest zodiac matches are Taurus, cancer, Scorpio and Capricorn. These are the answers to what zodiac signs go well together.
And when it comes to which zodiac signs don't go well with Pisces then the answer is Gemini and Sagittarius.
Sensitive and compassionate signs are known to go well together and thus the above-mentioned signs go well with Pisces.
Celebrity Couple – Madhuri Dixit and Sri Ram Madhav Nene – Taurus and Pisces, both of them are again very strong individually and they are known to be a steady strong relationship. They are quite well spoken and extremely romantic in each other's company.