Do you like to keep yourself healthy and fit? Do you live a healthy life and take extra precaution while buying food or supplements? Do you keep a check on your personal hygiene?
If your answer is yes then think again. Personal hygiene involves taking care of every part of the body but can you reach the inaccessible parts of it like ears. No, you have to rush to a doctor every time you feel pain, irritation or discomfort in your ears.
In the age of earphones, everybody likes to put them on for listening to their favorite music or to chat with others. It gives you freedom from holding the handset all the time which is good to some extent but this device can be the potential cause of the bacterial infection and the risk increases if you share your earphone with others.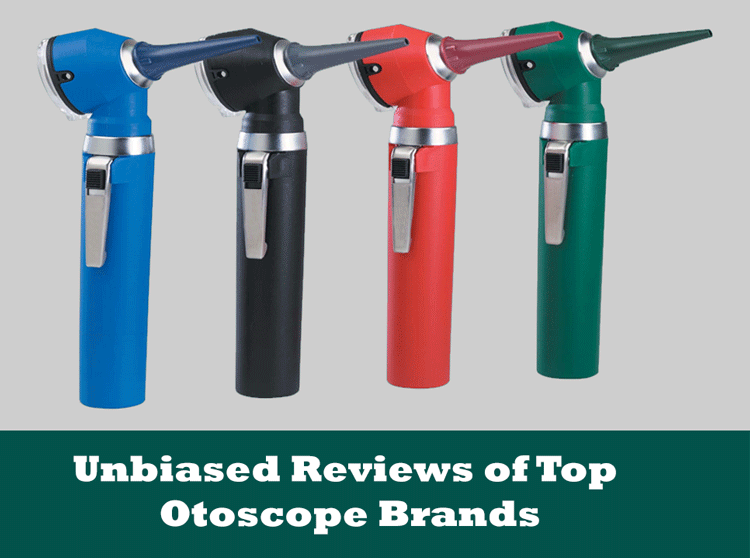 Besides this risk of bacterial infection, other ear problems like the foul odor, discharge, swelling, and reddening of the ear canal, tenderness, pain, and itching can be caused with the prolonged used of headphones.
If you like to take proactive steps for your health then you must buy an otoscope for your ears. An otoscope is a device to examine the inside of the ear to find any symptoms of infection or discharge.
You must not take your ear health for granted because this organ not just serves the purpose of hearing but it primarily balances our whole body.
Now if you want to shop for a good quality otoscope than we have listed here some of the top brands available in the market. You can read our previous posts on Otoscope products review if you need more details on this.
Welch Allyn Otoscope with Specula
This otoscope is manufactured by Welch Allyn, a trusted name in medical diagnosis devices, patient monitoring system and mini precision lamps since 1915.
Consumer rating: 5 stars
Review source: Amazon
Features
Halogen HPX illumination and fiber optics for easy examination
Thirty percent more light for true tissue color
Comes with cool light at distal tip for better illumination
Superior views with no obstruction or reflection
Wide angle viewing lens for accurate diagnosis
Drawbacks
Doesn't come with universal fitting system
Expensive
CLICK HERE TO CHECK REVIEWS AND MORE INFORMATION
Welch Allyn PocketScope Otoscope
This otoscope and throat illuminator is a compact and convenient device to examine ear and throat regions for any symptoms.
Consumer rating: 5 stars
Review source: Amazon
Features
Small, convenient and easy to use
Bright halogen light for long lasting illumination
Shows true tissue color
The otoscope head can be detached to use it as throat illuminator or penlight
Provide cool light through fiber optic for no reflection and obstruction
Wide angle lens for more surface coverage and magnification
Sealed system for pneumatic otoscopy
Drawbacks
Output may not match the results obtained from a professional device
High price
CLICK HERE TO CHECK REVIEWS AND MORE INFORMATION
Welch Allyn Otoscope/Ophthalmoscope Set
This set consists of two ophthalmoscopes and an otoscope along with a case and two handles. This product is very cost effective for professionals as it comes from a very good brand at such an affordable price. Many users loved the product for its good value and quality.
Consumer rating: 4.6 stars
Review source: Amazon
Features
Allows good views with halogen lights
Designed to use as a home diagnostic tool
Easy to use with AA batteries
Small and convenient to use
Good quality product and carrying case
Works perfectly
Drawback
Not study as the professional ones
CLICK HERE TO CHECK REVIEWS AND MORE INFORMATION
Welch Allyn 2.5v PocketScope Set
This set from Welch Allyn consists of an ophthalmoscope, an otoscope and an adjustable rheostat in a soft case. Users have appreciated its battery operated feature as they don't need to search for a charging unit anymore. Moreover, its small and easy to use design has also won many hearts.
Consumer rating: 5 stars
Review source: Amazon
Features:
Great product at an affordable price
Small and easy to carry
Great product for home use
Bright white light for clear assessment
Light weight and tuck into your pocket very well
AA Battery powered
You can choose from hard and soft cover
Drawbacks
Battery drains out quickly
CLICK HERE TO CHECK REVIEWS AND MORE INFORMATION
4th Generation Dr. Mom LED Otoscope
Although Dr. Mom is a small company yet it has made a niche for itself in patient monitoring devices. It provides medical diagnostic tools at affordable prices to med students as well as to non-med people like parents who want to keep a hygiene check of their kids. It is a good bargain for a home diagnostic tool but professionals advise to go for WA products as those provide better illumination for examination.
Consumer rating: 4.6
Review source: Amazon
Features:
Comes with 2 sizes of disposable specula
Large diameter speculum for adults and small diameter speculum is for infants and children
Very affordable price
Blue LED light
Drawback
It has blue tint which makes the color seem flattered
Observer is unable to distinguish between an abnormal TM and infected ear under the bright LED light
CLICK HERE TO CHECK REVIEWS AND MORE INFORMATION
Synamed USA otoscope set ent instruments
This premium quality diagnostic set consists of one handle, 3 ear specula, 1 nasal adapter, 1 head lens wheel 2 extra free bulb at an affordable price. Synamed is a reliable American brand in the field of medical diagnostic tools and this set will be a good addition to our home diagnostic tools if you purchase it.
Consumer rating: 4.6
Features
It contains almost all required item for ear examination
Extra bulbs make it long lasting
Other features are similar to its other counter parts
Come with a carrying case
Battery operated
Drawbacks
No drawbacks are reported by any customer yet.
CLICK HERE TO CHECK REVIEWS AND MORE INFORMATION
PRO-Fiber Optic L.E.D. Otoscope
RA Bock diagnostic brought you a handy home diagnostic tool for all your ear examination needs. This otoscope is first LED fiber optic otoscope and comes with an adult and pediatric disposable spatula.
Consumer rating: 4 stars
Review source: Amazon
Features
LED fiber optic light source
Energy efficient and durable
LED bulb is shock resistant and sturdy
Full spectrum white light for illumination
Battery operated
Comes with disposable spatula
Gives perfect view of internal ear
Drawbacks
Some users reported about its thin and fragile plastic is used and also complained that its lens holder splits open into pieces. Most of the reviews are in positive and satisfied with the result.
CLICK HERE TO CHECK REVIEWS AND MORE INFORMATION