Handheld Massagers Reviews

Muscle aches and cramps are a common problem these days. Even the kids also sometimes suffer from muscle cramps. So having a handheld massager at your home handy will be of a great help. You can also carry it in your bag pack if you feel so. It relieves you of the chronic pain that sometimes become unbearable for you. These are electronic devices that vibrate and massage the area you want. You don't need the help of any physiotherapist to give you a massage; the massager will do it all for you.
Top 10 Handheld Massagers
Here in this list you will find top 10 handheld massagers given with its pros and cons for every product. This article will help you while you go to select the most convenient handheld massagers for the daily purpose.
Panasonic EV2510K Handheld Massager (Black)
This handheld massager vibrates and gives you all the comfort from all sorts of pain, be it on the shoulders, on your back or on the arms and legs. It comes with rollers that vibrates and rolls all over the body.
Pros:
It gives you three different kinds of massages with its massage rollers, wide surface and Point Massager.
It gives you an excellent acupressure massage on your shoulders.
It comes with a 2 years warranty period so if you feel like exchanging the product you can do it within the warranty period.
It has three treatment surfaces for massaging different areas of the muscle cramps in your body.
The Point massager cures stiffness on your shoulders and complications like frozen shoulder.
It can be used by your own. You don't really need anybody helping you.
It has an elbow angled devise made that can reach the areas which lets access to the areas where normally you can reach your hands.
Cons:
It is heavy almost weighs 1 kilos.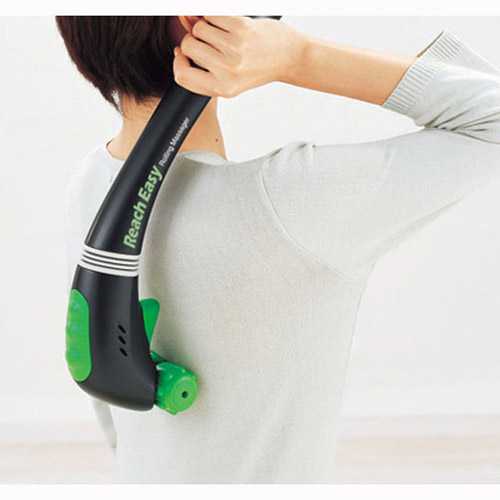 Buy Panasonic EV2510K Handheld Massager
Philips HP3616 Massager
Now this massager will not vibrate. Instead it will emit infrared rays to help you cure those joints and muscle pains. It relieves you from the pain of arthritis. It is of great importance to red rid of pains in those areas of the body where you cannot put hot water for the therapy.
Pros:
As this product does not vibrate you don't have to hold it in your hands and roll on the areas of pain. Simply plug it and keep it aside in a place and expose the areas where you are having pain to the infrared light.
It has 5 inclination angles so that the light can be focused on the affected area of pain.
Cons:
It is not ideal to carry it with you when you are travelling.
The screen of the light can get scratched or damaged.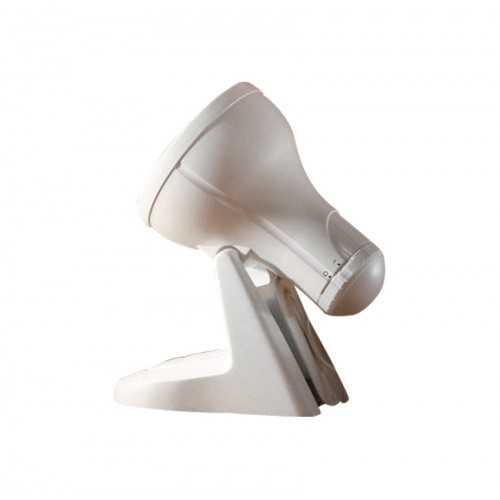 Pandawill Butterfly Design Body Massager
This beautiful looking butterfly shaped body massager stimulates your muscles by releasing electronic impulses and thereby relieving you from muscle cramps. You can carry it with you anywhere you go and can use it whenever you want. Be it while travelling on a bus or while reading a book.
Pros:
You don't need to hold it. Just stick it against your body and it does all the work.
Besides relieving you form the pain it improves your blood circulation and gives you a relaxing massage to recover you for the fatigue and exhaustion.
It helps to burn those extra fats in the body.
It is safe and convenient to use.
Cons:
The glue is not so good.
It is a little bigger in size.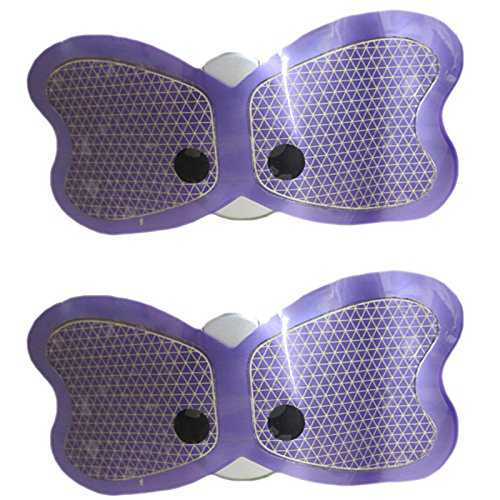 Buy Pandawill Butterfly Design Body Massager
Easy Deal Handheld Massager
This is a very powerful handheld massager that works by vibrating as well as emitting infrared rays. It focuses on the particular points in the body that aches. It works best for the busy people who are over exhausted. The infrared ray gives you a heat therapy and is extremely beneficial for those suffering from blood gas.
Pros:
Besides relaxing the muscle and relieving you from muscle aches it also stimulates your blood flow efficiently.
It has two level vibration speeds high and low so that you can adjust the speed that you feel comfortable in.
It comes with three massage heads ball, spot and brush that can be interchanged for different parts of the body.
It has automat zed overheating protection to keep you safe.
Cons:
It comes with only three months warranty period.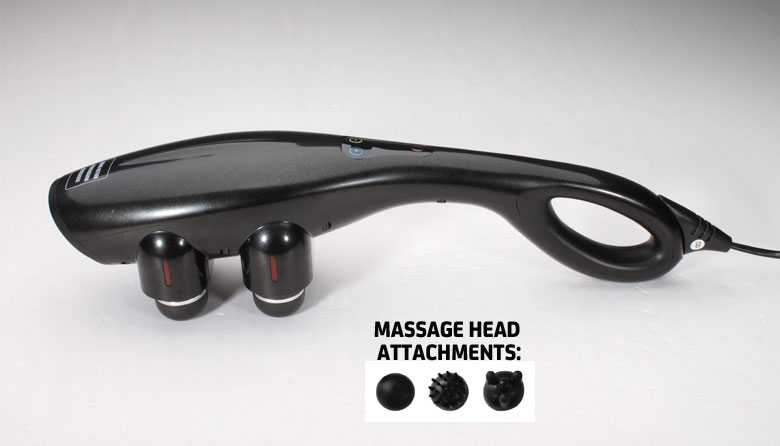 Buy Easy Deal Handheld Massager
Mini USB Electric Massager
This mini massager does wonders in curing your muscle cramps body aches. It soothes your pain giving you all the comfort at home. You don't need to go to the salon for a body massage or call a physiotherapist at home. You can use it on your own without asking for anybody's help and get rid from your pain that is bothering you for years.
Pros:
It works both on battery as well as USB cable.
Being small and handy you can easily carry it in your handbag with you wherever you go.
The design is very cool and easy to grip.
Cons:
It gives you temporary relief. For chronic pains this device is not so helpful.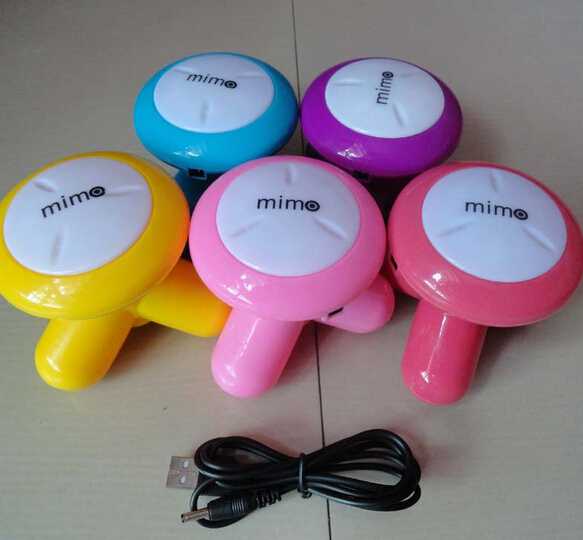 Buy Mini USB Electric Massager
Magic Acupressure Massager
As the name sounds this massagers creates acupressure on the areas where you need a massage to get relieved from the pain. It cures pain based on the acupressure therapy. This is a wonderful device to be kept at home.
Pros:
Besides relieving you from the pain it also boosts up height growth in your child.
It tones up the spinal nerves and revitalizes your body.
It is useful for all age groups.
Cons:
The wire is a bit longer so it gets messier to clean up the knots.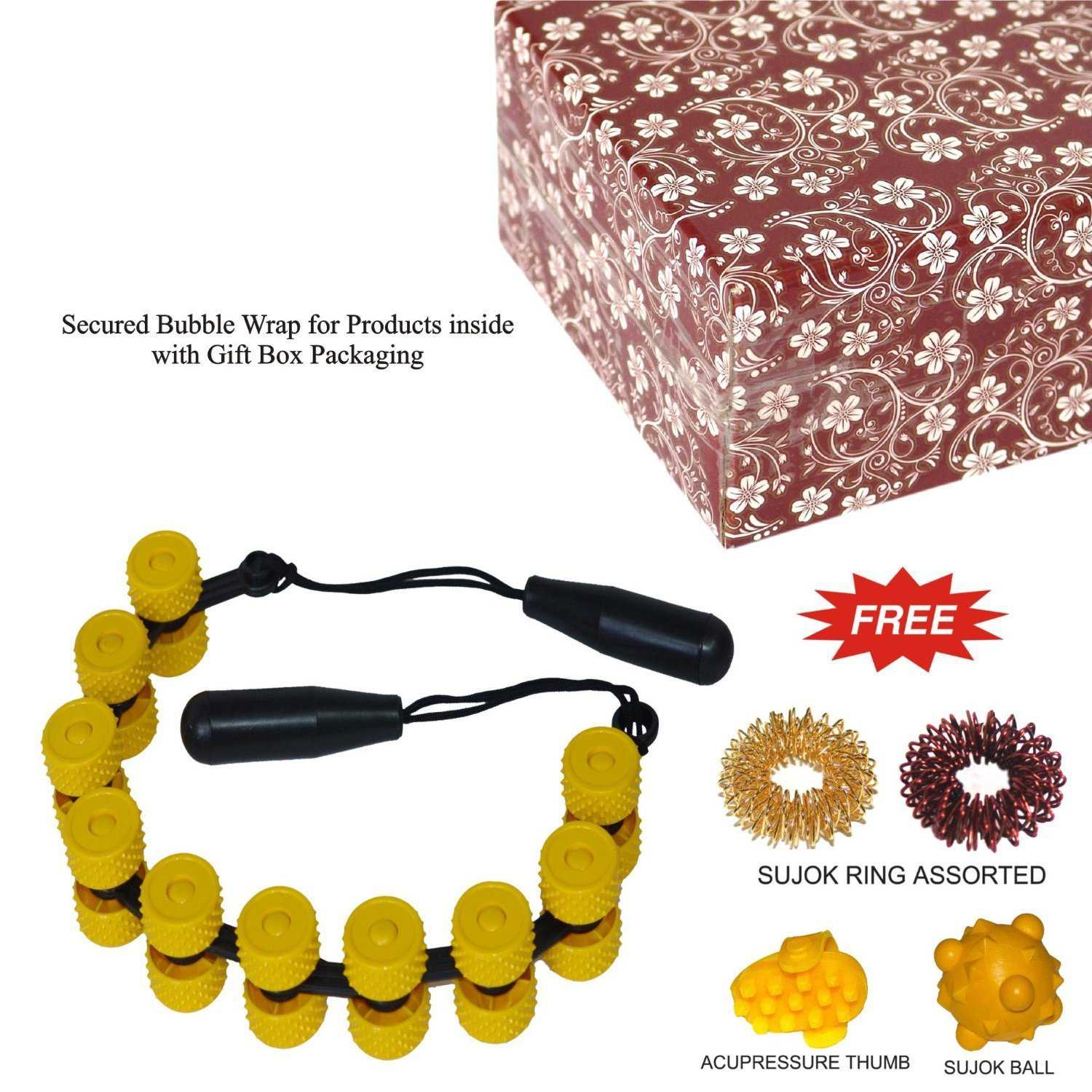 Buy Magic Acupressure Massager
Detak 008 Body Massager
With the user friendly touch operation this handheld body massager is a great pain reliever. Being small in size you can carry it to any place of the world. It has a beautiful UFO shaped design that looks very trendy. It is a great deal at this price.
Pros:
It works on both USB and batteries.
Its ergonomic design aids in the easy handling of the product.
The high quality vibrator gives you the perfect massaging experience.
It has a light weight and an ultra compact design that helps you to carry it anywhere in the world.
Cons: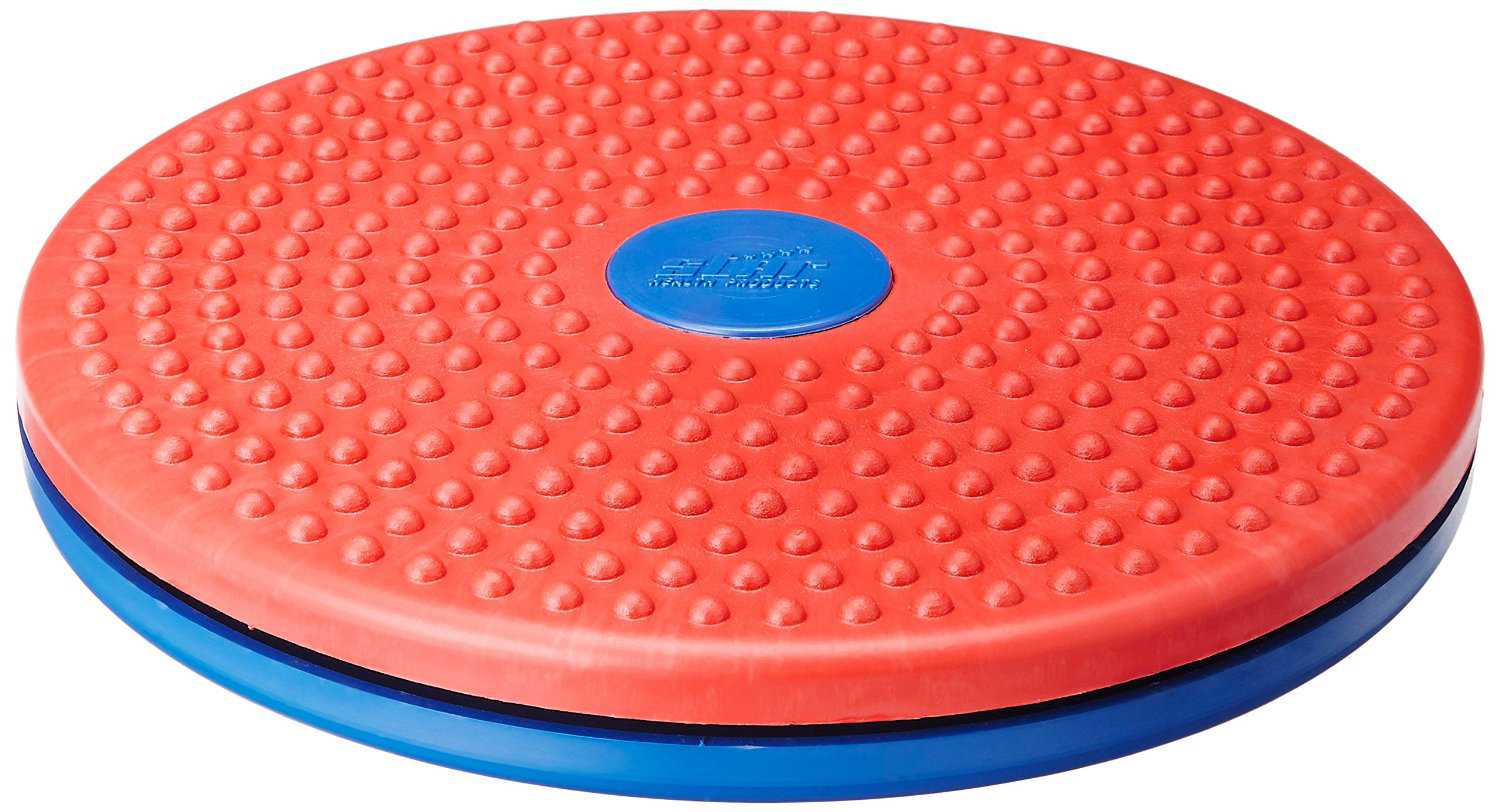 Manipol Body Massager
Besides providing an exercising effect it soothes your muscles and relieves you from the cramps. It hi –tech design reaches all your body curves and soothes your pain. It revitalizes your body by making you more energetic.
Pros:
The ergonomic design of the massager makes it easier to handle.
It has power speed regulators so that you can customize the rolling speeds as per your convenience.
It has warranty against manufacturing defects.
Cons:
It is a bit heavier.
The rollers are tight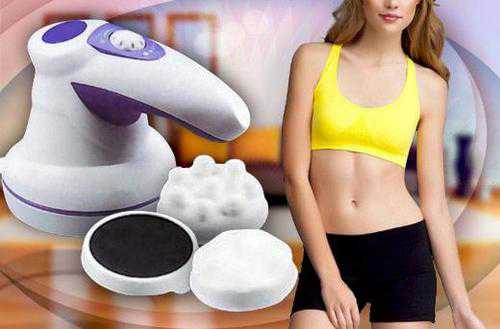 Wahl Mini Therapy Massager
This mini massager does all the wonder in giving you a relaxing massage just in a minutes' notice. You can massage in your own without calling anybody else for help.
Pros:
It comes with a speed regular with two speeds so that you can customize it yourself.
It penetrated deep inside your muscle to give you a relaxing massage.
It has 6 attachments so that you can customize it yourself while massaging.
Cons: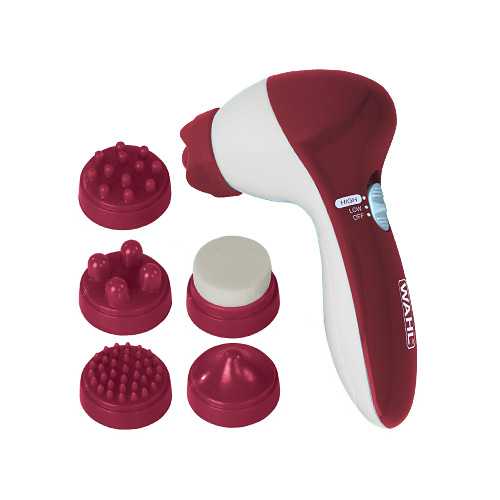 Buy Wahl Mini Therapy Massager
Unique gadget Mini 3D Handheld Massager
This full body massager gives you a though massage and helps to keep your skin soft and smooth. It is mainly designed to reduce the cellulite in your body and giving you a relaxing massages that of a professional physiotherapist. Buying this will save you a good amount that you spent in massage salons to get rid of the fatigue. With this machine you can get a perfect massage anytime sitting at a cozy place in your home. You only need a power socket for this. This device soothes your backaches, relieves you from pains like Sciatica, burn those extra calories for which you remain worried all the time.
Pros:
The strong but soft silicon tooth shaped rollers grasp your muscles firmly and start rotating really fast to break the underlying fat tissues.
It comes with a soft belt that aids in the easy gripping while the device is rotating.
The battery backup is amazing.
It keeps your skin smooth and firm.
The charger that comes with it can be used anywhere you go, so that you can carry the device with you to any place of the world.
Cons:
 The wire is small.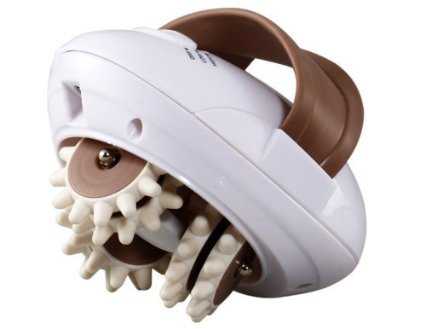 Buy Unique gadget Mini 3D Handheld Massager