Back Massagers Reviews
Today's jobs involve more of sitting work, that too in one posture for extended hours. This leads to the problem of severe backache or pain. There are various causes of back pain, like mechanical problems, injuries, diseases, infections and more. Though most of the back pain problems require proper medication, but you can also treat them well through back massage therapy. Back massage therapy is extremely useful to give you relief from the severe pain in your back. There are various back massagers available in the market nowadays that you can easily use to get rid of this problem.
Here are some of the best back massagers for your personal use.
Body Back Buddy Self-Massage Tool
This is an easy-to-use pain relief tool, which is highly versatile. The device comes in unique "S" shape, which makes it perfect to easily reach to the tricky areas of the back or other parts of the body.
Pros
Comes fitted with round therapy balls that are highly effective to reduce pain from the back muscles and increase circulation.
Therapy balls help you to reach to any part of your body quite conveniently. It works great in standing, sitting or lying positions.
Highly portable in nature and does not use electricity; thus, can be used anywhere, anytime to get relief from backache.
Durable and silent in operation.
Comes with 11 specially designed therapy knobs to assuage spasms and tight muscles, and to energize points and pressure point.
Cons
The long and single-piece design makes it bit difficult to store.
Does not include features like vibration or heat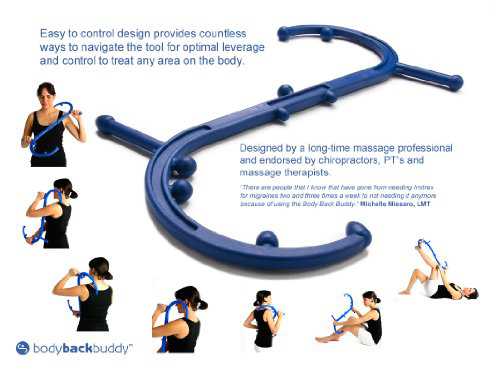 Buy Body Back Buddy Self-Massage Tool
Comfort Products 10-Motor Massager
This 10-motor massager delivers superb performance, as compared to other regular back massagers. It works perfectly well on your whole body. It can be easily laid flat on the bed or the floor for your comfort use.
Pros
Has foldable sections for flexible usage.
Made-up from soft, black polyester fabric, having thick-padded neck rest and lumbar support pads.
Comes included with 10 different motors that give soothing and relaxing vibration on the thighs, and the upper, lower and middle back.
Motors come with variable speeds and independent massage zones.
Comes with faux suede cover for the soft exterior.
Has programmable controls for customized use as per your requirement.
Cons
It is not wireless or cordless in nature.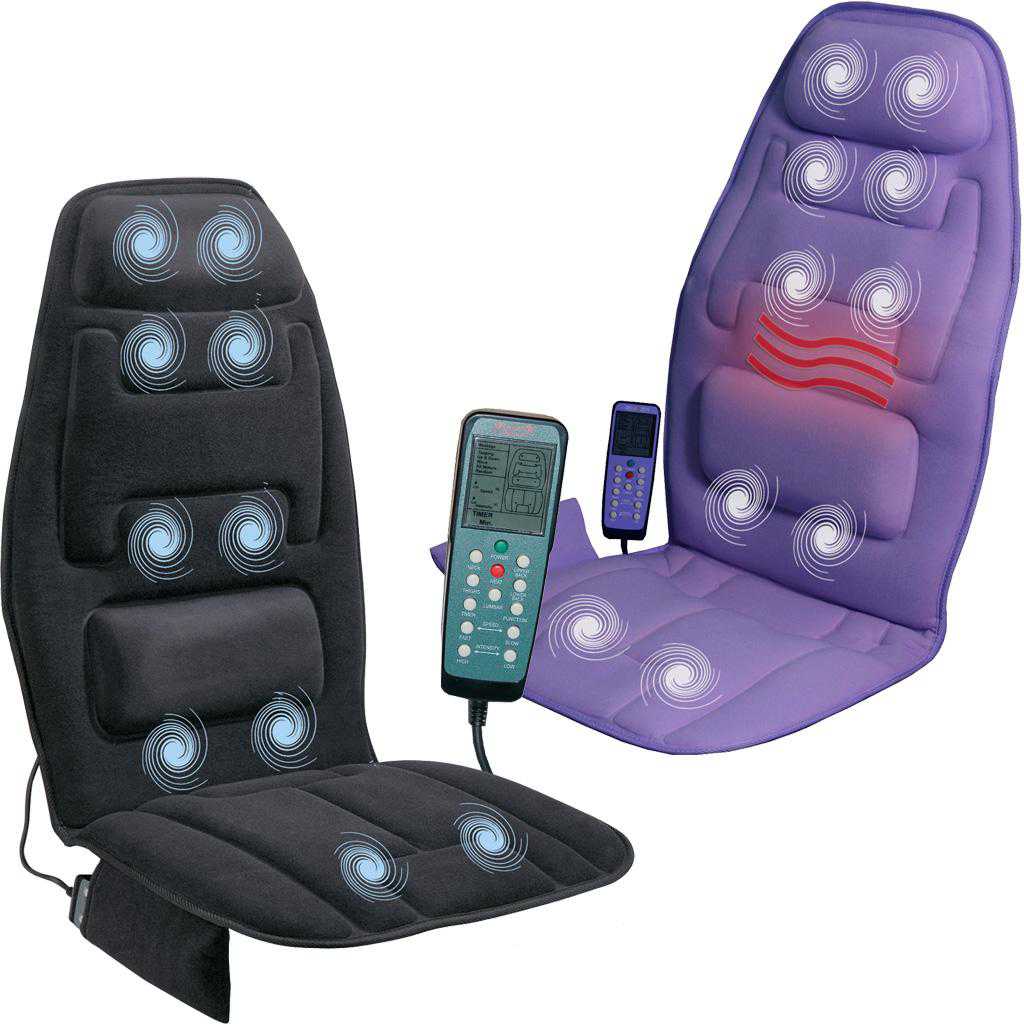 Conair Body Benefits Heated Massager
This heat massager provides easy and soothing massage for your back. The best thing about this massager is that you can place this massager on any chair.
Pros
Comes with 3 different powered areas to target your thighs, shoulders and lumbar area.
It offers vibration therapy to give you relief from back pain.
Comes with easy-to-use remote for hand control, and strap to attach it to any chair.
Comes included with heating option to warm your lumbar area.
Cons
Does not offer deep tissue massage, so is ideal only if you require lighter massage.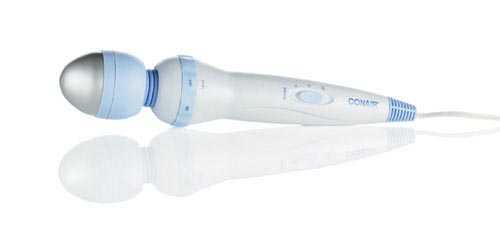 HoMedics Triple Shiatsu Massage Cushion
This cushion back massager is just right to use at home or at the office. It gives you superfine relaxing experience to relieve your back. It straps around a chair, letting you sit comfortably and enjoy a massage.
Pros
Comes with various massage nodes that work according to the acute principles of Shiatsu.
Has multiple usage modes to allow you to select from low or high, as per your stress level.
Comes with a heating element, which adds warmth to give relief from back pain and improves muscle circulation.
Comes with handheld controller and LED indicator for effortless operation.
Features a 15-minute shutoff function for safe usage.
Cons
It is not battery operated device.
It is quite expensive.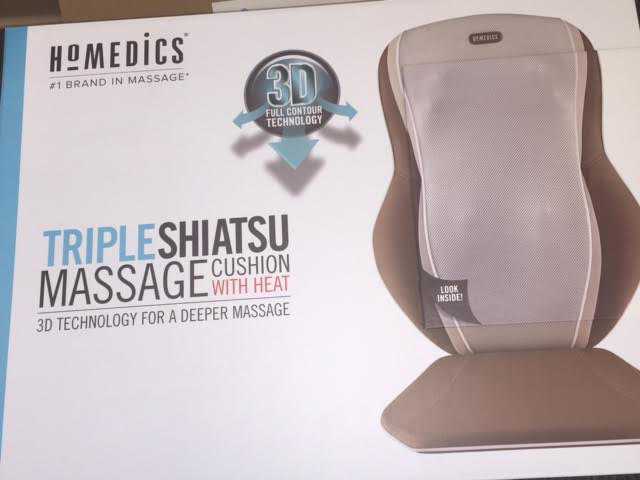 Buy HoMedics Triple Shiatsu Massage Cushion
Liteaid LA-268 Full Body Massage Pad
Using this simple full body massager, you can relieve your body. For massage, you simply need to lie down on the massager.
Pros
Comes with 6 different options to let you personalize your experience.
Comes with two hook-and-loop straps to secure fastening on chair or seat.
Flexible and portable in nature.
Has 20 individual 2-inch thick foam cells for a comfort feel.
Has standard vibration mode and kneading motions to function like a Shiatsu back massager.
Comes with remote for handheld use.
Cons
It is not battery operated and does not include a DC adapter
It does not have a heating option.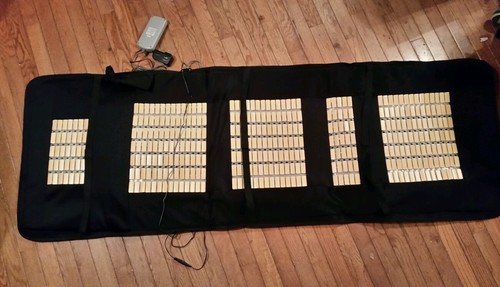 Maxi Rub Vibration Body Massager
It is a heavy-duty massager with a unique design to give you relaxation from back pain and stress.
Pros
Comes with powerful 1-amp motor for effective operation.
Features two easy-grip handles to prevent slippage.
Has a broad, flat pad to treat large portion in one go.
Comes with extra long 10 ft. cord for increased mobility.
Provides deep muscle penetration.
Cons
Lacks most of the important features, like shiatsu-like kneading action and heating mode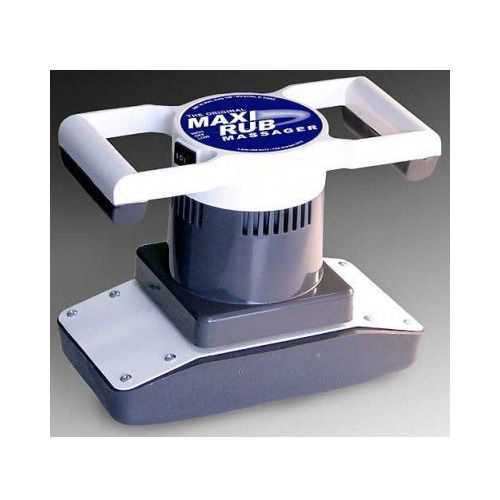 Panasonic EV2510K Easy Reach Rolling Massager
This slim, lightweight rolling massager from Panasonic is portable in nature and is designed to ease-out tired muscles.
Pros
Comes in elbow-angled design for easy access to lower, middle and upper back.
Comes with the wand-type unit to easily reach to tricky areas.
Has 3 distinct massaging modes: stroking, wavy and point massage
Has 3 rollers and vibration systems for full body massage.
6,300 times/min of vibration rate for strong massage and 5000 times/min for gentle massage.
Cons
It is not cordless in operation.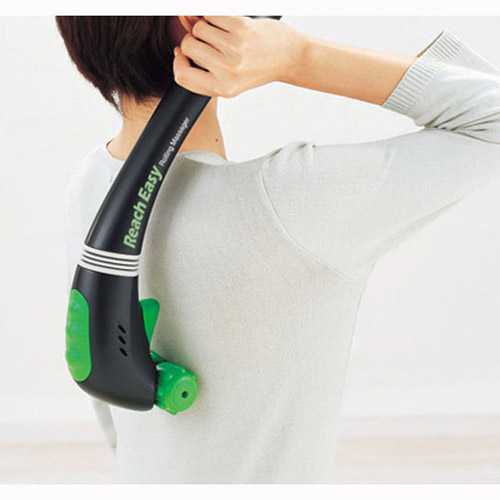 Buy Panasonic EV2510K Easy Reach Rolling Massager
Thera Cane GREEN MAX: Trigger Point Massager
This is a straight designed, no-frills unit massager for personal use. It has an effortless operation and gives you relief from stress and pain from body parts.
Pros
Comes with 6 different knobs for comforting pressure on aches.
Gives soothing and penetrating massage for quick recovery of muscles from pain and overexertion.
Sturdy and durable in design for long-lasting use.
Cons
Does not have vibration function.
It is not travel-friendly, as it is not foldable in nature.
Five Star FS8812 Massage Seat Cushion
This seat massager is used to give massage to back, waist, neck, shoulders and other body parts.
Pros
Comes with 10 powerful vibration motors for easy usage as per need.
Has 4 massage programs, 3 massage speeds, hand control unit and separate heat on/off button.
Portable in nature and is perfect to be used in homes, offices, and other places.
Has 4 zones: M1 – Shoulder/upper back, M2 – Lower back, M3 – Lumbar, M4 – Thigh.
Cons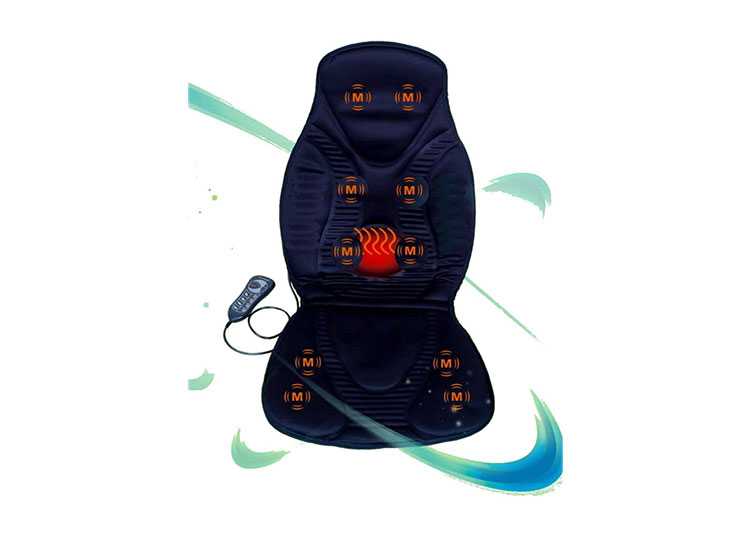 Zyllion ZMA-13-BK Shiatsu Massage Pillow
This ergonomically designed massage pillow is perfect for those, who have pains in lower and upper back, neck, abdomen, calf, and thighs.
Pros
Comes with vibrating motors for neck, shoulders, and hip areas.
Has 3 massage zones and 3 vibration levels for heat.
Comes with nodes to relieve tighten muscles.
Has a 20-minute auto shut-off functioned for safety?
Cons
The cord is too short to reach far areas.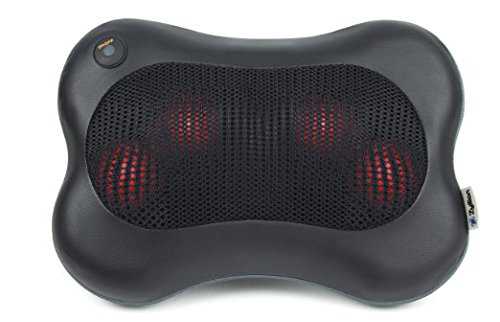 Buy Zyllion ZMA-13-BK Shiatsu Massage Pillow