You need to have a quality blood pressure monitor in your home if you need help with keeping your life in order. The effects of high or low blood pressure can be dangerous. Such conditions can prevent you from allowing your blood to take in the nutrients you need or could potentially prevent your heart from working appropriately. The good news is that today you can find a valuable Omron blood pressure monitor when looking for something of value.
Recommended Post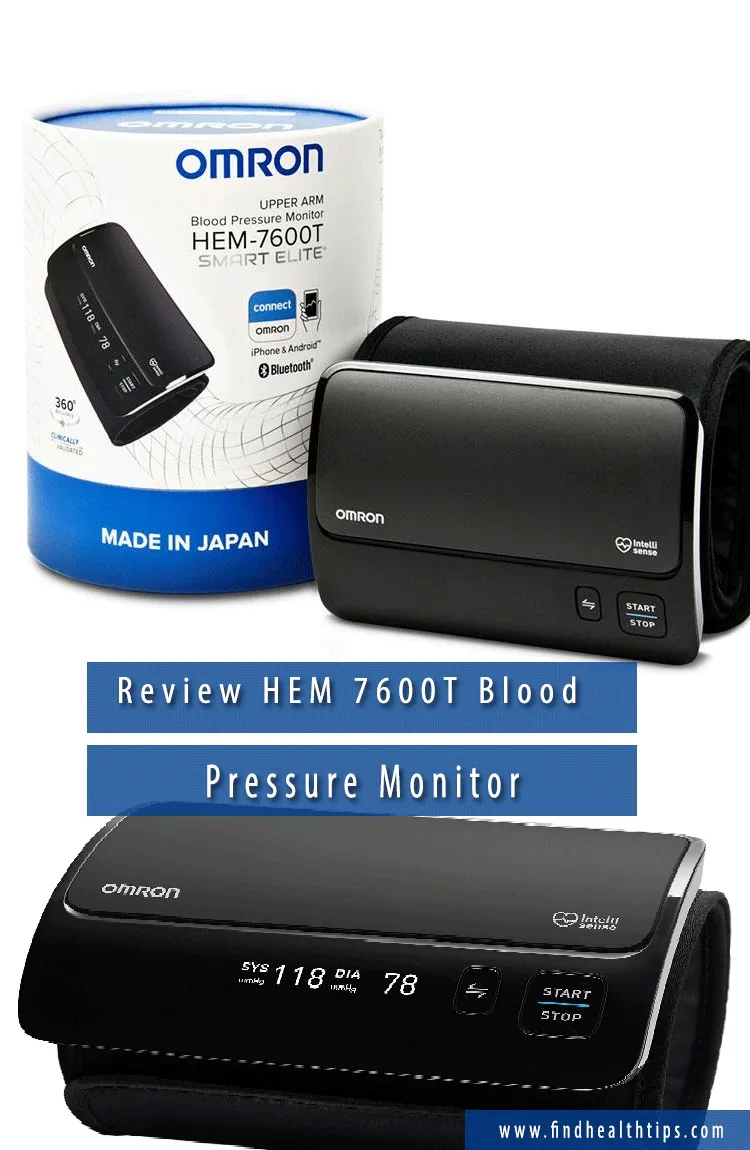 You can consider this product to buy online at Amazon
This Omron HEM-7600T blood pressure monitor review is worth taking a look at. This is a model that lets you detect how well your blood pressure levels are running and can even identify your heart rate.
This all comes from Omron, a company that has been at the forefront of home health technology for more than eighty years. The company works hard to produce great healthcare products for home use with this automatic blood pressure monitor being among the best products you can find from them today.
A Tubeless Model
A Fine Design
One point to notice in the Omron Smart Elite HEM-7600T is that this is a tubeless blood pressure monitor. It has an intelligent wrap cuff that provides accurate measurements irrespective of the placement of the cuff on the upper arm. The distinct design of this product makes it a worthwhile choice for your needs and the tubeless layout makes it easy for you to take the monitor around with you anywhere you go.
The ergonomic layout of this blood pressure monitor is worth checking out. It works on your left arm and can be quickly applied.
A Simple Interface
It only takes a few moments for you to get this blood pressure monitor to work. Omron HEM 7600T is having a simple user interface and you only need to place the device on the left arm and press the start button.
After the measurement is complete, it will display your Systolic and Diastolic Blood Pressure readings
Identify Your Heartbeat
A valuable part of this Omron blood pressure monitor is to see entails how it offers readout for irregular heartbeats. It lets you know when it identifies an irregular beat for any reason. The data is based on your pulse and muscle movement. When the monitor reviews a sporadic pulse, it gives you a alert that you might be dealing with an irregular heartbeat. This allows you to identify when you need additional help for keeping your heart under control or even if you need some special attention.
A Simple Fit
This monitor also fits well onto your arm without being at risk of slipping off. You can read the manual that comes with this to review how the wrapping process can work for you. The manual includes a full guide to help you get the best possible fit ready so it becomes easier for you to get a test handled accordingly and without hassles.
You can consider this product to buy online at Amazon
Bluetooth Support
Omron Connect App ensures that you get more from your BP monitor.
You can connect your smartphone to your monitor by using the feature of Bluetooth connectivity which allows the monitor to relay information to Omron Connect app on your device. You can use this to transfer all your BP readings to your smartphone You would have to review your Omron HEM-7600T manual to get full information on how to connect your BP Monitor to your smartphone . It should not take much time to set up the device .
Use the Omron Connect App
You can use this monitor to connect with Omron Connect App. This is a app that you can download on your mobile device to sync the information of your blood pressure readings on your Smartphone . This gives you more detailed information on your heart health. You can use this to identify your progress in keeping fit by recording information on your BP readings undertaken over an extended period of time.
Why Should You Buy It?
This Omron blood pressure monitor is worth looking at thanks to how it can provide you with a convenient design for helping you get the most out of your body. This monitor will assist you with getting the most out of your body and can even give you more information when you link it to a mobile device. The monitor is comfortable and easily portable.
This is also accurate and easy to use. It even senses your arm well enough and gives you the best readings no matter what your body type might be like.
You should especially do it when you consider how important it is to regulate your blood pressure levels. With this monitor, you can identify when you are struggling with high blood pressure.
Pros
Easy to wear
Flexible and conforms well to your arm
Offers a simple interface for use
Links to your mobile device through a Bluetooth connection
Cons
May not offer enough information when the app is not being used
Intended for adult use only
A Good Value
The value of this blood pressure monitor is worth checking out. The product is available on Amazon among a few other healthcare supply stores. This also comes with a five-year extended warranty.
A Final Note
The HEM 7600T wireless upper arm blood pressure monitor from Omron will do well for when you need help with getting your blood pressure levels reviewed. It does well for giving you an accurate readings of your blood pressure and ensures you are being handling your health appropriately. Just look at how well it can fit onto your arm without any hassles involved.
You can consider this product to buy online at Amazon