Snacks are an important meal if you are looking forward to a good body. Healthy bodybuilding snacks are always a challenge as there is a strong urge to eat those unhealthy options to satisfy the hunger pangs. For females usually, carb requirement is lesser than the male counterparts.
Recommended Posts
Here we bring more than 50 ideas for male and female bodybuilders which will help to do away with their snack time cravings ion a healthier way:
Roasted Gram (Channa)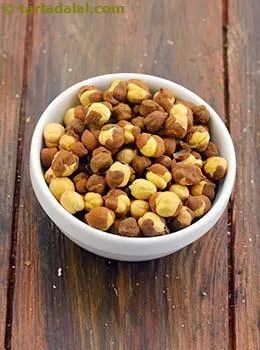 Image courtesy: – www.tarladalal.com
Highly filled with proteins, this is a portion of very healthy food and less messy to carry anywhere. It is a healthy bodybuilding snack perfect for both males and females bodybuilders
2. Fruit salad
Snack time is the best time to have a variety of fruits. You can use honey as a salad dressing or consume a bowl full of fruits just like that. It is a perfect snack for bodybuilders.
3. Kale chips
Kale chips are highly rich in vitamins A and C and have way fewer carbs than the potato chips. It is one of the best snacks for bodybuilders.
4. Dark chocolates
Chocolate with 60 percent or more cocoa are better than milk chocolates as they have fewer carbs in them
5. Mixed nuts
Walnuts, almond, cashews, raisins, and many more nuts can be taken as snacks. You can keep the nuts soaked in water for some time. Nuts are rich in proteins and minerals thus form good snacks for bodybuilders.
6. Protein bars
They are easy to carry and delicious in taste. You can stuff your gym bag with it and relish at your snack times.
7. Celery
Celery mostly contains water and is filled with Vitamin K which can be used to strengthen the bones. It can be used n salads.
8. Pistachios (in the shell)
Keeping pistachios in the shell is a secret way to make you eat less. The pistachios are filled with protein, fiber, fat and B vitamins thus form a perfect snack for bodybuilders
9. Apricots
A very low sugar fruit, these are very good for health. Apricots also have noncancerous properties in it.
10. Dry fruits
Dry fruits are a perfect snack for bodybuilders. Try dry apricots, raisin etc. to snack. You can carry them along in your bag
11. Pumpkin seeds
These seeds are also called pepitas. They when added to salads, cottage cheese and yogurt form an amazing snack for bodybuilders.
12. Poha
Poha is a very popular snack in India. It is actually crushed rice cooked on less oil with vegetables and groundnut. You can have it with chutney. This snack has high calories so can be followed by a lighter dinner.
13. Greek yogurt
It is a good dose of protein, calcium, and probiotics. One can have them during evening snack time.
14. Dates
Dates are very high in nutrient content as well as antioxidants. You can have them in small quantities. They are very good for health.
15. Frozen grapes
Grapes are great for a sugar craving. They are quite rich in antioxidants especially the red ones hence form a great snack for bodybuilders.
16. Protein mini bites
These almond butter and chocolate filled mini bites are perfect to give you lots of energy for evening walkouts.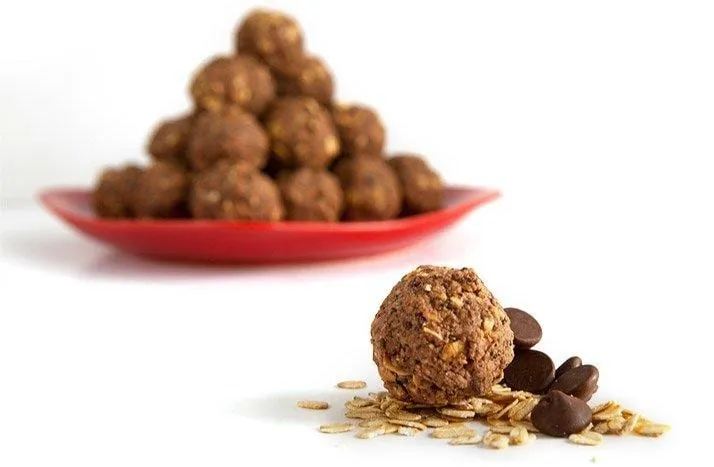 Image courtesy:- www.bodybuilding.com
Ingredients
1 cup rolled oats
½ cup dark chocolate chips
½ cup natural almond butter
⅓ cup honey
½ cup Spectrum coconut and dark chocolate chia flax blend
1 tsp vanilla extract
3 scoop BPI Sports: Best Protein, Chocolate Brownie
17. Popeye's protein shake
All of us can never forget Popeye the sailor man and his love for spinach. Well, this shake would be his favorite if he could get to taste it. It combines spinach with protein, delicious fruits and honey.
18. Harabhara kabab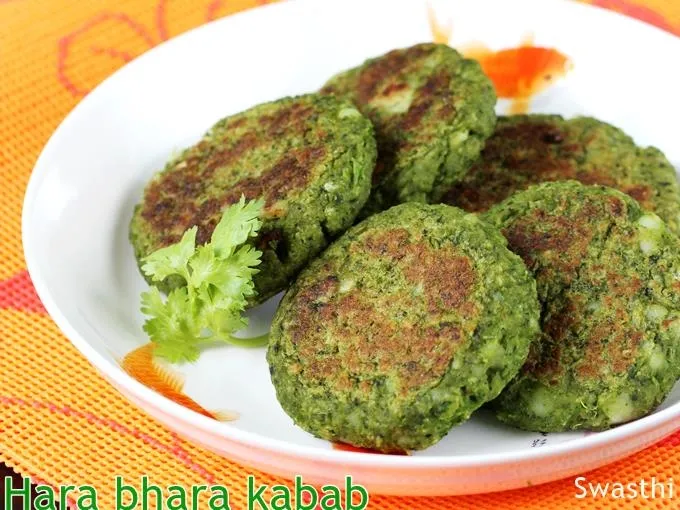 Image courtesy:- Swasthi's Recipes
A very healthy Indian snack. Kebabs are usually non-vegetarian but this one is pure veg with the goodness of spinach, peas, and potatoes. It is slightly higher in calories and good to have after a strenuous workout. It is a good snack for both males and female bodybuilders.
19. Peanuts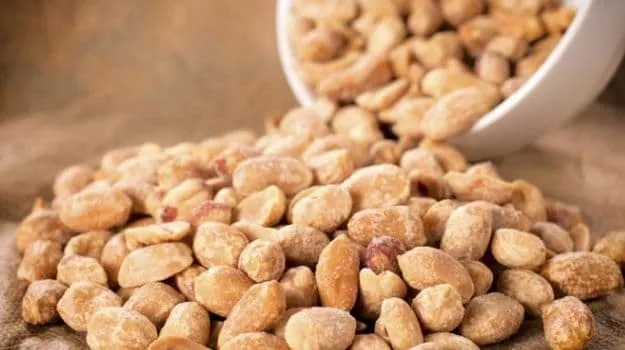 Image courtesy: – www.ndtv.com
20. Corn chat
Boiled corns with some olives, tomato and sprinkled lemon form a very healthy snack.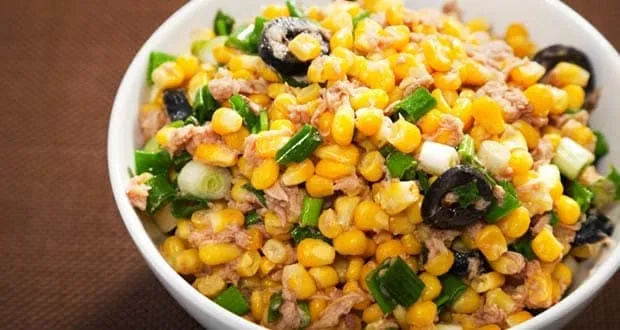 Image courtesy: – food.ndtv.com
21. Sprouts
Sprouts are a healthy snack for bodybuilders. It is high on protein and also very good for the digestive system
22. Cottage Cheese
The cottage cheese is filled with casein protein releasing slowly in the body. It is very good for female bodybuilders.
23. Yogurt and flax seeds
Flax seeds are very important plant source of vitamin B 12. Flax seeds can be used with yogurt to make a protein and vitamin-rich snack.
24. Roasted lotus seeds ( Phool makhana)
Roasted lotus seeds are a very good source of protein and vitamins yet being low on calories.
25. Millet Upma
Upma is a south Indian dish which is very healthy and satiating. If you use millet, it becomes richer in fiber.
26. Tilgul
Tilgul ladoos are quite famous in India. They mainly constitute sesame seeds and jaggery. It is a good snack for bodybuilders especially when they crave for something sweet.
27. Protein peanut butter balls.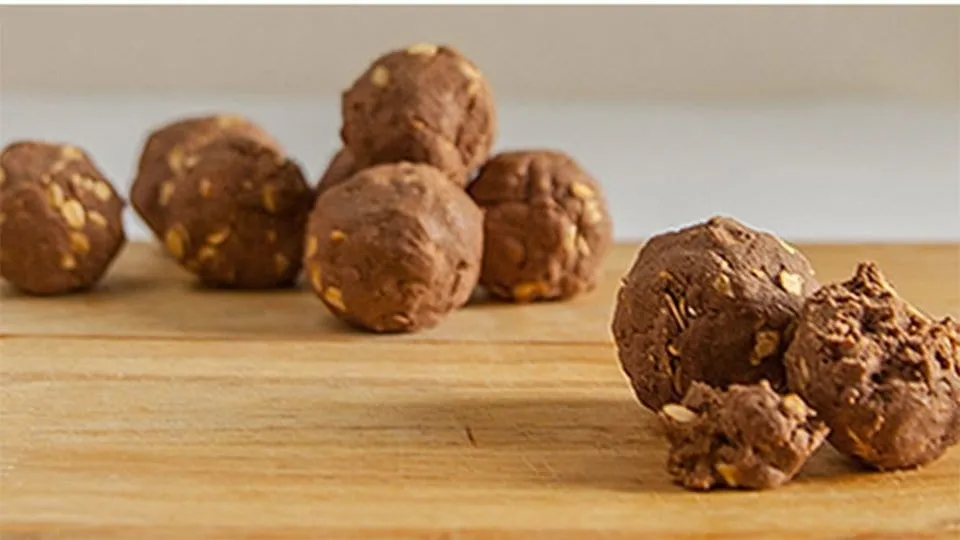 Image courtesy:- www.bodybulding.com
Ingredients
½ cup smooth peanut butter
½ cup raw oats
3 scoop cellucor COR-Performance Whey, Molten Chocolate
1 tbsp honey
Ditch the unhealthy snacks for this health filled protein balls. These balls are easier to carry and form a perfect snack for bodybuilders cutting on to their carb intakes.
28. Cheese vegetable salad
Get some fresh cottage cheese and add raw vegetables like cucumber, carrot etc. Cheese does not have a high level of carbs but has a good amount of proteins.
29. Banana chocolate protein shake
A very good snack idea for bodybuilders which will provide high energy and will help in dealing with cravings for chocolates. If you want to keep it vegan, almond milk can be used.
Recipe here
30. Vanilla coconut protein bliss balls
As bodybuilders, diets which are rich in protein are important to consume regularly. These vanilla coconut protein balls are nutritious, delicious and easy to carry. Vanilla helps in getting away with a sugar craving. Recipe here
31. Hemp protein balls
Complete gluten free and vegan snack for bodybuilders is here.
Ingredients:
2 tbsp temp protein powder
3 tbsp hemp seeds
3 tbsp sun butter
1 tbsp coconut oil (melted)
1/2 tsp cinnamon
1 tbsp raw cacao
1 tbsp honey
Shredded coconut
32. Protein and cranberry balls
These are an amazingly delicious snack for bodybuilders. Cranberries are highly beneficial for digestion and keeping bad cholesterol at bay. It is good for female bodybuilders as it keeps them away from infections like UTI.
Find the recipe here
33. Chocolate salty ball
This gluten free, energy packed balls are healthy and easy to carry a snack for bodybuilders.
Find the recipe here
34. Chocolate and fruit protein balls
A very healthy and delicious combination of snack for bodybuilders. The goodness of fruit with cocoa will help in boosting energy as well as satiating the chocolate cravings
35. Kashmiri sherbet ( black basil shake)
A very popular shake in the extreme northern regions of India, this shake is awesome on taste and health.
Black basil seeds are kept soaked overnight then used to make the drink. One can also sprinkle coconut powder for added taste. Basil seeds are very helpful in weight loss and reducing the body.
36. Silky dark chocolate avocado truffles
Naturally sweetened with dates, these truffles are power packed with health and taste. Made with a handful of ingredients it is easier to prepare and less messy to carry.
Find the recipe here
37. Raw vegan orange truffles
This is a very interesting recipe for healthy snacks.
Ingredients (makes 20-25 pieces)
– 1 cup walnut
– 1 cup almond
– 18-20 pieces dates, pitted
– zest of 1 orange and juice of 1/2 orange
– 2-3 drops Lecker's orange oil (optional)
– 2 tablespoons cacao nibs
– 2 tablespoons hemp protein powder
– pinch of salt
38. Chocolate avocado banana bran muffins
Chocolate can be kept in low quantity and with other healthy stuff, this makes amazing snack time food for bodybuilders.
39. Date Bran Muffins
These muffins have the goodness of date and bran together. It tastes incredibly awesome and is good for your body. A few of them with a cup of green tea forms a perfect snack for bodybuilders.
40. Apple bran muffins
These are perfect of fibers, vitamins, and energy. Also tastes delicious to enhance your snack time moments.
41. Whole wheat raspberry muffins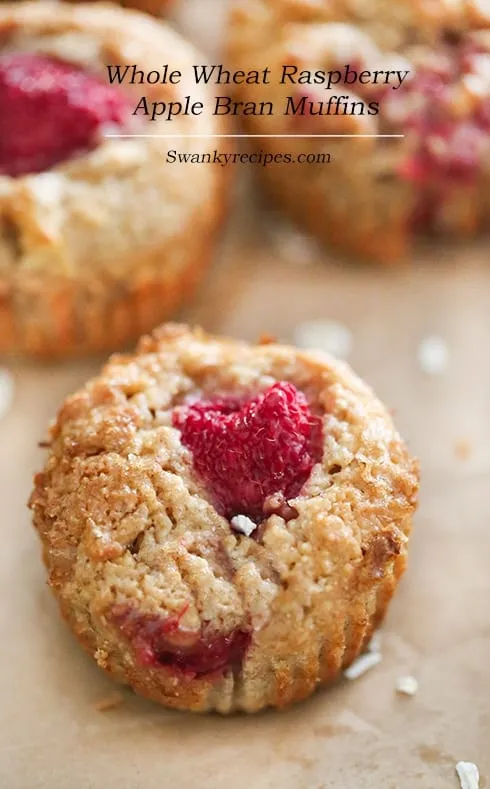 Image courtesy: – www.swankyrecipes.com
42. Vegan blueberry bran muffins
These muffins have lots of fibers and vitamins into it. Also, it is free from refined oil and sugar thus making it very healthy.
43. Watermelon Dhoklas
We all love Gujarati snack Dhokla but here we have a healthier version of it. This Dhokla variation tastes amazing and gets prepared in no time.
Find the full recipe here
44. Gajar nu muthia
A very delicious, healthy and vegan Gujarati recipe, will make your snack time awesome.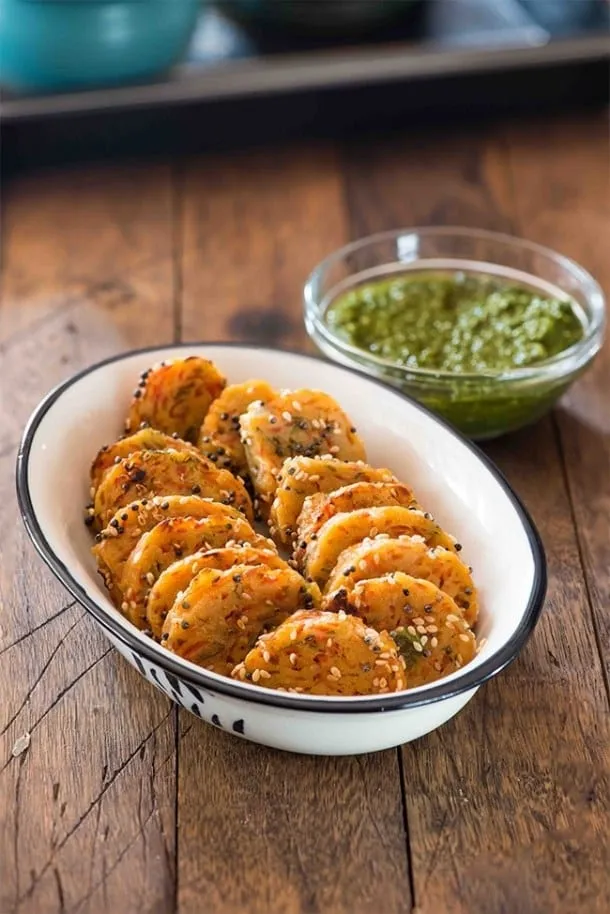 Find the recipe at www.mytastycurry.com
45. Kala channa kabab
Kala channa or black chickpeas are amazingly filled with protein and energy. This kebab is delicious and very healthy thus a perfect snack for bodybuilders.
Full recipe here
46. Palak Paneer rolls
These delicious rolls are protein packed with spinach giving it an iron boost. The dish perfect to satiate the hunger pangs at snack time.
Full recipe here
47. Vermicelli Upma
Upma is a South Indian delicacy which is a healthy and tasty option for snack time.
Earlier we mentioned about millet Upma which is also satiating and healthy. Vermicelli with the goodness of veggies will make it a perfect snack for bodybuilders.
48. Oat Tikki (cutlet)
This oat Tikki is made up of oats, potato, and spices. It goes perfect when relished with chutney. Find recipe here