Lunch is an important meal of the day as it provides energy to go through the entire day.
Are you confused about the best lunch recipe that you can have to build a good body?
Recommended Posts
Here we are with 35 ideas to have a perfect lunch box for bodybuilders:
Avocado Tacos
The healthiest tacos ever would be with the goodness of avocado packed with a protein of eggs. One of the best lunchbox for bodybuilders.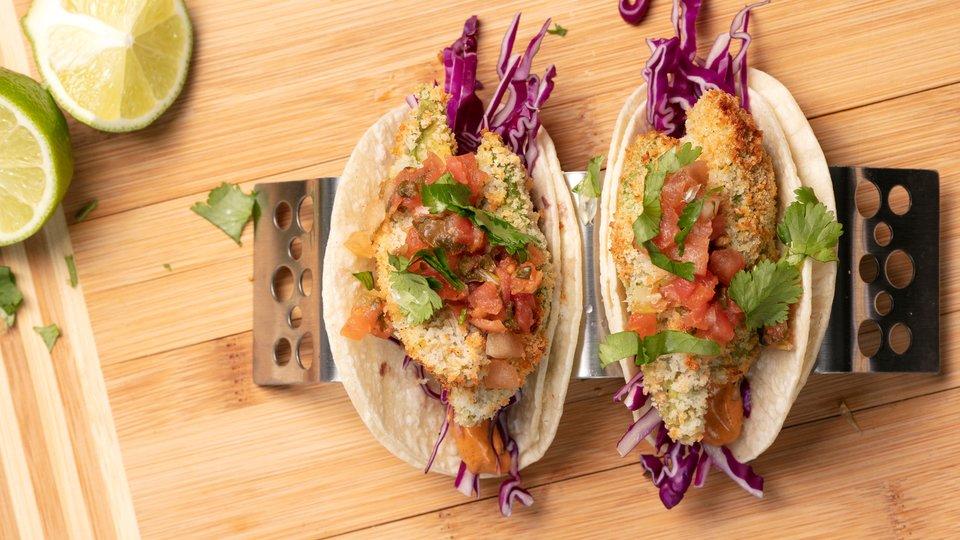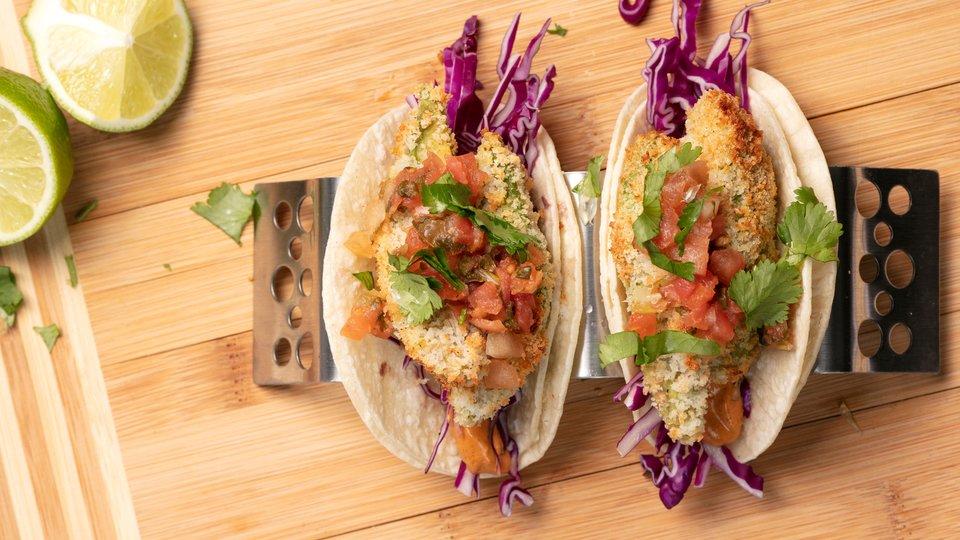 Image courtesy: – https://www.bodybuilding.com/recipes/fried-avocado-tacos
Ingredients
2 avocado
2 egg whites
¼ cup whole-wheat flour
⅔ cup whole-wheat panko bread crumbs
⅔ cup 2% Greek yogurt, plain
2 oz chipotle peppers in adobo sauce
2 tbsp lime juice
4 whole whole-wheat tortilla (10-inch)
4 tbsp pico de gallo
1 tsp cilantro
salt and pepper to taste
   2. Meatball pasta with lean meat
Meatballs are a creative way to pack in proteins and energy in a compact and hassle-free way. You can use different meats. Add the goodness of veggies to it and your best lunch bag for bodybuilders is ready.
Ingredients:-
6 oz lean ground meat
½ cup spinach
¼ cup red onion, diced
1 tbsp garlic, minced
½ tsp cumin
1 salt and pepper to taste
Pasta Ingredients
¼ cup spinach noodles
⅛ cup marinara sauce
1½ cup spinach
5 tomato cherry tomatoes
1 tbsp low-fat parmesan cheese
3. Muscle building chili
Muscle building chili is a protein packed lunch perfect for a bodybuilder.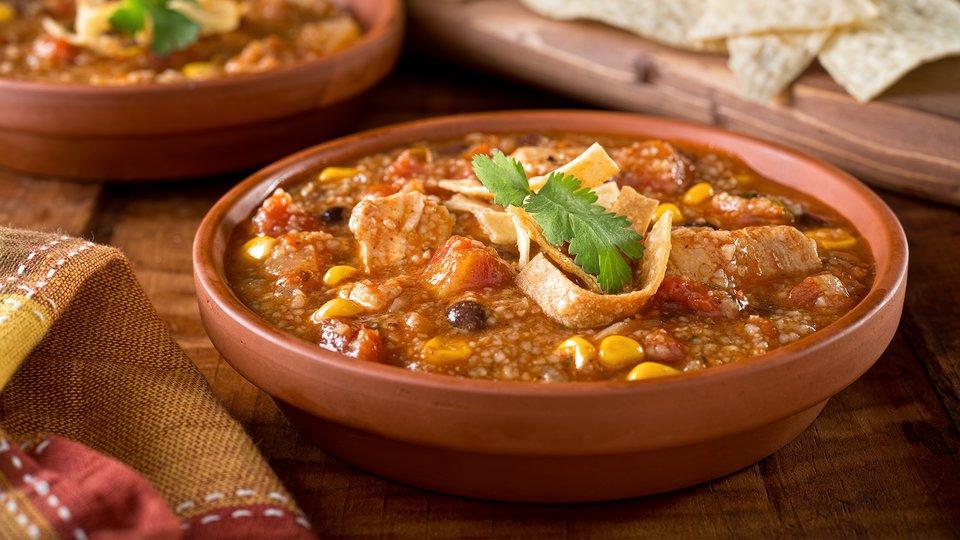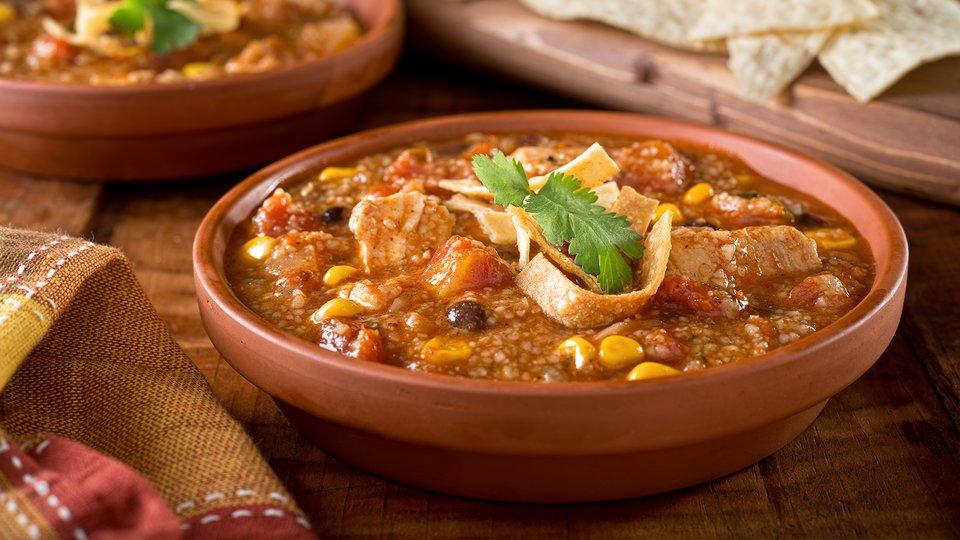 Image courtesy: – www.bodybuilding.com
Ingredients:-
2 lb chicken breast
1 tbsp olive oil
2 small green bell pepper
1 cup mushrooms, sliced
1 small onion
½ cup of corn
30 oz dark kidney beans
30 oz light kidney beans
15 oz pinto beans
2 cup barley
30 oz tomatoes, crushed, canned
3 cup of water
2 tsp chili powder
1 clove garlic, minced
1 tbsp parsley, dried
6 oz cumin
16 tbsp Worcestershire sauce
4. Ginger grilled salmon
The perfect blend of ginger and salmon is delicious as well as healthy. Salmon has omega 3 fatty acids in abundance which enhances the overall health. Ginger has anti-inflammatory agents which aid in muscle recovery after a strenuous workout.
Ingredients
1 tsp ground ginger
1 tsp garlic, minced
⅓ cup light soy sauce
¼ cup orange juice, fresh squeezed
1 to taste powdered Stevie
½ whole onion, finely diced
3 fillet salmon fillet
5. Boiled Rajma (Red kidney beans) with rice
Amazing source protein and very delicious to eat, these beans one can have brown rice or wheat roti.
6. Broccoli
Broccoli is a very good source of plant protein. You can cook on olive oil with any other vegetable of your choice. It can be relished with wholegrain wheat roti.
7. Brown Rice Chicken Biryani
Make a health blast out of your favorite biryani by using good quality brown rice, desi ghee, and olive oil. You do not need to sulk anymore by seeing your diet food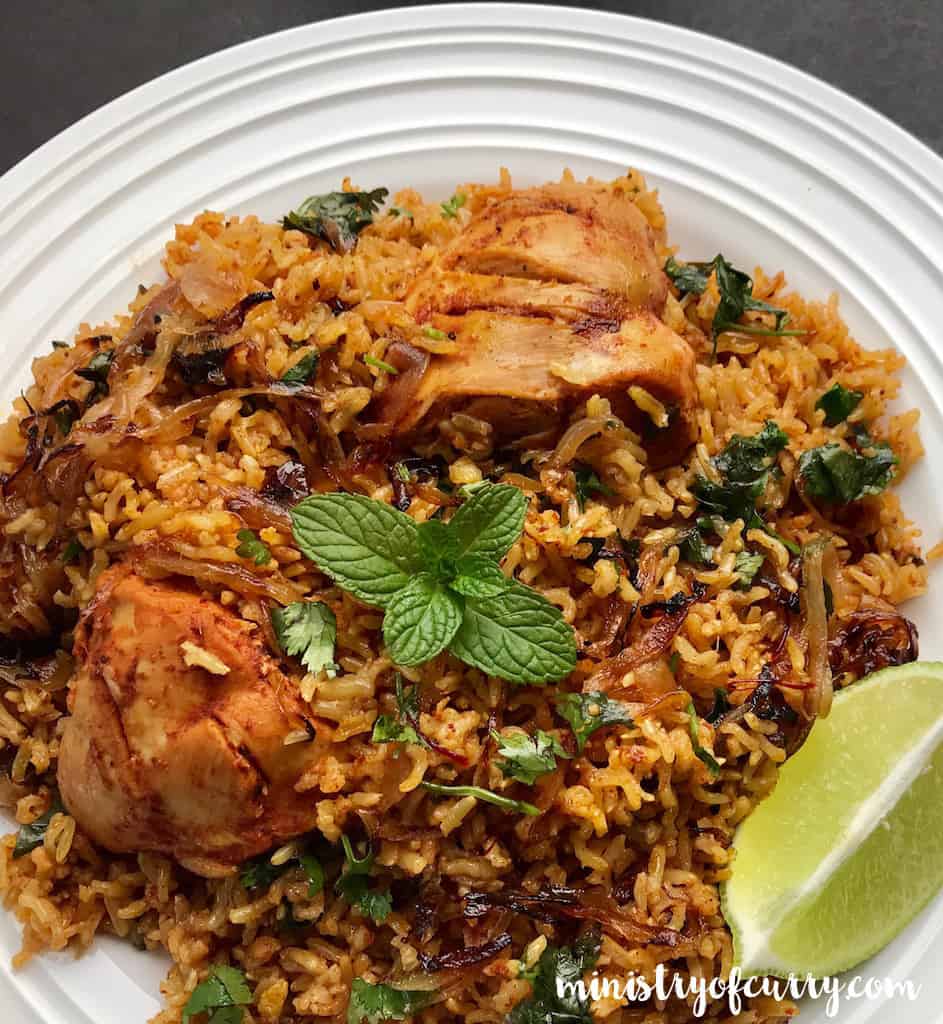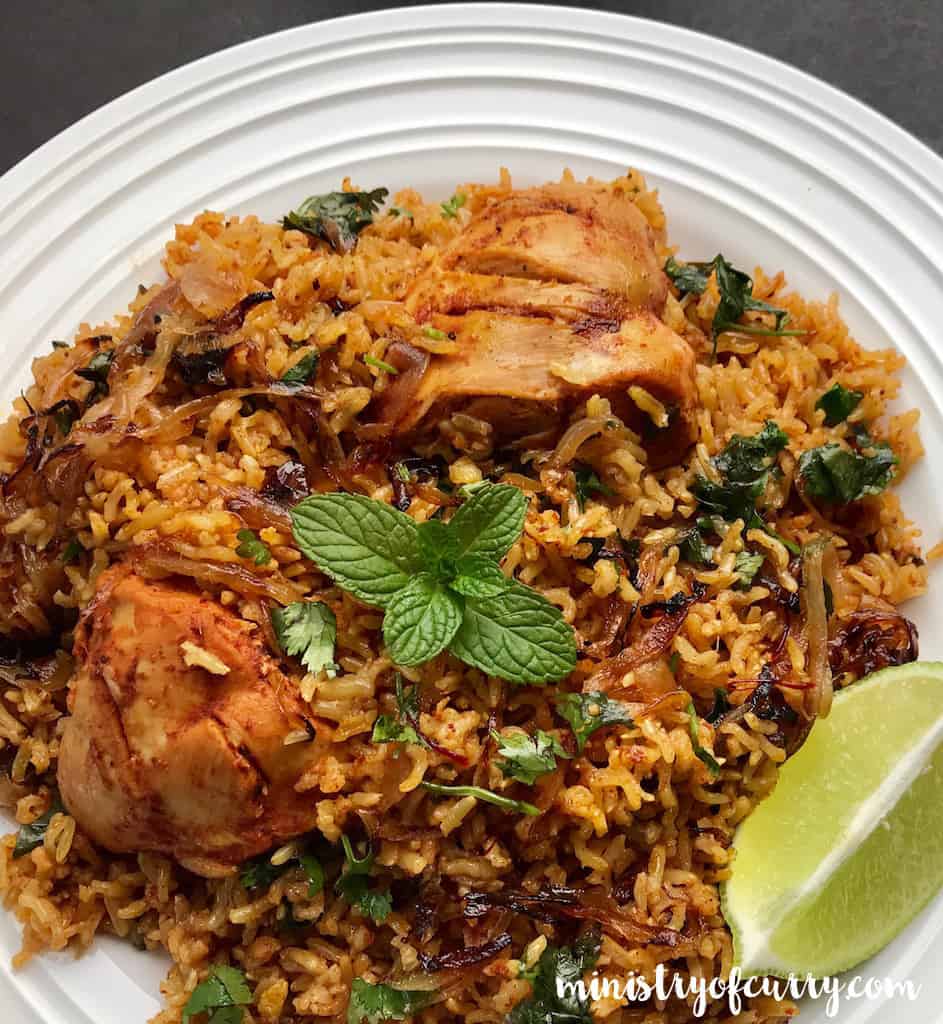 Image courtesy: – ministryofcurry.com
Step by step follow the recipe and get the best lunch box for bodybuilders.
Recipe follows here – Ministryofcurry
8. Chicken Sukka
This chicken recipe is from South India and is one of the best lunch ideas for bodybuilders.
It is cooked with less amount of oil; one can use rice bran or olive oil.
Relish it with rotis or brown rice.
Find the full recipe Whiskaffair
9. Guru Mann's Tawa chicken
Guru Mann is a fitness trainer and a Youtuber. He has given this recipe as one of the lunch ideas for bodybuilders. You can relish it with brown rice or roti.
Check the entire recipe: Youtube
10. Chicken salad
Chicken salads are great lunch ideas for bodybuilders. It does not load you with carbs and also provides you with the required proteins and goodness of veggies.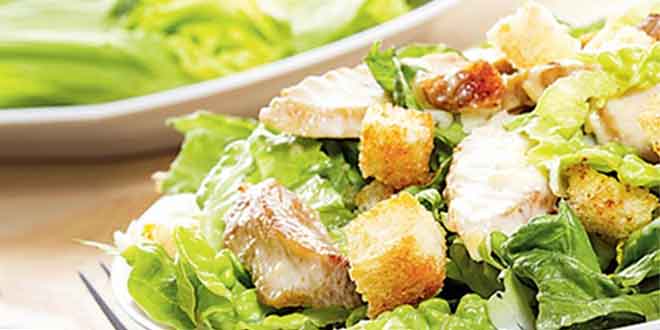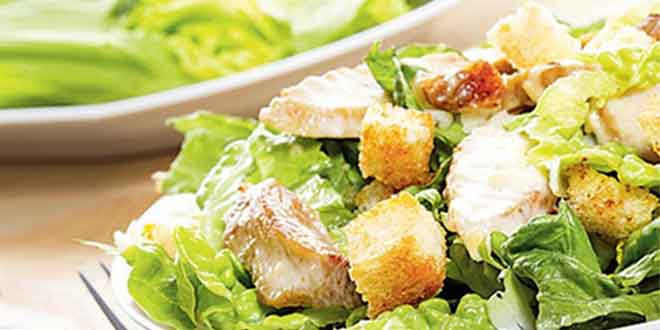 Image courtesy: – www.indianbodybuilding.co.in
11. Beans and Legumes
Beans and legumes form an important part of the Indian diet. You can have it in the form of curry at lunch. They when relished with brown rice or whole grain wheat roti, form good lunch ideas for bodybuilders.
Calories and Protein content for Legumes:
| | | |
| --- | --- | --- |
| Legumes  (per 100 gms) | Calories ( kcal )     | Protein (gm)     |
| Kidney bean  ( Rajma ) | 333 | 7.2 |
| Lima bean ( Sem phali ) | 115 | 8 |
| Chickpeas / Garbanzo bean ( Kabuli Chana ) | 164 | 9 |
| Black bean ( Kali urad ) | 339 | 21 |
| Soybean | 446 | 36 |
| Black eyes peas / Lobiya ( chavali ) | 90 | 3 |
| Lentil (yellow / orange / green / black) ( Masoor ) | 116 | 9 |
| Dry peas ( green / white) ( Matar ) | 118 | 8 |
| Fava beans ( Val , Ghewda , Avarekai ) | 88 | 8 |
12. Paneer curry
Paneer is Indian cheese which is quite popular among vegetarians. Paneer can be cooked on low fat oil with veggies. It can also be cooked in a tomato broth. Paneer contains casein protein which promotes a slow and steady rise in the level of amino acid in the blood. It is packed with live cultures and healthy bacteria which facilitate the breakdown and absorption of nutrients that support muscle gain hence forms the best lunch bag for body muscles.
13. Singapore Chicken Rice
This recipe is a signature dish of Singapore. You can use brown rice and chicken breast to make the dish.
Ingredients
2 piece of chicken breast
1 cucumber (8-1/4″) cucumber, chopped
1 cup of brown rice
1 cup of chicken bone broth
4 Tbsp garlic, chopped
4 tbsp ginger, minced
½ tbsp sesame seed oil
3 tbsp light soy sauce
1 tsp sriracha
13. High protein balsamic streak and pasta salad recipe
This recipe will make you forget about the unhealthier mayo dressed counterpart. It is easy to make this protein-rich lunch box idea for bodybuilders.
Full recipe here – Musclestrength
14. Black bean quinoa salad with mango and avocado
This black bean and quinoa salad with mango and avocado is a delicious gluten-free side salad for potlucks, parties and summertime picnics, and the left-overs make a healthy vegan lunch.
½ cup dry quinoa, rinsed if necessary
3 cups of water
1 clove garlic, peeled and grated with a rasp-style grater
½ cup extra-virgin olive oil
¼ cup freshly squeezed lime juice
2 teaspoons cumin
1 ½ teaspoon salt
1 14-ounce can black beans, drained and rinsed
1 mango, peeled, pitted and diced
1 red bell pepper, diced
1 jalapeno pepper, minced, some seeds included for heat to taste
½ cup chopped cilantro
15. Mason Jar Quinoa Salad
This Greek quinoa salad is easily packed into mason jars for quick meal prep. Ready to pack your healthy meal tomorrow morning?
Ingredients:
For the dressing:
2 tbsp olive oil
2 tbsp lemon juice
1/2 tbsp Dijon mustard or more to taste
1/2 tsp dried Italian herbs
1/4 tsp salt
black pepper to taste
For the salad:
1/4 cup dry quinoa
1/2 large cucumber cubed
2 medium tomatoes cubed
1/4 small red onion chopped
3 tbsp cubed feta cheese
2 tbsp kalamata olives
1/2 cup fresh oregano leaves or other green
15. Quinoa Burrito bowls (vegan)
Quinoa is a gluten free high in fiber and good quality protein. This Quinoa burrito will be one of the best lunch for bodybuilders. Find full recipe here
16. Chicken Fajita Bowl
A very easy to make a bowl of Mexican food forms a great lunch idea for bodybuilders. You can create the seasonings from scratch and top it with fresh avocado to give a health boost.
Find full recipe here
17. Creamy chicken chili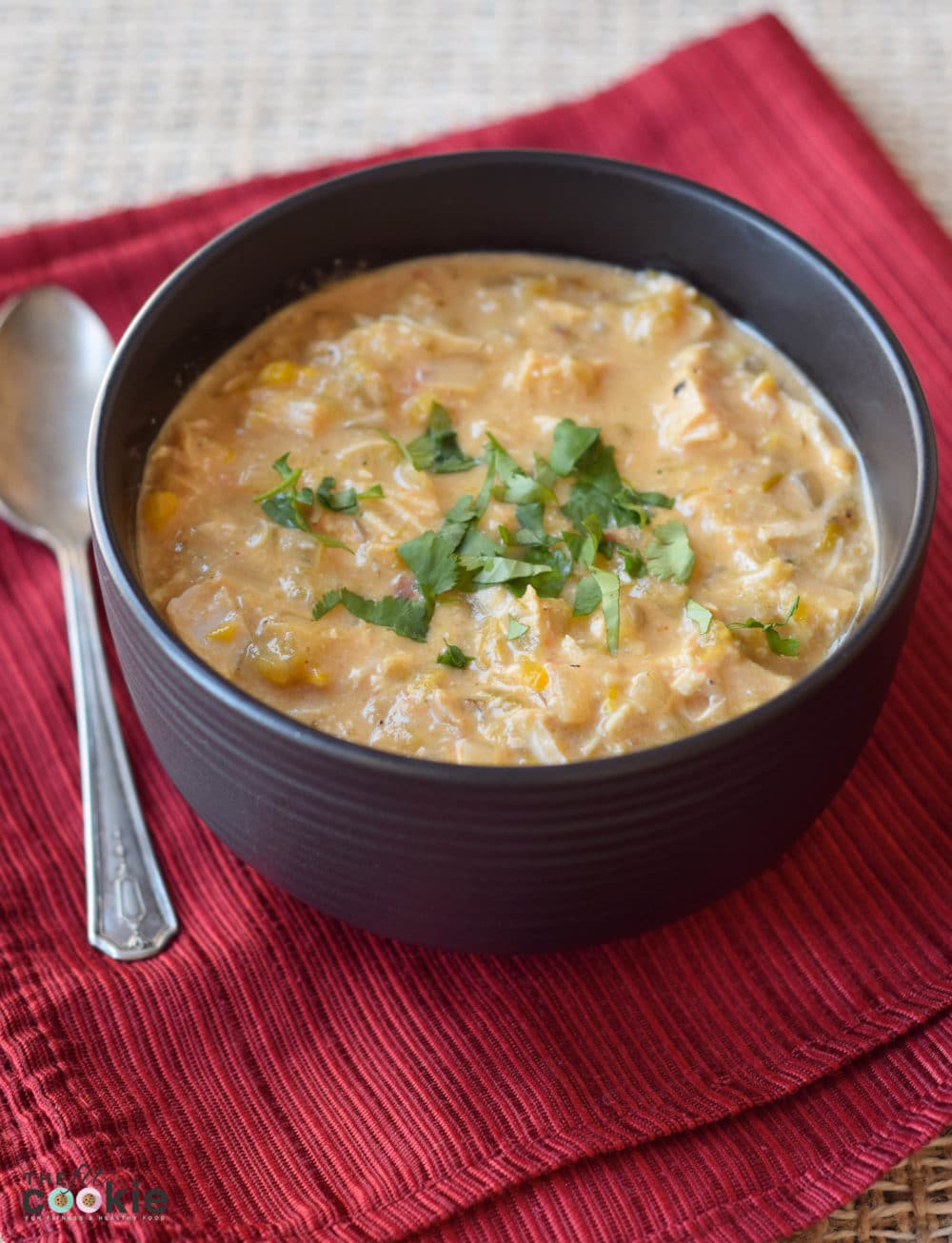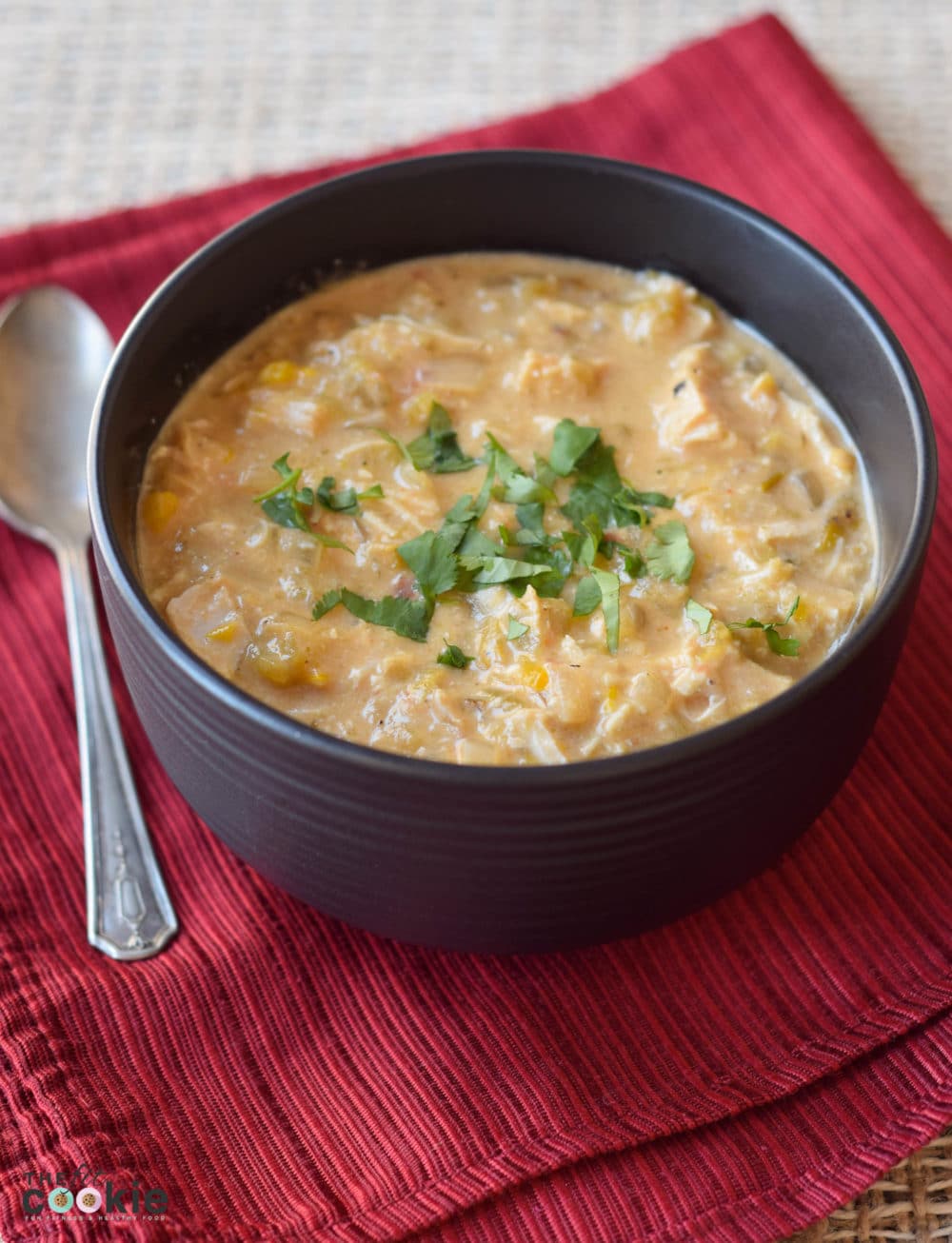 This recipe is a lunch box for bodybuilders It is gluten free and quite fulfilling.
Recipe here
18. Lentil sweet potato chili
If you are looking for an ideal light meal which takes less time to make then this recipe is there for your perfect lunchbox for bodybuilders.
Recipe here
19. Barbequed cauliflower salad
Cauliflower is a very good source of vitamins and antioxidants. From paste to pizza crust, it can be made into anything. For a perfect lunch bag of bodybuilders, we have found this healthy and delicious recipe. Check this recipe here
20. Tomato Mozzarella and Basil Panini
Tomato Mozzarella and Basil Panini is a protein packed lunch idea for body builders. It is good for health and delicious to eat.
Recipe at – Skinnyms
21. Tuna and white bean salad
This makes a hearty lunch, a good amount of protein and fiber is there which makes it as a nutritious lunchbox idea for bodybuilders.
Check recipe here
22. Shrimp Noodle Bowl
A less time taking healthy lunch box idea for bodybuilders, this noodle bowl is full of the goodness of vermicelli and vegetables.
23. Mix vegetable curry
Mix vegetable curry is very popular in India can be relished with roti or brown rice. This will have the best of all the vegetables. It can be cooked with low quantity of oil or desi ghee.
24. Healthy Taco salad
Traditional taco salads are loaded with beef and sauces but this taco salad has the goodness of avocado and other veggies. It makes one of the best lunches for bodybuilders.
25. Avocado Chicken salad wrap
These wraps are plain healthy and fulfilling . They form a great lunch pack for body builders.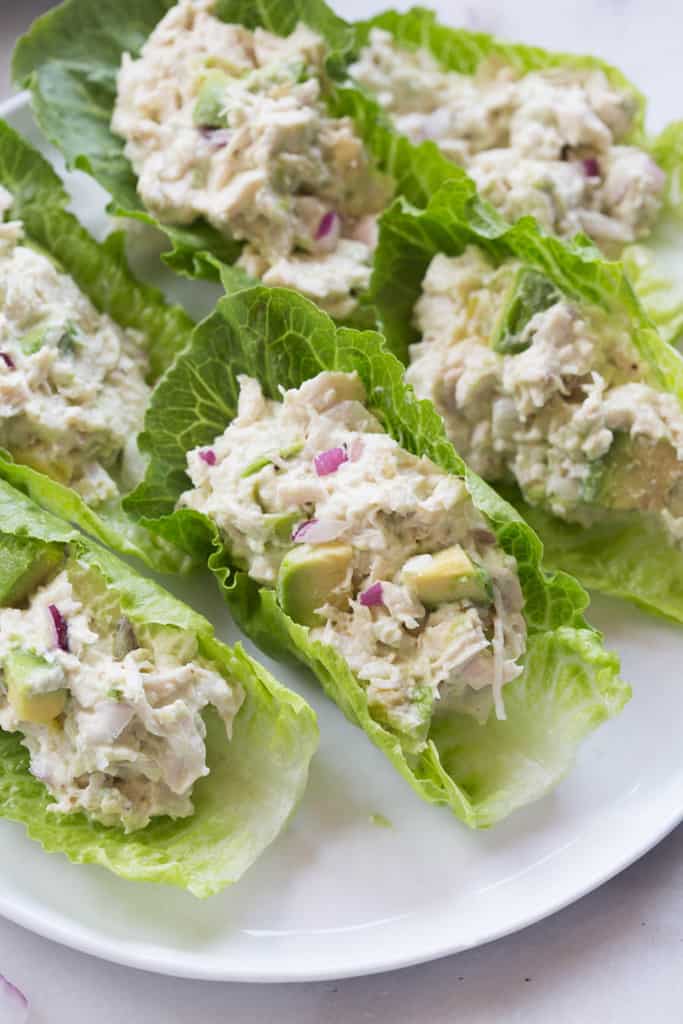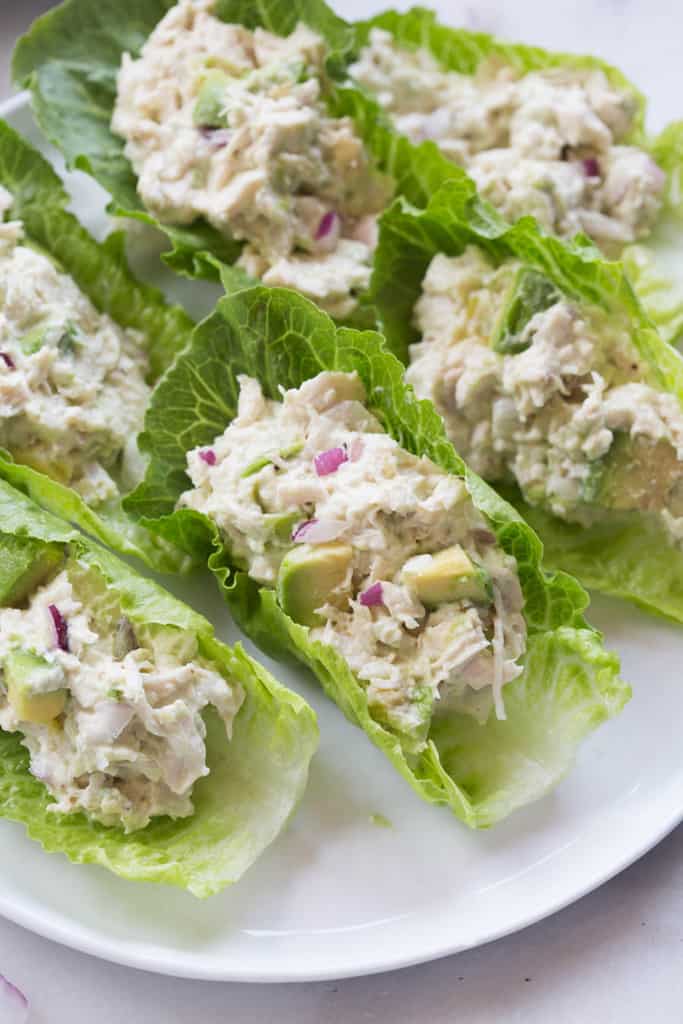 Image courtesy: – https://tastesbetterfromscratch.com
Ingredients:-
2 cups cooked chicken , shredded (I use rotisserie)
¼ cup plain Greek Yogurt
¼ cup mayonnaise
3 Tablespoons onions, finely chopped
2 teaspoons lemon juice
salt and freshly ground black pepper to taste
1 avocado, seeded, peeled, diced
romaine hearts or bib lettuce about 16 leaves
26. Besant kaki (chickpeas)
Besant is an Indian name for chickpea flour or gram flour. Chickpea has numerous health benefits. Besant kaki with rice is relished in many parts of India and is one of the best lunch ideas for bodybuilders. One can use brown rice to make it low in calories.
27. Burmese Tofu
It is a food of Shaan origin. It also uses chickpeas in its preparations. It can be fried or cooked as curry or made a salad according to the requirement.
28. Greek style fish salad
One of the delicious and easy to make meditarean cuisine, this salad is filled with the goodness of fish and vegetables. Find this amazing recipe at best lunchbox ideas for bodybuilders.
29. Prawn curry
Prawn curry can be consumed with brown rice. It is very delicious and healthy food. Mainly consumed in Southern India or as a part of Parsi cuisine. Prawns are mineral rice and contains a lot of selenium, copper and magnesium which maintain good cell health.
30. Pizza stuffed chicken breast
We all love pizza but if our fitness goals are not allowing us to have it so we can have awesome flavors in a macro-friendly way Chicken breast is quite beneficial for muscle gain.
Ingredients:-
3 piece chicken breast, pounded out to ¼-inch
½ cup marinara sauce
3 oz pepperoni
3 tbsp black olives, sliced
1 cup spinach
3 oz fat-free mozzarella cheese
½ cup fresh basil leaves
salt and pepper to taste