We all have heard this several times: "Hair is a person's crowning glory", and I believed that for the longest period. Not to mention, I was often praised for my long, beautiful, thick hair—a blessing to be cherished.
I am a 33-year-old corporate employee trying my best to set a work-life balance. My mornings often looked like this- rushing around the house to prepare for the day ahead, preparing breakfast, getting ready for the office, and helping my family kick-start their day. In between all of this, a healthy routine and having a nutritious meal took a backseat.
So, by the time I returned home, I felt pretty exhausted and tended to binge on junk food. This poor lifestyle led to an increase in my stress levels and my poor nutrition made my body weak internally, resulting in massive hair loss.
I was worried about my long, thick hair getting thin day by day until I read one of the Traya Reviews. The user stated that the hair loss stopped within 3 months of using the Traya products, and she gained thick-long hair within 5-6 months.
I was thrilled to read that, but like any other individual, I did my research and was convinced to try it on my own to see whether it was working.
Let me tell you how I battled my low days, discovered Traya, and achieved thicker and healthier hair.
The Troubled Tale of the Bad Hair Days
Every night, while brushing my hair, I see a lot of hair fall, with strands getting entangled in my comb. Initially, I thought this may be because of some temporary issue or change of season. However, as time passed, the problem aggravated.
It was nothing short of a nightmare to me. I still remember the left side above my temple showing early signs of baldness. It is true that hair gives us a lot of confidence, and only when it starts receding do we understand its value.
With the worsened hair fall and breakage, I started to panic and started looking for causes and remedies. The internet gave me all possible causes, from stress to improper diet to genetics. However, the real cause of my hair loss remained elusive to me.
So I started trying the remedies one by one, but some resulted in itching or dryness because of my sensitive scalp.
Once, I tried a shampoo recommended by one of my friends as it worked for her hair loss, thinking it would be gentle and safe, but to my surprise, I developed immediate scalp allergies. I never tried it again or even suggested it to anyone.
After so many trials and efforts, my hair kept thinning, and the number of ineffective products on my shelf kept increasing. The more I bought these products, the more stressed I felt, which led to increased hair fall.
Quest for a Solution: The Turning Point in My Life
From being a confident woman, I became self-conscious of my changing appearance because of my thin hair. My quest to find the best remedy was still going on. The shampoo or hair kits that promise thick hair growth did me more harm than good.
I was gradually on the verge of losing hope completely, but luck favors the brave. I was brave enough not to give up yet. I still remember it was a Tuesday evening when I came across a Traya product review. In that review, the woman wrote about her hair loss problem and how it impacted her confidence and personal life. It was then that I felt that there are more people like me who are battling the same pain.
My Journey from Despair to Dazzle Started with a Simple Traya Review
So I started looking for other Traya hair reviews to ensure their hair treatment really does what it says. I came across several posts, videos, and people showing positive outcomes after using Traya products. It persuaded me to take the plunge and try the treatment myself to see whether it would be fruitful after so many failed trials.
I started the process by taking a hair test. According to the test, the root cause of my hair loss was identified. It was not only external factors like stress but also my diet. My job was such that I had to attend many meetings and adhere to strict deadlines, which resulted in a lot of anxiety.
Also, my work demanded a lot of daily bandwidth which resulted in my personal care routine going for a toss. I won't lie; there were days when I couldn't even sit to grab a healthy lunch and binge on junk food just to eat quickly.
Traya's Unique Approach
From the very start, Traya's approach caught my attention and other people also resonated with the same experience when I checked Traya's product reviews.
Many people were diagnosed with lifestyle issues and stress that seriously impacted their hair health. I even discovered some underlying causes of hair loss were related to hormones. The thinning of hair is caused by a hormone known as the DHT hormone, and when a person is under stress, the cortisol levels impact the hair cycle, causing a lot of hair fall.
From the Traya health review section, I learned that many of us are eating the wrong food, due to which a lot of minerals and vitamins are lacking in our bodies, resulting in hair fall. Some faced hairfall due to genetics while others faced it due to major lifestyle changes. Everyone's problem was different, which required customized solutions.
The fact that compelled me even more to go for Traya was their approach to treating the hair loss problem. The treatment came in the form of a kit.
The Hair products that were prescribed to me were all customized. This genuinely intrigued me the most. For so long, I blindly pursued hair products with false claims. This was the first time I had products catering to a personalized, individual problem. Every hair problem is different; thus, the solution should also be different.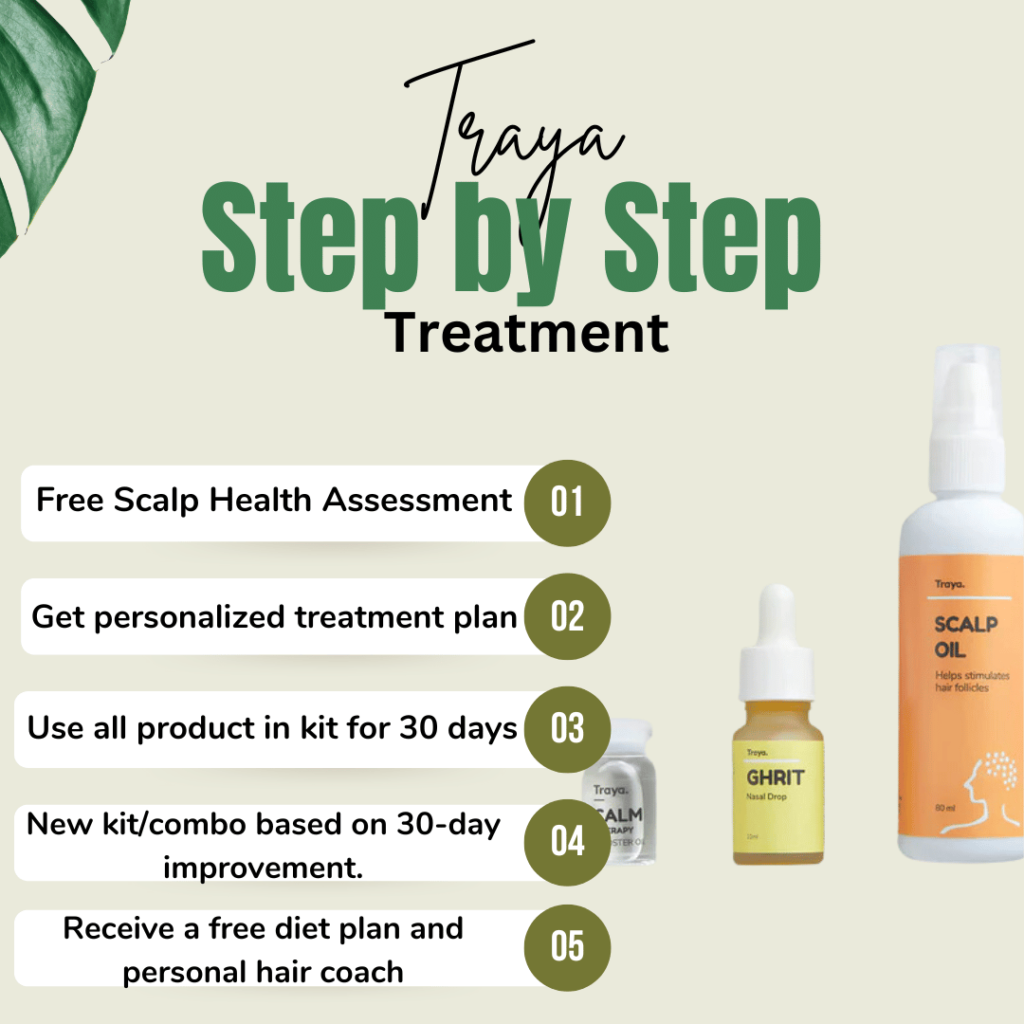 How to Get Healthy Hair Growth: A Step-by-step Treatment
This treatment did not have a generic one-size-fits-all kind of approach. To begin with, you will first have to start with a scalp health assessment which will be done through a hair test.
This hair test is free of cost and will help narrow things down to the root cause behind your hair loss, which in my case was stress and the kind of hectic life I led. Once the root cause is revealed, a treatment plan will be given.
The hair treatment plan contains a kit or combo, which you have to buy and it will be sent to your address. This treatment includes products for your hair, specially customized as per your hair test results. You should not use the hair products individually as that might not give you the desired result you are looking for. It is important to use all the products in the kit for 30 days. After that, based on your improvement, you will be suggested a kit for the next 30 days.
So first, you take the online hair test, and based on your response, a treatment plan will be recommended to you. In this treatment plan, you will get a free diet plan, too. The best part is you will also have a personal hair coach who will guide you through your hair growth journey. In case you encounter any problems, you can always book a call and reach out to your personal hair coach.
Traya Hair Products Review
The hair products the doctor prescribed to me were non-toxic. These products were incorporated into my daily hair care routine and were not only safe but also cruelty-free and contained no allergens. As for my sensitive scalp, I faced allergy problems in the past due to frequent trial and error of many products.
However, with Traya hair care products, I faced no such problems. There was no itchy scalp post-use. One of the products recommended to me was the Minoxidil 2% serum and after using it for 4 to 5 months, I witnessed substantial hair growth. I followed the treatment plan as told, and these products were game changers.
The Highlights of My Journey with Traya
The treatment took a few months but I diligently followed the regimen. I won't lie; initially, I was a tad skeptical. For over 4 months, there was no major difference. However, I was patient with the treatment. The innumerable success stories from the Traya Review section gave me hope to stick to the regimen. At times, I would book a call with my coach and tell her that I was unable to follow the diet completely. However, she would assure me that if I used the recommended products and even if 30% to 40% of the diet was followed, I would still see results. This motivated me a lot, and I kept at it.
From this treatment, I learned that good things take time, and one must be patient in life and have faith. I did not lose hope. Gradually, things changed. It took time and there were days when I just wanted to give up. As I mentioned earlier, I was not able to notice any considerable change in the first 4 months as such. However, from the 5th and 6th month, I noticed considerable changes. My scalp was healthier than ever. Also, I could see way less of my scalp. I have finally achieved my hair goals, and happy hair days are back. It may sound too good to be true, but this is my story!
So, is Traya Treatment Really Effective?
Let me answer that question! Well, I would say a definite YES! The treatment will help you regain your hair and with that, your lost confidence as well. The process is slow, but results are assured at the end. This treatment takes time and for the good. From my own experience, I can assure you that if you hold on to it, you will surely welcome back your good hair days.
When I went to the Traya hair review section, I saw people had wonderful reviews to give about Traya. In my review, I shared my thorough experience so that others could get help, just like I did. Are you wondering what the success rate of Traya is? Then let me tell you there are about 25,000+ Traya product reviews, and 93% saw the results for themselves, including me.
Earlier, I had a lot of doubts regarding the treatment, whether it would at all work or if this was just a temporary solution, but Traya is truly a miracle. It was definitely worth investing in. The thickness of my hair makes me feel so happy. I would highly recommend it to everyone facing hair-related problems. Now, when I see myself in the mirror, I see a beautiful me with confidence.
I genuinely want to thank Traya from the bottom of my heart. If you are having a rough time with hair like I did, give it no second thought. Traya will surely be the guiding light for you. Just be patient with the treatment plan and follow your regime as prescribed, and you will surely see phenomenal results.