What are the three things you can NEVER compromise on? These are healthy food, clean air and pure WATER. This is a precious gift from Mother Nature which quenches our thirst and comforts us. Body can drag itself for months without food but you hardly survive without water for a week. But, what happens if this lifeline becomes threat for your life by causing health problems like diarrhea, cholera, typhoid etc. There is a simple solution to all these problems and that is Water Purifier.
Why do we need water purifier?
A good water purifier is loaded with advance technology to give you clean and clear water by:
Removing heavy elements like iron
Kills germs, bacteria like E. coli and viruses
Removes water pollutant which get mixed during water supply
Improves taste and odor of water (water is colorless and odorless but the chlorinated water is supplied in most of the urban areas)
Filter soil and other particles like sand if you are using ground water
Common solution of water contamination
Water purification by Reverse Osmosis and Ultra violet technology has been used by various water purification kits which require constant supply of tap water and electricity to filter the impurities which can make your pocket heavy with bills.
The best, smart, reliable and cost effective solution
If you get a water purifier which not just take care of your drinking water but also makes your fruit and vegetable 1X No!! 2X No!! 10X No!! BUT upto15X purer then what you will say about such technology. We are not kidding, this technology has arrived and we have named it Pureit Ultima RO + UV with Oxytube.
Features of Pureit Ultima RO + UV with Oxytube
Looks
Will wise men have said that don't judge a book by its cover but presentation also matters in our age. So here is a water purifier with premium looks which will make your kitchen more stylist and modern with its presence.
Effective technology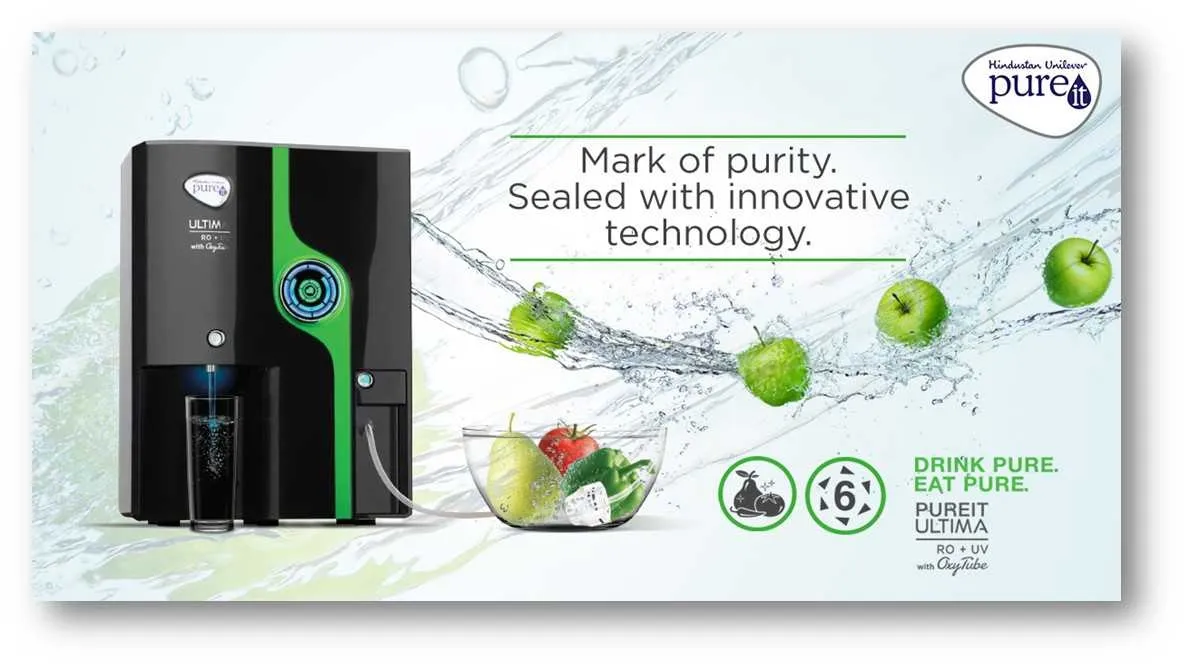 Advance technologies like reverse osmosis and ultra violet technology are used to give you pure water.
No electricity required
This product comes in various models which required no electricity supply, it means it can be used in those regions where power supply is limited or it goes out frequently.
Digital display
It features a digital alert system which reminds you about the expiration of your GermKill kit. There are two concentric circles on the display console which shows the ongoing consumption of GermKill kit and will alert you 15 days before the kit expires.
Easy maintenance
It is very easy to install and maintain at home and it doesn't need any plumbing.
Not just purify water
This purifier also takes care of your greens like veggies and fruits (which generally have residues of pesticides and germs) with its oxy blast technology which makes your food upto 15 times purer.
Home demo
The product comes from a reliable brand which is known for its cost effective and advance technology loaded products. You can book a free home demonstration to ensure its effectiveness and functionality.
Theopinions expressed in this article are the author's own and do not reflect the view of the company or the brand.