Swim Spas Reviews
In today's time, there are various ways through which we can keep ourselves healthy and fit, and the use of Swim Spas is one among them. These swim spas, also termed as 'Wellness Spas', are popularly used these days on account of their multiple health and fitness benefits. These swim spas offer all the comforts and utility of a traditionally designed spa. Besides this, you can also relish the benefits of a conventional swimming pool. These are also useful from the point of view of exercise.
Here are some of the finely designed and featured packed swim spas:-
Arctic Spas – Ocean
This is a unique type of all-weather swim spa, which is specially designed for acute climates. It is constructed out of an innovative technology combination, which includes heating elements and advanced insulation system.
Pros
Comes with heat recovery and solid state water cooling systems.
Features FreeHeat Insulation System, which provides a solid layer of insulation to all 6 sides of the swim spa.
Has total access design, which improves heat retention and thus, saves electricity.
Has easily removable side panel to conveniently access all critical components.
Offers therapy seats for up to 8 people with 45 to 61 therapy jets.
Uses Monsoon Counter Current Swim System for creating water flow for basic swimming.
Cons
Not fit for people, who are interested in athletic training or progressive swimming functionalities.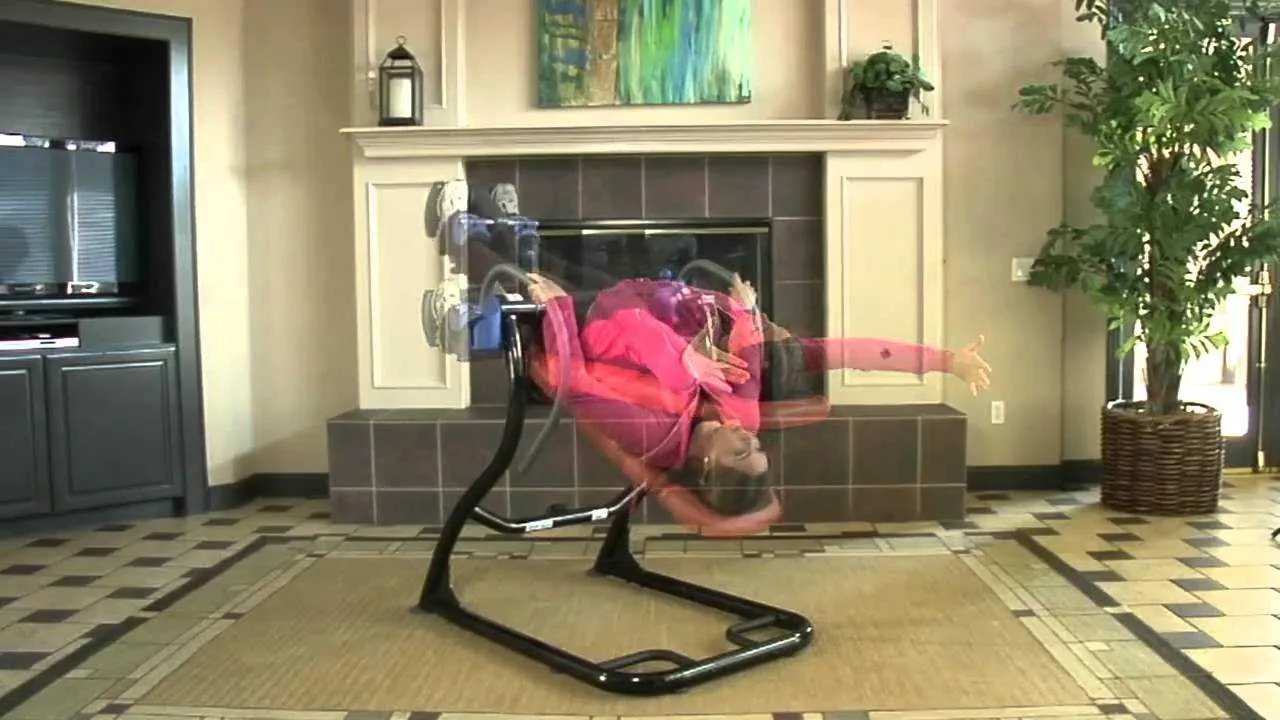 Cal Spas Ultimate Fitness Freestyle F-1439 Swim Spa
The Ultimate Fitness swim spas by Cal Spas boasts of superb stainless steel jet design and are high on performance with 6.0bhp powerful pump.
Pros
Comes with a bacteria-fighting antimicrobial filter.
Offers open-swimming experience with its 4 adjustable SwimJet Propulsion jets.
Gives resistance for water-based exercises.
Capable of holding up to 1800 gallons of water.
Comes included with 37 jets, 6 Hydrostreamers and LED lighting for enhanced relaxation and entertainment.
Cons
It can accommodate only 6 bathers, so is not fit for large family size.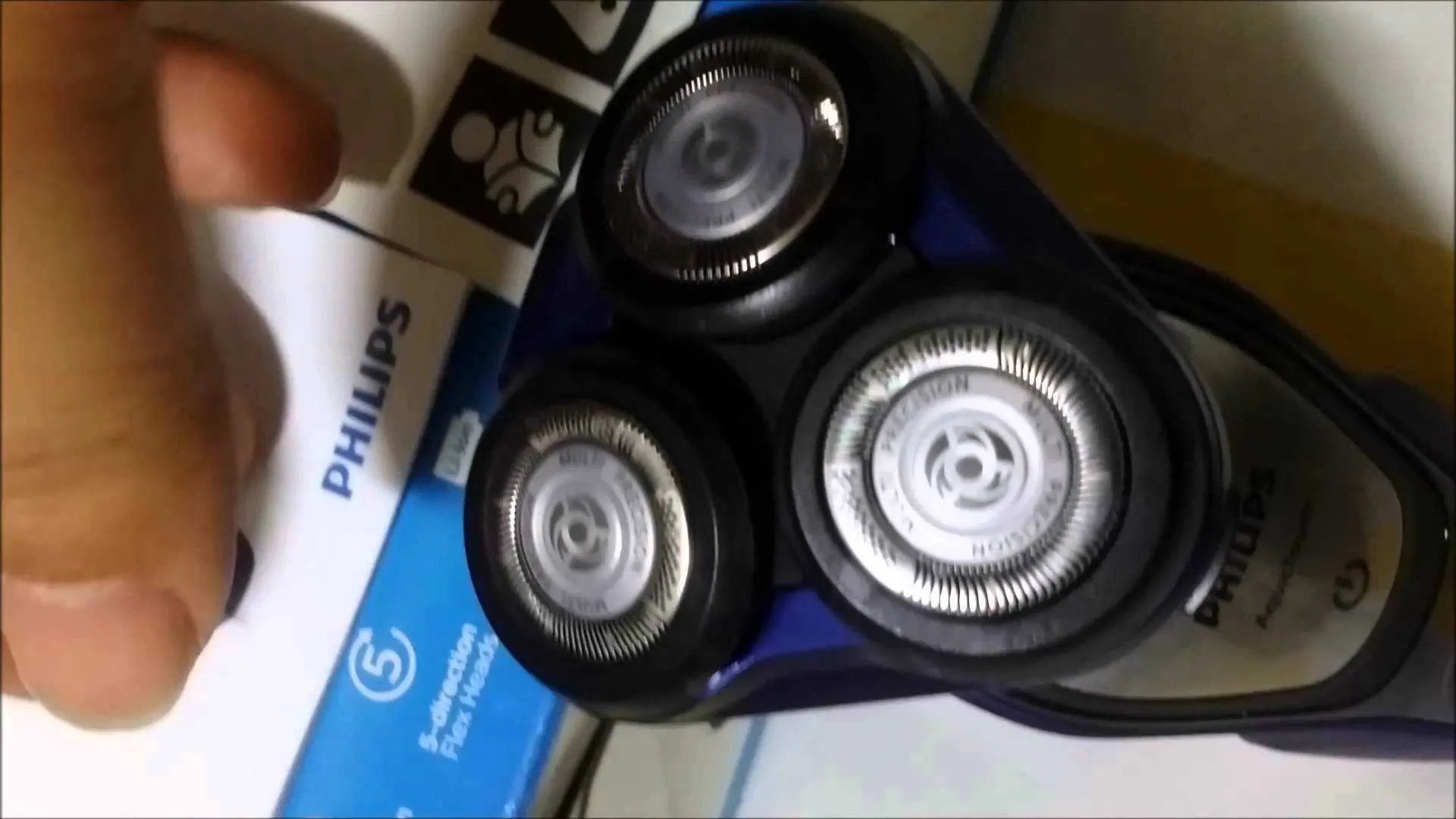 Dimension One AquaFIT PLAY Swim Spa
This swim spa from Dimension One is environment-friendly and energy-efficient in nature, as it is made-up from recycled components. It effectively retains heat to provide you enhanced relaxation.
Pros
Comes with 2 hydrotherapy seats at one end and one more 3-feet at another end.
Capable of holding up to 1700 gallons of water.
Features up to 6 high-volume swim jets, so you can customize the speed and pressure as per your requirement.
Comes with durable shell, which resists blisters and cracks.
It incorporates advanced water filtration and management system.
Comes included with the stereo system and extra lighting.
Cons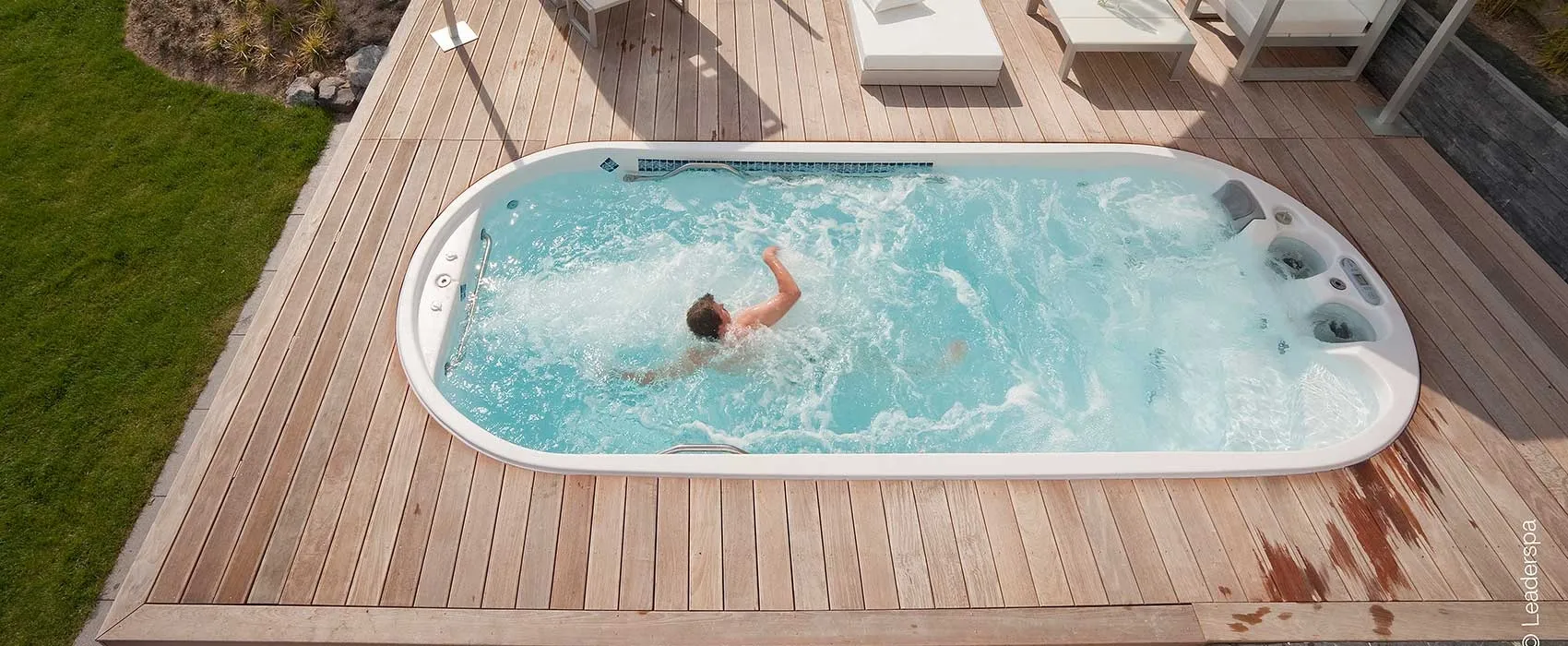 Dynasty Aquex Pro Series 13 Swim Spa
This swim spa is perfect for both swimming and resistance exercise. Its unique design helps in limiting water damage and keeping the unit new like always. Also, it comes included with reverse pull technology, which increases the power of jets automatically and reduces the amount splash, created by these jets.
Pros
Small in size, thus, is perfect to be used in small space or who want a sturdy training tool.
Provides comfortable swimming for 1 swimmer with spa facility to 3 people.
Capable of holding 1500 gallons of water.
Comes included with 10 jets that include 2 illuminated river jets, 2 ozone jets and 6 illuminated fountain jets.
Comes with built-in waterfall for enhanced experience and spa seat pillows for added comfort.
Cons
Bit expensive as compared to other swim spas.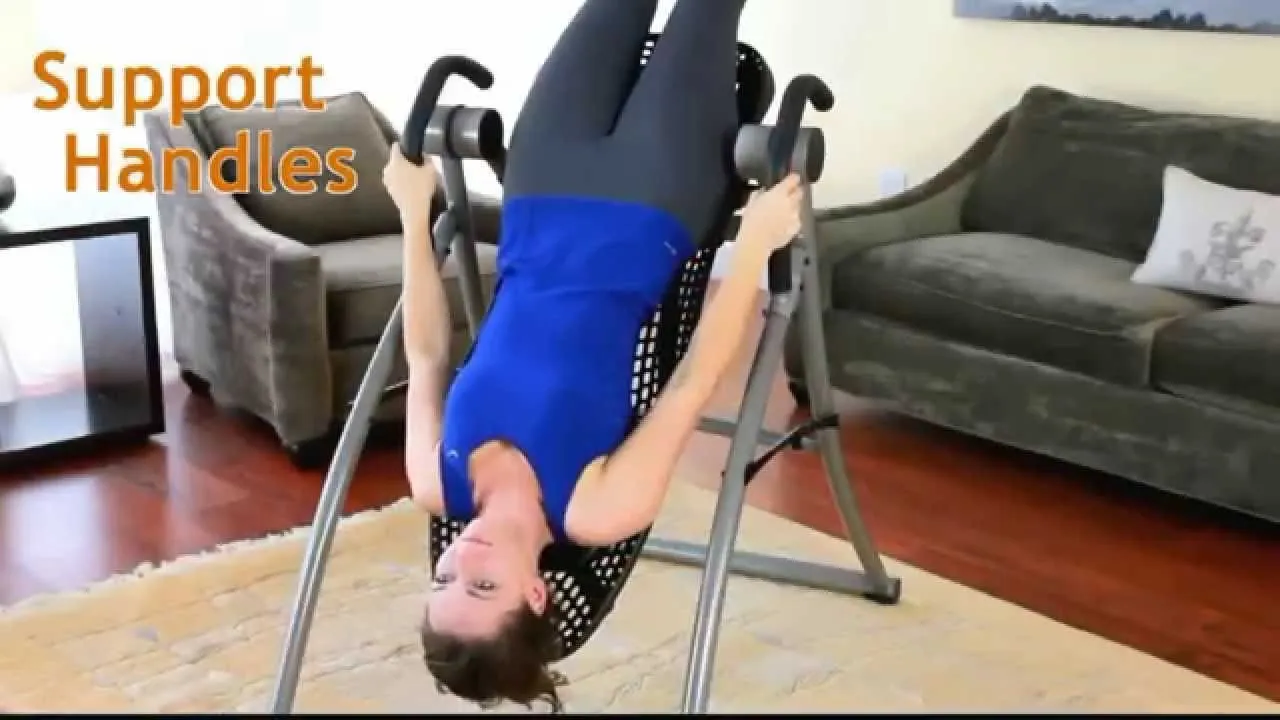 Endless Pools 15' Swim Spa
Endless Pools 15' Swim Spas is perfect to be used for athletic training, relaxation, aquatic therapy and top-class entertainment. Also, it is easily customizable, as per the requirement.
Pros
It offers real, open-water swimming experience.
Comes with 24 adjustable therapy jets and 2 seats.
Comes included with underwater treadmill for speed, ranging from 0.6 to 4 miles per hour.
Offers the facility to adjust current to up to 1:08 hundred-yard pace and from 0 to 5,000 gallons /minute.
The swim spa is ideal for casual exercise or competitive training.
Capable of holding up to 2140 gallons of water.
Cons
As compared to other swim spas within this price range, it comes only with 2 seats.
Buy from AmazonBuy from Amazon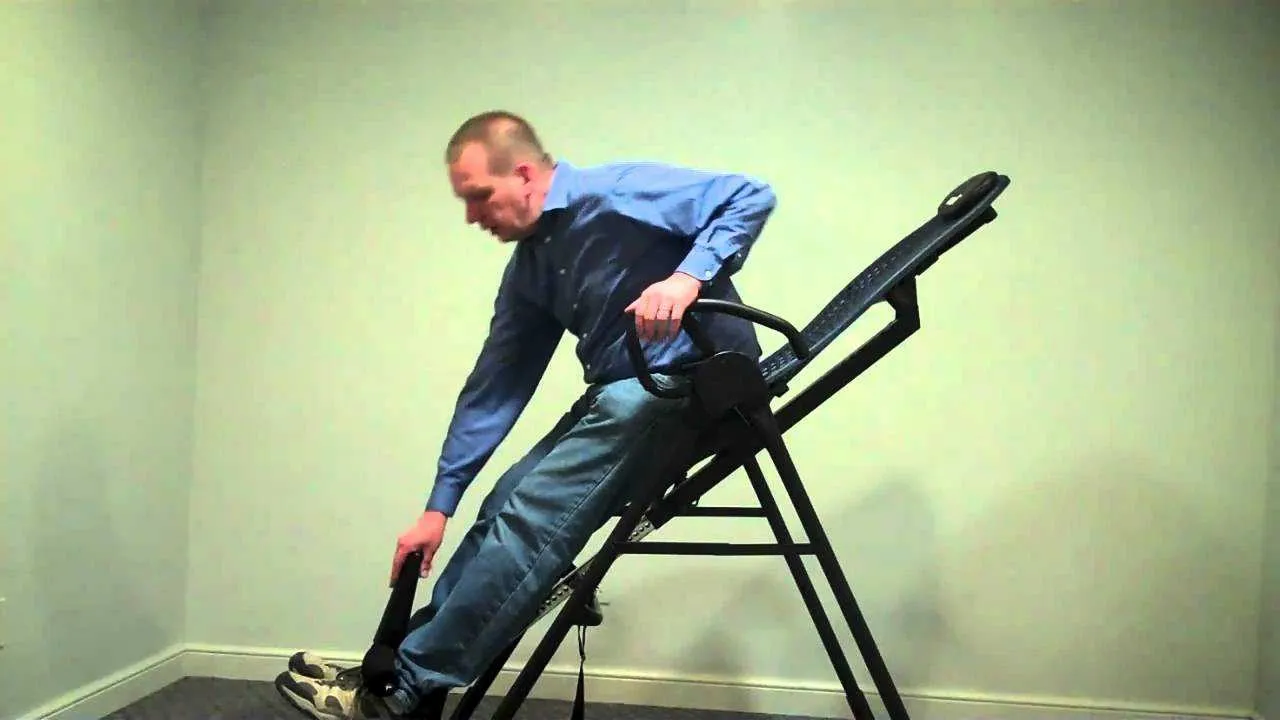 H2X Therapool D Swim Spa
This swim spa from H2X is ideal to be used in any climate condition i.e. you can use it throughout the year. It is a jetted swim and fitness spa, compact in design and small in size.
Pros
Comes with 54 stainless steel jets and 3-flow Stream Swim jets.
Capable of holding up to 1060 gallons of water.
It easily fits in most of the recreational areas, both indoors and outdoors.
Used for resistance exercise, rowing, family fun and strength training.
Wi-Fi facility can also be added to control spa functions remotely, with the help of a dedicated app.
Has 60-inch of notable depth and exclusive noise reduction technology.
Cons
As compared to other models of the brand, it does not separate the spa from the swimming area.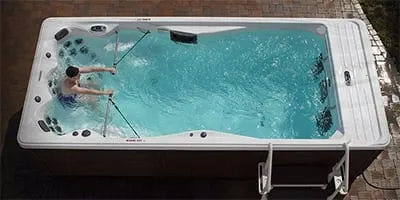 Hydropool AquaPlay Swim Spa
It is designed for the cross-training and is supposed to be used by the individual athlete.
Pros
Capable of holding up to 1489 gallons of water.
Its 3-tier step is constructed from alluring cedar planks.
Designed for resistance exercise, thus, compatible with various equipment.
Comes included with a smartphone app, which can be used as wireless hot tub control.
Cons
It can only be used by an individual athlete.
Provides seating only for 3 people.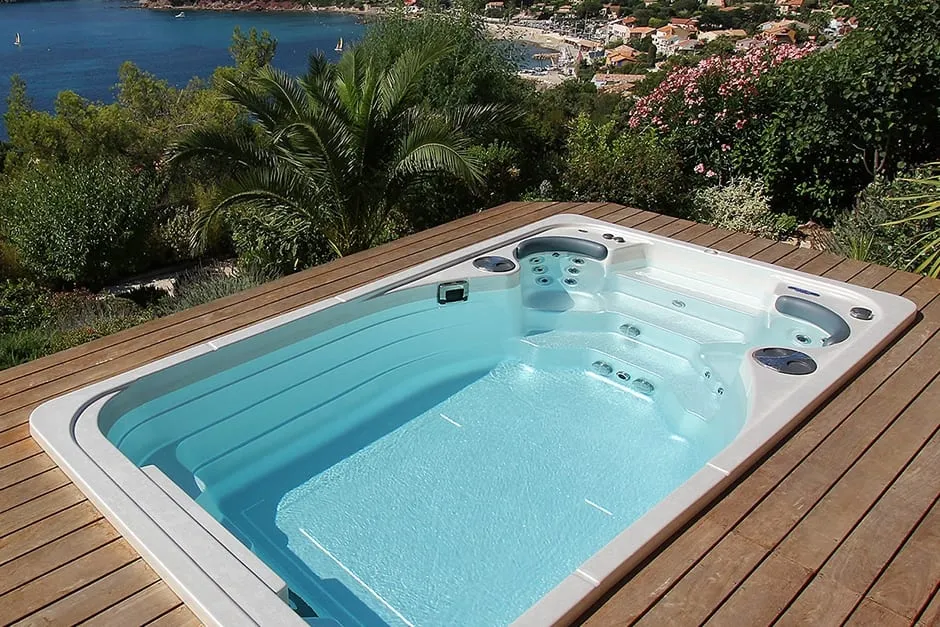 Michael Phelps Impact Swim Spa
This swim spa comes wrapped in a unique design with a wide range of top-class features.
Pros
Comes with Wave Technology Propulsion System for real and smooth swimming experience.
Features rowing and exercise equipment, isolated area for hydrotherapy with 2 built-in therapy jets, and LED lighting.
Capable of holding up to 1526 gallons of water and has 51 stainless steel jets.
Cons
After 10-15 minutes of swimming, the pool gets cloudy with bubbles.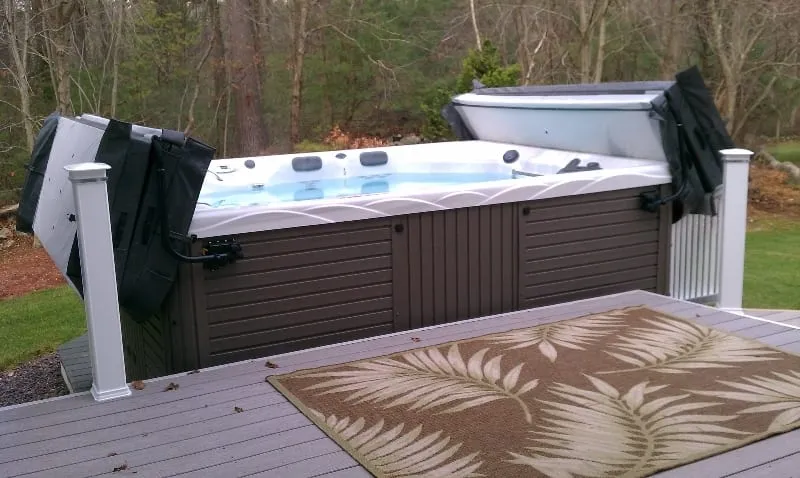 SwimEx Residential Swim Spas
SwimEx Swim Spas come with a durable shell and robust components that help in preventing absorption, corruption and likely deterioration.
Pros
Comes included with specialized Paddlewheel Technology for swim current.
Capable of holding 2600 to 7700 gallons of water.
Comes in pool construction with built in handrails, emergency shut-off bar at the read side and recessed steps.
Features a propane or natural gas heater.
Cons
Does not include spa jets, and to get this feature optional upgrade is required.
ThermoSpas The Olympian Swim Spa
This compactly designed Swim Spa offers a wide range of resistance exercises.
Pros
Comes with built-in attachment mounts and acrylic side grab bars.
Has an adjustable seat, which provides a number of massage options.
Comes with 35 to 75 jets and is capable of holding up to 425 gallons of water.
Provides seating for up to 6 people.
Cons
Its water holding capacity is bit low, as compared to other available models in the market.