Stamina 1215 Orbital Rowing Machine
Rowing is a low-impact, efficient and quite effective workout that brings all major muscles into practice – legs, arms, back, buttock and abdominal muscles. Therefore, it is recommended as one of the most effective workouts to build a strong back. At the same time, it is also highly-effective exercise with low impact to boost up your metabolism. So, start rowing and you can burn fat and calories without any impact on joints.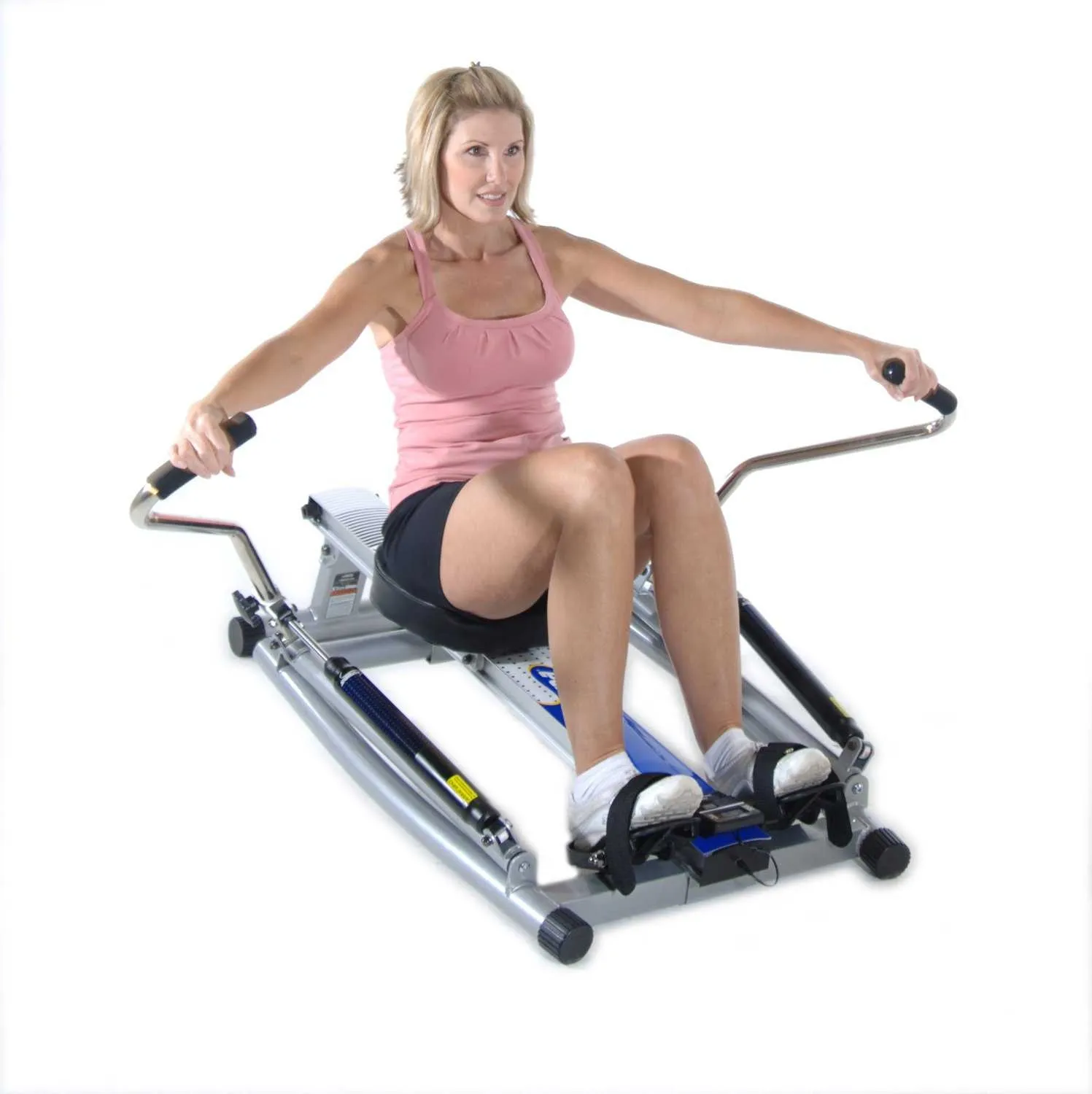 Recommended Post
The entire rowing process can actually be segregated into three major main phases:
Starting point, known as the catch phase
Second, the drive phase, (the finish) and
Third, the recovery
Rowing is without impacts, so you can adapt it as the lifelong form of physical activity. However, it is recommended to practice within the optimum heart-rate zone that is approx 70-80% of the maximum heart-rate.
Stamina 1215 Orbital Rowing Machine has been designed to let you enjoy this low-impact, all-around activity that ensures cardiovascular health and strength. The machine provides full-range of motion rowing, more like rowing on water with the help of a padded seat floating on a ball bearing roller system. Adjustable resistance and foam grips to maintain stability and comfort of hands are additional advantages with this machine.
Stamina 1215 Orbital Rowing Machine garners mostly positive reviews among users who rate it nearly 9.2 on the scale of 10, which is quite impressive. Users find it sturdy, value for money product, and the best rower ever for some serious workout for cardiovascular health. Ease of use is yet another feature that users like about it. Thanks to its user-friendly design that elderly people can find it easier to work with. Another impressive thing about it is the wide screen interface to allow people to keep a watch on their progress.
Let's have a look at important features of the machine or the pros:
Provides seamless hydraulic arms for resistance and tension controls with adjustability
A compact rowing machine that can get you full range of motion like rowing on water
It features thick and comfortable padded seat, and foot plates that can rotate
It requires some assembly to get started (assembly is easy as you get the products with necessary tools and parts to do it)
The machine features single button monitor to display row count, time, speed, distance and calories burnt
You get the product with 5-year warranty on frame, but 90 days on its parts
Two rowing arms replacing the classical pull chain
Silent rowing machine that doesn't let you endure hours of squeaking while working out
The cons
Like anything else in the world, you cannot exactly expect it to have originated without some drawbacks. Stamina 1215 Orbital Rowing Machine attracts some negative comments too. Moreover, the only downside as noticed by many users in this rower is its slight incompatibility with the novice users. Naïve ones may have difficulty setting the resistance and they may find it quite challenging. However, one has to consider that this machine is deliberately engineered to challenge every muscle and the entire body during the workout, something that amateur practitioners may find difficult initially. Fortunately, this rowing machine convinces the body to accept the changes that come with the intense workout.
A few of the users also found problems with frames and adjusting the resistance. However, it may be simply due to the fact that some people are quite aggressive with their exercise machine than others.
Many of the reviews are in the favor of the machine saying it an excellent machine for a great workout session at home. If you are considering the Stamina 1215 Orbital Rowing Machine for purchase, then you would find that the number of users supporting this rowing machine is much higher. Overall, it can be said that it is a nice purchase option.
Leave other users, share your thoughts – what do you feel about this machine? Frustrating or rewarding?