Misfit Shine – Activity and Sleep Monitor is a great activity tracker with simple yet effective design that appears stylish. It is waterproof and able to track a number of activities including swimming, running, walking and so on.
Staying active and getting enough sleep may help reduce your risks of chronic diseases such as diabetes, hypertension, and atherosclerosis. These medical problems may occur if you lack enough physical activity, which may also affect sleep quality.
An activity and sleep tracker allows you to set your health, fitness, and wellness goals, visualize your progress, and stay motivated. When you invest in one, it's like investing in your health and well-being. But what are the important features one should look for in an activity and sleep monitor? How do you know if a brand delivers on its promise, such as better sleep and health?
This article reviews Misfit Shine, an activity and sleep monitor. Learn about its features, benefits, and how you can get the most out of using this product below.
Misfit Shine – Activity and Sleep Monitor Review
The crowded fitness tracking market has yet another name Misfit Shine activity and sleep tracker, but with features that give it an edge over others. The beautifully designed activity tracker is good to wear anywhere you like using the magnetic strips to hold it on place.
The Misfit Shine – Activity and Sleep Monitor is known for its appealing design. It is constructed out of aerospace grade aluminum having grooves across the middle for using various accessories. The design is compact, light and small so that it weighs just 9g on its own and 16g with the straps on.
Click Here for More Information and Buy
You can wear it anywhere on your body for tracking the activity. It is provided with clasp and sports band. The clasp is made of rubber having magnet on one end, and it holds the Shine from the back. You can attach it to any clothing including shorts or even swimsuit to measure your activities. It is water resistant for up to 50 meters. The device is rugged and durable so you don't have to worry even if you place it in your washing machine unknowingly.
The sports band is rubber made watch strap that looks more like a smart accessory than an average fitness tracker. And, this is what makes people to go for it. You can also couple it with a leather strap, if you purchase separately.
It is waterproof in construction and extremely light in weight so you can forget if you are wearing it or strapping around your wrist. The only thing to remember is that it is extremely accurate when you happen to wear on your clothing. As you move your arms more often than anything or even stop moving altogether, this can lead to inaccurate results. This is why using a clasp is better than any other method of using it.
Keep it in sleep mode, and it looks like it is without display. Tap it double on the face and it would light up the LEDs around the edge to indicate your current goals progress and time. Each light denotes the 5 percent completion of your goal. The goal progress is shown in the circular light ring that goes clockwise and with the goal completion, a complete circle is formed. It makes a simple and effective way to track your progress without the app.
On the rear is a 12 logo to show which way the tracker to be placed for accurate readings. The device connects to the iOS app via Bluetooth and doesn't require pairing. The Bluetooth LE reduces the power consumption and the cell watch battery that has the life of 4 months.
Misfit Shine – Activity and Sleep Monitor app is simple yet effective in monitoring your daily activity progress. Color coded panels show the type of activity – energetic or medium or low. You can take your daily overview as well as weekly to compare your activity and keep a track of your progress.
Overall, it is highly accurate and lets you know about the activities like cycling, running, swimming or walking. It works more precisely when on cloth than on your wrist. You can personalize your goals in the app and get to know more about your activities.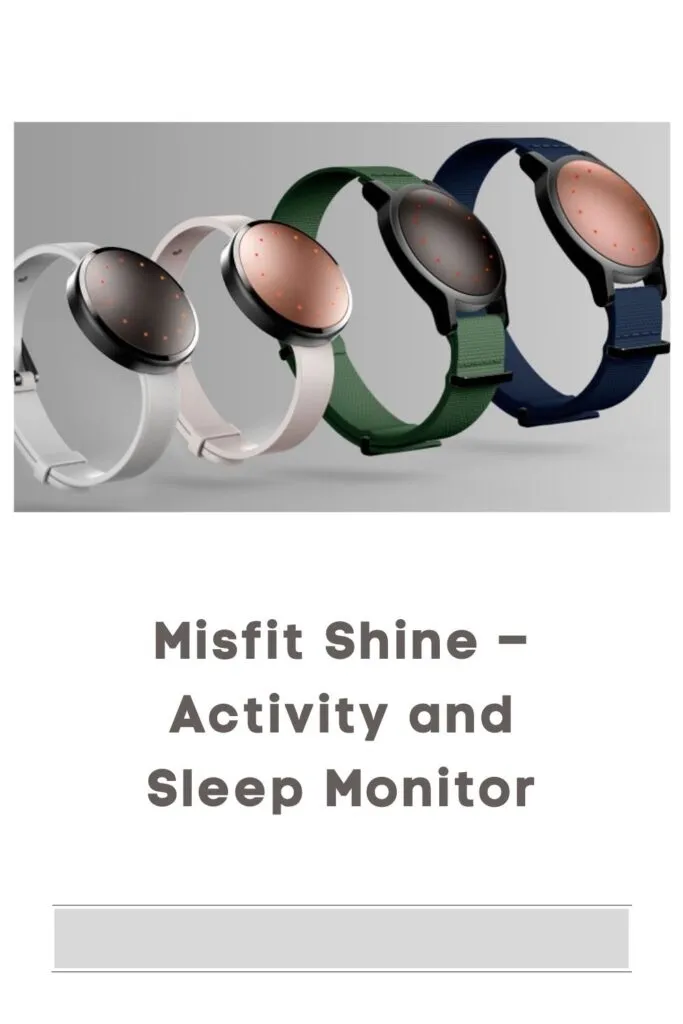 Click Here for More Information and Buy
Important features:
Misfit Shine can help you to easily track your fitness and health goals. It can help you identify areas for improvement so you can make the necessary changes and adjustments in your fitness and wellness program. Check out the best features of this product below.
Able to track steps taken, distance travelled, calories burned and other activities like running, cycling, walking, swimming and many more
Modular design allows wearing it anywhere on your body
Comes with automatic monitoring of sleep and tracks how long you have slept
Offered with a replaceable battery that can last up to six months without charging; Misfit recommends Panasonic CR3032 batteries
Made out of aircraft grade aluminum featuring minimalist design to keep it compact; features 12 LEDs
Designed to be water resistant for up to 50 meters
Should be used after a thorough session with user manual, battery installation guide and installation video
You can also use Misfit Shine together with other devices such as a sleep mouth piece to help you stay on top of your goals and achieve better health outcomes. A sleep mouth piece helps reduce the chances of snoring. Snoring is among the sleep problems that can affect your overall sleep quality and well-being.
The downsides:
Although the device is good in terms of design and activity tracking, it lacks in altimeter features that track the number of stairs climbed. Some users also feel that the device is inaccurate at times and the current model works with iOS only, with Android app still in development phase. Also, there is something missing from sleep monitoring.
Final words:
If you are in search for a fully functional waterproof activity tracker, then Misfit Shine – Activity and Sleep Monitor. It also makes a good choice if you are style conscious and want something that suits your persona. The device can track a number of activities, and hence make a great deal. With prolonged battery life, the deals get even better. With an average rating of 8.5, it is worth purchasing.
If you have something more to share about this product, then it's commendable. Share your thoughts and let others know more about this product.