If you are in the search for a rowing machine that would let you benefit from a full-body cardiovascular activity while giving emphasis on arms, shoulders, legs and back, then Lifespan Fitness RW1000 Rowing Machine is all you need. No need to worry about your joints as it provides a smooth workout without an impact on joints. Its sturdy construction allows it to support up to 300lbs of user weight. Aside from this, the rowing machine has got several other features like easy storage with fold-up option, multiple levels of tension, and multifunctional fitness monitor.
Recommended Post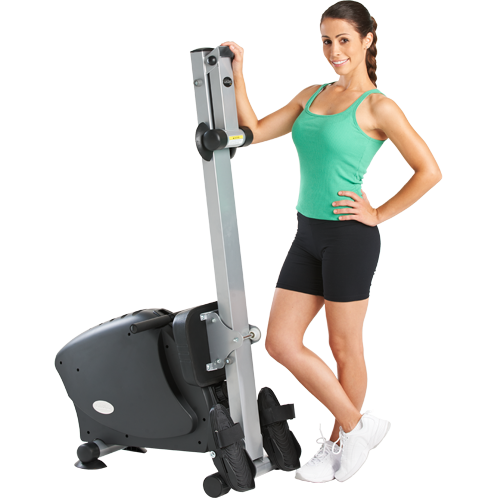 It is a mid-priced model which costs between Stamina 1215 Orbital and Concept2 Model D, but offers more for the cost it demands for. Anyone looking for a sturdy rowing machine that is not so cheap but would break the bank as well, then RW1000 is the rowing machine to bet for.
Talking more about it, this machine is a professional grade work-out equipment that has also won '2008 Gear Awards Seal of Excellence.' This is a comfortable, quiet, smooth and easy to use fitness machine – a great product by its manufacturer that strives to deliver the best in gym equipment like elliptical trainers, treadmills, etc. The manufacturer, LifeSpan Fitness, is greatly acknowledged among fitness experts for producing extremely durable exercise equipment that is intended to last for a lifetime without demanding for regular maintenance.
Users of Lifespan Fitness RW1000 Rowing Machine can get a peace of mind with its generous warranty and slightly higher weight capacity. The most talked about feature of this machine has been its quiet performance. This magnetic resistance rower never troubles its users with annoying noises that is case with most of the fitness machines out there on the market.
Users also liked the comfort offered by the padded seat, which also made them enjoy their longer workout sessions. Handles are also liked by the users, but they were not very fond of footrests. In addition, users also didn't like the fitness monitor much. They found a scope of improvement for better data tracking or comparison. A few users found that when they pulled the handle instead of seat, the monitor didn't turn on; but as soon as they moved the seat but not handle, the machine was active. Because of this way of data recording, there may be inaccuracy in measurements like speed, distance and calories burnt. This is definitely the major weakness that draws concern.
Here is a list of important features that Lifespan Fitness RW1000 Rowing Machine is acknowledged for:
Solid steel frame for a sturdy built having dimensions 90 x 18.5 x 23 inches (L x W x H)
For easy storage, it folds to 34 x 19 x 64 inches (L x W x H)
Super quiet performance
Adjustable resistance of five levels
Secures 2008 Gear Awards Seal of Excellence
Comfortable and easier to use
With a 16.5-pound flywheel, it has got a quiet and smooth eddy current drive system for resistance
Provides workout feedback like time, calories, distance, stroke per minute through its three-LCD monitor
Easier to fold and easier to assemble when working out
Available with wheels to easier to use
Good for shorter and taller users alike
Good warranty offers – two years for parts; five years for frame and one year labor warranty
The downsides:
Below-average fitness console is something to consider
People expecting advance fitness may not like it much
Poorly mentioned instructions brings along difficulties
Poor foot pedal design may trouble as it makes slightly difficult to secure feet while working out
Fabric-made pull chain symbolizes poor quality as it can wear down in a short span of time
Provides limited workout data that has not much to tell you
Final words
Lifespan Fitness RW1000 Rowing Machine has managed to garner positive response from most of the users. As per consumer reviews, the average rating it has got is 9.1 on the scale of 10, which makes it a good choice. Users also find it a good fitness machine for a decent workout session at home, and worth the money it asks for.