Following a fitness routine is not an easy job if you lack in an effective measure to monitor your daily fitness progress. To help you in this endeavor is the GoWISE Ultra Slim, a slim digital body fat scale that features innovative technology to let you have advanced fitness analysis. This is a wonderful innovation that allows measuring important components of body such as body fat in percentage, muscle and bone mass, and water level. The good thing is that the digital machine comes with built-in memory for up to eight users, so it makes an ultimate machine for your entire family. Offering the weight capacity up to 400lbs or 180 kg, it ensures to provide an effective machine to a family of varying weight capacities. The ultimate slim design also incorporates a LCD backlight to ensure easy reading even at a distance. It features automatic turn-on and a touch switch for a great user experience.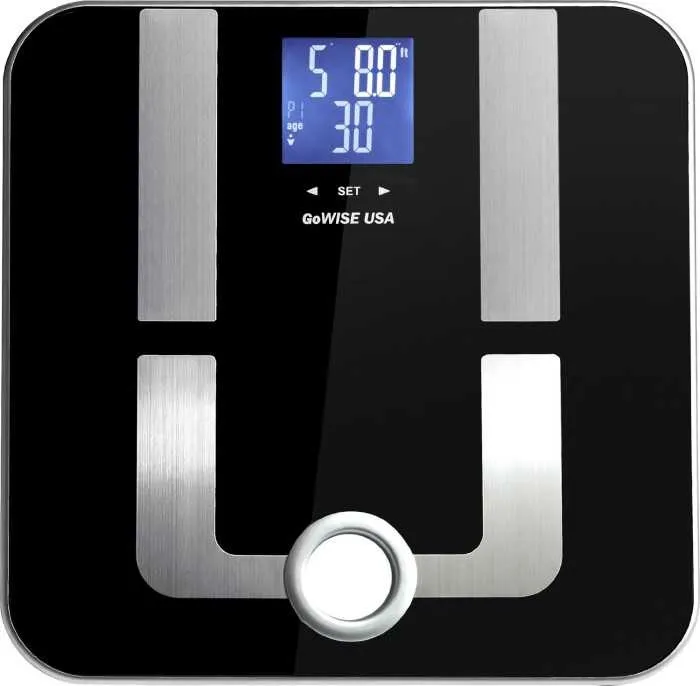 The evolutionary product has been designed to take a unique place in your bathroom so that you can stay motivated and follow your fitness routine seriously. The ultra slim machine has been designed on the basis of an awfully sensitive technology known as bio impedance analysis. This is only due to this technology the device is able to give you accurate results like muscle, fat, water and bone mass measurements with their percentage besides body weight. The wide well-illuminated screen makes it possible to see the results while standing tall.
GoWISE Ultra Slim gives people who are serious about their weight loss journey important information that can keep them get going with their plan. The machine gives accurate results as and when required thus helping people to make the right decision for a healthier life. Thus, this is the machine that you need throughout your weight loss journey for the body that you always desired.
While the design is simple, it is equally attractive and can fit your bathroom to give accurate results even for 400 pounds weight. The body-profile memory system is the impressive thing that you can use to track your fitness progress and get in the perfect shape.
While it gives accurate results, it actually allows users to make necessary adjustments to their fitness program to achieve the desired results.
Attractive features:
A highly accurate product featuring innovative technology to weight measurement
Aside from accurate results, it is also known for its good looks
It gives almost instant measurements and important readings without having to turn it on
Wide well-illuminated display can be seen from any angle making it easier to read
Gives accurate and instant results for body weight up to 400 pounds
Its built-in memory allows keeping track of important biometric data for up to eight users
Offers an ultimate digital device to people who are seriously taking their weight loss journey
Simple, sleek, compact yet attractive design
Scope of improvement
The product is great as per many users, but there are some who feel differently. A few users have found that this digital machine goes off the track and they get error code instead of results. However, users get the results when they stay there on the machine for longer. The issue has reached the manufacturer, and they are generous enough to guarantee complete replacements to the users who have to suffer.
Final words
GoWISE Ultra Slim is a great addition to any home for the benefits it has to offer. While it is simple, sleek and compact, it offers high accuracy in its results comprising body weight, bone mass, water and fat in percentage. With an average rating of 10 out of 10 it actually ensures that users can get nothing more for the price it asks for. It is a big yes for people who are serious about their fitness journey.
Do you agree with other users? Yes or no, share your true opinions with us.