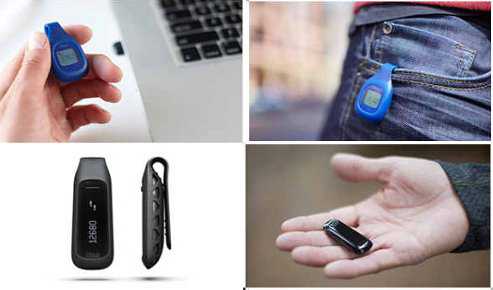 Your search for an economical fitness tracker ends with Fitbit zip. This device makes for a nice investment and helps to keep you motivated. The basic device is light in weight 0.28 ounces / 8 grams with a sleek design. You can place it in your pocket and feel as if nothing is there. It is provided a clip so that you can wear it on your waistband and use it like a pedometer. Also, there are plenty of color options for people who are particular about what they choose – there are white, black, pink, lime green, and blue.
This Fitbit Zip Activity Tracker is highly compatible with a range of devices like Android. This is a wireless device that syncs the important data like distance and calories burned to Mac, PC, iPhone, and iPad. It also works extremely well with other devices like Samsung Galaxy S3 and S4, Note 2, Note 3, LG G2, HTC One, Google Nexus 4 and 5, and also the new Nexus.
The display is easy to read but without back light so you have to use external sources of light to read the values. What you get is absolutely good for the price it charges. At the end of a week, you can assess the summary of workouts and compare with friends and yourself.
It draws power from very inexpensive watch battery that works for around four to six months, and after that requires changing.
It has got a LCD display allows you to track your progress by simply tapping, and with each tap it changes distance, steps and calories. Tapping the device with your finger to see the metrics is a nice idea in this world of touch screen phones. However, it may take a little to get used to the device, but once you are familiar, it doesn't take much effort.
Just like other Fitbit devices, you can sync this Fitbit Zip Activity Tracker with your smartphone to collect the important data through the accompanying app. You can also check the metrics on your computer using Fitbit account of yours. A wireless dongle is provided with it, which is a small USB like device to sync with your computer. This is a good feature for those who don't use smartphones.
The app can also be used for calorie tracking, which requires you to enter the food you consumed. You can use your account or app to make the entries. If you set your weight goal, the app would calculate how many calories you can consume for the day to stay on your fitness goal. This is a good feature for people who are striving to lose weight.
Like any other Fitbit devices, it is designed to keep you motivated and become more active. On the device you can see smiley that makes faces depending on your activity level. This app also compels you to take more steps to reach your daily fitness goals.
Important features – Fitbit Zip Activity Tracker:
An inexpensive device to keep you motivated
Is able to track distance, steps and calories burned
Can sync automatically to your smartphone or computer or select devices with Bluetooth 4.0
Helps to set goals and progress monitor
Compact and light in weight to make it easier to carry
Water, rain and sweat proof
One year manufacturer warranty
Runs on battery that requires replacement after every six months
The downsides
The Zip is good and motivating, but lacks some features that people also desire in their activity tracker. It lacks sleep tracking, and doesn't give stair climbing. Also, the screen is not backlit which makes it difficult to use in dim light conditions.
Final words:
The Fitbit Zip Activity Tracker is a simple, light in weight and compact device that helps you to count steps, distance travelled and calories burned. With an average rating of 9 out of 10, it is definitely a good choice for people who need a reliable device that can connect to their phone or computer to set goals and keep them motivated by tracking their activities.
Do you have something else to say about this product? Go ahead to share your thoughts.