Concept 2 Model D rowing machine is a great invention that also benefits Olympic rowers to build strong muscles and great physique. You will also find this rowing machine in various high-end gyms. The good thing is that it is also great for home use. You can presume its popularity from the fact that it has been rated 9.9 on the scale of 10 by many satisfied users. If you are still having doubts about this machine, there are a lot of things that you have to know about this superb machine.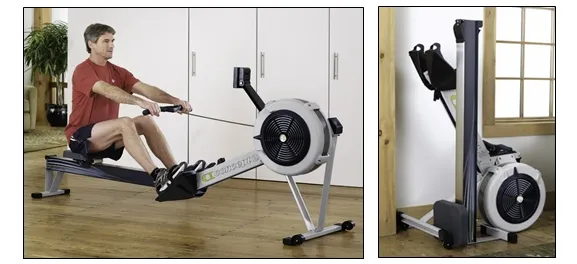 Buy Rowing Machine
Recommended Post
First and foremost, this is the best machine that you can bring home. It may not be the cheapest rowing machine on the market, but you will definitely realize that it is not expensive too. There are different models offered at varying prices (Model D and Model E), but choose the one asking for money you can afford.
Concept 2 Model D rowing machine is amazing workout equipment acknowledged for its superb built quality. The manufacturer also claims that it has been engineered to last a lifetime. Bring this machine home for an effective and powerful workout that is ensured even after daily abuse. Take a while think about your gym membership and you will realize the worth of the machine with the added advantage of working out in the privacy of your room.
Important features to look out for:
Model D rowing machine by Concept 2 is a highly effective equipment to let you enjoy low-impact, full body workout
It features fly-wheel design to maximize the smooth feel while minimizing the noise
It has got a performance monitor to let you have accurate and comparable data for every workout session
Adjustable monitor arm is for additional support and comfort
Can be separated easily into 2 pieces to allow easy storage
It is mobile with castor wheels
Easy to assemble workout machine
Allows for comfortable yet effective workout with ergonomic handle, 14 inch high seat, adjustable foot-rests and nickel-plated chain
Offered with five years frame warranty
Users of different strengths have used this machine for over a period of 10 years, and they found it quite satisfying – they felt its performance like new always. Aside from solid built-quality, they also liked it for easy storage by diving into two parts that saves the floor space.
An interesting quality of this machine is its ability to track performances. The fitness company has developed it like a mini computer which can keep track of speed, distance, watts, calories and pace. It is loaded with features and also allows you to customize your workout routine. The display is wider and hence data is quite easier to visualize.
The downsides:
There are a few things to note-
· Storage may be easy, but the machine in functional state is 9 feet in length and hence requires a lot of space to use this equipment.
· Seats are also found to be uncomfortable for some users, and the hardness increases with the years of use.
· Users also found the handles to be rough on hands; however, the case is particularly for beginners.
· A few users have claimed the machine reached their place with some defects in a few parts. But, they were able to fix them with minimum labor.
· The fan, as well, was found to be a little noisy by some users, and the noise becomes louder with faster and harder row. The noise is because of air resistance.
Final words of Concept 2 Model D Rowing Machine
Overall, Concept 2 Model D rowing machine is a great choice if you want to bring home high-standard work-out equipment that has plenty of satisfied users and that is tested to let you have a highly effective workout session at home.