Do you keep worrying about preparing a perfect breakfast for muscle gain ? Are you looking for body building breakfast ideas which takes less time?
So here we are with 100 breakfast ideas for muscle gain and body building:
1. All time favourite oatsmeal
For someone who wants to make it is a bowl of plain oatmeal is a wonderful breakfast. Make sure you dont use the packaged ones. Pour a glass of skimmed milk in a bowl of oats then add 1 teaspoon full of peanut butter. Also add 1 teaspoon protein powder and berries. Your power packed breakfast oatmeal is ready
2. Hard boiled eggs and Multigrain bread
Protein: 31g, Carbs: 30g, Fats: 17g, Calories: 400
Hard boiled eggs are less messy and filled with protein. Pairing it up with few slices of multigrain bread with low fat cheese .
3. Greek Yogurt with fruits
Protein: 30g, Carbs: 50g, Fats: 3g, Calories: ~200
Greek yoghurt without sugar is can be added with some berries and oats. Let it be in the refrigerator for the night. In the morning you can add protein powder and have it.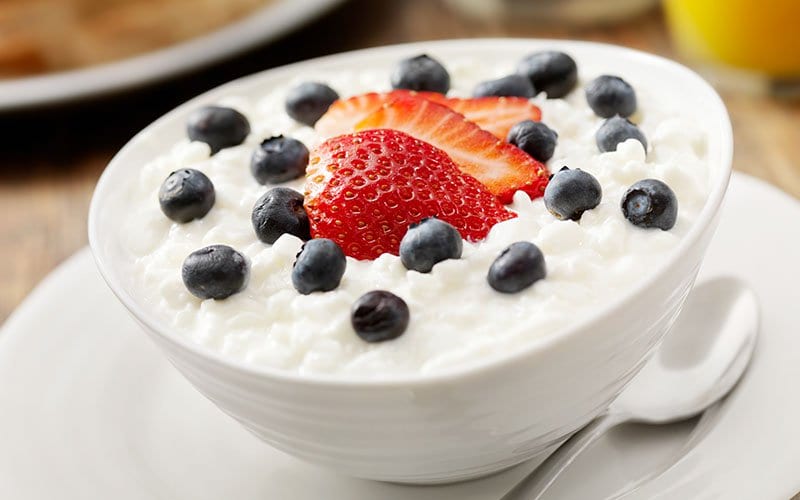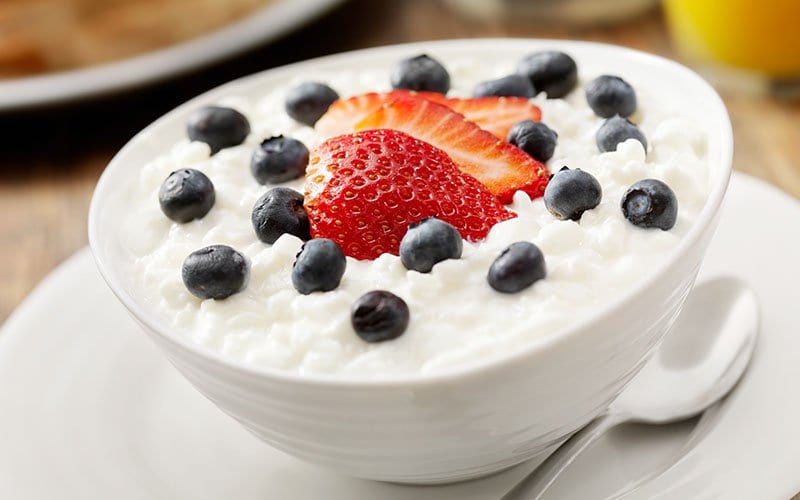 Image courtesy :- www.pinterest.com
4. Veggie and egg scramble
Protein: 26g, Carbs: ~12g, Fats: 16g, Calories: 290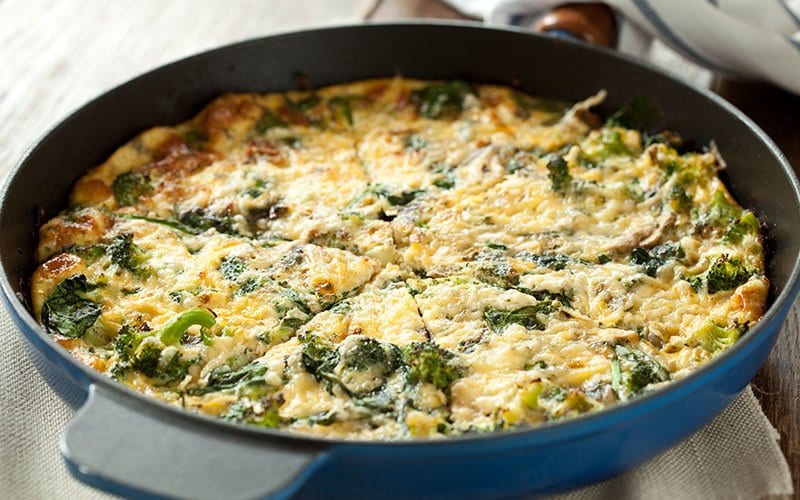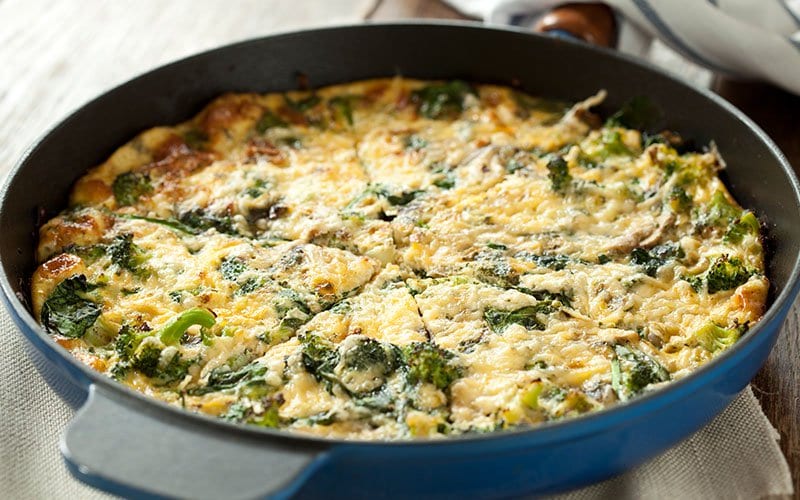 Image courtesy: www.fishmancook.com
Scramble 3 eggs and add in less than half of a cup of shredded cheese and your favourite vegetables. Add some salt, pepper and salsa for taste This breakfast is protein filled with less carbs. You can combine it with a body building shake.
5) Post Cardio Protein Banana Split
Banana split is a good breakfast can be eaten post cardio to boost your glycogen . Berries, nuts and cream can be used along with it
6) Walnut and Berry Smoothie
This meal is great for breakfast or, if you work out in the evening, a post-workout dinner. Regardless of when you have it, your body and taste buds will relish it.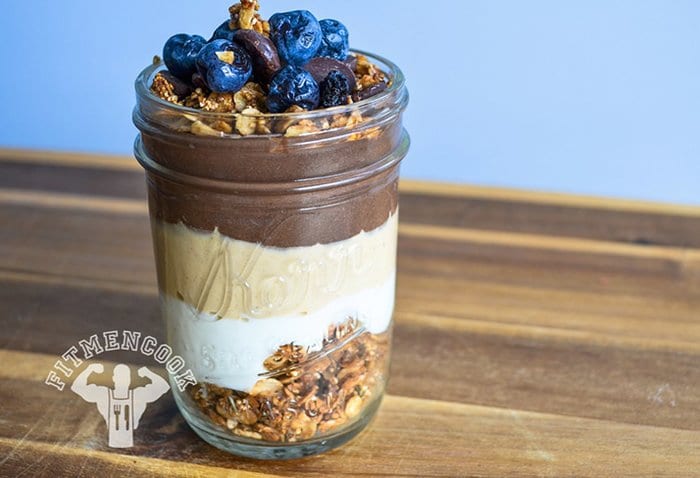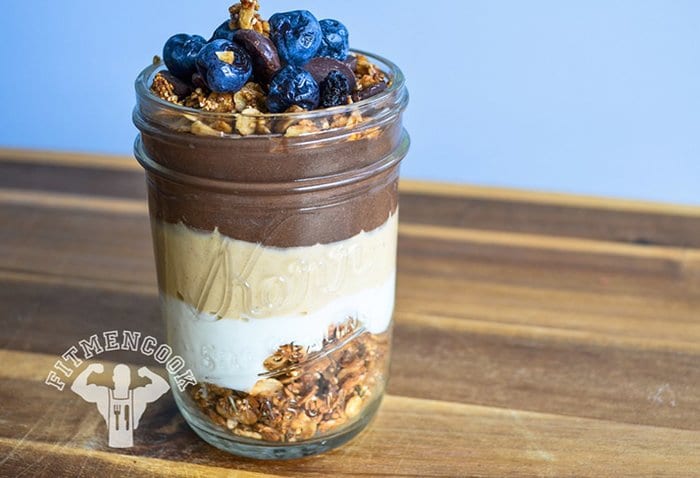 Image courtesy :- www.fitmencook.com
7)  Protein French Toast With Sautéed Apples
French toast is one favourite gym food .it can be taken with delicious sauted vegetables. The breakfast will keep you full for long.
Check out this quick YouTube video on how to prepare.
8) Tuna Salmon Salad Sandwich
Tuna salmon salad is a superfood sandwich is packed with protein, omega-3 fats, and selenium. Served between two slices of whole-grain wheat bread or stuffed in a whole-wheat pita bread. It will make you feel full and energetic. Omega 3 fatty acids will keep brain cells healthy and enhances immunity . Also reducing bad fats thus making it a healthy breakfast for the body builders.
Ingredients:
One 5-ounce can tuna
One 5- to 6-ounce can wild salmon
3 medium stalks celery, diced
2 tablespoons capers, lightly chopped
¼ cup diced red onion
2 tablespoons lemon juice
3 tablespoons mayonnaise
2 to 3 tablespoons plain Greek yogurt
8 slices 100% whole wheat bread
9) Avocado cucumber sandwich
Avocado is a super food which is extremely beneficial for the body. Make a paste of avocado use cucumber , pepper and salsa add a spoon ful of protein powder. Sandwich the paste in multigrain bread. You can also combine it with a protein shake. The protein and fiber will feed the muscles and make you feel full for long.
10) Acai Kale Smoothie
Acai berry has strong healing properties and is known to strengthen the immune system.Kale is a superfood and contains vitamins, minerals, calcium, fiber, and omega acids. This smoothie will be helpful in regaining lost energy, build muscle, and have a great recovery.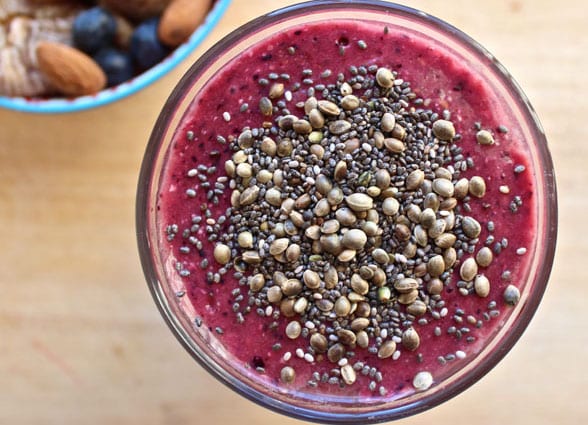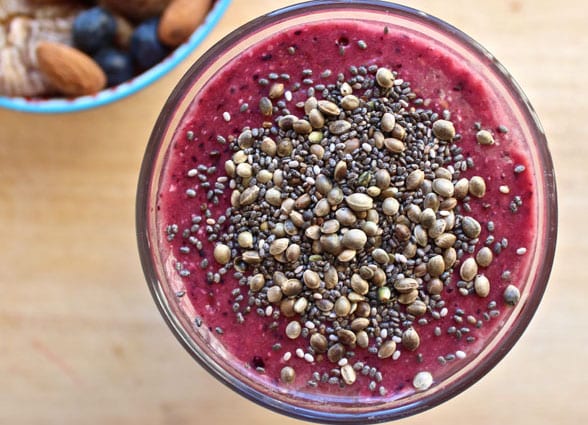 Image courtesy :- www.pinterest.com
11) Orange Kale Protein Green Smoothie
Orange Kale Protein green smoothie will be helpful If your workout involves a lot of sweating. Oranges will help replace the water and potassium lost through sweat. Plus, they are a great source of vitamin C.
To make this smoothie, mix fresh orange, kale, and spirulina. Spirulina which is one of the best plant-based proteins. It has lots of health benefits and helpful in recovery after workout. This is a light and healthy breakfast for body builders.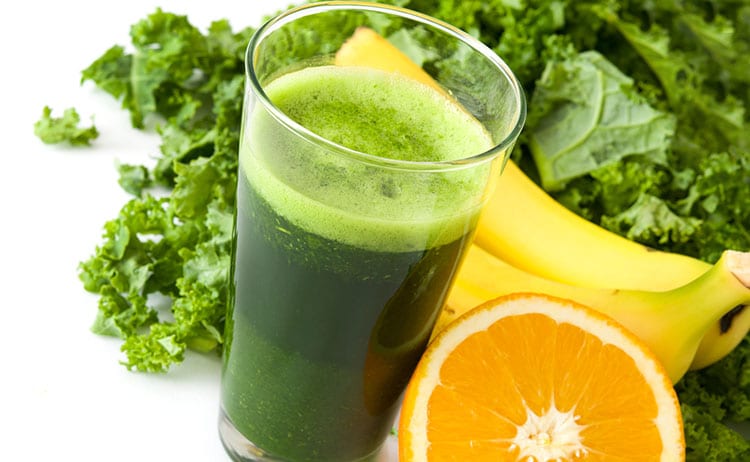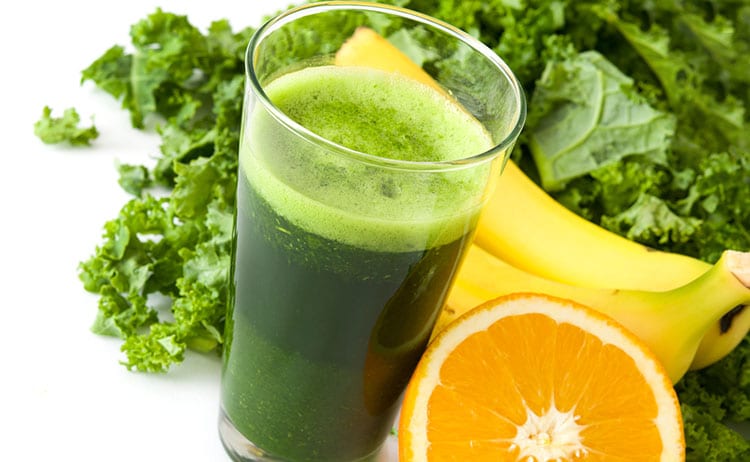 Image courtesy:- www. pinterest.com
12) Chocolate Brownie Batter Protein Shake
This shake is perfect to have after an endurance exercise like running. This would be your smoothie would be non-fat chocolate milk which has a good ratio of fast digesting carbohydrates to proteins.
This shake has a banana base a hint of coffee and hazelnuts bring out the chocolaty dessert delight. The banana helps replace lost potassium and the milk keeps you full while also fulfilling the protein requirements.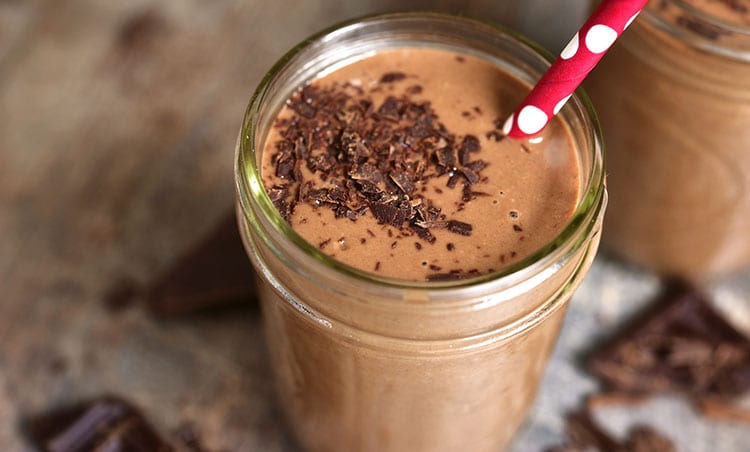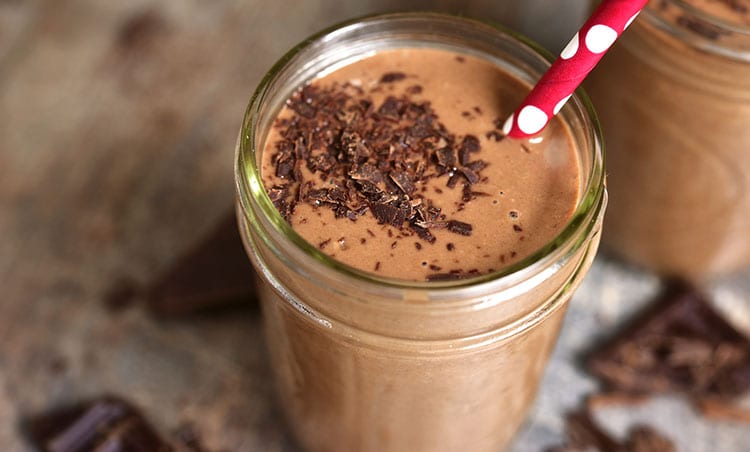 Image courtesy :- www.pinterest.com
14) Yogurt and Ginger Recovery Smoothie 
Muscles get microscopic tears during a workout. Greek yogurt will provide the protein needed to repair and rebuild the tone muscles and ginger is anti inflammatory .Bananas in the smoothie replace the carbs and potassium lost during the workout.
15) Cherry Chia Smoothie
Chia is a super food and the tart cherries repairs damaged muscles and alleviate soreness. Also, tart cherries contain the sleep hormone Melatonin which ensures you get a good night sleep that will speed up your recovery. You can also add turmeric which has anti inflammatory effects. This shake is a great choice of breakfast shake for bodybuilding.
16) Berry Blast Protein Smoothie 
This smoothie contains protein for muscle recovery and body building. Low-fat milk provides proteins and carbs necessary for replenishing and rebuilding your muscles after a strenuous workout. Bananas replenish the potassium and the smoothie keeps you full for long..
17) Pumpkin and Avocado Smoothie 
Canned pumpkin can be blended with avocado which forms a good breakfast smoothie. It has plenty of vitamin A, which prevents cell damage and is rich in oleic acid, a compound that helps reduce inflammation.
18) Spinach Omelett
Omlett is an amazing and easiest breakfast for body builders. You can add on spinach to give a boost of iron. It will help you to get full with protein..
19) Egg-White Oatmeal Pancake
An egg white egg-white and oatmeal pancake will be a fat free breakfast for body builder. The recipe is really simple and requires only three ingredients: 2/3 cup of liquid egg whites with 1 whole egg and combine with 1/3 cup of uncooked oats.
20)  Blueberry Protein Pancake
This is one of my favorite recipes, bar none. You'll need 4 egg whites, 1 whole egg, 1/2 cup and oatmeal. The base recipe lets you diversify your pancake creations and fulfil urself with good amount of proteins and nutrients .
21) Scrambled Eggs And Turkey Bacon
This breakfast will feed your muscles with much required energy and protein . You can have 2 cup of scrambled egg whites with 4 slices of turkey bacon.
22) Lindsey Weigand, Mushroom & Swiss Frittata
This asparagus, mushroom, and Swiss frittata is one of the favourite body builder breakfast for muscle gain . It is scrumptious and easy to make.
23) Turkey and Cheese Burgers
Will not take more than half an hour to get it ready and is a perfect breakfast for body builder.
Nutrition Information (per burger)
Calories: 409; Total Fat: 23 grams; Saturated Fat: 7 grams; Protein: 28 grams: Carbohydrates: 25 grams; Sugar: 5 grams; Fiber: 4 grams; CholestFoodie PhysicianOpens a New Window.Shaw's Simple SwapsOpens a New Window.
24)  Egg-White Whey "Pancake"
Pancakes are usual favourite of many athletes like Michael Phelp. This pancake includes egg white and added protein powder from whey. It suffice the much required breakfast for fatless body building.
25) Pita Bread with Shredded Chicken
A whole-grain pita stuffed with shredded chicken provides an ample amount of protein and fiber which is a healthy breakfast for builder. You can replace chicken with egg also .
26) Cottage Cheese and Fruit
Cottage cheese has good dietary nutrients and does not have much fat. Thus a good breakfast for body builders with fat cutting.
27) Bacon Eggs and Sourdough Toast
Keep your bacon lean and toast sourdough, will get nutrients for muscle building. Though slightly higher in calories but a good breakfast for builder.
28) Peanut Butter Nut Sandwich with Skimmed Milk
Peanut with some grounded nuts can be used to make sandwiches with multigrain bread. Also complimented it with skimmed milk and add a spoonful of [protein powder in the milk. It is good breakfast for building muscles and losing fat.
29) Eggs with smoked salmon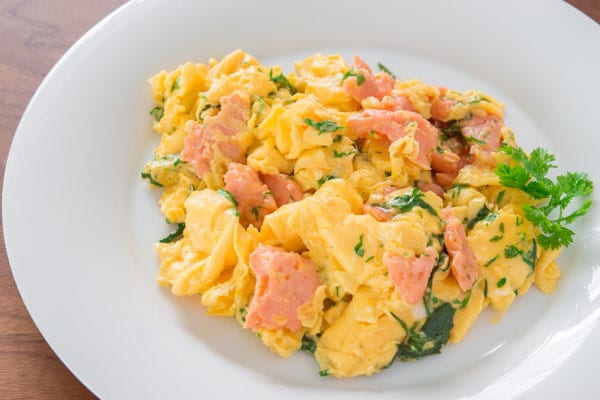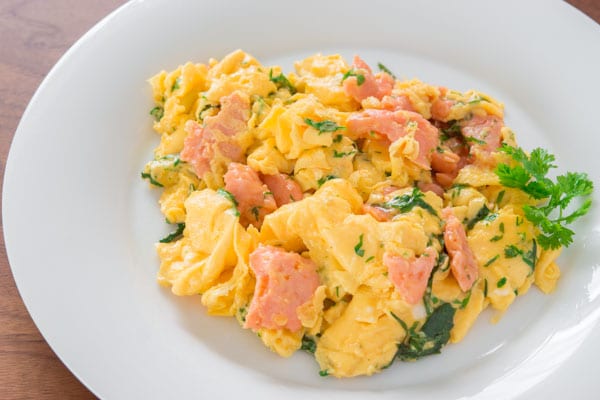 Image courtesy:- www.spotmebro.com
Salmon is high in omega 3 fatty acids and is good for over all health. Egg protein with salmon will help to gain and repair muscles. It will also promote joint health.
30) Peanut Butter and Raisin Oatmeal
A healthy breakfast for fatless bodybuilding is peanut butter with raisin oatmeal. It is easy to make and keeps you full for long.
Ingredients
½ cup oats
½ scoop vanilla whey powder
1 tbsp peanut butter*
1 tbsp. cinnamon
½ banana
½ cup egg whites
¾ cup plain almond milk or water
sprinkle of raisins
31) Powder less Protein Pancakes for Pre-workout
Body is in depleted state when you wake up in the morning. The protein pancake will help you to get energized if you are going for a weight training.
Ingredients
50g Porridge Oats
½ Medium Sized Banana
2 Medium Free Range Whole Egg
6 Medium Free Range Egg Whites
½ teaspoon of Cinnamon
32) Steel Cut Oatmeal
The steel cut optimally preserves the nutrients in the oats and maintains their rounded structure also the greek yoghurt makes them protein filled making it a healthy breakfast for body builder with fatloss.
Ingredients
1 cup plain greek yogurt
1/2 cup milk
1/2 cup steel-cut oats
~1tbsp low-sugar maple syrup
33) Papaya Ginger Smoothie

Image courtesy: www.pinterest.com
If your goal is to build lean muscle mass, chances are you do strenuous workouts. Well, this Greek yogurt-based smoothie with papaya will help in recovery and boosting muscle growth. The ginger acts as an anti inflammatory. This forms a good breakfast shake for muscle building.
34) Tofuh and Tempeh Sandwich
Grill or sauté the tofu and tempeh. Then can be used to make sandwiches. It is a good vegetarian protein source . Thus a good breakfast for body building,
35) Baked Tomato and Egged Cups
For body building breakfast eggs have been always a favourite. A baked tomato egg cups give you good amount of protein without making you feel heavy
36) Mini Ham and Cheese Quinoa Cups
Quinoa is a super food and is filled with protein . Mini ham and cheese makes it more proteinicious and perfect for a body builder breakfast.
37) Cheesy Spinach Muffins
This fat free muffins are gonna fill you up with nutrients, protein and energy and will taste superb.
38) Sausages and Egg Muffins
For a body building breakfast egg muffins can add a lot of nutrients with taste. Coupled with some sausages, it will be a perfect body builder breakfast for muscle gain.
39) Turkey wrapped potato and egg breakfast muffins
One more breakfast muffin ideas is turkey wrapped potato with egg. Slightly higher in carbs but filled with protein is very good for muscle health.
40) Broccoli – Cheddar Egg Cups
Broccoli is an important food in a body builder breakfast. Eggs add to more of the proteins in it thus making it good for muscle gain.
41) Breakfast Roll ups
You can use egg , cheese , tortilla and vegetables to make a good roll up. They are less messy and quite fulfilling.
42) Chia Seeds Pudding
, Chia seed pudding is a healthy and delicious breakfast option for body builders. Chia seeds with milk will provide high quality protein vital for body building. Chia seeds are also loaded with fibers.
43) Vanilla Coconut Cashew Smoothie
A coconut vanilla smoothie his ultra-thick and oh so creamy Vanilla Coconut Cashew Latte Smoothie can be made with a base of frozen banana or frozen sweet potato for a low-sugar option. It has lots of healthy fats and protein with low sugar thus prevents spike in the blood sugar level while keeping you full. Its high nutrients and taste makes it a perfect breakfast shake for muscle building.
44) Blueberry Pineapple Galaxy Smoothie
Blueberry is rich in antioxidants. This body building breakfast shake is delicious and full of nutrients.
Ingredients
Vegetarian, Gluten free
∙ Serves 2
Produce
2 cups Banana, frozen slices
1 cup Dole blueberries, frozen
1 cup Dole pineapple chunks, frozen
Refrigerated
5/8 cup Vanilla almond milk, unsweetened
Nuts & seeds
1 tbsp Coconut, unsweetened
Dairy
1/2 cup Vanilla greek yogurt
45) Blueberry Avocado Mango Smoothie
This body building breakfast shake is filled with nutrients and has protein to help muscle growth. Also it is slightly higher in terms of calories. 1 cup blueberries
Ingredients :
1½ cups mango
½ avocado
1 tablespoon chia seeds
1 teaspoon maca powder
1 tablespoon raw honey
2 tablespoons unsweetened almond butter
1½ – 2 cups coconut water
46) Dark Chocolate and Banana Shake
This shake can be made using cocoa powder ,banana , chia seeds and almond milk . You can also spinach as base. It is amazingly filled with taste and nutrients and helps in body building with fat loss.
47) Protein Smoothie
This smoothie is a perfect body building breakfast shake and helps in losing fat.
Ingredients
1 cup almond milk plus water to desired consistency
1/2 cup frozen blueberries
1/4 frozen banana
1/2 tbsp almond butter
1 tbsp sliced almonds, toasted
1 scoop vanilla protein powder (I use PROGRADE)
48) Ice Coffee Protein Shake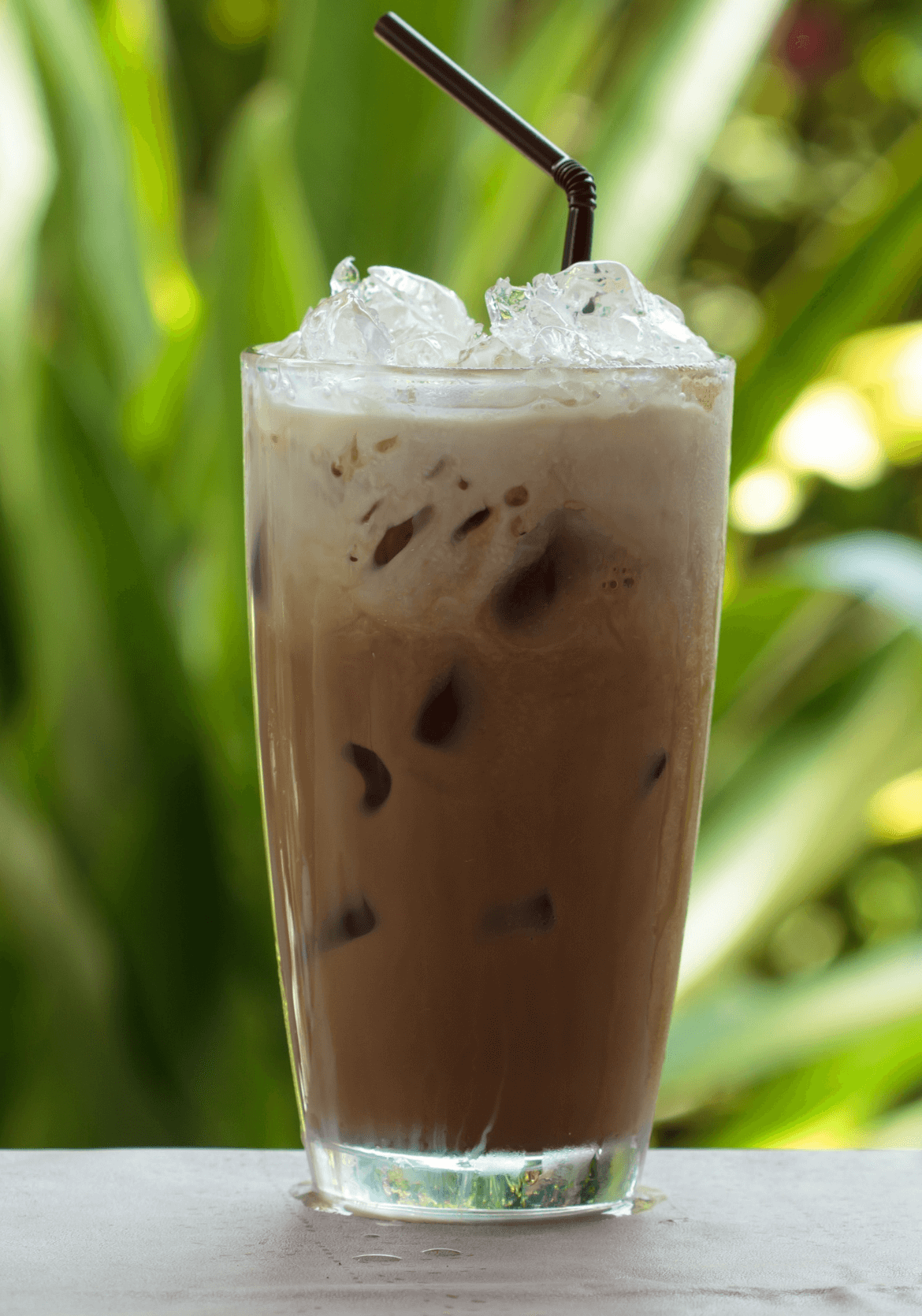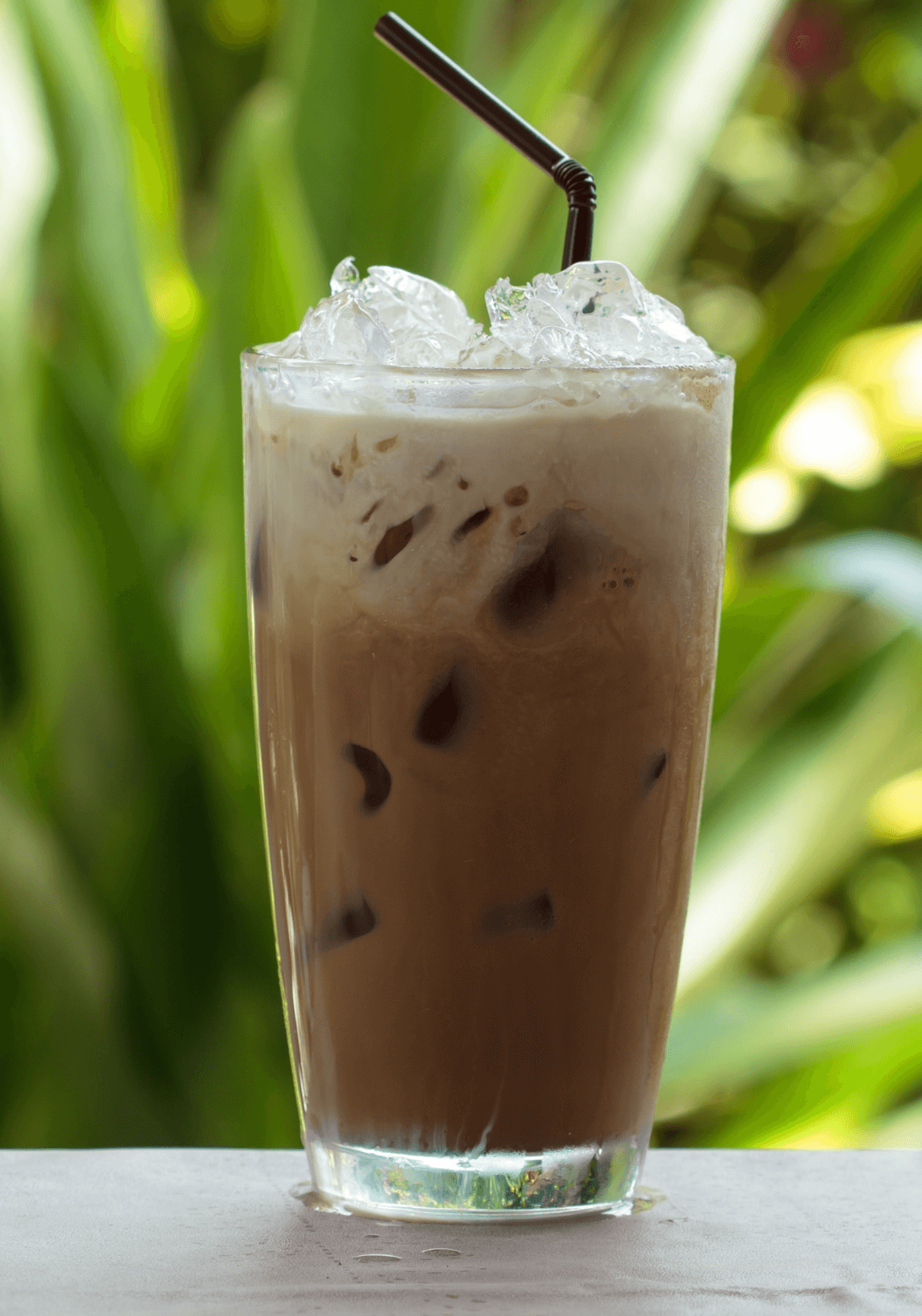 Image courtesy :- www.pinterest.com
If you are a coffee lover than this shake is made for you.
Ingredients
300 ml Filtered Coffee (unsweetened)
1/2 Avocado
1/2 cup Coconut Milk
1 scoop  (vanilla or chocolate flavor)
2 tsp Lakanto (natural sweetener)
1 tsp Cinnamon Powder
1 tbsp cacao nibs
4-5 Ice Cubes
49) Fall Glow Smoothie Bowl
For this extremely healthy smoothie we're blending up some frozen sweet potato, a little pumpkin, some almond butter, almond milk, frozen banana, maple syrup, and a pinch of cinnamon and nutmeg. Am extremely healthy breakfast for body builder.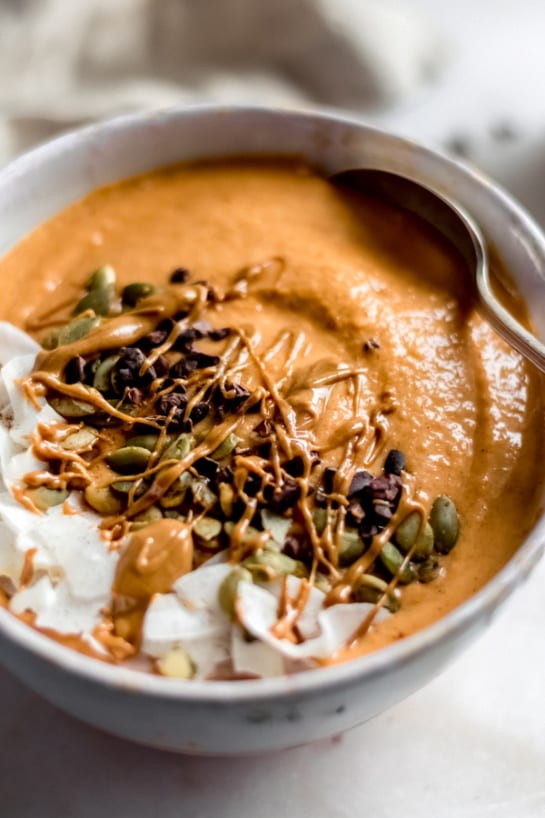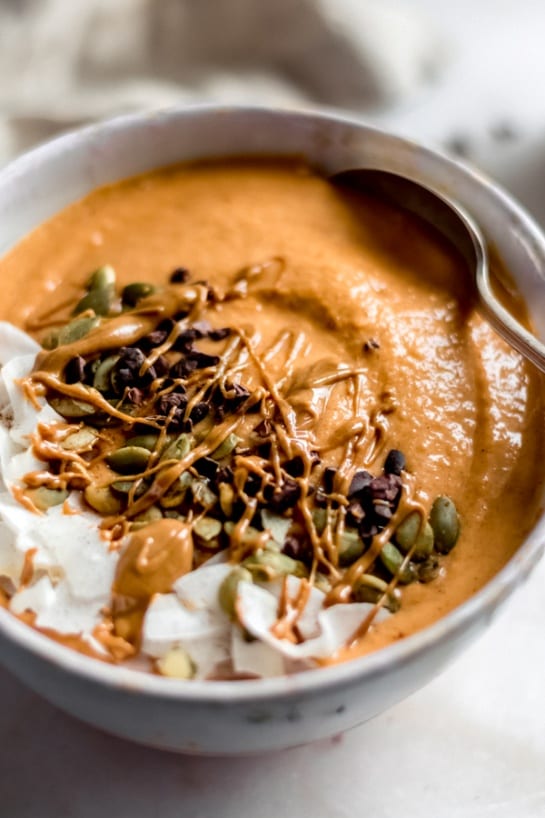 Image courtesy:- www.pinterest.com
50) Summer Acai Bowl with Big Cluster Buckwheat Granola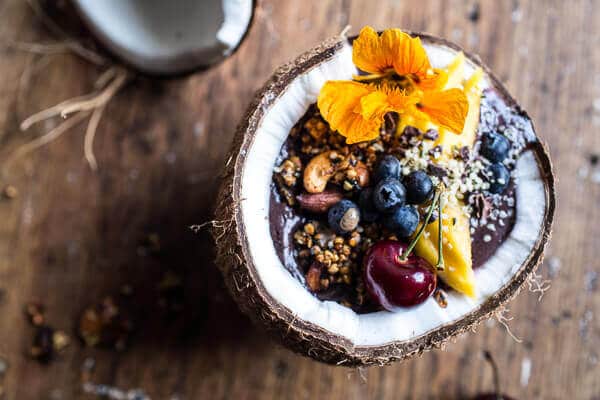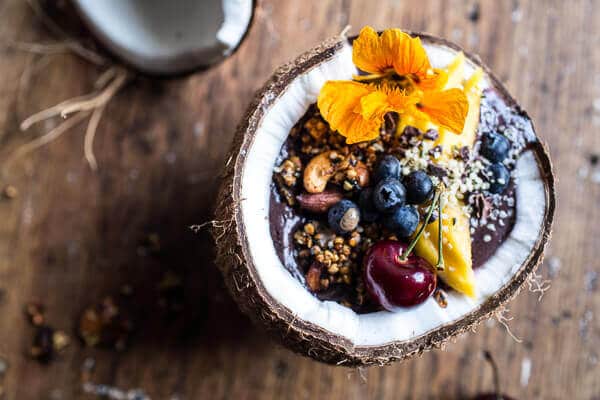 Image courtesy:- www.pinterest.com
This is rich in fiber and proteins which is vital for muscle growth. The breakfast is ideal for body building with muscle growth.
51) Vanilla Super cake smoothie bowl
This superfood smoothie is delicious as well as has less calories . It is ideal breakfast for fatless body building.
3/4 cup unsweetened almond milk
1/4 frozen banana
1 cup ice
1 scoop vanilla shakeology
1/2 tsp honey
1/2 cup blueberries
1 Tbsp slivered almonds
1 Tbsp old fashioned oats
52) Indian Paneer bhurji
Paneer is a fresh cheese used in India. Paneer burji is a delicious and protein filled. It can form an ideal breakfast for building muscle without gaining weight.
53) Sprout Salad
Sprouts are filled with proteins and living enzymes. It energizes and helps in digestion. Sprouts can be used with onions, tomato and salt with pepper.
54) Whey Protein shake and dextrose monohydrate
Consuming whey protein shake after a workout session will improve the strength in muscles and help with recovery.
55)Kale- tofu omelette
Other than providing energy this dish is a rich source of calcium which is very important to keep good bone health. Tofu contains all 9 amino acids thus provides required protein for muscle building.
56) Home made seed cereal
A complete package of omega 3 fatty acids ,protein and anti oxidants is presented to you. The combination of chia, hemp, and buckwheat with yoghurt.
is not only a hearty breakfast for body builders but also provides sufficient energy and nutrients.
57)  Yogurt Parfait with Wheat Germ and Berries 
Body building trainings can cause loss of zinc , this recipe is perfect for zinc replenishment which is essential for protein synthesis . The wheat germ and yoghurt provides while being a package of energy.
58) Banana Almond crème shake
This is a quick easy to make protein rich body building breakfast shake. It can be also consumed as a pre workout drink.
59) Chicken Breast Broccoli Salad
Chicken breast broccoli salad is a protein packed breakfast for body builders . Chicken breast has high amount of protein and broccoli is also a good sources. The combination works a great protein rich breakfast for muscle gain.
60) Lentils and Chickpeas
It is difficult for vegetarians to get the complete protein diet and if you are a vegetarian trying to achieve muscle building, lentils and chickpeas are must have. Include them in your breakfast so that you can have sufficient proteins.
61) Water cress
In all your salads you can use watercress which is high in iron and zinc.
62) Use Olive oil
Olive oil can be used to fry or for sauté or even as dressing in salad. Olive oil has anti inflammatory provides and enhances muscle growth and recovery. It is monounsaturated fat which prevents muscle breakdown hence a must have for body building breakfast
63) Use Turmeric
The Indian superfood is great for muscle building as it has curcumin which promotes muscle growth and repair. Turmeric can be used in many recipes of the body builders.
64) Use Sweet potato
Not a very famous food but they are quite healthy as they contain lesser carbs than normal potato. They are also rich in riboflavin and potassium.
65) Chocolate Milk
Interestingly researches say that chocolate milk is as good as any other sports drink . It provides energy and delays exhaustion.
66) Lemon water and Ajwain water
Starting the day with lemon water or ajwain water is very beneficial as it enhances metabolism thus reduces fat accumulation
67) Green tea
Green is must for all fitness freaks. Bodybuilders can add a cup of green tea to their meal to enhance their metabolism.
68) Pita bread with hummus
Pita and hummus you can include hummus made from edamame, cannellini, and other types of beans to make it tasty.
69) Moongdal khichdi with ghee
Khichdi is light on stomach but heavily packed with proteins. Ghee used provides good fat essential for body building.
70) Quorn and Seitan
If you are a vegetarian then you can take quorn and seitan as meat substitutes for bodybuilding. They are packed with protein and are delicious. Seitan is cooked over soya sauce broth.
71) Spirulina with oats
Spirulina can be used with nuts and oats to make it a complete protein diet. It can also be used as a meat substitute for bodybuilders
72) Moong dal dosa
Stuff the dosa bread made using moong daal with sauted vegetables and some paneer to create a protein rich diet for yourself.
73) Egg with nuts
Egg omelette can be made with nuts. Use four egg whites and two egg yolks to make it. Add roasted cashew, walnuts, raisins. Make sure you beat the egg whites well and make it frothy.
74) Besan Chilla
Besan chilla is an Indian pancake made using besan . You can relish it with yoghurt. Chilla has sufficient proteins and complex carbs.
75) Cinnamon roll Smoothie
This smoothie is nothing but a sweet , sticky , spicy indulgence of a fresh –baked cinnamon roll without feeling guilty. It is healthy and low fat body building breakfast.
Ingredients:
1 cup vanilla almond milk
1/2 cup vanilla Greek yogurt
1/4 cup old fashioned oats
 Tablespoon brown sugar
1/4 teaspoon cinnamon
1 frozen banana (or fresh banana, but add in 3-4 ice cubes with fresh)
76) Green smoothie bowl
The green smoothie bowl is healthy full of proteins and nutrients
Ingredients:
1 Cup Milk of Choice (Cashew, Almond, Coconut, etc.)
½ Frozen Banana, Chopped
¼ of an Avocado, Sliced
2 Cups of Spinach, Packed
½ Cup of Ice
1 Teaspoon of Chia Seeds (can sub Hemp or Flax)
Optional:
1 Scoop of Your Favorite Protein (I like Vega One)
1 Teaspoon of Honey (If you like things sweet)
Toppings:
Chopped Fruit, Coconut, Granola, Nuts, Seeds, etc.
Find recipe on Youtube
77) Avocado Quino harvest bowl
This avocado quinoa harvest bowl is one of the breakfast for building muscle and losing fat. With tahini, avocado, pepitas, arugula, quinoa and brussels sprouts it will satisfy all your post workout hunger and also provide you proteins, calcium and other nutrients.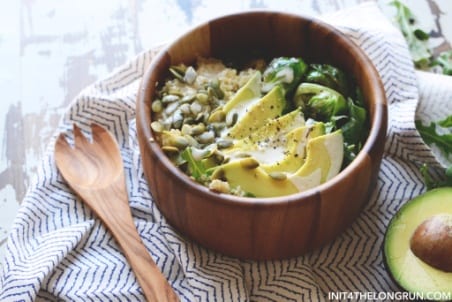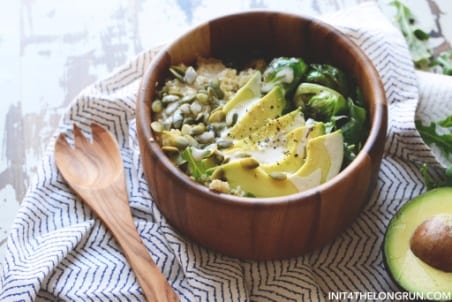 Image courtesy: INITforthelongrun.com
Ingredients
1 Cup of Arugula
½ Cup of Cooked Quinoa
1 Cup of Sautéed Brussels Sprouts
1 Tbsp of Pepitas
½ an Avocado, Sliced
1 tsp of Olive Oil (to cook brussels sprouts)
Salt and Pepper to taste
1 Tbsp of Tahini
78) Chicken Quinoa Burrito Bowl
This yummilicious bowl is full of muscle building proteins and energy. The bowl forms perfect breakfast for body builders cutting their bad fat consumption
Ingredients:
Burrito Bowl Ingredients:
2 cups cooked quinoa
1 batch taco-seasoned chicken (see below)
1 batch sautéed veggies (see below)
1 batch corn salsa (see below)
⅔ cup guacamole
¼ cup crumbled cotija cheese (or your preferred cheese)
lime wedges (for serving)
79) Savoury Pesto quinoa bowl
Savoury pesto quinoa bowl is a protein and calcium rich answer to your salt cravings.
Ingredients for the breakfast bowls:
2 large eggs
2 cups cooked quinoa
1/2 an avocado
1/4 cup homemade pesto
2 tablespoons hemp seeds
1 tablespoon chia seeds
80) Cozy Quinoa Buddha bowls
Cozy Quinoa Buddha bowls form an exotic and cozy breakfast for body builders. Kale and Quinoa are superfoods which are loaded with nutrients.
Ingredients
1 cup kale or greens of choice
1/2 cup cooked quinoa
1/2 cup cooked lentils or beans of choice
1/2 cup roasted brussels sprouts*
1/2 cup roasted butternut squash*
Sliced avocado
Tahini-lemon dressing
Hemp seeds for garnish optional
81) Mung Bean Quinoa bowl
Mung beans and Quinoa with perfectly sauted celery forms this bowl. It can be topped with tomatoes or other toppings to form a sumptuous breakfast for muscle gain. The protein and calcium rics quinoa will support muscle growth.
82) Mediterranean quionoa bowl with humus
This is a healthy breakfast for body builders from the Mediterranean. The bowl is filled with calcium and proteins .
Check recipe here
83) Roasted veggie quinoa bowl
This 30 minute roasted vegan breakfast bowl is made up of 5 delicious components viz Chili-lime kale, quinoa, garlic roasted broccoli, roasted sriracha chickpeas, and curry roasted sweet potatoes.
84) Cuban Chicken and Black Bean Quinoa Bowls with Fried Bananas.
This one of the most protien filled breakfast . It is rich in potassium as well which requires to be replenished after work out.
Find full recipe at Halfbakedharvest
85) Spiralized Butternut Squash Bowls with Harissa Chickpeas + Quinoa
Instead of simple roasted squash/sweet potato  it's got spiralized butternut squash which means squash turned into noodles. So veggie noodles which is tasty as well as filled with nutrients for a body building breakfast.
Check recipe here
86) Lemon Quinoa Egg bowls
Quinoa and egg are protein boost for the body builder. Lemon and spices make it juicy flavoured and tasty. It is also rich in calcium and other minerals. One of the best body builder egg recipe.
87) Asian Quinoa Bowls with Peanut Baked Tofu
This bowl is filled with basic ingredients but when brought together will taste amazing. Tofu and quinoa will be the protein sources required for muscle building. It is vegetarian, gluten free and full of energy.
88) Teriyaki Quinoa bowls
This recipe is power packed with energy ,protein and goodness of veggies. It will aid in muscle gain and is amazing breakfast for body builder.
See full recipe here
89) Cilantro Limp shrimp quinoa bowl
Rather than overfeeding you with protein this will fulfil your protein and energy needs with taste.
Cliantro lime shrimp quinoa bowls are made with cilantro lime quinoa, mango salsa and cilantro lime shrimp. To create more flavour avocado creame is used and hence the breakfast is ready for body builder.
90) Honey Chiptole chicken bowls
It will be one of the tastiest chicken recipe with goodness and sweetness recipe
Full recipe here
91) Vegan Quinoa Power Bowls
Vegan quinoa bowl with Roasted Veggies and Avocado Sauce and also oven roasted beets, sweet potatoes, cauliflower, asparagus and pan toasted chickpeas are all served over a fluffy bed of quinoa and drizzled with a creamy and flavorful avocado dressing. This vegan protein rich diet works amazing for you if don't want to eat meat.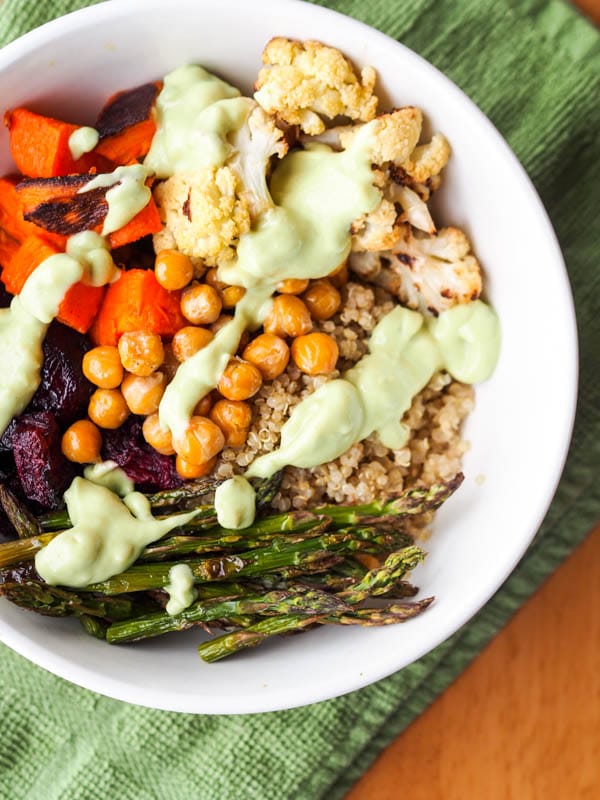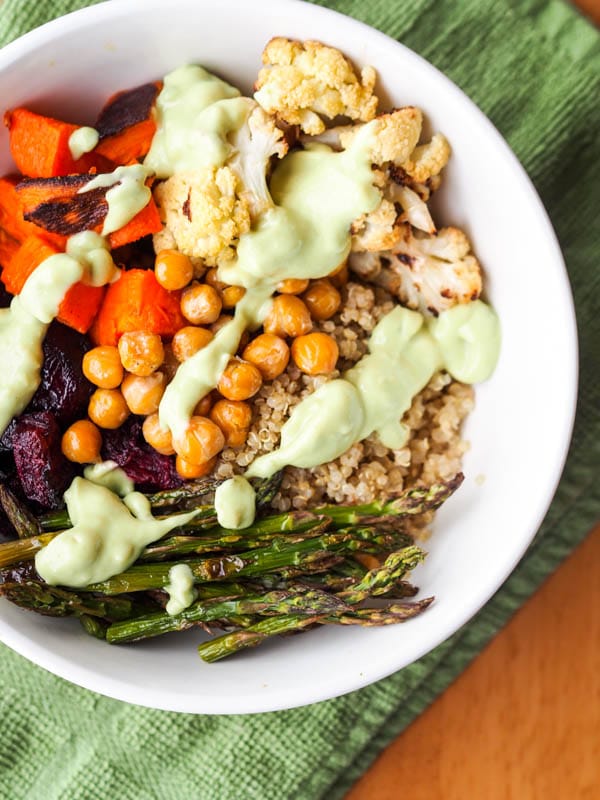 Image courtesy: www.pinterest.com
92) Quinoa Taco Bowls
Cooked quinoa with vegetables can be used with tacos for your perfect protein rich meat free breakfast.
93) Crunchy Quinoa Power Bowl
A light and satisfying quinoa bowl made with crunchy red and green cabbage that's tossed in an almond butter dressing made with ginger, garlic and lime. It has large amounts of proteins with flavour and goodness of veggies
94) Kale , Salmon Quinoa bowls
This recipe is packed with goodness of salmon fish which is rich in omega 3 fatty acids. Kale and Quinoa will provide the protein required. Tahini or yoghurt sauce is used
95) Thai Shrimp Scampi Quinoa bowls
It is yet another Quinoa rich fulfilling breakfast recipe. The flavours in Thai food will make it superb and you will enjoy it. Recipe available here
96) Vegetarian Fajita Quinoa Bowls
The simplest yet nutrient filled bowl of breakfast for body builders. Just sauté the vegetables of your choice . Put cooked quinoa and avocado crème with it . Use pepper, salt and salsa to get some flavour. Protein ,calcium and antioxidant rich food is ready for body builders.
97) Sushi
Sushi with some assorted vegetables can be a perfect exotic breakfast for a body builder. The fish oils have lots of omega 3 fatty acids. It is good for health , full of nutrients and low on fat
98) Mocha Frappuccino Smoothie bowl 
If you are craving for sweet and want some healthy protein filled drink for yourself this is the one for you. It is perfect body builders breakfast shake.
You can call it protein smoothie also . 1/2 frozen banana
1/2 cup chocolate almond milk
1 tsp instant coffee
1 tbsp vanilla protein powder
1 handful ice cubes
99) Dal Porridge with vegetable vermicelli
Different daals can be cooked as soupy porridge and consumed in breakfast. Vermicelli filled with goodness of vegetables will be fulfilling additions and will provide the required carbohydrates.
100) Drinking water
Water consumption in proper amount is very important. Muscle tissue is 75 percent water and needs to be fuelled properly.