One man that comes to mind when you hear the word crazy, weird, romantic is Ranveer Singh. He is the one who is famous for looks and always tired for bold style. Ranveer Singh hairstyles are the top trending for those who always wish to make a new creation in their hairstyle. Ranveer is the person who loves experiments and does not feel shy about the hairstyle.
Must Read – Things To Learn From Deepika Padukone And Ranveer Singh's Love Story
Check a list of celebrities' hairstyles in 2020
Although he tries a variety of hairstyles, the following are some of the Ranveer Singh hairstyle photos that will surely make you admire his boldness.
Recommended Post
Double Ponytail Hairstyle Sparks
A double ponytail among Ranveer Singh new hairstyles 2021 is a quirky variation of the Double man bun. He wore this style to the launch of Ram Charan and Kiara Advani's new movie, SVC50. The hairstyle was given many names by netizens, such as Murgi hairstyle, Dhaniya hairstyle, and others. It also started a meme fest. Nevertheless, only Ranveer could have carried this hairstyle effortlessly.
Mini Ponytail
We saw another Ranveer Singh ponytail at IIFA 2019. A high mini ponytail was created at the top of his head, resembling a fountain. It was a style borrowed from chirpy little kids' hair book. His top hair is kept longer and tied in a ponytail while the sides are neatly combed downwards, a style mostly seen on children coming back from school.
Bangs
Ranveer Singh debuted in 2010 in Band Baja Barat with his character sporting messy hair with bangs. The Ranveer Singh new look made him a favorite in no time. With those bangs, he completely nailed the boy next door look. He was seen in bangs again in Gully Boy, where his character was a slum boy.
Long Locks
Ranveer Singh grew out his hair for the role of Allaudin Khilji to perfectly showcase his gory nature. In the Movie Padmavat, he has been seen with his hair braided loosely to see more of his face with the scar and stubble or with his hair left open. Ranveer Singh hairstyle 2021 photos also show him with long hair when he posed in gender-fluid looks.
Messy Bouffant
A Messy Bouffant styled by Ranveer takes care of all the dancing and fun at parties. It reminds us of the lazy college days with disheveled and messy hair. With a curled mustache and stubble with a soul patch, this hairstyle makes a sophisticated look.
Wavy Spikes
Ranveer Singh has styled every emo look be as eccentric as possible. He effectively gives his spikes a wavy appearance by sweeping them to the sides. The perfect straight spikes are swapped with wavy and unruly ones giving it a grunge effect, just what Ranveer Singh is known for.
Dreadlocks
Among Ranveer Singh's best hairstyles are the thick and long dreadlocks tied in a half-up hairdo. He wore the braided dreadlocks for a campaign titled 'Don't hold back for Jack and Jones'. He was in overkill mode with a full beard and handlebar mustache.
Recommended Post
Messy bun
A man bun is one of the edgiest hairstyles to manage long hair. Ranveer Singh adds his personal touch to this style by adding a little mess. Gather all your hair at the top to make a ponytail, and then roll your hair around the pony to create spirals stacked one over another.
The top knot
This Ranveer Singh new look consists of a small messy top knot secured tightly at the back of his head with some of his hair falling over his nape. A comfortable hairstyle for a gym as the star is seen wearing a vest.
Dapper Look
Ranveer created this Dapper look when appearing on the magazine cover of Grazia. His hair is pulled back from his face, with all the ends having a slight curl in different directions for an unrestrained hairstyle that looks so classy and stylish.
Best Silky Long Layers with Ponytail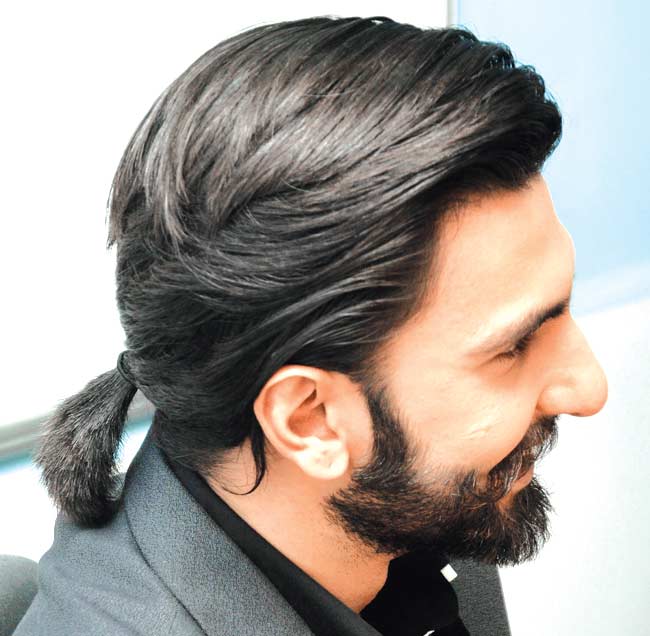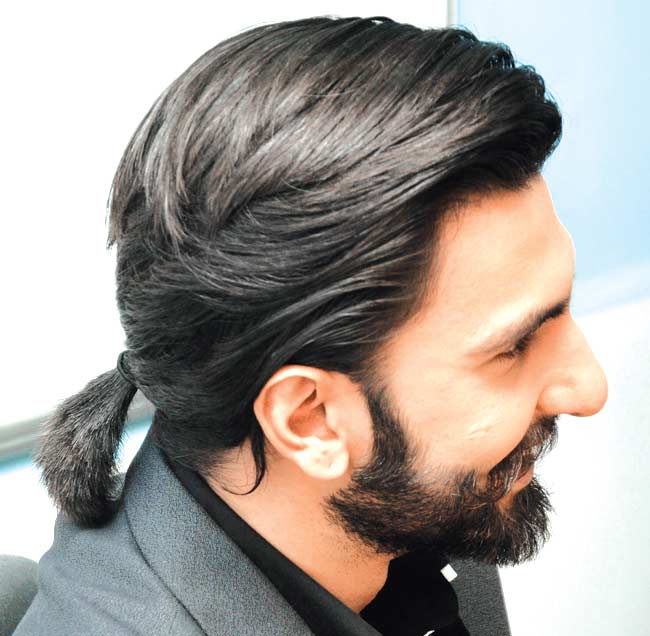 Many filmmakers will always look for different hairstyles to make their heroes a top trending. But the hairstyle for Ranveer made many directors notice him for his peculiar hairstyle. The long layers with silky soft and that too with short ponytail will make all girls fall for him. The silky ponytail will fall under the category of great hairstyle designers.
Charming Ram Leela Look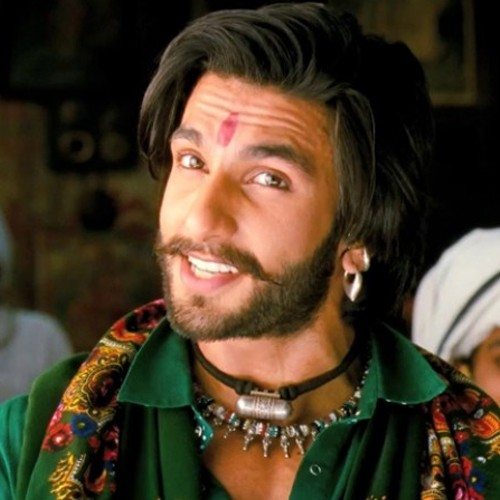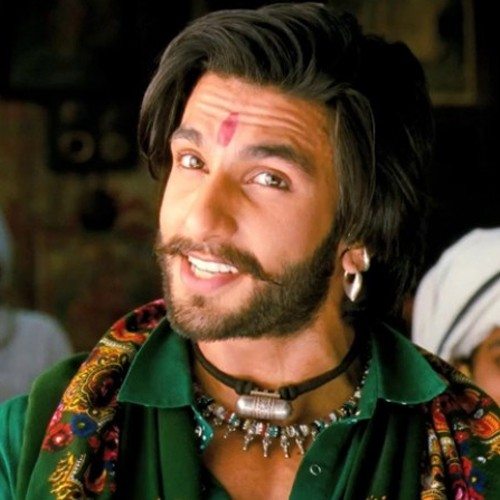 The film Ram Leela is not only famous for his story, colorful, cast and crew. There is yet another fantastic thing that you would have missed. Yes, it is Ranveer Singh hairstyle in Ramleela. Nobody will forget his creeky, super hot hairstyle. The hairstyle has become the top trend rather than the film. Before the film hit the screen, he became the trendy person and till now his mustache with hairstyle has never met a fade.
Bald Look with Ponytail
Ranveer has never failed to surprise his fans with his performance. Not only performance, but he will also make everybody by his look, hairstyle, and even his character selection. The bald look with the ponytail is specially made for Bajirao Mastani. Though it was made for the film, he hit the screen with the more fantabulous hairstyle. The hairstyle is made with shaving off his hair giving a final small ponytail at back. The film is a massive hit, his eyes spoke about the role along with the hairstyle told about the external appearance of Bajirao.
Ranveer Befikre Look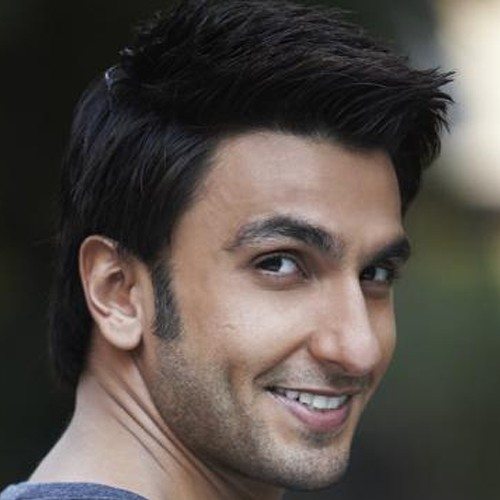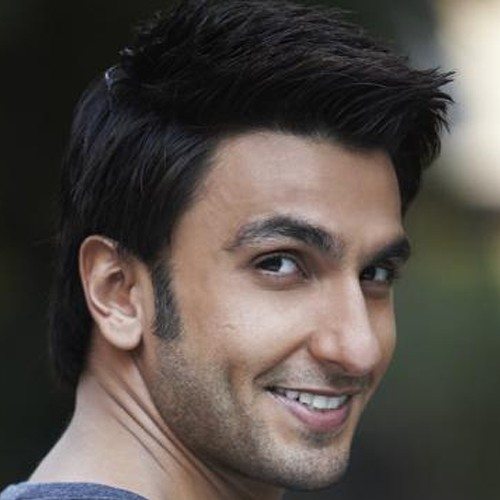 If a person needs to see a fresh breath or a cool face, they can try out Ranveer Singh Hairstyle in befikre. The trimmed style with spiky hair gives a locking look of Ranveer. Moving your hair from back and front at 45 degrees, one can get super spiky. Try out to get the soft hair using fibre paste suitable for your hair. This is one of the most refreshing Ranveer Singh hairstyle in short hair.
Bed Time Hair Look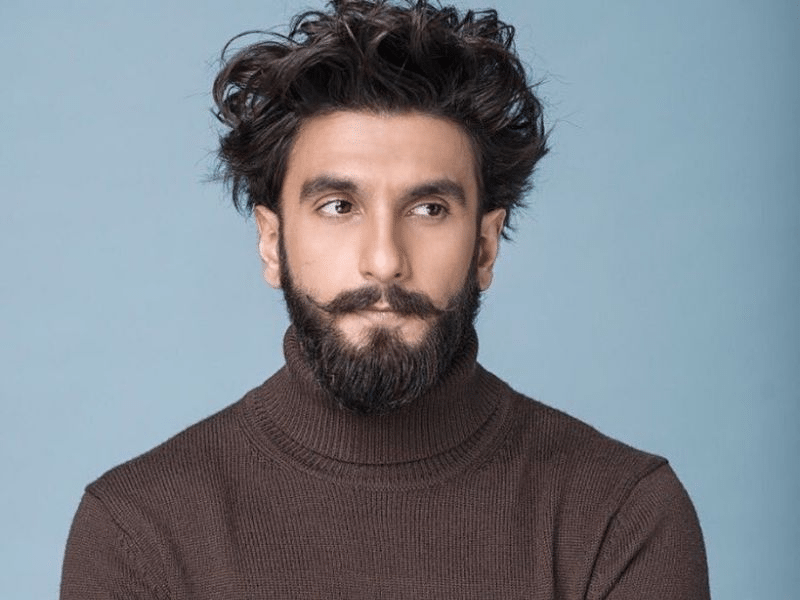 From the photo, one can understand that Ranveer has the messed up look. The look will clearly show that all the women will fall over heels for this type of hairstyle. Not only this hairstyle, but there are also more many surprises for people who are crazy in love with Ranveer hairstyle.
Romantic Look with half Gel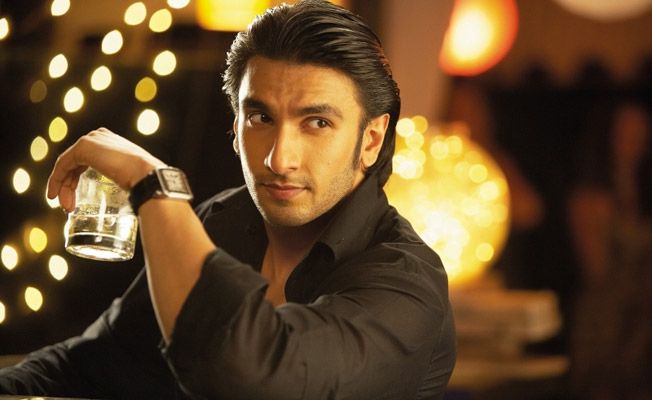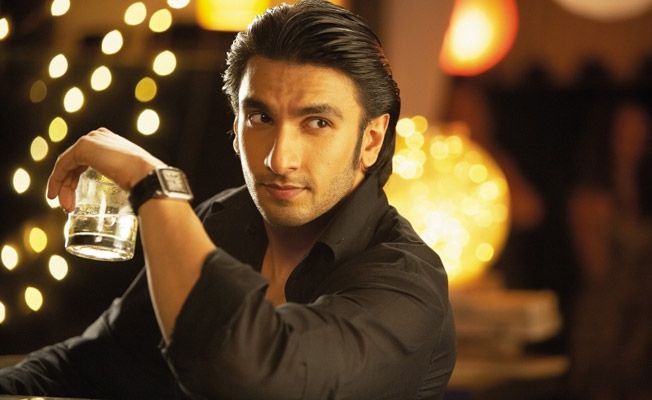 Though Ranveer Singh hairstyle name varies, he has the most suitable face shape to fit all types of styles. According to the film, he is the person who is ready to sacrifice his look. This type of hairstyle is the one with applying gel to the hair. The hairstyle made with gel will definitely give a romantic look for the girls.
Most Exciting Look with Beard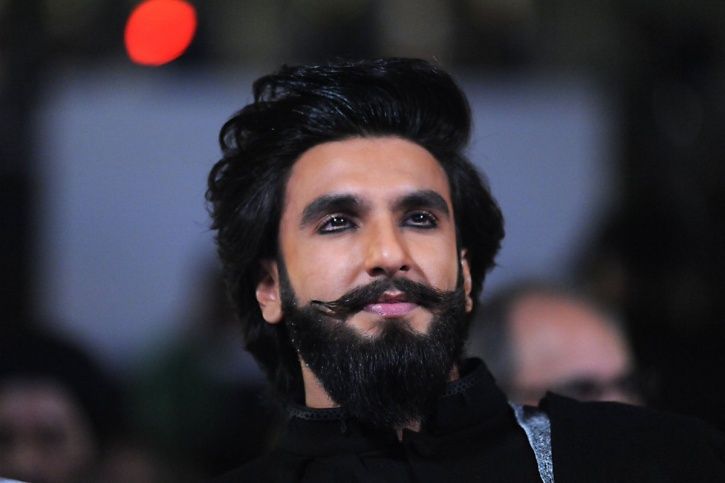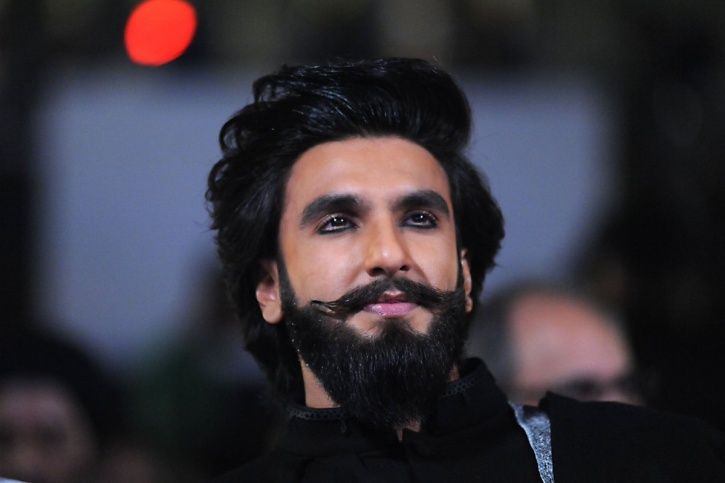 The film Padmavati has many controversies because of its storyline. In spite of all this, Ranveer hairstyle and makeup made the film go in another way. He has a hairstyle with a complete beard look and complete hairdressing. Not only has his hair, but his make up also different phase.
Chocolate Boy Look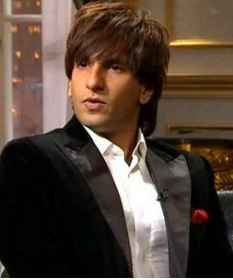 The messy hairstyle with coloring, has a chocolate boy look. Use of hairspray will definitely give you a stunning look. This make you feel that she is like chubby and look a boy who is sitting beside us.
Short Hair Look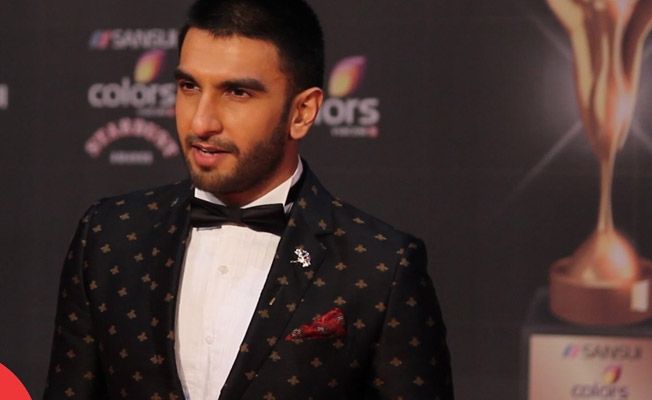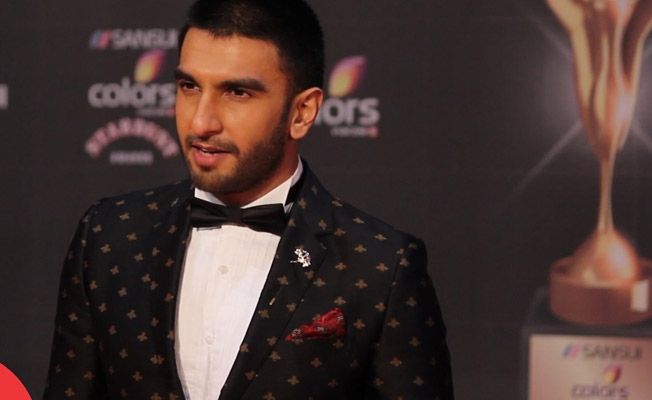 The short hair with little beard is always a casual look of Ranveer. The hair slightly trimmed along with the hair.
Recommended Post
Crazy Beach Boy Look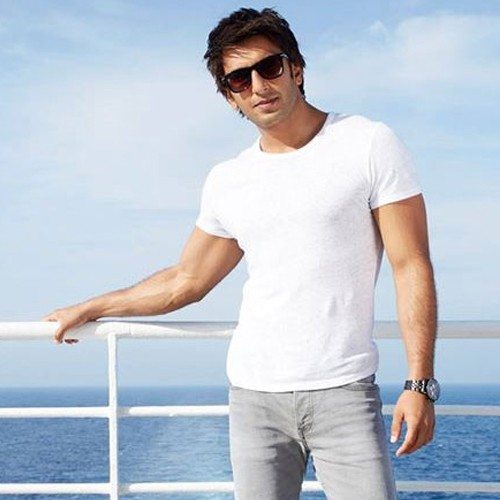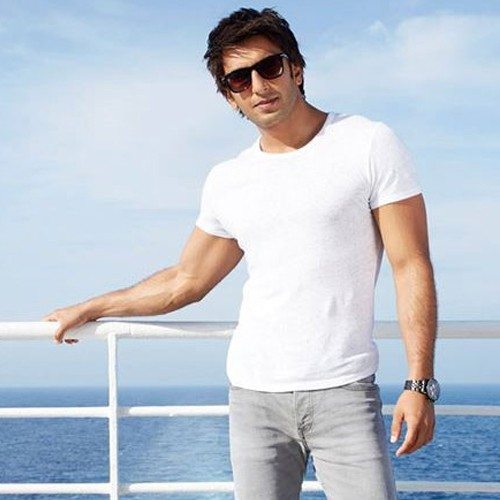 After the first film, he always tries a new look. The look gives more adorable and seems to be the man next to the door.
There are many hairstyles for Ranveer. Nowadays, Ranveer Singh hairstyle tutorials are becoming famous for new friends who love to try a new style.