While it's unavoidable to eat food beyond the required number of meals per day, it's a typical thing to hear someone wish to eat without gaining weight. Everyone is aware that eating is always associated with weight gain. On the dieter's perspective; however, food is synonymous with losing weight. Weight loss is a crucial thing to think and do, especially if you have an unhealthy lifestyle.
Another thing, losing weight could be entirely unattainable if you have a hectic schedule or you are too tired to exercise. From setting the proper meals and having a balanced diet to exercising, you can actually achieve your goal of eating without gaining weight. Other than those options, there are simple and healthy recipes which could help you lose weight and maintain your figure.
Top 5 Delicious Recipes for Your Weight Loss
It is important always to know the nutrition facts of the food you eat, particularly the total calories and daily values. This doesn't specifically mean that you have to ask how much calories the food have. But rather you have to be aware of the daily limitations and nutrients the food contains. If you are too busy to exercise, you can check these recipes that can help you lose weight. Get your egg pan or anodized cookware out and get your ingredients ready. Here are the top 5 easy recipes for your weight loss:
Creamy Chicken Quinoa Broccoli Casserole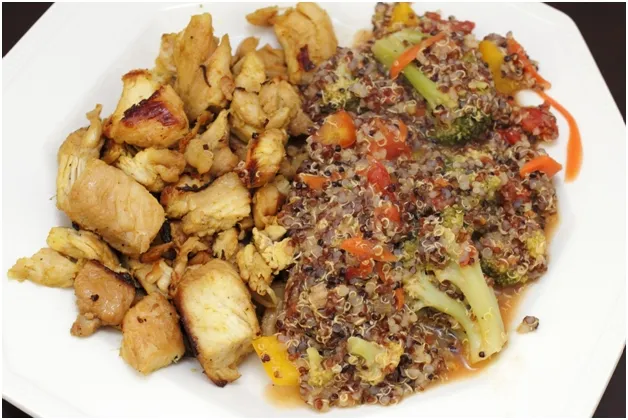 Total Time: 45 minutes | Servings: 6
Ingredients:
1 tspof poultry seasoning
1 cup of milk
2 cups of chicken broth (reduce the sodium)
¼ cup of cooked, crushed bacon
½ cup of flour
2 cups of water (divided)
1 cup of uncooked quinoa (rinsed)
3 cups of fresh broccoli
1 pound of skinless chicken breasts (boneless)
2 tsp of seasoning
¼ cup of grated cheese
Direction:
For the sauce, heat up the oven to 400°F and grease the baking dish. Boil the chicken broth with the ½ cup of milk in a pan over low heat. Once cooking, mix the other ½ cup of milk with the poultry seasoning and flour. Stir the mixture until it forms sleek, creamy sauce.
For the assembly, combine the sauce with a cup of water, quinoa, and bacon.Stir the mixture until thoroughly combined. Pour the mixture into the greased baking dish. Meanwhile, thinly chop the chicken breast sand arrange it over the mix. Drizzle with seasoning and bake for 30 minutes. Do not cover when cooking.
While baking, blanch the broccoli for a minute and then dip under cold water. Let it sit.
After baking, check the mixture by stirring it around in the pan.Put it back in the oven for an additional 10-15 minutes for your ideal consistency.Once poached and the sauce thickened, add the broccoli and about a cup of water until smooth and cheesy. You can easily stir it in the pan. Prime with the cheese and bake until the cheese melts.
Harissa and Citrus Baked Salmon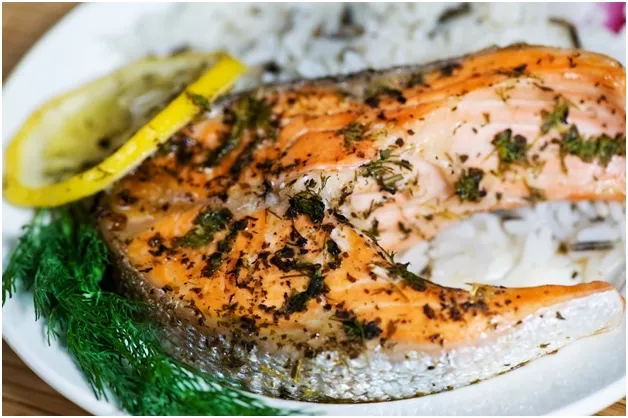 Total Time: 20 minutes | Servings: 6
Ingredients:
¾ cup of harissa
½ tsp of fresh ground pepper
1 whole orange
1 large salmon filet
1 whole lemon
3 chopped green onions
1 tsp of kosher salt
Direction:
Heat the oven to 350°F. Layan aluminum foil over the baking sheetormistthe sheet with cooking spray.
Pat dry the salmon filet using a paper towel and put it on the baking sheet.
Drizzle with salt and pepper, then scoop the harissa evenly distributing over the salmon.
Slice the lemon and orange into two and squeeze half of each over the salmon fillet. Strip remaining halves into shares and place over the salmon. Dredge green onions over the finished product.
Let it bake for 20 minutes and remove the dish from the oven once done. Let it cool for a few minutes before slicing and serving.
5-Ingredient Butternut Squash, Arugula, and Goat Cheese Pasta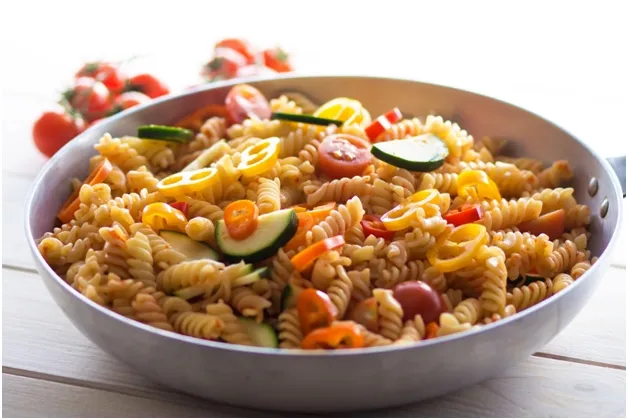 Total time: 40 minutes | Servings: 5
Ingredients:
1 medium butternut squash
salt and freshly-crushed black pepper
12 ounces whole wheat dried pasta
1 tablespoon of vegetable oil
2 ounces of goat cheese
2 handfuls of fresh arugula
1/3 cup of roasted pine nuts
Directions:
Peel and seed the butternut squash and slice it into 3/4-inch cubes. Preheat the oven to 425°F. You can either lay a baking sheet with a parchment paper or spray it with cooking spray.
Mix the butternut squash and oil in a large mixing bowl and stir until the squash is evenly coated. In the baking sheet, line the squash in an even layer. Bake it for about 20 to 25 minutesand flip the other sideuntil the squash are cooked. Remove the dish from the oven and set it aside.
Boil salted water in a large stockpot and put in the pasta. Follow the procedure on how to cook thepasta al dente. Once cooked, reserve about a cup of the pasta water, you're going to need that later. Once the remaining water is drained, quickly mix in the goat cheese and 1/4 cup of the pasta water. Stir until the meltedcheeseevenly coats the pasta. Just add some reserved pasta water until the consistency reaches your desired result. Add the arugula, roasted butternut squash, and arugula and stir until mixed.
Garnish with black pepper before serving.
Fettuccine Carbonara With Green Beans
Total Time: 30 minutes | Servings: 4
Ingredients:
Salt and black pepper
1 cup of chopped green beans
8-9 ounces of fettuccine
1 medium chopped onion
4 stripsof thick-cut bacon
Parmesan cheese
2 large eggsDirections
Bring a large pot of salted water to a boiland cook the pasta, following the provided instruction.
Fry baconin a pan until crispy. Once done, slice it into a half inch once slightly cool and set it aside. Meanwhile, leave about 2 tablespoons of the bacon fat in the pan and then heat it on medium flame. Sauté the onion in the remaining oil fat for and add the beans with a pinch of salt. Toss until your desired consistency. Afterward, turn the heat to low.
Beat the eggs in a small bowl with a pinch of black pepper and set aside.
Directly shift the pasta into the pan once cooked. Don't worry if some pasta water is added.
Toss the pasta, bacon, eggs,green beans, onions, and parmesan. You can add pasta water and seasonings according to your taste.
One Pot Lemon Herb Chicken and Rice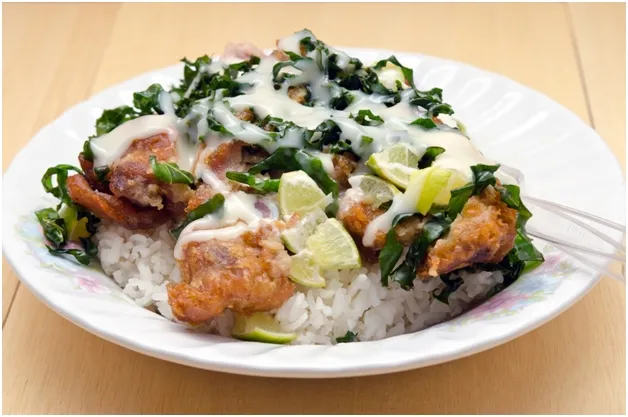 Total Time: 30 minutes | Servings: 4
Ingredients:
For the chicken:
4 boneless chicken breasts (skinned)
2 tablespoons of butter
Salt and pepper
2 teaspoons of Italian seasoning
For the rice:
1 cup of uncooked white or brown rice
1 whole lemon (juiced)
2¼ cups of chicken broth
1 teaspoon of Italian seasoning
Direction:
In a large covered pan, melt the butter over medium heat. Season the chicken breast with salt and pepper with an Italian seasoning.Fry the chicken for about 1 to 2 minutes on each side and transfer to a plate.The chicken is not cooked at this point.
Mix in rice, lemon juice, chicken broth, and remaining Italian seasoning to the pan even without cleaning. Lay the chicken over it and let itsimmer for about 20 to 25 minutes over medium-low heat. It should be left covereduntil the liquid dissolves.
Squeeze some lemon or garnish with fresh parsley or cilantro before serving.
Other Foods That Are Not in the List
Losing weight doesn't mean you have to relinquish your most favorite delicious food. You can actually eat your comfort food with a twist. Aside from the list mentioned above, here are other recipes which you could base your diet plan:
Chicken Meatballs
Roasted Veggie and Bean Tacos
Shrimp Stew
Quinoa
Lentil Chili
Chicken Scallopini
Salmon Cakes
You and the Food You Eat
Everyone says eating is a stress reliever. This could also mean weight gain when the calories were not burnt. Often than not, it becomes difficult to obey the diet plan. Eating healthy foods is a great option to maintain a healthy life. Your health does not only depend on your lifestyle but also on the food you eat.
When you eat and live healthily, you can achieve the good health that you are wishing for. Watch out the food that you eat and it is important to check the label of the food that you buy. If you are health and body conscious, it means you are just taking care of your body but it should be in the right way. You don't have cut off your meals just to lose weight because you can still do that through eating healthy meals.
Paula is the founder of FoodRevPgh, where she blogs about the best food recipes, tips & tricks, and finest tech that will help you make exquisite food in your home. You can find many interesting insights to the finest meals, and guide you through preparing them, all without the hustle. Problems – Solved!