Are you a vegetarian and looking forward to build a muscular body? It is a common belief that for body building one needs to consume lot of non vegetarian protein but here we are with 50 vegetarian breakfast ideas for muscle growth and body building.
Breakfast is the important meal if you are looking forward to building a good body. In morning the body is in catabolic state and it needs to be fuelled to come out of it and get into muscle forming state
Recommended Post
So let get started with our delicious vegetarian breakfast ideas for body building:
Banana Almond Cream Shake
Soak some almonds overnight and peel them. Add one medium banana to a mixer, half a cup of almond milk, peeled almonds, and a spoon of whey protein, and blend smooth. Add a handful of crushed ice before serving. Chilled smoothies are the best.
Homemade Seed Cereal
Skim half a cup of whole milk or milk of your choice. Add a tablespoon of chia seeds, hemp seeds, dried cranberries, and buckwheat to a bowl and mix. Add a spoon of honey or caramel for sweetness, or skip it. Add the chilled skimmed milk and enjoy. You can add some overnight soaked oats for filling.
Yogurt Parfait with Wheat Germ and Berries
Get some unflavored Greek yogurt, add a teaspoon of wheat germ, and mix. Top it off with some blueberries and serve. Tastes better when slightly chilled and served with some warm coffee.
Kale and Tofu Omelet
Whisk a whole egg and 2 egg whites in a bowl. Add some scrambled tofu to it and make an omelet. Sprinkle salt and pepper on the top, chop the omelet into big pieces, mix it with some kale, and serve along with a cup of vanilla milk.
Cornflakes with Strawberries
Dice some strawberries, mix some cornflakes and a cup of skimmed milk and serve with maple syrup dressing.
Super Green Breakfast Smoothie Bowl
Mix some spinach and a peeled and diced ripe avocado to make a thick smoothie. Then chop two frozen bananas into slices and serve on top of the smoothie in a bowl. Add diced fruits like mango and berries to your liking. Add a dash of vanilla syrup or maple syrup for dressing.
High Protein Banana Almond Oatmeal
Chop a banana and set it aside. Now to a pan, add half mashed banana, 2 egg whites, and a cup of oatmeal, and cook with some water for 3 to 5 mins until thick and creamy. Transfer it into a bowl, add a scoop of vanilla whey powder, and top with chopped almonds and banana with maple syrup.
Oatmeal
One of the best vegetarian breakfast idea for body building is oatmeal. Make sure you do not use the processed and packaged ones. Pour a glass of skimmed milk into it and keep it refrigerated overnight. In morning also add walnuts , raisins and vanilla protein powder to it.
It is a protein packed meal and vanilla reduces craving for sugar.
Avocado guacamole sandwich
Avocado is a superfood and its filled with nutrients. Guacomole can be made using avocado. For sandwich use multigrain breads and cottage cheese. Also add a spoonful of flavour less protein powder while making guacamole
Sprout salad
Sprouts are very healthy breakfast option . They are packed with protein and nutrients. Other than providing you protein for muscle growth sprouts aid in digestion and give lot of micronutrients. You can relish a salad with a protein shake.
Peanut butter and nut sandwich
Peanut butter is very fulfilling and easily available option. Grind some almonds and pistachios . Mix them with peanut butter and use multigrain breads to make sandwich. The sandwich is quite filling ad provide protein and energy.
Vegan buritto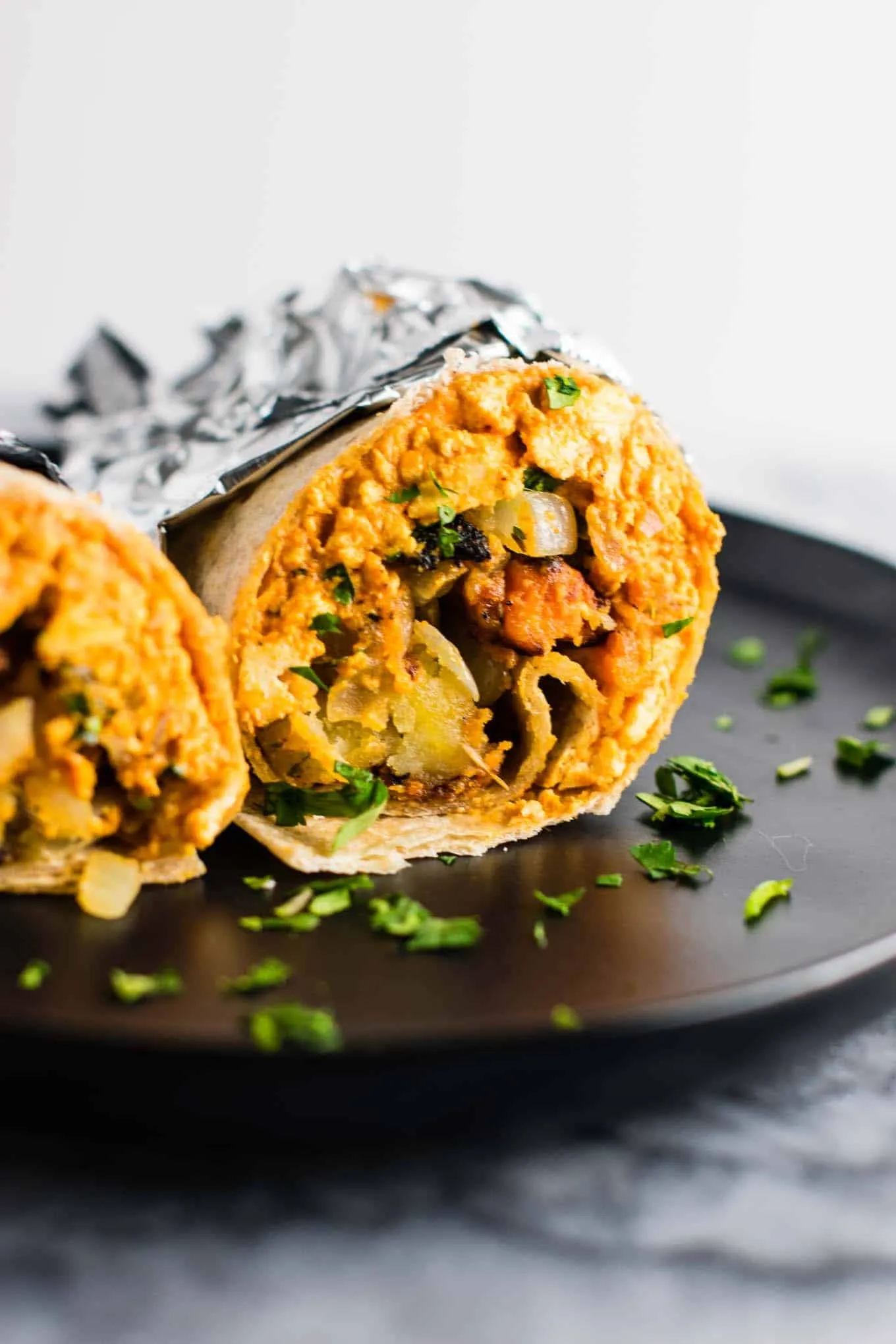 Image courtesy :- www.pinterest.com
These protein packed vegan burittos are all that you need for a sumptious vegetarian breakfast for body builders. To make this you need enchilada sauce, roasted cashews, salsa, and nutritional yeast. Mix it all up in your high speed blender until smooth . Use wheat flour roti or tortillas for wrap
Vegan Pinto beans tacos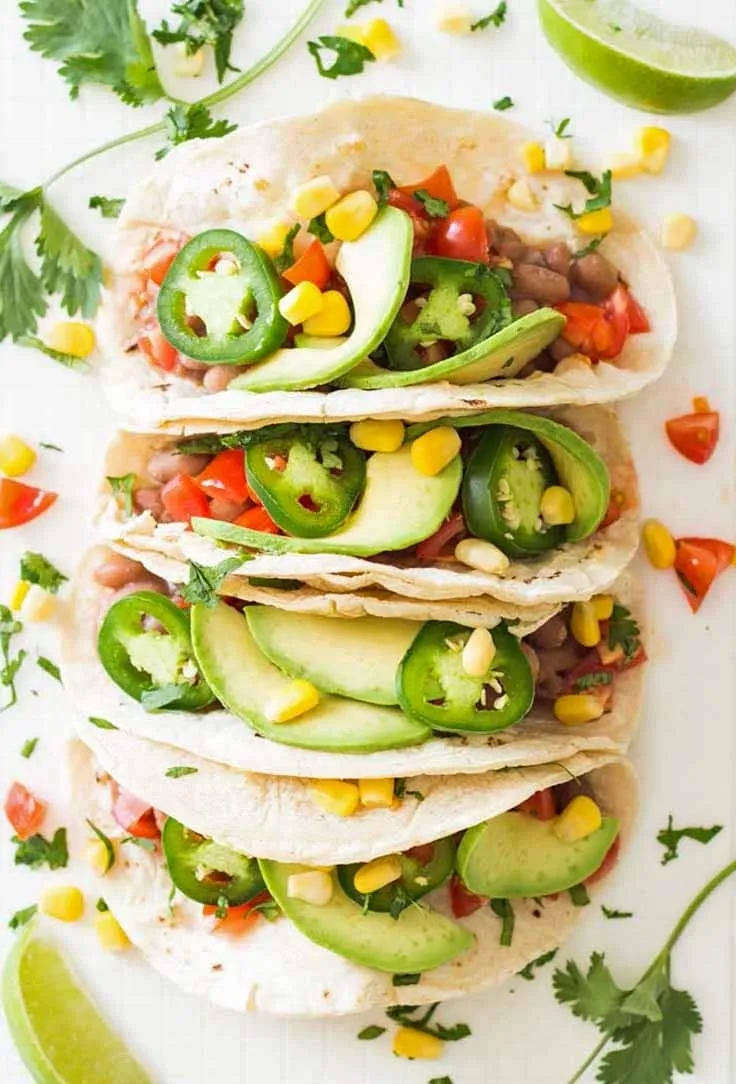 Image courtesy:- www.pinterest.com
This amazing recipe will provide sufficient proteins, micronutrients and energy.
Ingredients
2 cups cooked pinto beans with bean broth
2 Roma tomatoes
½ cup sweet corn
1 avocado
2 jalapeño peppers
Fresh cilantro (also known as coriander)
Lime juice from 1 lime
Salt
Pepper
8 small corn tortillas
One pot Cajun pasta
A very interesting vegetarian breakfast for body builders that will provide them good nutrients and energy.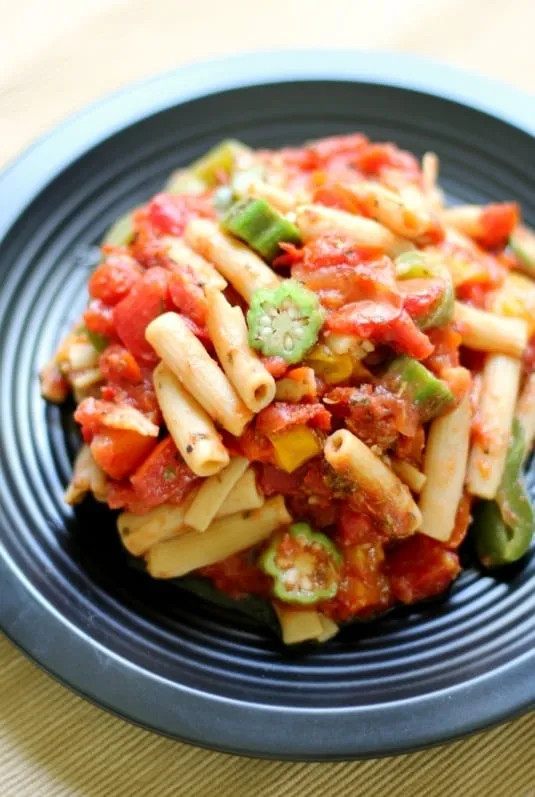 Image courtesy:- www.pinterest.com
Ingredients
1 8oz Box Gluten-Free Penne
1 15oz Can No-Salt Added Diced Fire-Roasted Tomatoes
3 Cups Chopped Bell Peppers
1 Cup Sliced Okra
1 Tsp Minced Garlic
1 Tsp Onion Powder
1 Tsp Dried Marjoram
1 Tsp Dried Thyme
½ Tsp Cumin ½ Tsp Smoked Paprika
½ Tsp Fennel Seeds
½ Tsp Dried Oregano
½ Tsp Dried Basil
¼ Tsp Cayenne (or more)
Spaghetti (Home made Marinara)
A very fulfilling and delicious breakfast with goodness of olive oil and herbs, this recipe is surely going to savour the taste buds and provide energy to the body builders.
Ingredients:
Cook/prepare/care for food properly.
You can use fresh or canned tomatoes for this dish:
1 tsp olive oil
1 onion – yellow (no sweet) or white, diced
3-4 cloves of garlic, minced
28oz diced tomatoes or 3.5 cups of fresh diced tomatoes
28 oz tomato sauce or 3.5 cups of fresh tomato sauce
1/2 tsp dried thyme ( I use fresh from the garden but this brand usually has amazing products)
1/2 tsp fresh or dried basil (again here's the brand I love, but I usually use my homegrown, and dried herbs)
1/2 tsp dried rosemary (I love to grow rosemary, but if you need to buy some I love this brand too when buying herbs)
1 tsp garlic powder
Moongdal khichdi with desi ghee
Khichdi is a very sumptuous Indian food. The food is light on stomach and protein packed. The ghee provides good fat. A perfect vegetarian breakfast for muscle growth.
Tofu Scramble
This vegan tofu scramble is made using tofu and seasonings like nutritional yeast, Kala Namak salt, and paprika. It is packed with protein. You can also add the goodness of veggies into it.
Ingredients:
Vegan, Gluten free
2 cups Baby spinach, packed fresh
1 tsp Garlic powder
1/2 cup Mushrooms
1 tsp Onion powder
1/2 cup Tomatoes
Refrigerated
Baking & spices
1/2 tsp Kala namak salt
2 tbsp Nutritional yeast
1/4 tsp Paprika
1 Pepper
1/4 tsp Turmeric
Tropical Paleo Green Smoothie
This smoothie can be your perfect body building shake . It has Spinach, Banana ,Orange, Pineapple and Avocado along with Coconut Milk Maple Syrup and ice.
Chia seeds pudding
Chia seeds are considered super food, they contain high quality proteins and fiber. The pudding has Almond Milk Coconut Cream Chia Seeds Grated Coconut Almonds Maple Syrup. This is one of the easiest breakfasts you'll ever make but you need to keep it refrigerated over night.
Chocolate Banana Breakfast Quinoa
If you crave for sweet food but want a healthy option here we have a delicious yet extremely healthy vegetarian breakfast for body builders quinoa, almond milk ,banana cacao powder and honey is used to make it.
Ingredient banana oatmeal pancake
If you like pancakes and want an easy recipe then you might try these blender pancakes. All you have to do is simply put oats, banana, and either almond milk or water in a blender with optional other flavors such as peanut butter, cocoa, or fruit to add flavor. Afterwards you mix them and cook it on a skillet like normal pancakes.
Blueberry coconut smoothie bowl
Bananas , almond milk, shredded coconut, blue berries and chia seeds are used for making these smoothies. The smoothies are protein packed and form a good veg breakfast for muscle gain.
Vegetable White Bean Hash
This is another less time taking veg breakfast idea for muscle gain. It is high in protein and has goodness of veggies like red bell pepper, garlic, sweet potato, and kale .
Check full recipe here
Chickpea Scramble breakfast bowl
This recipe is brimming with healthy ingredients, this bowl has monounsaturated fats from the avocado and olive oil which is essential for muscle gain. The anti-inflammatory properties from the turmeric helps in muscle recovery .The fiber from the mixed greens vegetables and protein you get from the chickpeas.
Pumpkin Gingerbread Protein Pancakes
Unlike normal pan cakes this recipe are high protein packed and low on calories. It contains ginger , turmeric and pumpkin all with a twist. Full recipe here
Mermaid Smoothie bowl
Muscle growth requires good amount of protein and fiber in the diet.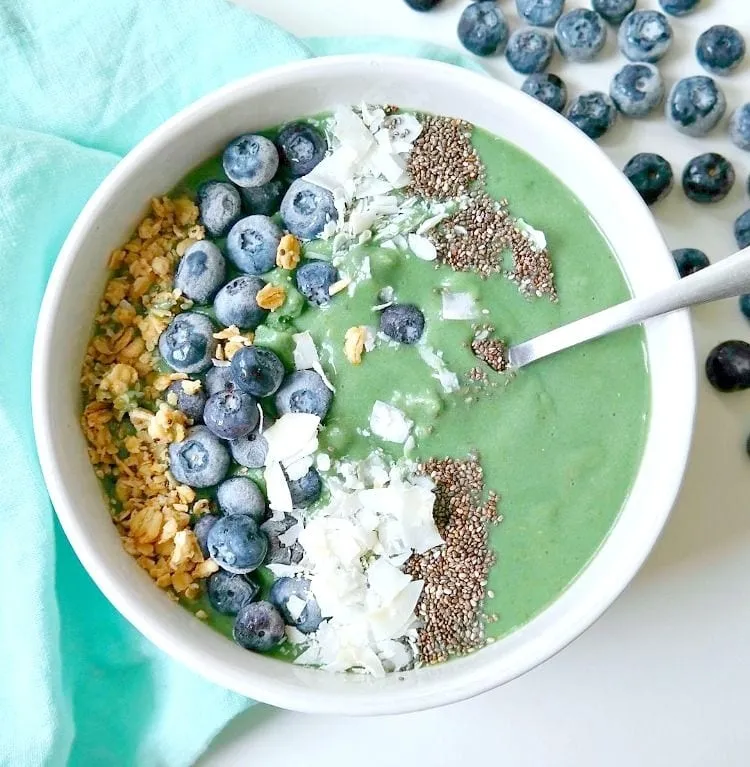 Image courtesy:- www.pinterest.com
This recipe has a protein boost with spirulina which is actually a freshwater algae and a good source of vegetable protein.It also includes berries, seeds and avocado.
Coconut cream pie protein shake
This delectable drink is brimming with coconut flavor with ingredients like coconut milk, coconut oil, coconut flakes, and coconut cream. Plus, you'll feel satisfied thanks to this shake's impressive 7 grams of fiber and 21 grams of protein.
Check recipe here
Jumbo Chickpea Pancake
Chickpeas have generous amount of fiber and protein in to it. This pancake will keep you full and going till lunch. A very fulfilling veg breakfast idea for muscle gain.
Lentil Broccoli breakfast cutlets
A highly protein packed diet for muscle gain are this simple yet delicious cutlets
Full recipe here
Chocolate Nice Cream Breakfast Parfait
A perfect recipe to fulfil your cravings yet healthy enough to provide lots of proteins and energy . It has bananas cocoa powder and peanut butter into it.
Full recipe here
Besan chila with yoghurt
Besan chilla is an Indian pancake made of gram flour. The protein content is quite high . You can add veggies to it too. Chilla can be relished with yoghurt which gives a boost of calcium and protein.
Almond chai Green smoothie
This green smoothie is amazingly healthy with spices like cinnamon, cardamom and nutmeg give this smoothie a distinct warmth while using a frozen banana adds a bit of slush and creaminess to the dish. The banana provides potassium which is lost during workout
Vanilla Almond Butter Protein Granola
A delicious protein and fiber rich breakfast is what this recipe is all about. It comes together in less than 30 minutes. Full recipe here
Banana Split
A banana split can be used with cream nuts and berries. It forms a filling and nutritious breakfast. The breakfast will provide sufficient , protein,potassium and other nutrients
Greek yoghurt with fruits
A perfect vegetarian breakfast for muscle growth of body builders. It has goodness of fruits with calcium and protein of yoghurt. You can keep it refrigerated overnight and have it in morning with 1 spoon added whey protein powder
Cottage cheese and fruits
Cottage cheese is healthier and is lower on carbs. The protein packed cheese with goodness of breakfast will be a great breakfast option.
Paneer bhurji
This Indian dish has lots of protein and vitamins in it. It is made up of Indian cheese called paneer cooked with vegetables . You can cook on olive oil or ghee to keep the fat content low.
Yoghurt Ginger Smoothie
A perfect recovery drink this smoothie is one of the best veg ideas for muscle gain. Lots of tears happen in muscle at microscopic leve; during the workouts. Greek yoghurt provides protein with low fat. Ginger has anti inflammatory properties which helps in recovery.
Oat meal Breakfast cookies
The oatmeal cookies are less messy and portable breakfast. You much on to fe of them when you are in rush. Oats , Dates – Bananas Applesauce ,Raisins ,Sunflower Seeds , Chia Seeds and Grounded Flax seeds.
Healthy Apple Cinnamon Oatmeal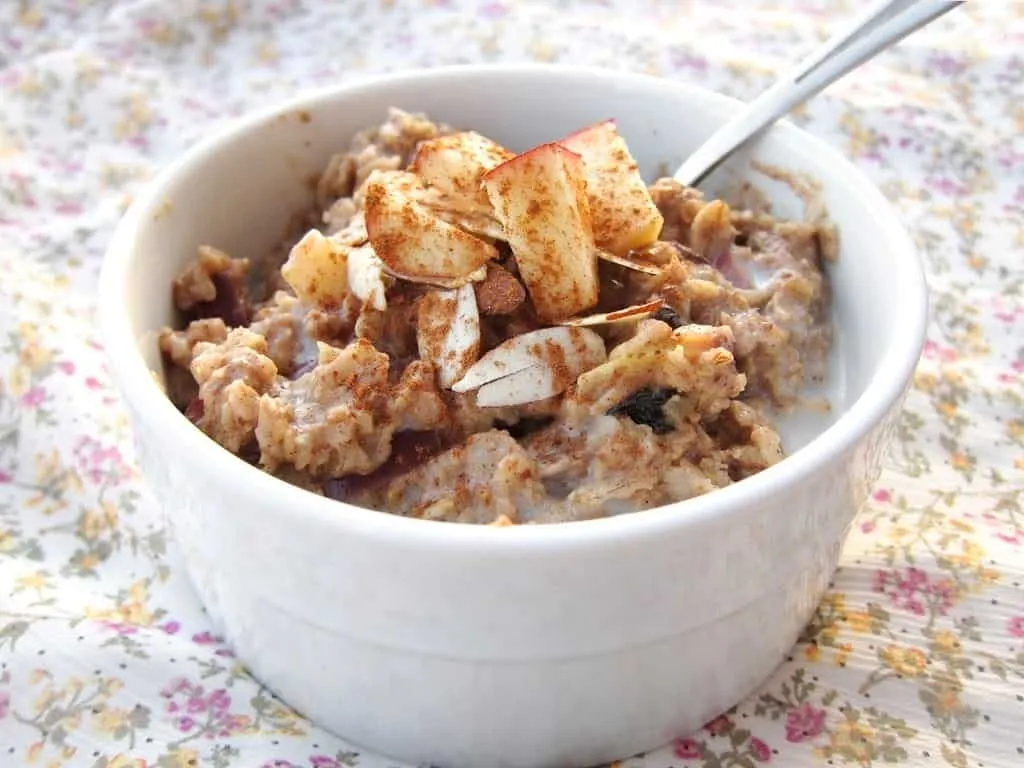 Image courtesy :- www.veganchickpea.com
The oat meal breakfast is best complimented with use of apple and cinnamon.
For full recipe here
Stuffed potato cakes
This potato cakes are quite filling and will give energy for long. Slightly higher on carbs but gives good amount of protein and vitamins.
Ingredients
Dough:
1 kg potatoes (*see recipe notes)
80 g white rice flour (1/2 cup) (*see recipe notes)
40 g cornstarch or tapioca flour (1/3 cup)
salt, pepper, nutmeg (to taste)
Filling:
250 g mushrooms, sliced (about 3 cups)
1/2 of a zucchini, diced
1 onion, chopped
1 bell pepper, diced
2 cloves of garlic, minced
salt & pepper to taste
spice mix: 1 tsp Italian spice blend, 1 tsp onion powder, 1 tsp garlic powder, 1/2 tsp cumin, 1/4 red pepper flakes
Additional ingredients:
oil for frying
vegan cheese or cottage cheese to taste
Vegan sausages
A vegan sausage is something which most of us havenot heard of not seem possible, but these vegan sausages can be made from TVP (textured vegetable protein), oats, flax, and spices and wrapped in a rice paper casing to hold it all together. It good amount of proteins, vitamin B 12 , antioxidants and is quite delicious.
Cinnamon roll
The rolls are mouth savouring and extremely healthy. If you want to make it vegan you can use substitutes for dairy products.
Full recipe here
Cherry chia smoothie
This smoothie is filled with goodness of Chia and the tart cherries which repairs damaged muscles and alleviate soreness. Also, tart cherries contain the sleep hormone Melatonin which will give you get a good night sleep that will speed up your recovery. The added turmeric which has anti inflammatory effects helps in recovery. This shake is a great choice of breakfast shake for bodybuilding
Banana rasp berry smoothie bowl
This smoothie bowl is a vitamin shot. Add 1 spoon of protein powder to it to enhance its protein content.
Ingredients
3 bananas
1 cup raspberries
1 cup strawberries
1/2 cup almond milk
Toppings (optional):
Raspberries
Strawberries
Coconut flakes
Mint leaves
Quinoa puffs
Buckwheat almond sandwich
Buckwheat is very healthy and better than normal wheat flour. The buckwheat sandwich has buckwheat bread and the goodness of veggies into it.
Ingredients for 4
1 cup / 170gBuckwheat, whole
¼ cup / 40gChia seeds
¼ cup / 35gAlmonds
1 cup / 240mlWater
A tasty veg breakfast for muscle gain is this vegan cheese cake. Tasty ,light and sugar free , this cake ca be relished with a cup of green tea
Ingredients
Crust:
2 cups oats (GF if necessary) (180 g)
1 1/2 cups shredded unsweetened coconut (130 g)
1 large ripe banana (120 g)
1/4 cup + 1/2 tbsp maple syrup or agave syrup (90 g)
Poppy seed layer (optional)
1 cup poppy seeds (100 g)
2/3 cup coconut milk (160 ml)
2-3 tbsp coconut sugar (or regular sugar) (20-30 g)
1/2 tbsp cornstarch
Cheesecake layer:
Two 12.3 oz packages of silken tofu firm (700 g)
2/3 cup cashews soaked (100 g) *read the blog post for an alternative
1/3 cup coconut cream (80 g)
1/3 cup maple syrup or agave syrup (105 g)
2-3 tbsp lime juice or lemon juice
1/3 cup cornstarch (40 g)
1 tsp vanilla
Ginger lemon honey
This combination is amazing and extremely beneficial for health. Ginger has anti inflammatory agents that aids in muscle tear recovery. Lemon adds benefits and flavour . Honey is a super food. This can be added to your breakfast to boost your immunity and health.
Muscle building vegan smoothie
This smoothie is a perfect veg breakfast idea for muscle gain.
Ingredients
2 bananas
1 cup soy or other vegan milk
2 cups fresh spinach (fresh gives the smoothie a better taste)
2-3 dashes turmeric
a dash black pepper
3 T chia seeds (or hemp, or flax)
1 T peanut butter
1/2 cup chickpeas or 4 T (you won't taste these)
1 oz or 2T chopped dried dates (or other dried fruit)
water (optional)
nutri ninja
Vanilla oats protein smoothie
Vanilla flavour helps in controlling sugar cravings. The protein smoothie will help in building muscles and also will keep you full and energetic for long.
Matcha Green tea smoothie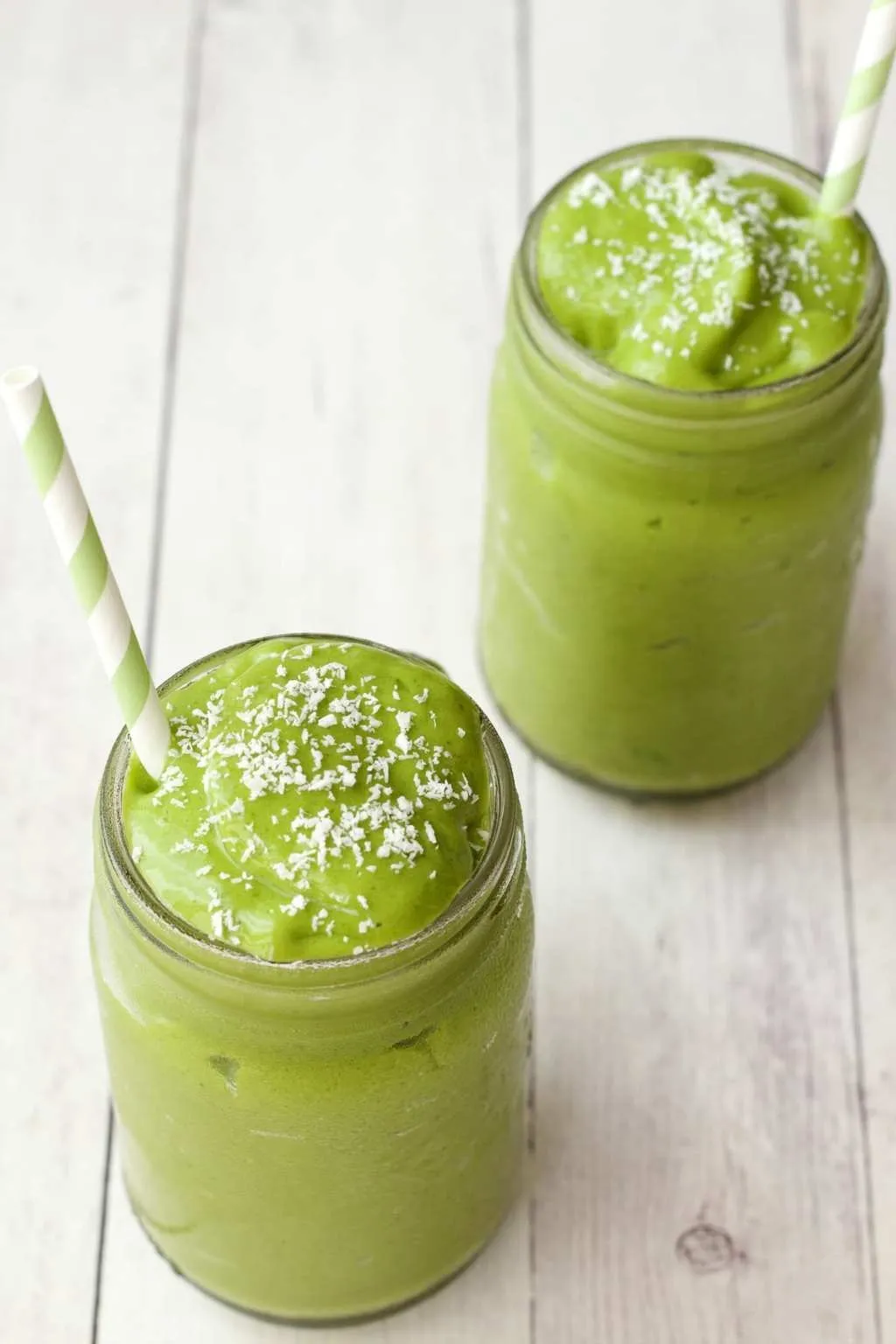 Image courtesy :- www.lovingitvegan.com
This smoothie has all the goodness of green smoothie with added green tea flavour to it.
Full recipe here
Tropical Carrot Smoothie
This smoothie is a great recovery drink after a strenuous workout. With lots of vitamins and fibres in it, this drink is ideal for muscles.
Ingredients
1 cup cold coconut water or regular water
1 cup baby carrots
1 cup frozen strawberries
1 cup frozen mango chunks
1 navel orange peeled and cut into chunks
1 cup pineapple chunks
2 Tbsp granulated sugar optional
Cashew butter Green smoothie

This green smoothie is cashew butter is loaded with proteins, fibre , anti oxidants and micro nutrients. It is an ideal choice for veg breakfast for muscle gain.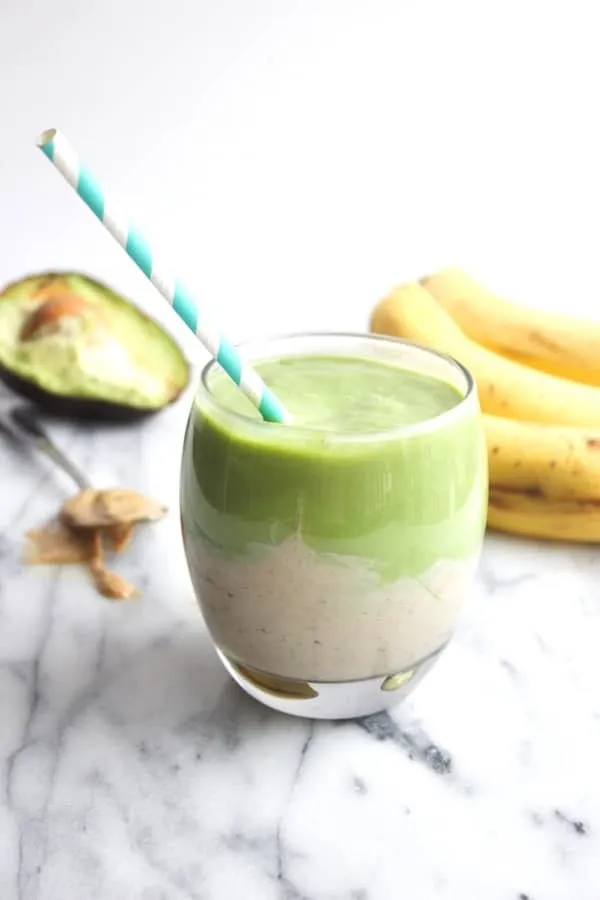 Image courtesy :- thealmondeater
Ingredients :-
Cashew layer:
1 banana
1/4 cup cashew butter
1 tbsp chia seeds
1/4 cup unsweetened almond milk
Green layer:
1/2 banana
1/2 avocado
1/2 cup dairy-free plain yogurt (I used So Delicious)
1/4 cup unsweetened almond milk
Vegan carrot ginger turmeric smoothie
This vegan smoothie is loaded with vitamins and anti inflammatory agents. Turmeric enhances immunity and aids in muscle recovery.
Berry broccoli smoothie
A good protein filled veg breakfast idea for muscle gain, this smoothie has lots of nutrients filled in it. Broccoli is a very good source of plant protein and berries add the vitamin boost. To enhance its protein content add one spoonful of protein powder.
Metabolism boosting berry smoothing
Image credits :- www.suburbansimplicity.com
This metabolism boosting smoothie has lots of proteins, micro nutrients and antioxidants into it which will not only help in muscle gain but also reduce fat and enhance overall health.
For full recipe visit https://www.suburbansimplicity.com/metabolism-boosting-blueberry-smoothie/
Immunity Boosting Triple Berry Kiwi Smoothie
The smoothie boosts immunity and developes strength. It can be a good breakfast options while you are going through strenuous muscle training.
Full recipe at https://theprettybee.com/triple-berry-kiwi-smoothie/