Hot Rollers Reviews
To style your hair into beautiful curls, your first choice should always be Hot rollers. These Hot rollers let you create either gentle wavy hair, or, extensive ringlets depending on your taste and preferences. Hot Rollers are used in every beauty parlor around the globe, but they can be used at home as well. Once you buy the Hot Rollers that suit your hair best, you will be able to curl your own hair without wasting a lot of money and time.
Now, before you go out to buy a set of Hot Rollers, you should know which the top products in the market are today. Make your choice wisely. Here are the Top 5 Hot Rollers Reviews.
Top 5 Hot Rollers
1> Paul Mitchell Neuro Cell Premium Hot Roller System
This device is crafted with standard industrial materials, and the quality is superior to most of its competitors in the market. The technology used for this device heats the rollers fast and also regulates the heat. This Device is capable of providing loose hanging curls, gentle wavy hair, flirtatious rings and tight curls as well. The entire kit looks like it is from the future, and it certainly is the styling device for the future. Equipped with 6 one inch rollers and strong hold clips, provides the ability to custom set the temperature on the rollers, a safety feature which turns off the heater automatically after an hour and a fast 8-second heating up time for the finest hair setting. It's colour changing indicator light lets you know when rollers are hot and ready for use.
Pros
Everything you need to make that long lasting perfect curl is included in the kit.
Hot and cold indicator light.
The safety feature of auto shut down after an hour of no usage.
Cons
The whole kit is a little over 1.5 kilograms in weight.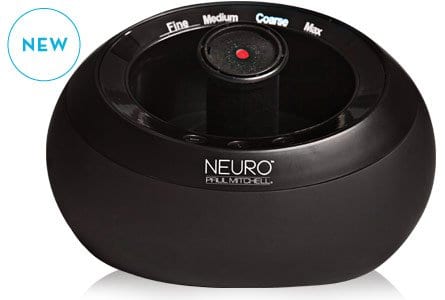 Buy Paul Mitchell Neuro Cell Premium Hot Roller System
2> Conair Compact Hairsetter
This one is a very compact plastic hair setting kit. A variety of rollers included in this kit lets you curl the hair on all parts of your head efficiently. This one looks beautiful; customers' favourite is the blue kit. It is covered with a hard plastic cover that packs in 20 easy to use rollers. 8 small rollers, 6 medium rollers and 6 large rollers enable all and any type of hair rolling. Also, a set of 20 colour codes stainless steel clips come along with this, stored inside the setter. Red light turns on when the machine is On, and the rollers are heating. This is the choice of many users for its simple and easy to use nature and the ability to provide the perfect curls.
Pros
Colour coded clips.
A variety of rollers for a different of style each time.
A fantastic grip for fast and secure grip on your hair.
Cons
No auto-shutdown safety feature.
Indicator does not change colour when the rollers are hot and ready for use.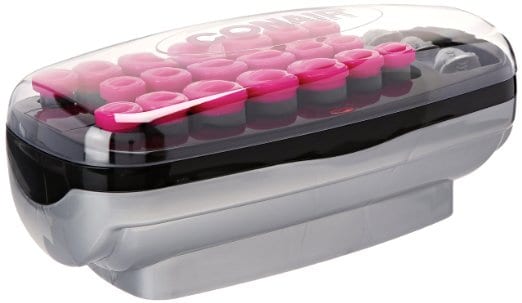 3> Remington H-1080 Body Waves Spaded Ionic Hair Rollers
This device specializes in keeping your hair tangle-free as the rollers are ribbed and translucent in nature. The kit contains 20 rollers and super easy to use roller clips for your convenience. The entire kit weighs in at around 500 gm, which is really lightweight. Equipped with tangle-free spaded setter, 20 spaded rollers in 3 sizes organised by M, L and XL categories and its ionic conditioning technology reduce frizz caused by static. This is a fantastic product for self-use at home.
Pros
Remington's exclusive wax core is capable of creating curls that last very long.
Cool touch end rings for speedy rolling.
Cons
No safety features.
No indicators of hot and cold.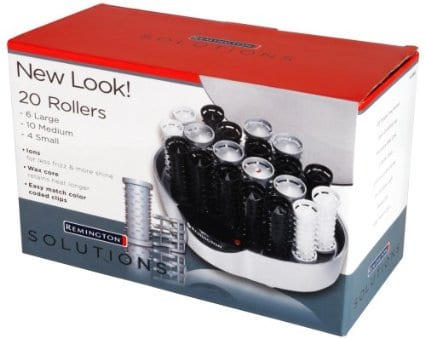 Buy Remington H-1080 Body Waves Spaded Ionic Hair Rollers
4> BaBylissPRO Nano Titanium Jumbo 8 Roller Setter
This product lets you create amazing waves and curls which remain silky soft and smooth after you are done using these rollers. This baby is loaded with Nano Titanium Technology which enables it to retain heat and use infrared heat which reaches the insides of your hair and styles them quickly without any damage. This is a 21st-century marvel. Customers love it. The kit is equipped with 8 velveted rollers including four jumbo X sizes, one ¾th inch size and four jumbo XL 2inch rollers. Also, the kit includes 8 butterfly clips which make it easy and fun to hold the rollers in place.
Pros
Heats up very fast.
Indicator light tells you whether the device is on or off.
Lowest hair damage imaginable.
Cons
Unlike other similar products, the number of rollers is not as many.
No temperature controller.
No auto-shutdown feature.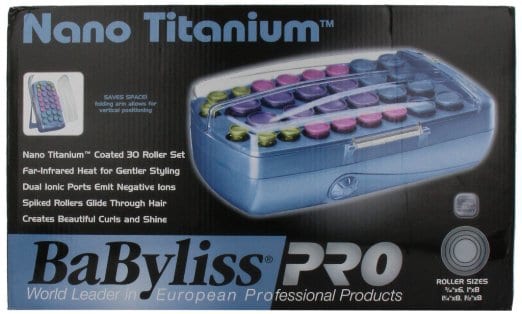 Buy BaBylissPRO Nano Titanium Jumbo 8 Roller Setter
5> Infiniti Pro by Conair Instant Heat Ceramic Flocked Rollers with Cord
If you are looking for huge curls in less time, this is the product for you. It features 20 rollers that heat up in just 2minutes. Temperature settings are available on this one, and there are 12 preset temperature settings you can choose from for different styles. This includes argan oil fusion for conditioning purposes and anti-frizz technology that prevents your hair from frizzing up. The kit contains 20 ceramic flocked rollers with 3 roller sizes Large, Medium and Small. This is perfect for a sudden impulsive hair curling session.
Pros
Preset temperature settings are truly helpful.
Quick heat up makes this product extremely desirable.
Cons
Lacks indicator lights.
Weighs more than other similar products.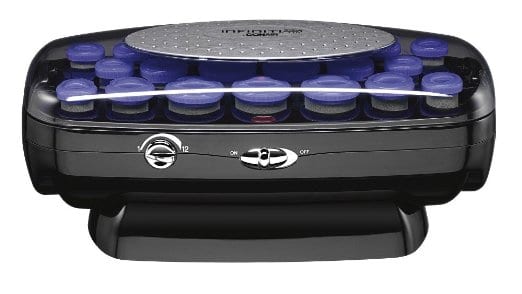 Buy Infiniti Pro by Conair Instant Heat Ceramic Flocked Rollers with Cord