Inversion Tables Reviews
Inversion therapy is very popular nowadays, as it provides several health benefits, related to physical fitness, mental health, respiratory and circulatory system and digestive and immune system. Inversion therapy is also helpful in overcoming from different types of pains in different body parts, which include herniated disc pain, back pain, headaches and more. In this inversion therapy, the body is put into a position where your head is below than your heart. The inverted position of the body reverses the harmful effects of gravity to recover your body from various health issues and pains.
In today's time, this very popular and effectual inversion therapy includes inversion tables, , and different yoga poses. Here, we are stating some of the best designed and highly useful inversion tables for the use of inversion therapy.
Teeter Hang Ups EP-560
This is one of the best inversion tables on the market in terms of quality, design and included features.
Pros
It is helpful in giving you relief from back pain, lowering down the sleeping problem, reducing mental stress, diminishing joint and muscle stress, strengthening muscles, improving your posture and body shape, and alot more.
Made from heat-treated carbon steel and has auto-locking hinges.
Capable of accommodating people of maximum 300lbs weight.
Easily foldable in nature and comes with an adjustable strap system.
Features innovatively designed ComfortTrak Bed.
Cons
Quite heavy in weight.
Does not comes with extended reach ankle system.
Health Mark Pro Max Ultimate Inversion Table
It is a heavy-duty inversion table, capable of accommodating people of 600lbs weight and heights ranging from 4' 10″ to 6' 6″. It is the only table in the market that is bi-positional and non-motorized.
Pros
Unique design enables both face-up and face-down inversion for comfort.
Comes with easily accessible front and rear ankle brackets, a rolled thigh and knee support, crescent-shaped head/face rest, adjustable height settings, and foam-padded back support.
Designed with heavy gauge tubular steel and is safe to use.
Features dual 180-degree inversion for traction and has pre-set angles.
Cons
Quite expensive.
It is not foldable in nature, thus takes a lot of space.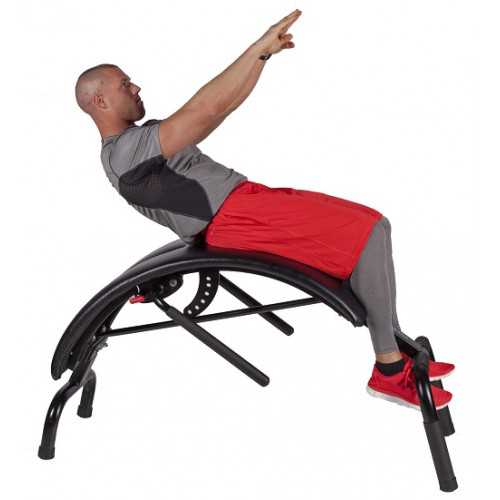 Ironman Gravity 4000 Inversion Table
This trendily designed inversion table is useful both in terms of comfort and effectiveness. It is extensively used by doctors and health professionals for inversion therapy.
Pros
Perfect for use to relax your muscles with its high-quality memory foam padding.
Comes with a height-adjustable feature to accommodate people, having a maximum of 6' 6″ height and 350lbs weight.
Comes with a safety lock, vinyl side covers for hand and fingers protection, and durable rubber, non-skid floor stabilizers.
Features heavy-duty tubular steel frame with an anti-scratch finish for durability and stability, and removable lumbar pillow for extra support.
Cons
Quite heavy and bulky in use.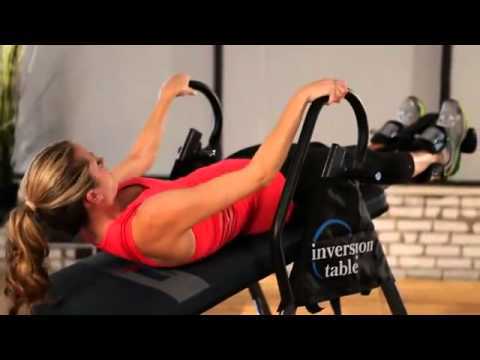 Buy Ironman Gravity 4000 Inversion Table
Ironman IFT1000 Inversion Table
This inversion table comes packed with premium features. It provides relaxation and circulation benefits with a unique combination of traditional inversion and far infrared radiation on the backrest.
Pros
Made from sturdy tubular steel, and is capable of accommodating people of up to 6' 6″ height and 300lbs weight.
Comes with molded ankle cushions, safety tether, and non-skid rubber stabilizers for safety.
Features heat adjustment settings with remote control and extra-long foam-covered handles for right grip.
Cons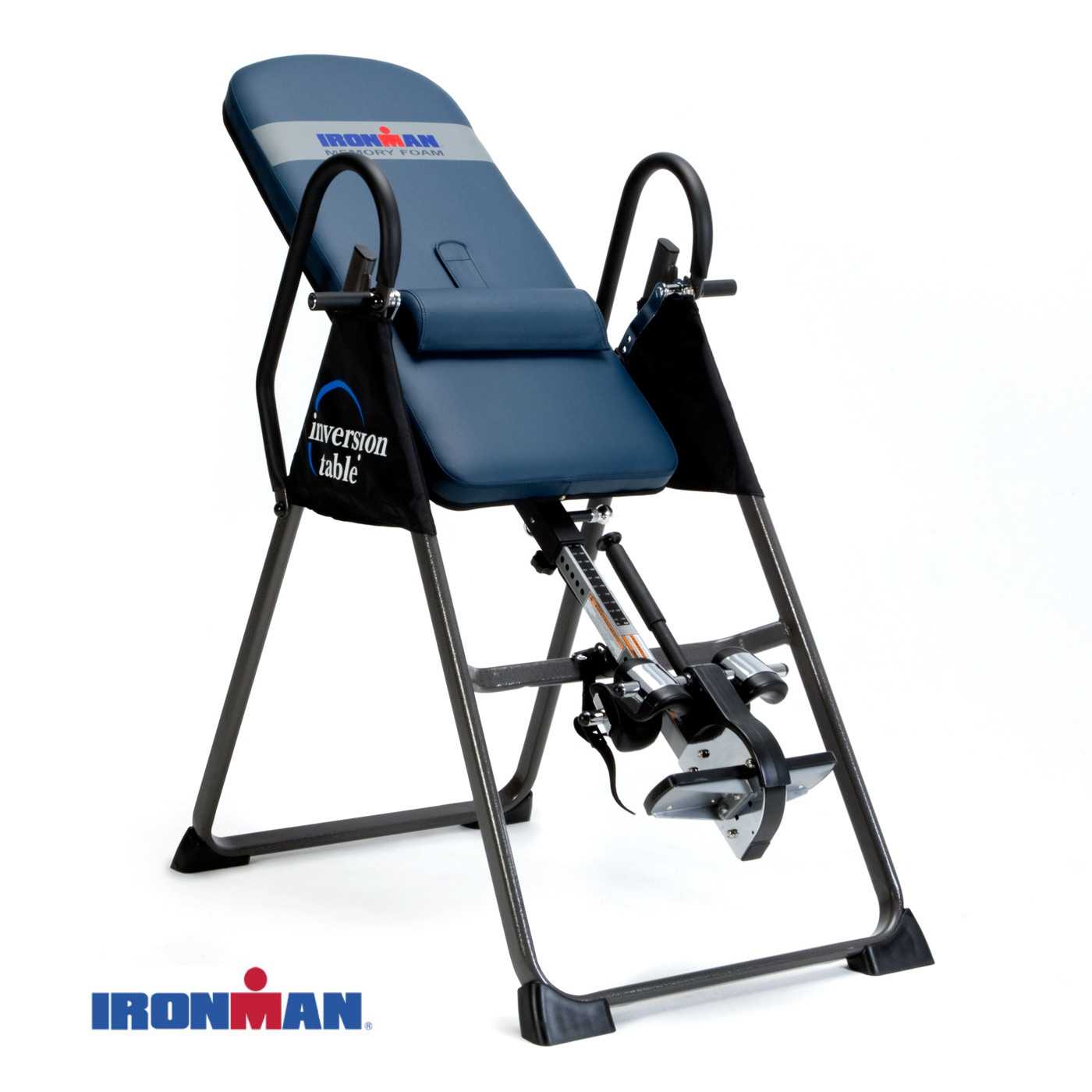 Body Max IT6000 Inversion Table
This affordable and feature-packed inversion table is quite easy to use and assemble, and is made from atubular steel frame with stretched tough nylon fabric covering.
Pros
Capable of accommodating people of height ranging from 4′ 8″ to 6′ 3″, and weigh up to 250lbs.
Easy to adjust in the right position with the deluxe dual-pin system.
Lightweight and foldable in design, and comes with safety lock system.
Features safety strap for controlling inverting angles and lower spring-loaded pull pin for easy-reach ankle adjustments.
Useful to get rid of back pains and neck pains.
Cons
It is abit uncomfortable to use.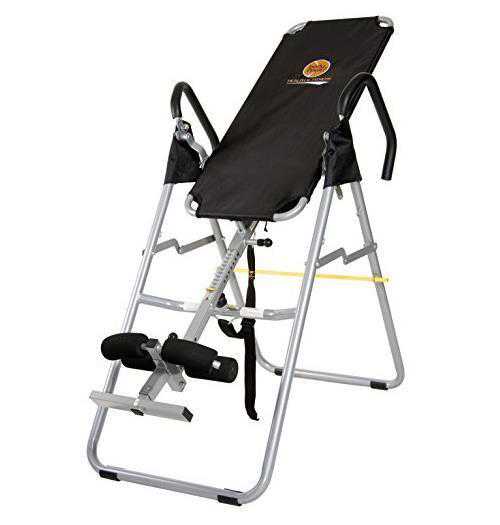 Buy Body Max IT6000 Inversion Table
Teeter Hang-Ups Contour L5 Inversion table
This user-friendly and feature-rich table has curved frame legs to provide support to its bed. It comes included with various inversion-stimulating accessories.
Pros
Safe and comfortable to use to overcome from back pain and get other therapeutic benefits.
Made-up from heat-treated tubular steel for sturdiness, and comes with little caps on the base corners for stability.
Features rubber-coated handles for firm grip, safety tether strap, and foam molded ankle cups to cushion your ankles securely and comfortably.
Comes with soft foam pillow, acupressure nodes, and lumbar decompression arch for added stretching in thelower back area.
Cons
It is not foldable in nature; thus makes storage difficult.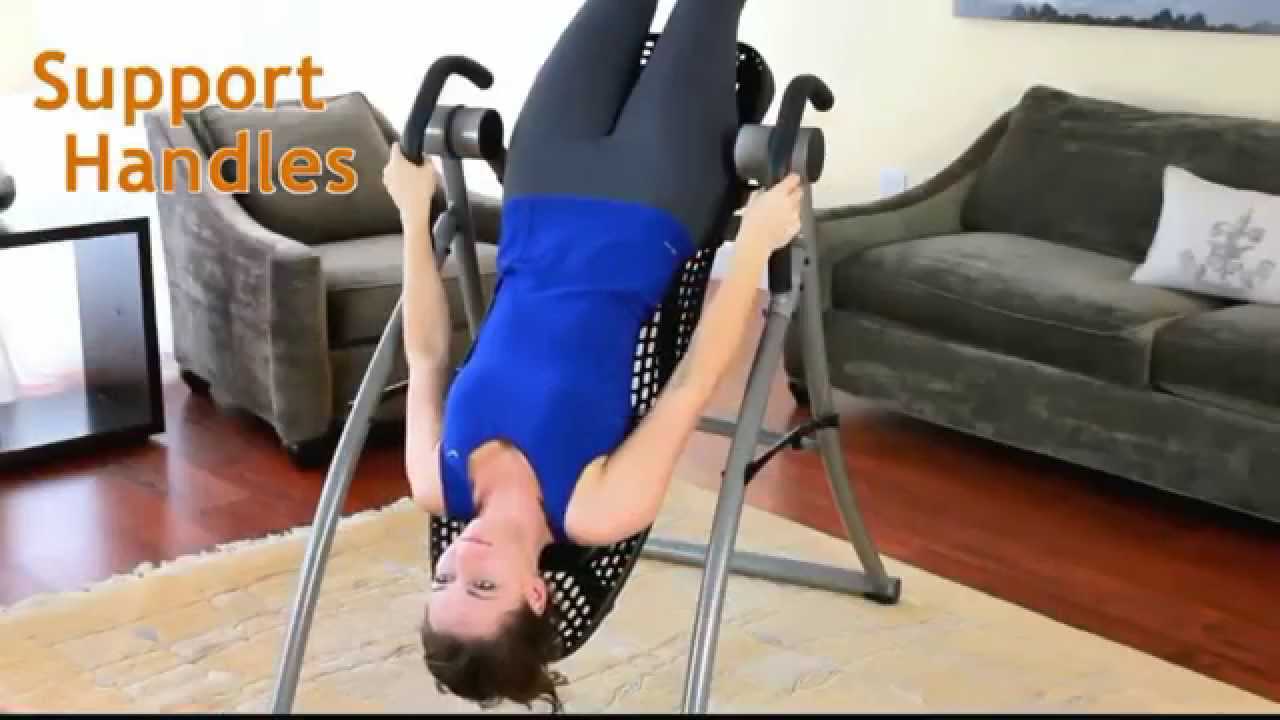 Innova Fitness ITX9600 Inversion table
This quality-made inversion table gives you lots of therapeutic benefits of inversion at an affordable cost. This heavy-duty table is made from heavy gauge steel for strength.
Pros
Comes with steel tubing with pod-style feet for a solid base for the bed, and 4-position pin.
Features padded handlebars, foam foot rollers and a padded backrest for comfortable inversion.
Foldable and lightweight for anywhere use.
Helps in improving posture and in giving relief from back pain.
Support 300lbs weight and has sturdy frame design.
Cons
Doesn't allow full 180-degree inversion.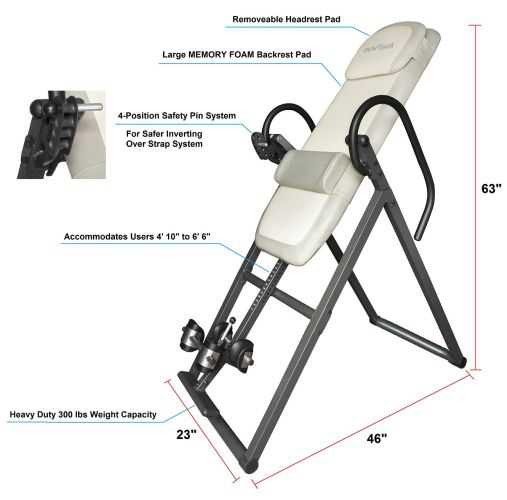 Stamina Seated Inversion Table
This inversion table offers seating facility before inversion. It is designed for safe, stable and comfortable inversion therapy.
Pros
Comes with ratcheting leg lock system with push-button release for secure holding of ankles.
Features padded handlebars and skid resistant rubber floor protectors.
Suitable for old people and people having severe back pain.
Designed with heavy, durable steel, having non-slip legs and an adjustable belt.
Supports a maximum weight capacity of 250lbs.
Cons
Not foldable in nature, and is not adjustable for very tall people.
Buy Stamina Seated Inversion Table
Exerpeutic Inversion Table
This reasonably priced, low-risk inversion table is suitable for beginners. This heavy-duty table has a1.5-inch square steel frame for strength.
Pros
Sturdy in design with multi-angle, user height adjustable features.
Comes with soft foam padded backrest to give you relief from back pain.
Takes up to 300lbs of weight and supports height ranging from 4' 10″ to 6' 6″.
Comes with extra-long, full loop safety handlebars and adjustable tether strap for safety.
Features foam rollers and ankle cushions for ankle safety and comfort.
Cons
Bit painful to the ankles, compared to other inversion tables.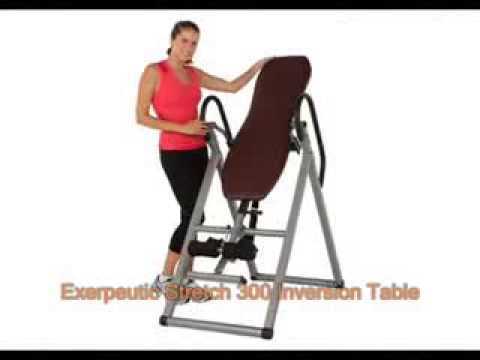 Teeter Hang Ups EP-950 Inversion Table
This is another top-class and quality designed inversion table from the brand. It is highly balanced and comes with EZ Stretch traction handles and ankle locking system.
Pros
Easy to set-up and assemble and is built with heat-treated steel.
Comes with new Ergo-Embrace Ankle System for enhanced comfort.
Supports people with a maximum weight of 300lbs and height ranging from 4' 8″ to 6' 6″.
Features EZ Angle Tether Strap and Ergonomic Flex-Technology.
Cons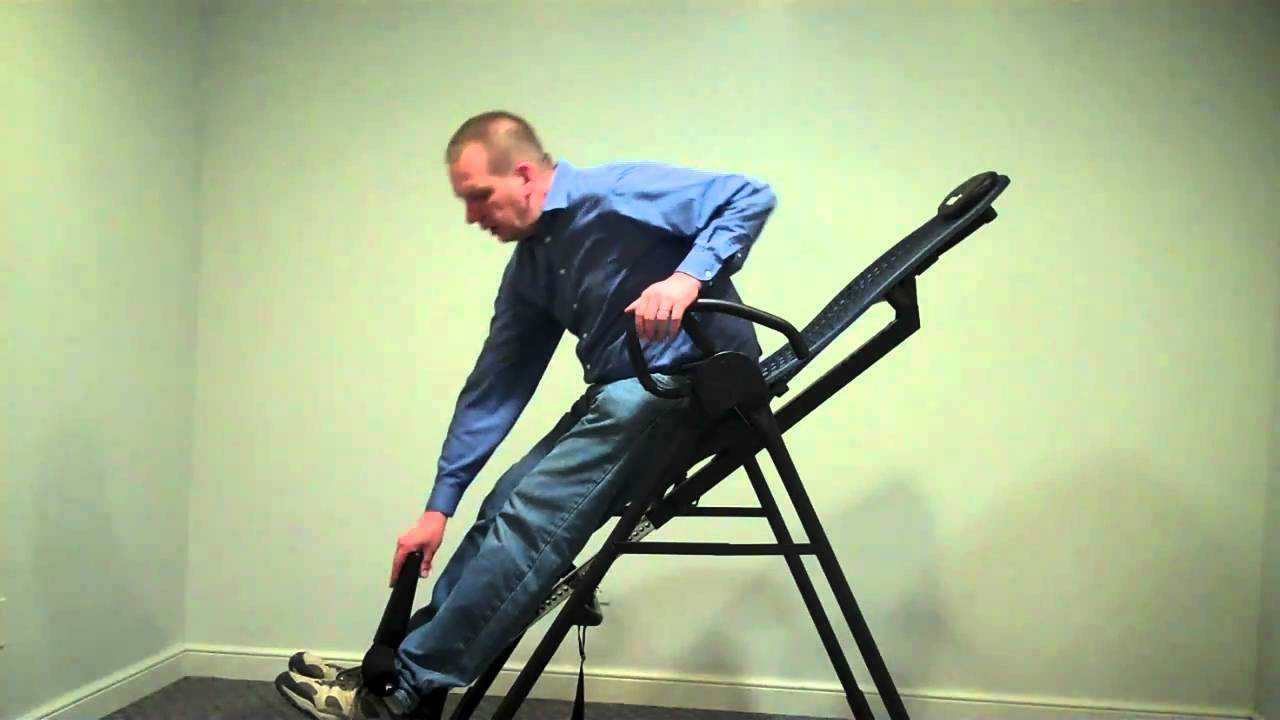 Buy Teeter Hang Ups EP-950 Inversion Table