If you are a fitness freak and looking for adjustable, comfortable air rower, then choose Stamina Air Rower. This air rower has got smart and comfortable features like adjustable straps, bigger foot plates, and thick padded seat to provide additional comfort with all the security.
Sara Ali Khan Weight Loss Transformation: Diet and Workout Routine
The rower has also got wheels and foldable construction in order to make it easier to relocate and store. While you are moving this exercise machine, the floor protector prevents any scratches on the floor. If you are a beginner, then also this is a great purchase to aid in effective workout.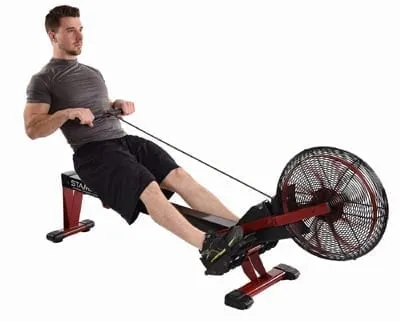 If you have a serious heart to sculpt your dream body, then Stamina's rowing machine would let you practice rigorous strength-building and cardiovascular workout. This is a durable and affordable machine that helps you manage your budget and physique. Use this rower to effectively strengthen and tone major muscle groups like arms, abs, butts, and legs.
Recommended Post
The rowing machine has been designed and engineered for a comfortable and smooth workout session at home. Stamina Air Rower works on upper and lower body with every stroke, and the intensity of the workout depends totally on you. Change the speed of the rowing stroke and you can alter the level of resistance. Row faster and harder to up the level and slow down for less resistance.
The air rower features a large seat rail to seamlessly support the sliding seat that is made to accommodate any body type. Seat is extra padded and upholstered to support you comfortably during the longer workout routines. Oversized foot plates and textured grips further up your comfort level while keeping your hand and feet stable throughout the rowing session.
Rowing is a good exercise for overall fitness and building a strong back while improving cardiovascular health and metabolism. Regular practice burns fat and calories efficiently because it provides a highly efficient aerobic workout without hurting your joints. So, you can enjoy an efficient workout session without the risk of injuries. Although it requires assembly, many users find it is easier and quick with clearly mentioned instructions.
Some impressive features of Stamina air rower:
A wide console to display speed, time, distance and calories burned during the workout
Extra padded upholstered seat and large footplates to accommodate any size user
Seat rail slightly angled for flawless sliding
90 days parts warranty and 3-year frame warranty
Foldable structure for easy storage
Built-in wheels for easier relocation, and floor protector to avoid skidding
Nylon made durable rowing straps
Sturdy construction, body made of steel
Machine made of steel and rated to manage 250 pounds
Textured handle bars for ensure better grip while rowing
Stamina 1215 Orbital Rowing Machine Review (with Pros and Cons)
The downsides:
Some users find that the flywheel fan is louder than one can expect; however, it may not a problem even for those rowers who like to watch TV or wear headphones while working out
There is no resistance adjustment mechanism, and it may not be suitable for advanced workout sessions.
Some users feel that the seat rail is inclined too steeply so using the machine is slightly uncomfortable.
A few users find that this rowing machine is intended for more upper body workout than lower body. Users looking for a strenuous lower body workout may not be satisfied.
Stamina 1215 Orbital Rowing Machine Review (with Pros and Cons)
Final Words:
Stamina air rower has got an average rating of 9.2 by its users for offering a good machine for the price it charges. It is worth your consideration if you are looking for a low impact workout machine for home use. This rowing machine is sturdy, affordable and gym-quality machine with significant resale value. For its sturdy design, it offers years of problem-free use.
Do you feel really same about this product? Share your individual opinion and feedback.
[embedyt] https://www.youtube.com/watch?v=2PbsRlvcyMI[/embedyt]