Ronnie Colemon is one of the greatest bodybuilders of all time. Do you know that the man is 8 times Mr. Olympia? He was also known by the name of GOAT (Greatest of all times). But the man was not the same always. Infact he never won a single show during 1992-1994. And that was the turning point in his life. He came and then established his name like anything. He was well known for his 800 lbs squat which he famously repped twice. His chest measurements are insane. 150 cm and 61 cm arms are actually inhuman.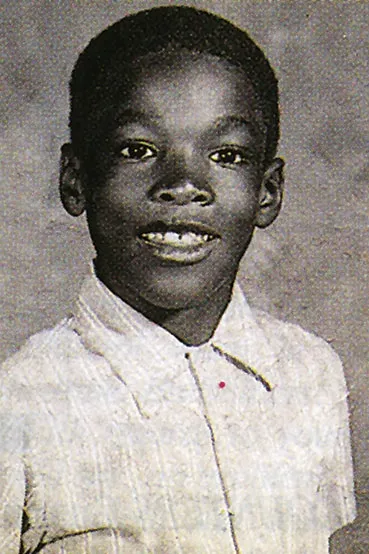 Childhood
Ronnie was born into a single mother family and he had a younger brother and two sisters. His early resident was pelican state in Louisiana in the USA.
Since his childhood days, he was quite interested in sports and loved playing football. He always had a bulky figure and over the top physique since his early days. He quite loved the attention he caught because of being bulky. And thus he started spending extra time and devotion towards the same. His naturally bulky and huge frame earned him a reputation in the football field and thus he began his journey to gain more strength and momentum.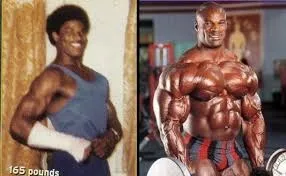 College
Ronnie gradually started to train in the gym. After improving his body in the gym, his football performance improved tremendously.
Because of his excellent performance, he earned a scholarship at Grambling State University. He spent his next four years at the college. And this point in his life, Ronnie was planning to become a certified public accountant.
Graduation
He finally earned his degree in accounting and then he moved to Texas. Ronnie made this decision of relocating because he thought that he will across better job opportunities there.
But sadly he couldn't find a job and began delivering pizzas for a food company. But soon he realized that he was made for other things in life. Anyway, he considered his job of food delivery as one of the most difficult jobs of all times.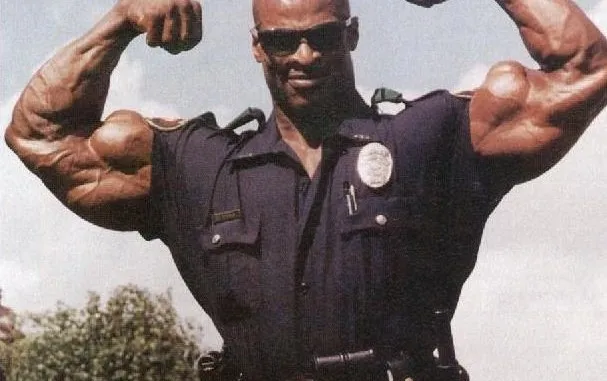 Police Officer
While he was looking for his other jobs, he came through an advertisement of a police officer at Arlington, Texas police station. He applied for the post and successfully joined his new job in 1989 when he was just 25 years old.
Meanwhile, he continued his training at the gym. And the man was lucky because his police station was equipped with a private gym. Here he was encouraged to join a better gym because of course his police station gym was not adequately equipped. Next, he signed up for the Metroflex gym where he quickly met the owner – Brian Dobson.
Brain saw Ronnie and immediately understood his potential. He offered a free life time membership to Ronnie in exchange for being his trainer for just one upcoming competition. And thus his intense training session began where he was being trained for his debut.
Debut competition
He took part in his first competition under the guidance of his gym owner Brain. He took part in the 1990 Mr. Texas competition as an unknown amateur.
And the result was that he beat many seasoned athletes and walked away with his very first trophy at a tender age of 26.
Second Competition
After his debut competition only, he was quick to realize his potential and then he decided to concentrate on his bodybuilding career.
He took part in the second competition and sadly stood third. He lost to Jerry Rodgers and Edger Fletcher. And this was the time when he decided to step back, build his physique and then return with a bang.
Ronnie's Second Innings
This was the time when Ronnie came back after his 1990 break. This time he was focused on beating others and attaining the top spot.
Being naturally gifted, he managed to build his formidable arms and earned the title of Mr. Olympia title and was slowly gaining his reputation in the sport.
He next entered into the 1991 World Amateur Championship by traveling to Poland. He impressed the judges by his physiques, beaten all of his competitors and quickly gained the top position.
But that was not all. His major victory was when he won the prestigious pro card. He became a professional at a very young age of 27.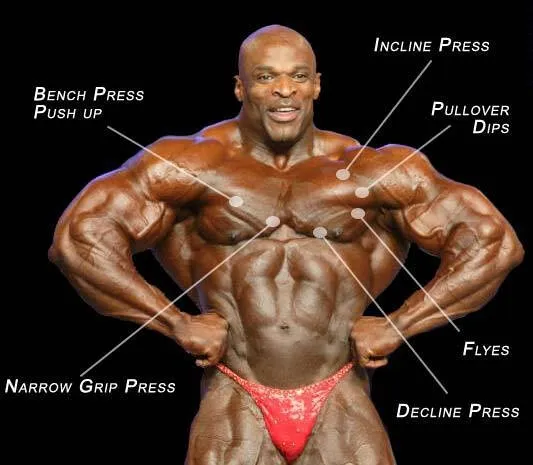 Ronnie's Pro Journey
But his professional life was quite difficult. His first professional show was 1992 Chicago Pro Championship and he managed to secure only 11th position. A strong line up of Bob Paris, Kevin Levrone and Milos Sarcev were seen at this competition. For the next 1992-1994, he took part in 10 competitions but his best position was third. And he couldn't manage to go beyond that.
And finally…
Ronnie hasn't tasted success for a very long time. But even then he was determined and continued his journey.
When he was 31 years old in the year 1995, he took part in the Canada Pro cup. This competition also has quite strong contenders like Rich Gaspari and Milos Sarcev but Ronnie managed to fly high in front of all those. He secured the topmost position and walked away with his winning trophy as a professional.
Gradually, he became one of the most sought after bodybuilders of that time.
Training
His huge body didn't grow overnight. He made is strong and bulky with his rigorous practice sessions. He is known to complete 1 rep max with enormous weights. He performed mostly 3 sets of maximum 10-20 repetitions on a daily basis. He was well aware of the fact that his lifting enormous weights will make his career short and would have long term damages on his body.
He used to train 5 days a week.
Workout routine –
Monday
Barbell Squats – 3 sets of 10-15 reps
Barbell Hack Squats – 3 sets of 15-20 reps
Leg Extensions – 3 sets of 15-20 reps
Standing Leg Curls – 3 sets of 15-20 reps
Lying Leg Curls – 3 sets of 15-20 reps
Seated Leg Curls – 3 sets of 15-20 reps
Single Seated leg Curls – 3 sets of 15-20 reps
Seated Calf Raises – 3 sets of 15-20 reps
Tuesday
Bent Over Barbell Rows – 3 sets of 10-15 reps
Lying T-Bar Rows – 3 sets of 15-20 reps
Wide-Grip Lat Pulldowns – 3 sets of 15-20 reps
Dip Machine – 3 sets of 15-20 reps
Standing Dumbbell Tricep Extensions – 3 sets of 15-20 reps
Lying Tricep Press – 3 sets of 15-20 reps
Wednesday
Smith Machine Overhead Shoulder Press
Side Lateral Raise – 3 sets of 15-20 reps
Front Dumbbel Raise – 3 sets of 15-20 reps
Seated Bent-Over Rear Delt Raise – 3 sets of 15-20 reps
Thursday
Barbell Bench Press (Medium Grip – 3 sets of 15-20 reps
Barbell Incline Bench Press (Medium Grip) – 3 sets of 15-20 reps
Decline Barbell Bench Press – 3 sets of 15-20 reps
Barbell Curls – 3 sets of 15-20 reps
One Arm Dumbbell Preacher Curls – 3 sets of 15-20 reps
Alternate Hammer Curl – 3 sets of 15-20 reps
Friday
Barbell Squat – 3 sets of 10-15 reps
Barbell Hack Squat – 3 sets of 15-20 reps
Leg Extensions – 3 sets of 15-20 reps
Standing Leg Curls – 3 sets of 15-20 reps
Lying Leg Curls – 3 sets of 15-20 reps
Seated Leg Curls – 3 sets of 15-20 reps
Single Seated Leg Curl – 3 sets of 15-20 reps
Saturday
Sunday
Nutrition
Can you believe the man used to eat 9 times a day? Yes, when you have a physique of that kind then you have to eat these much. He started at 10:30 A.M. and finished at 1:30 A.M.
He used to consume 5562 calories out of which 150 g were fats, 546 g were proteins and 474 g were carbs. His meals included lean protein, complex carbohydrates and supplements.
Diet Plan
10 A.M
10:30 A.M
3/4 cup Grits With Cheese
2 cups Egg Whites
1 cup Coffee
12:30 (Midday)
Pre-Workout Supplement
Post Workout Shake
L-Citrulline
4 P.M
2 8oz Chicken
1 1/2 cup Red Beans
1 1/2 cup Brown Rice
Cornbread
6:30 P.M
7 P.M
1 Medium Baked Potato
2 8oz Chicken
10 P.M
1 Medium Baked Potato
1 8oz Chicken
8oz Lemonade
French Fries
9oz Filet Mignon
12 (Midnight)
1:30 A.M
Supplements
His supplements consisted of – whey protein, post workout shake and pre workout supplements.
History in the making – Mr. Olympia
Over the next 10 years, what continued was the winning streak of Ronnie. He was totally unbeatable during this time. He walked away with almost 24 trophies in his hand.
He earned a position in the record books by winning Mr. Olympia title for consecutive eight times. This was done earlier by lee Haney only.
He consistently used to beat Flex Wheeler, Shawn Ray, Kevin Levrone, Lee Priest and Jay Cutler. Ronnie became one of the greatest bodybuilders of all times in history.
And then he left
The man spent 15 glorious years of his career in bodybuilding field. And then he made his decision to retire after 2007, Mr. Olympia.
He concluded by saying
"This is it for me at the Olympia, and September 29th will be the last time I step on a Mr. Olympia stage. I want to thank God, my family, my friends, all the great fans who have supported me over the years."
He was one of the bodybuilding icons who has beaten Arnold Schwarzenegger and established itself as one of the greatest bodybuilding icons of all times. Read more – Do check Best Bodybuilders List
Post retirement left
After his retirement, began the time when his surgeries period started. This was obvious because his body has gone through an immense training session and thus his body was in bad shape. By 2016, 8 times Mr. Olympia had 7 back operations. Out of this 1 operation lasted for 11 hours.
Because of his surgeries, he has been living some part of his life on the wheelchair too. But that hasn't brought his down. He is still headstrong and in love with bodybuilding as a sport just like his prime days.
He shared
"Do I have any regrets? If I had a chance to do it all over again, would I change anything? Yes – one thing.
That is when I squatted 800lbs. I would do 4 reps, instead of 2. That is my only regret in my career"
Entrepreneur
Ronnie was quite keen to start his entrepreneurial journey in the fitness industry only. He started with his supplements in the market. The man is known to sell a number of supplements ranging from fat burning to muscle building.
He also makes frequent appreances to some or the other competitions. He is known to meet his fans also quite regularly.
Idols and influences
Brian Dobson was a major influence in Ronnie's life. He convinced him to compete as a bodybuilder and thanks to him he won his debut trophy in his very first show.
But later on, his motivation came from within which continued to move him throughout his life.
Life lessons from Ronnie Coleman
Determination and strong will power are one of the biggest learning from his life.
He had a great start to his career. He won his first trophy at his debut competition only. And then he had a long lull period. He couldn't win any competition for 2 long years. But he never gave up.
He continued and finally achieved everything that he wanted to achieve in his career.
Right now you can also watch his documentary at Netflix where his journey after his retirement period is shown. This is the Ronnie Coleman who is struggling with his surgeries and unable to even walk properly. But still, he manages to go to the gym every day at 4:30 A.M.
That is the way to lead life.