Kettler Favorit Rowing machine is mid-range fitness equipment designed to let you enjoy full-body workout while giving maximum emphasis on arms, thighs and hips. If you find yourself busy in hours of training, this exercise machine would not let you down. You can enjoy your workout session with all the comfort. The maker of this machine have garnered enough years of experience and good reputation in the world of fitness equipment like – elliptical trainers and indoor bikes. This rowing machine by Kettler Favorit is a good robust machine to get immersed in indoor workout sessions.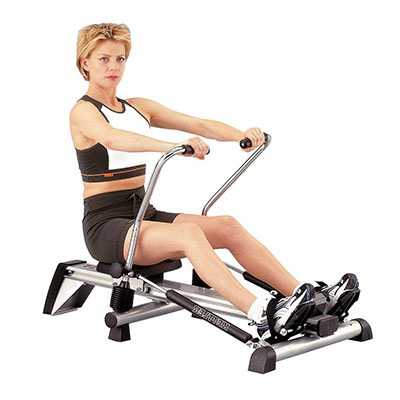 With its solid construction, Kettler Favorit Rowing Machine is good for longer sessions of home training and offers plethora of features for a complete workout at home. The most interesting features include LCD display, durable rails and its wide comfortable seat. Its cutting-edge German engineering is a great feature to look out for, which makes it capable to manage a weight capacity of 285 pounds that is more than the weight capacities offered by some of the same price rowing machines.
You will find this rowing machine slightly easier to assemble yourself in comparison with other machines. Even a novice can do it perfectly. However, it is only if you give time to read the instructions completely and carefully. Makers offer the manual in different languages with clear diagrammatic representations to make the assembly process much easier. Most of the necessary tools are provided to the buyers at the time of purchase, so you don't have to look for anything anywhere.
The rowing machine offers smooth, noiseless and comfortable performance to impress. It is so quiet that you can enjoy a good movie while working out. The smoothly pivoting footplates are provided to ensure perfect positioning. The seat is also raised in the rear in an endeavor to provide additional comfort and resistance.
Kettler Favorit Rowing Machine also allows adjusting the resistance as per likings, which most of the users appreciate a lot. This is because the controls are provided on the arms. Resistance can be increased to higher levels for a challenging session.
Seats are padded thickly to offer great comfort, which is the added bonus. It is designed for easy rowing with the German manufactured rollers.
The console or monitor is designed for easy reading. It is used to display important data like time, distance covered, accumulated stroke, heart rate, calories burnt and speed. There is a button to let you set your workout target like stroke rate or distance, and the console will start to beep once you reach there.
Some of the important features – Kettler Favorit Rowing Machine Review to look out for:
Great rowing machine for a home-based fitness activity to stay in shape
Well-designed solid construction
Provided with two hydraulic cylinders for continuous resistance
Thickly padded and ergonomically designed seat
The monitor provides information like number of oar strokes, time, distance covered, and speed
Rather inexpensive, and good value for money
Lifetime warranty on frame; and 3-year warranty on parts and electronics
Dimensions – 49 x 31 x 10-Inch
User rating of 8.9 out of 10
The downsides:
The hydraulic resistance should undergo an improvement; it goes soft after 10-15 minutes of workout session.
Changing the resistance level is expected to be a little easier
Tall users may find difficulty using this rowing machine
Pistons look obsolete as compared to magnetic rowers
Kettler Favorit Rowing Machine has something unexpected with the hydraulic system as the resistance drops down when the oil in the cylinders heats up. It is of highly inconvenience in the middle of a vigorous work-out session as you suddenly find the rowing becoming too easier. It takes around 30 minutes to get the desired resistance.
Final words
The machine feels solid and well-made for a comfortable workout with a thickly padded seat. If you are not a larger size, it is a great machine for you to get indulge in a fitness session. It may not be like other rowing machines in the same category, but it is a good value for money.  This rowing machine is a great pick when you are in the need for heart rate training.
What others feel may be different from what you think, so share your feedback on this machine and let others know what is still missing about this rowing machine. Are we really missing out on something?