There are many Bollywood actresses that are so amazing to look that people just go crazy about them. But have you ever wondered how they look so beautiful? Although maintaining a good physique along with a proper diet plan is the key to get a good skin and body, but for most of them, make-up definitely does the trick. But when we are talking about one of the talented actresses of Bollywood like Katrina Kaif, the story is something different here. She just looks amazing and pretty even with her no-makeup looks.
Recommended Posts
Katrina Kaif Without Makeup Pictures are as Follows:
There are lots of pictures being flooded on the internet where you can find Katrina Kaif without makeup, however, we have highlighted here few of those. Have a look and get amazed at this beauty!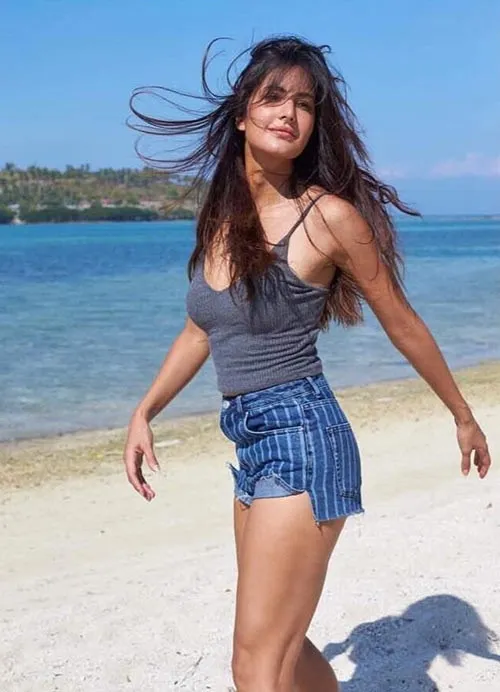 Here, Katrina is seen enjoying to her maximum extent like a free bird in the beach. From her face, it is very evident that she is not wearing makeup yet could easily maintain the hotness element that she has. The stripped short along with the gray cami very well justify this Katrina Kaif's no makeup looks.
This is one of the many Katrina Kaif in home pictures that she has posted on her Instagram account. A very simple white top with a label teamed it with a pair of shorts, and hair loosely tied, it is no wonder that she is a real beauty. mind you that there are many celebrities who are so obsessed with their makeup looks, but when you are beautiful from within, time to just flaunt it.
This picture can be very well defined as 'hair and care'. Wondering how? Well, have a look at the picture itself. The loose hair with a fit and tined body will surely take this actress to her maximum heights in her career. apart from the style that she has, her sense of humor also proves how well this actress can carry her style and career together.

This is yet another picture where the actress is seen in a very cool mood. Wearing a plain and very simple white camisole and hairs roughly tied as a bun, the smile on the face makes it just the perfect selfie. Well, when you have such a bright face, what's the need of a makeup, isn't it?

The last in the list is yet another beach picture where Katrina is seen soaking up some Vitamin D. The loosely messy hair along with the sun-kiss glow makes this beauty even more adorable.

So, what do you think about these pictures? Which one is your favorite among them? Do let us know and share your views about this no makeup looks in the comment section below!


20 Katrina Kaif No MakeUp Photos Gallery