Over the years, different types of tea with various health benefits are gaining prominence. Extensive studies on each have revealed that more and more people are turning to their own brands and most important choices to derive maximum benefit.
In this article, let us explore the differences between green tea, lemon tea, and fit tea and how each of them is beneficial for our daily lives. So, read on for better insight.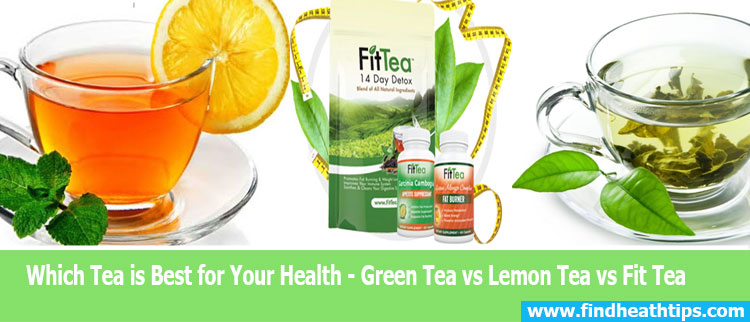 Green Tea
Reports suggest that 80% of the tea consumed worldwide is black tea and the remaining is green tea. This type of tea is rich in antioxidants and contains polyphenols that are of immense health benefit.
In the ancient times and in Indian and Chinese medicine, it was used to bring bleeding under control, aid in the healing of wounds, digestion, regulation of body temperature, and a number of other health benefits.
Green tea has an extensive list of health benefits, a few of which are mentioned below:
Green tea has been found to prevent cancer of the breast, bladder, ovaries, bowel, throat, stomach, skin, and lungs
A study published in the Journal of the American Medical Association indicates a close association between reduced mortality with green tea.
It reduced incidences and chances of stroke, heart ailments, Type 2 diabetes
It aids in weight loss
Lemon Tea
Lemon tea is not only are lemons rich in Vitamin C but it is known since time immemorial for its cleansing properties. It aids in weight loss if you drink it with warm water along with honey first thing in the morning on an empty stomach.
It helps in cleaning your liver by flushing out the toxins from your body. Since it also helps in the digestive process, it has been found to aid in weight loss.
Most importantly, it has a very low calorific value not more than 25.
Fit tea
Unlike green tea and lemon tea, fit tea comprises a mixture of essential ingredients that include Rooibos, green tea, ginger, lemon juice, oolong, guarana, extracts of Garcinia cambogia, honey, Matcha green tea, sea salt, stevia, pomegranate, and citric acid.
It is available in form of a tea bag that contains each of these ingredients mentioned above. Although extensive research has still not been carried out on fit tea, if you want to know more about the same, you can always browse through fitnessgoals.com.
It is said that fit tea is being used to detox. However, concrete studies have still not been conducted on the same.
Aside from its detox property, it is assumed that this Fit Tea also aids in losing weight.
Here are a few essential points you must remember while using Fit Tea for your health benefits:
However, experts are of the opinion that even while consuming fit tea, if you do not restrict the intake of sugary and high-calorie foods, you may not yield the best results.
As such, for optimum results from this tea, it is best to complement it with a balanced diet that is not just enough.
It is also important to couple it with an exercise regime after which you might get to see results after a certain period of time.
Regardless of the type of tea, you intend to continue drinking, opt for the one that you are sure about and the one that people have derived benefit from.