Is it time for a hair color refresh? You might be debating whether you want to color your hair yourself at home. Or if it's going to be best to get your hair colored by a professional.
We're lucky to have options when it comes to beauty treatments, but if there's one thing that's for sure it's that getting your hair color done by a professional is always the best choice!
While it might appear to be less expensive or more convenient to do your hair color on your own, a professional at a West Palm Beach hair salon is going to get the job done right. We're here to explain why and provide you with the many reasons that a professional hair stylist is the way to go.
The Cons of Coloring Your Hair at Home
In case you're not convinced as to why getting your hair done by a professional is the best choice, read through these cons of coloring your hair at home. If you weren't turned off by it to start then you likely will be after this!
Cost
This might not necessarily be a con you expected to see on this list. Box dye is cheaper after all. Isn't it?
While it might seem like at home hair color is inexpensive it can end up costing you way more if you mess it up. You would then not only be paying for the cost of coloring your hair, but repairing the damage that's been done to it as well.
A lot of box dyes use silicones that can coat your hair and make the removal process incredibly difficult. The changes you make could end up costing you!
Hair texture
Applying chemicals to your hair can strip it of its natural texture – YIKES!
If you accidentally leave the hair color on for too long it is very likely to compromise your hair texture and leave it feeling brittle. You also can't be sure how different types of products will interact with your hair. But a professional will have worked with the product they're using and know what's best for your particular hair type.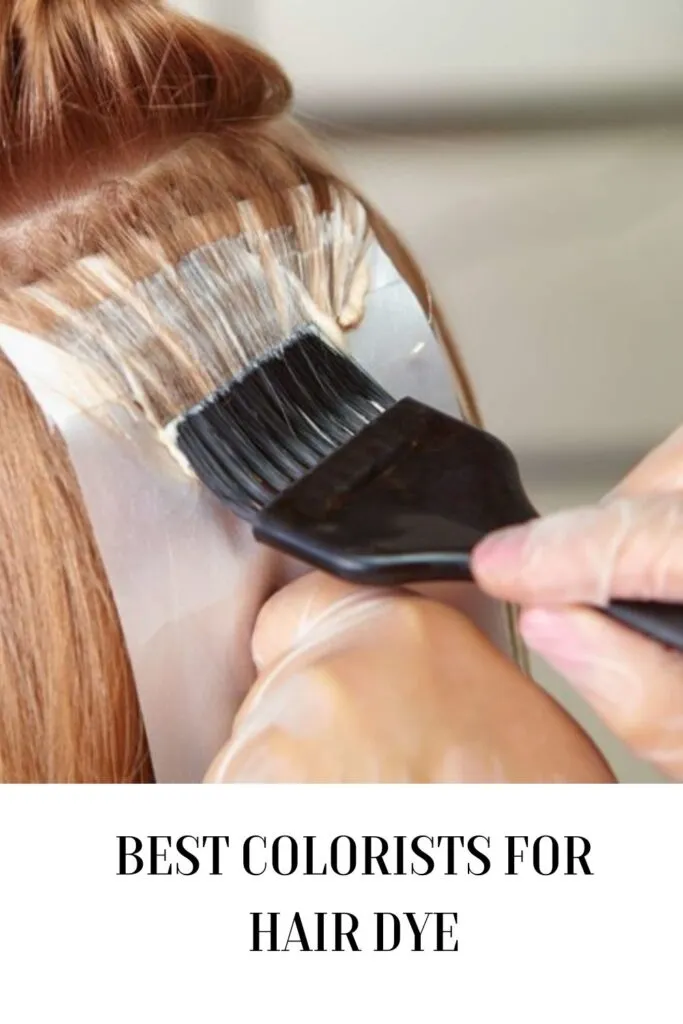 Staining
Dying your hair yourself is something that's bound to get messy – even when you're extra careful. If you end up getting the dye on your skin you could end up seeing it there for a lot longer than you would like. Not to mention the fact that it can ruin different types of material.
The best colorists know how to properly manage the hair dye. They will always ensure you walk out as clean and stain free as ever.
Upkeep
Upkeep is no joke when it comes to coloring your hair yourself. You will need to be prepared to keep dying your hair every 6-8 weeks so you can cover your roots. It will also be important to invest in color-safe shampoo and conditioner.
A professional will know how to take care of your roots so you can prolong your hair color as long as possible.
The Benefits of Having Your Hair Colored by a Professional
Now that you know a bit more about the problems that can arise when coloring your hair at home, let's talk about the benefits of using the best colorist to get your desired look.
It's safer
Coloring your hair doesn't mean damaging it – at least not with a hair professional! As we mentioned earlier, they know which products to use to make your hair shine. The texture of your hair won't ever be compromised.
They make it their mission to protect your hair. They'll also be able to make recommendations on what you can do to keep your hair healthy.
Customized color
With box dye you might have to settle for a hair color that isn't quite what you wanted. You also will likely only be able to choose one color without much variation or depth.
A professional will be able to create a customized color so you can get an elevated color. You're a lot more likely to get exactly what you envisioned.
They can also use various colors, shades, and coloring techniques to create depth. That means you're a lot more likely to love your new hair color.
Coloring is done correctly
It might be thrilling to start coloring your hair on your own, but the excitement is likely to fade fast if you start running into problems. It can be a lot harder to control where the color goes on your head, especially if you're doing it all on your own.
Sitting in the chair of a professional will provide you with ease of mind in knowing the coloring is going to be done correctly. You won't need to nervously wait to see if the color turns out how you want it and can rest assured knowing your hair colorist is there to provide you with the best result.
Hair color lasts longer
Professional dye simply lasts longer than hair dye kits. The saying "you get what you pay for" is definitely true here! The salon might cost more, but there's no denying it's worth it.
Professional hair coloring lasts significantly longer which means you get more bang for your buck! The dye that's used in the salon is high quality. Using it means you won't need to color your hair nearly as often as you would at home. Your hair color is sure to stay a lot more vibrant and will even hold up to things like sun and water a lot better than box dye would.
No matter what hair color you're going for, a professional hair stylist is going to be the one to get the color right. They'll ensure your hair stays as healthy as possible and that your hair color lasts. The best colorist will even establish a relationship with you and keep you wanting to come back for more.
Best of luck in your hair coloring journey and we can't wait to see your new look!