Franco Columbu was born on August 7, 1941, at Sardinia which is a very small village off the coast of Italy. He was born in sphered family to Maria Grazia Sedda and Antonio Columbu. Until 11, he was extremely skinny and used to get thrashed from other children. But suddenly one fine day he stood up for himself and decided to beat everyone else around him. He started to work as a sphered while he was also getting trained as a boxer. He won over 30 fights before he said goodbye to boxing.
Columbu later moved to Germany for work and this is where he met fellow bodybuilder and later his best friend Arnold Schwarzenegger. He also was Arnold's best man during his marriage and also his daughter's Godfather.
Bodybuilding Career
Columbu moved to California with Arnold in 1960s and they started to earn a living. They started to work with Joe Weider. Joe, in turn, gave them a place to live and also gave them a stipend worth $80 per week. The stipend was not enough to support their bodybuilding career and thus they started a bricklaying company called as European Bricks work in 1969.
He was a beginner in terms of bodybuilder and he used boxing workouts as his cardio strategy in earlier days. Back in the Golden era, strength was considered as one of the major points of bodybuilding.
In the year 1969 Columbu arrived in America with Arnold. He was 5 feet 5 inches and was weighing 84 Kg. Columbu went on to win IFBB Mr. Europe and Mr. Universe titles in 1970. In 1971 he won IFBB Mr. World. In 1974 he won lightweight classes. In 1975, he won IFBB Mr. Olympias and in 1976 he won the overall competition for the very first time.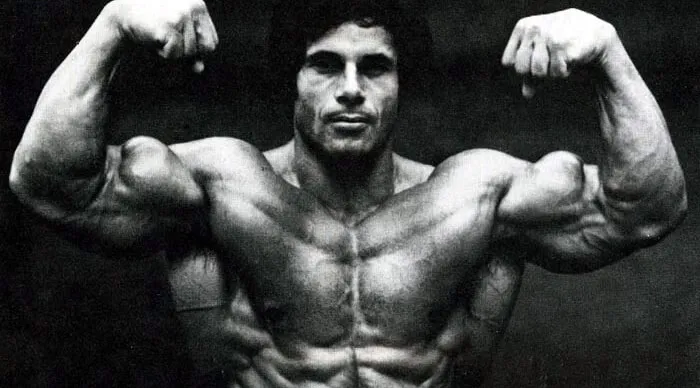 Columbu participated in the inaugural competition of World's strongest man in the year 1977. He was placed fifth. But during this event, he dislocated his left knee. This kept him out of the competition for several years and he reportedly received $1 million as a part of his compensation.
He was widely known for his incredible strength. His bench press record was 238 Kg, the squat record was 297 Kg and his deadlift record was 340 Kg. In 1978 he was named in the Guinness Book of world records by bursting a hot water bottle by just blowing it within 55 seconds. He also once lifted a car to help a congested parking spot with his own bare hands.
Hollywood Journey
Columbu had a heavy accent which made his journey into Hollywood. Even then he decided to follow his friend Arnold into the silver screen. He was widely appreciated for the bodybuilding documentary "Pumping iron" in 1977. He performed in a number of scripted shows in the 1970s and was also a part of many television commercials as well. He also had smaller parts in Arnold's movies like "The Terminator", "The Running Man" and "Conan The Barbarian".
He also was the personal trainer for Rambo for his movies like Blood Part II which released in 1985. In 1993, he was part of his own action movie "Beretta's Island".
Recommended Post
Arnold's Companion
Columbu was always known to be a trusted and widely seen friend with Arnold. And both of them had a rather visible difference in their height. Also, both of them had quite different personalities as well.
Arnold was outrageous and extrovert whereas Columbu was always a quiet and serious fellow. But their friendship and long-standing companionship were always highly appreciated. Together both of them shared a golden era of Bodybuilding.
Wall of fame
Columbu was widely respected across the bodybuilding fraternity for his contribution towards the sport. He could do lifts which were twice to his weight. People would stop at the gym and would look at his marvelous lifts.
He is a member of the IFBB bodybuilding hall of fame and also a winner of the Arnold Classic Lifetime achievement award in the year 2009. He was one of the strongest bodybuilders ever.
Death
And his contribution to sports would never be forgotten. The man left the world aged 78 on 30th August, 2019. His death was also quite shocking. He experienced some sudden illness while swimming off the coast of San Teodoro. He died during the transportation by helicopter to the nearest hospital.