Your search for a compact and economical elliptical trainer ends at Exerpeutic Aero Air Elliptical that is designed to let you enjoy full body workout in the comforts of your home. Its sturdy design and affordable pricing makes it one of the most sought after workout machines. This is a perfect cardio-trainer that you can bring home without breaking your bank. With its compact design, it doesn't ask for much space for storage.
It features magnetic tension that allows users to benefit from adjustable resistance, a feature that many of the similar priced machines lack in. Adjusting the resistance, you can challenge yourself and enjoy an effective cardiovascular workout.
Recommended Post
Best Elliptical Machines Review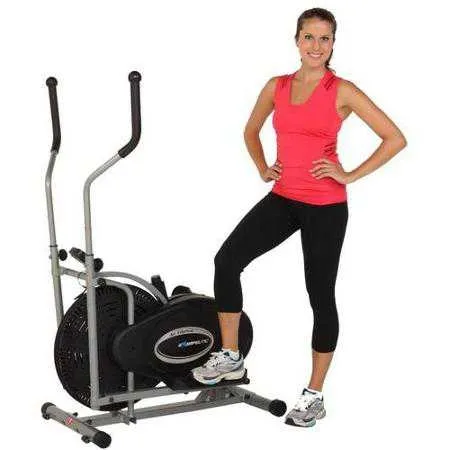 Buyers looking for gym equipment to use at home usually give priority to the models that allow space saving, and fortunately Exerpeutic Aero Air Ellipticalmake a good choice. The elliptical machine offers all the benefits of a full size machine, and does so without occupying too much space inside your home. Every component of the machine has been designed to let you enjoy a comfortable yet effective workout.
The handle bars have been designed to offer a full body workout, while the pedal bars have been made over-sized and non-slip to keep your footing comfortable even during longer than usual sessions. The dial tension system offers you the magnetic resistance that you can adjust to your fitness needs by changing the dial settings. This feature gives you a highly efficient and flexible platform to work on your fitness level.
With this elliptical machine you get features to challenge yourself in a dual-action design that doesn't stress your joints so that you can burn your calories without hurting yourself. The pedals are also designed to take a natural elliptical path in order to not leave the ankles or knees sore.
Some of the great features to like about Exerpeutic Aero Air Ellipticals:
This is a sturdy yet compact elliptical trainer that doesn't take much space
It is provided with magnetic tension that is adjustable and a workout computer for progress monitor
Designed with natural elliptical motion to reduce impact on joints
Features large pedals with ridges to avoid foot slippage during extended hours
Provided with dual action workout arms that ensure an effective upper body workout
It allows challenging yourself with its easy dial tension adjustment feature
The wide LCD console provides important workout details like calories burnt, distance, time, and speed
The elliptical machine comes with one year warranty
Quiet operations allows for a convenient workout
Easy to port with transport wheels
Offers high weight capacity of 260 pounds
Product design ensures stable and sturdy operations
The downsides to consider:
Some users feel that it is slightly difficult to assemble and need two persons to put it together. A few users also feel that the stride length is too short for taller personality. Foot pedals are also a point of concern for many being too steep of an incline. Some parts made of plastic are also a point of concern for many. In addition, the LCD screen wire quality also bothers many buyers which they feel is of poor quality.
Final words:
If you are looking for an elliptical trainer that would not trouble your budget, then Exerpeutic Aero Air Ellipticalmake a great choice. This a value for money purchase for your in-house gym. Stride length may be smaller, but it offers many features that higher priced models do not. Therefore, it is a good purchase to let you workout effectively at your home while keeping track of your performance through the wide LCD screen. It has most of the positive reviews and the average rating of 8.6 that makes it a worth your consideration.
Do you also feel that this is the right platform to feel and look healthy or you have something else to say? Share your ideas with other users and let them know more about this product.