Endoscopy is a diagnostic process that enables physicians to view as well as operate on the organs and blood vessels. This process especially aims at the diagnosis of the digestive system. Adopting this process, physicians can have a better understanding of the diseases that might have developed inside the body, without the need to opt for large incisions. This article shall discuss the key points that you need to know about this diagnostic process before you undergo it.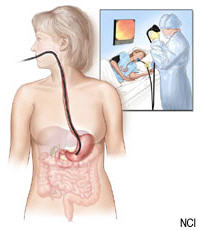 You should not undergo the process during the phase of pregnancy
An alarm for women is that they should not undergo this process during their pregnancy, if undergone in such instances it can severely damage the fetus and hence, can trigger severe complications in expecting mothers.
You should not consume certain medicines before undergoing the process
Medications like insulin, warfarin, anti-inflammatory medicines, and Heparin can intervene the action of the sedatives that are served before starting this diagnostic process. Hence, if you are running through the courses of these medicines, your physician may advise you to discontinue the consumption for a few days. However, if the doctor is not giving you similar suggestions, you should not stop the consumption of the medications, voluntarily.
You should have knowledge about the probable complications
Aspirations are likely to appear if food particles or liquids get into the lungs. This is likely to happen if you take food or drink, just before undergoing the process. Hence, doctors usually suggest fasting, before undergoing the test. You should adhere to the guidelines set by your physicians to escape these threats. Likewise, certain medicines, served as sedatives during the process can trigger allergic reactions. Hence, you should discuss such tendencies with the doctor, beforehand.
In some cases, bleeding is observed to appear; especially polyps are removed. However, this stays to a manageable extent, and you need to get concerned with this point.
You may consume clear liquids before undergoing the test
Usually, the doctors advise you not to drink any liquid after midnight before you would undergo the process. However, you can certainly take clear liquids, until 6 hours before the process starts. The list of clear liquids will include water, apple juice, broth, clear soda, and coffee, without sugar or cream. However, refrain from drinking anything that features reddish or orange shades.
You need to dress comfortably
Though you will get served with sedatives, still, the process is likely to trigger some discomfort. Hence, you should dress in clothes that will offer comfort. Refrain from wearing jewelry or putting on make-up as these may trigger inconvenience. Remember, you should remove dentures and glasses before the process starts.
You should always approach a reputed diagnostic center to undergo this test as they have the right framework to ensure an effective and safe examination. The top diagnostic center best grade endoscopy in India with competitive fees. Partner with these providers to get the best evaluation reports that will enable the doctors to apply the best remedial solutions.