This 40-year-old bodybuilder, Elizabeth Galvan from Fargo, North Dakota has never taken "NO" for an answer. She has faced numerous challenges from the very start, but her life goal has been "Let that sink in".
When the lady was just 3 years old, she had a major accident wherein she lost her right arm below the elbow. At the age of 3, she lost her ability to hear. Thus, since 3 years old she is suffering from a dual disability.
Did you read? Female hulk bodybuilders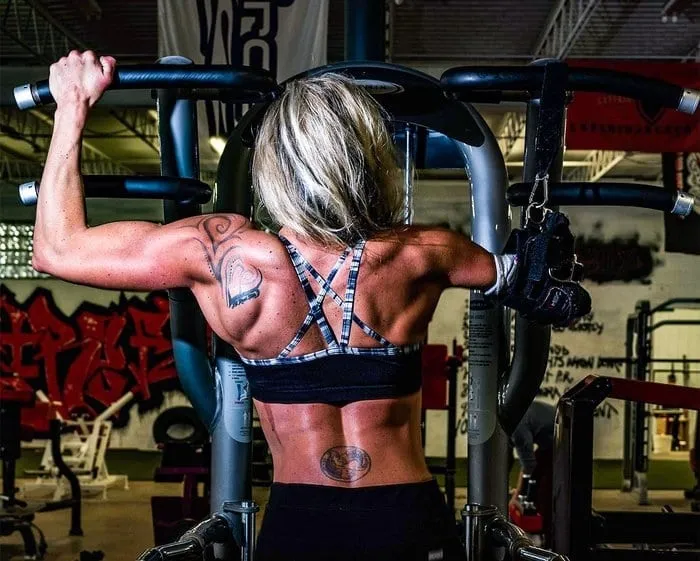 At the age of 16, Galvan was diagnosed with Usher Syndrome in which she slowly lost her vision. Within a few years, she also had a major back surgery in which steel rods are inserted in her back. And personally, she is a single mom. Her daughter Brianna who is now 17 years old.
Since the very beginning, Galvan had an extremely positive attitude towards life. She says that she drives great motivation from people when they say
"No, you can't do it". That's the fueling force for her.
Since her school days, she has been an active child in sports and then she focused herself towards modeling and eventually turned a lifeguard.
https://www.instagram.com/p/BxnZJ0wh9tG/
Recommended Read:
Post her back surgeries, she decided to explore bodybuilding and gym. She made a successful debut at NPC figure athletes in 2018. She was preparing for her next contest in October 2019, but she had to cancel the same because of some illness.
She says "It's another obstacle I will get past with determination and continue training for the next competition."
In the gym, where Galvan practices she uses a lifting device which has hooks. This connects her arms to the weights. Her trainer Kathy Kemper has helped her a lot in gaining this confidence and attitude in the world of bodybuilding.
https://www.instagram.com/p/BxkWW-BBcrR/
Galvan has also been part of Pageant journey. As a teen, she has won Photogenic, Teen Spirit, and Best Talent trophies. As an adult, she was also crowned as Miss North Dakota and won a few awards for a runway model, best fashion, best eyes and smile and likewise.
https://www.instagram.com/p/Bxc6fXUhwWv/
Regarding her training, the lady shared
"In bulking season, I normally go to the gym five or six days per week. I train upper body three times a week and lower body two times a week, plus six days of cardio. I continue building muscle in the off season because of my goal to move up to physique in a couple of years. Spending time in the gym got me hooked, and I don't know what I would do if it wasn't for the training or my passion for bodybuilding".
https://www.instagram.com/p/BxVwUaQF_mS/
She is definitely an iron lady and she is a great source of inspiration not only for all the bodybuilders but even for females. She has never taken a no for an answer and this inspires us to stand us for ourselves and do what we feel is correct and what gives us pleasure and satisfaction. And even after having so many disabilities she never stood back and felt sorry for herself.