EatSmart Precision Digital Bathroom Scale is the device designed to give weight measurement with high accuracy and consistency. It feature auto-on and four sensors to ensure ease of use.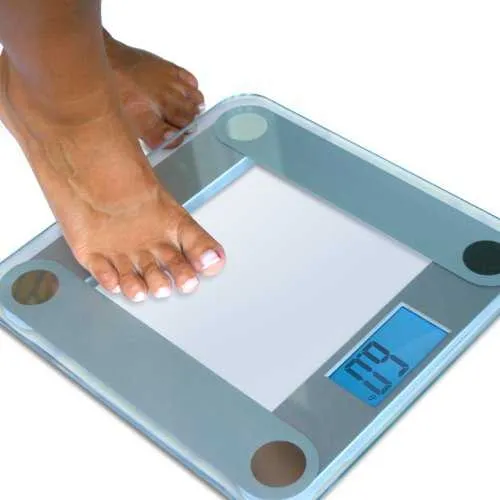 One of the most reliable fitness products that you can consider to help you monitor the progress is the EatSmart Precision Digital Bathroom Scale. With thousands of views, reviews and satisfied customers, this digital bathroom scale is the right investment that you can consider when planning to losing pounds and inches. This is an affordable device that has been designed with user-friendly features to ensure ease in use. The simple yet good-looking glass-top scale is highly advanced than other devices. It consists of a waist tape measure to let users analyze changes in the waistline with respect to their weight. Analysis and measurement becomes easier with its extra wide LCD display that gives clear reading even at a distance. The machine carries immense reputation and the good thing is that it lives up to the expectations.
The machine is designed to give high accuracy that people desire when looking for serious assessment of their regular workout. This bathroom scale by EatSmart gives terrific accuracy with its four sensors placed in corners for the task. In addition, it gives high precision. When calibrated, it repeats the same result for a person time and time again. There is slight deviation of 0.2 lbs.
Another impressive feature of EatSmart Precision Digital Bathroom Scale is its durability. Due to its construction of a 12.5″ x 12.5″ x 8mm tempered glass, it looks attractive and maintains sturdiness. It glass construction doesn't mean that it will breakdown easily, but it can take weights up to 400 lbs. The durability is ensured with its impressive two year warranty.
Users who have enjoyed the services of older versions can see clear difference in the new model. While the older ones required turning on with a tap, the latest ones sport 'auto-on' feature. It means you are required to just step up, and it will display the results instantly. With the wide 3.5″ well-illuminated LCD screen, you can see everything very clearly.
The bathroom scale now available is auto-calibrating. Place it on an even surface and set to zero. Automatic calibration ensures that the machine will give highly accurate reading with every use. This is why the machine is less likely to get negative comments.
Using this machine is simple as you have understood, but you should also know that it is extremely safe. Even if your feet are wet, you can step on it for assessment without any fear. Thanks to its non-slip construction that you don't have to worry about slips and falls. As you are not required to move it for turning on, it saves you time and any technical formalities. You can't expect anything easier than this digital scale.
A very good feature is its ability to display results in pounds, kilograms. As a bonus, you get a measuring tape to track changes in your waistline. However, it doesn't give fat tracking feature. This is an entry level machine that gives ultimate value for money.
Impressive features of Eatsmart Digital Bathroom Scale:
Best selling product on Amazon that is selling successfully for five years
Updated smart Auto-On Technology, and high accuracy
Wider LCD screen (3.5″) with Accubright blue backlight to allow easy reading from any angle or distance
Provided with 4 Precision EatSmart Sensors to ensure consistently accurate measurements for up to 400 lbs with Graduation increments of .2 lbs
Designed with extremely sturdy tempered glass top with 8mm thickness and wider platform with dimensions 12″ x 13″
Now provided with FREE EatSmart Body Tape Measure to track progress
Auto-power off, auto-calibrated, 4 AAA batteries (included);
Hundred percent EatSmart Satisfaction guaranteed with the best-in class customer support and services
The downsides:
Some users find that EatSmart Precision Digital Bathroom Scale is a little bulky. While some users also claimed to have accuracy problem, but most of the users gave it a thumbs up.
Final words:
EatSmart Precision Digital Bathroom Scale is a medium-sized device featuring high capacity and a wider easy to read screen. Step on and you can easily monitor your weight in pounds and kilograms. The non-slip surface is designed so perfectly to give you an ease of use even with wet feet. Buyers give it an average rating of 9.5 out of 10, which ensure its reliability, accuracy and consistency.
What's your take on this digital scale? Everyone's reviews differ and offer some good knowledge about the product, so feel free to share your experiences with us.