A good quality pedometer is not something that is unachievable. When you choose Ozeri's pedometer you actually make a right choice while ensuring better budget management. Digital Pocket 3D Pedometer – Ozeri 4x3motion falls in the middle of scoring metrics and provides a good purchase with a reasonable price. It is highly accurate and compact device in clip-style to offer you an easy way to monitor your workout. Most of the users give it a Best Buy crown for being highly affordable and classic pedometer.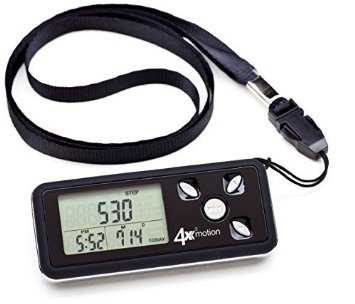 CLICK HERE FOR MORE INFORMATION AND BUY
If you are in search for a simpler yet effective fitness and activity tracking device, this Ozeri product is definitely a good choice. The device provides you all sorts of information that you need – steps taken throughout the day, total time, calories burned and fat burned as well as distance travelled. Additionally, it also provides you an important count – number of steps taken for complete one week.  The data recorded is highly accurate and lets you do the comparison of seven days' data to evaluate your activity level. You would definitely feel that clicking through the information field is intuitive, which makes is a great device to have.
The pedometer has been designed to fit your lifestyle and wardrobe. This is an ultimate device to have with its compact design and unobtrusive nature. The overall size and profile is better than other devices known. It is a low-profile, plastic unit that is provided with a strap to fit your pocket. If your pocket is not too cluttered, you can carry it there easily. Digital Pocket 3D Pedometer – Ozeri 4x3motion is a durable machine, but with extreme care.
When talking about accuracy, the device gives impressive performance. Whether distance or step count, it gives readings very close to real. Aside from accuracy, it also ensures an ease of use with well-labeled buttons and clearly mentioned instructions. The complete set-up requires just a few minutes that even an amateur can manage with.
Important features:
Pedometer records steps, speed, calories burned time taken and distance covered using its highly advanced Tri-Axis technology.
Offered with three recording modes – Total, Split and Today.
Has a split screen display to ensure multi-data review.
Designed with extremely smart and new 3D Tri-Axis Sensor (X, Y, Z plane detection) to ensure high accuracy in different positions.
Provided with seven day memory.
Can count up to one million steps.
Features built-in clock, sports timer, auto sleep mode, and calendar
Also great for professional athletes with its 4x3motion technology that features ultra-slim design to fit any pocket.
High accuracy and satisfactory results
Has blue backlight to allow easy night viewing.
The downsides of Digital Pocket 3D Pedometer:
Some users found that the LCD screen often goes blank causing difficulty in using the device. In addition, the small buttons are also troublesome as they get stuck in their position if pressed more than once. Accessing data and information is possible only after the button is freed. This causes slight hindrance in the effectual usage of this device. Another problem faced by users is regarding the step count. It requires pushing two buttons.
Final words
Digital Pocket 3D Pedometer – Ozeri 4x3motion is a classic clip-belt style pedometer that most of the users like to have for an ease in carrying. The simple data interface is yet another advantage with this device that wins its many votes. It gets an average rating of 8.6 out of 10 that shows it is definitely a good choice to make. Most of the users find its working great with an ease of use.
Do you also feel the same? If you are an user of this pedometer, share your honest reviews about this product and let other users make the right decision.
CLICK HERE FOR MORE INFORMATION AND BUY