Along with the advancement of science, there are quite a number of options available these days to make you look beautiful. Well, it's not about makeup items that we are talking about something here, but about cosmetic surgeries. While Botox treatment can prevent your aging and make you look radiant, similarly, a cosmetic surgery can make your imperfections perfect. But, when not done in the right way, can lead to imperfections as well. Our Bollywood divas are the examples.
Bollywood Actresses Who Opted For Cosmetic Surgery
Although there are more than 25 Bollywood actresses before and after plastic surgery pictures available on the internet, here, the name of only a few has been mentioned. Go through them, and decide for yourself whether Bollywood cosmetic surgery revealed pictures encourages you for this process or not.
1. Koena Mitra: Have you recently seen this actress? If yes, then you can very well presume how this actress plastic surgery has gone wrong! She became a very well-known figure with her item numbers, but now, we really wonder about her career.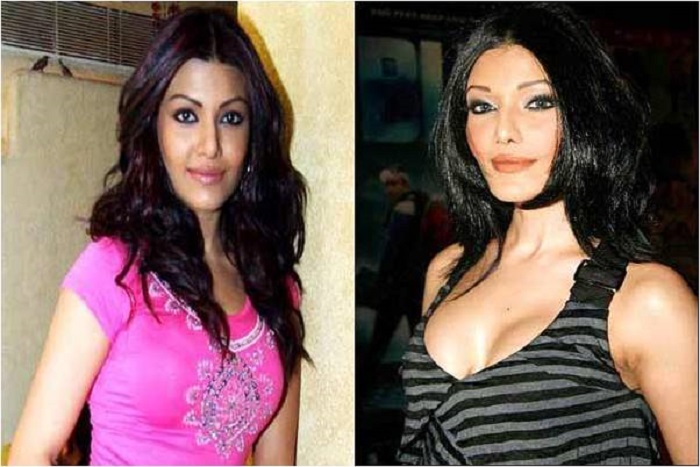 2. Kangana Ranaut: Although, her transformation is really praiseworthy she is also an example of cosmetic surgery. This girl from Himachal made a huge fan following right from her inception with her un-conventional face and hairstyle.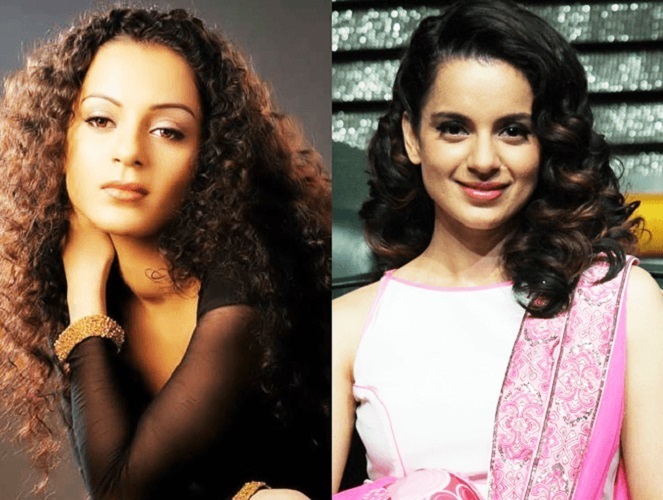 3. Anushka Sharma: Stepping into Bollywood with a grand success, she is another example of Bollywood actresses' plastic surgery gone wrong. Although she is also among the heroines nose surgery list, her lip job was the most talked about a thing and very naturally she has lost her unique face structure.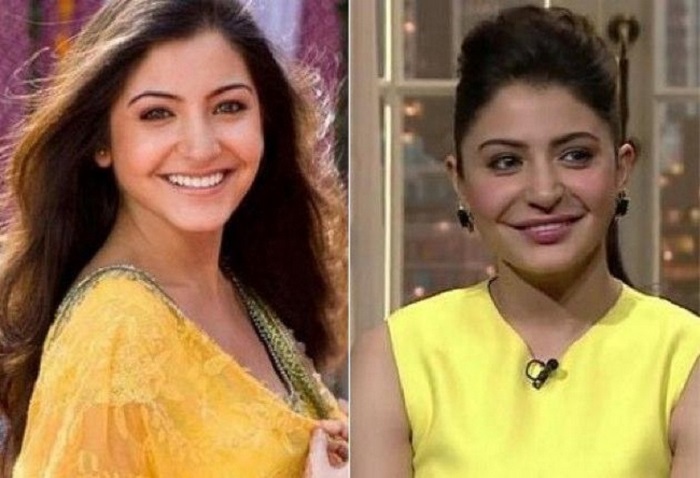 4. Minissha Lamba: She was highly praised and her sweet and charming face could generate so many fans. But it seems, this actress is busy more with her looks than focusing on her acting. Good or bad, can't say for sure but definitely, she has got good competition when it comes to making a name in Bollywood.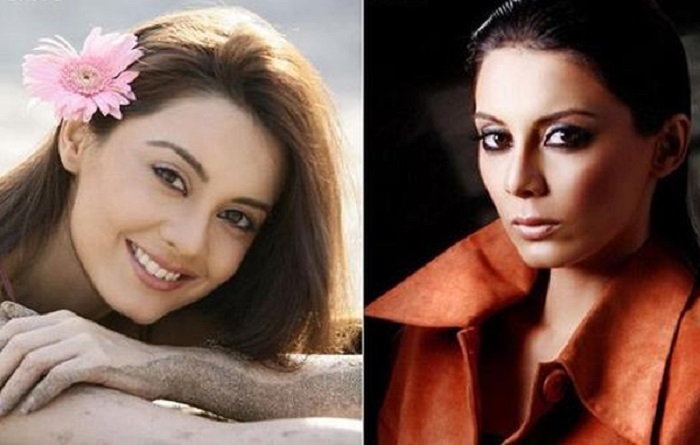 5. Gauhar Khan: Although she is much popular for her side-roles, of late she has gained popularity by participating in the reality shows Big Boss. Well, she had quite a bold figure and a beautiful face, but her recent nose job of trimming it short is looking quite like a bridge.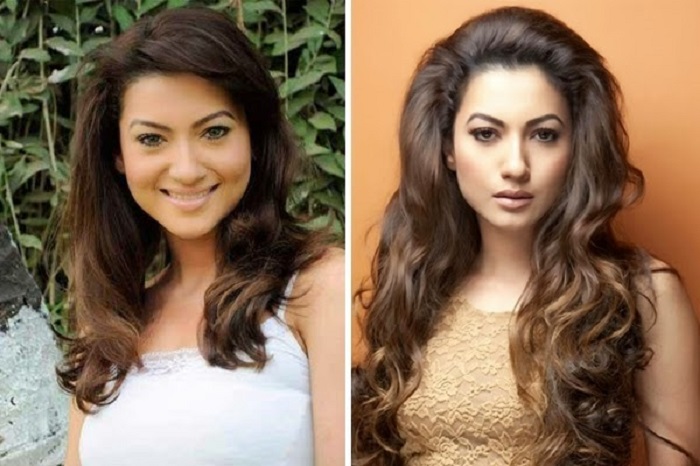 6. Rakhi Sawant: Well, the 'drama queen'. Do you have any other name to address this figure of Bollywood other than this? Well, she tried to follow Pamela Anderson and get her breast and lips and face job done. But little did she know that it will turn out to be a mess! Going through the picture, you can very well guess this Bollywood actresses plastic surgery disaster.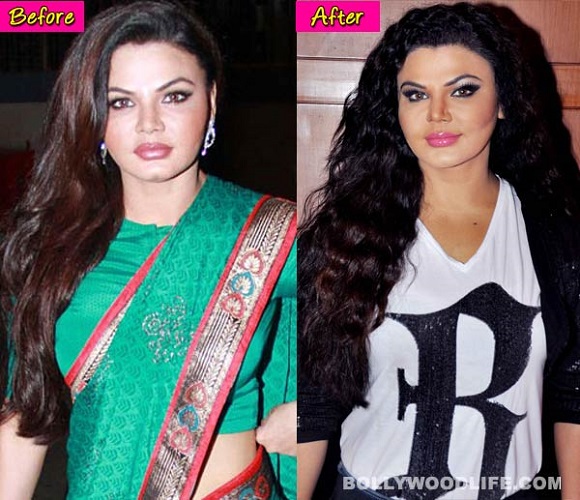 7.  Juhi Chawla: While her smile could give you an addiction, her nose job will definitely give your frustration. That's right, comparing her before and after pictures, it is quite evident that this actress has lost all her charm.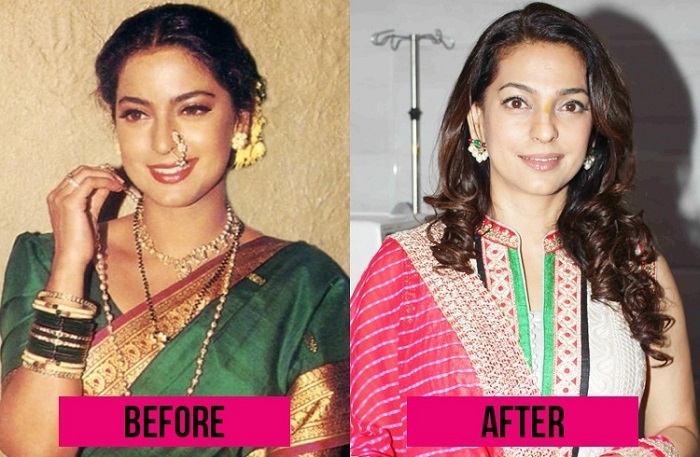 8. Priyanka Chopra: The bold, hot and the beautiful; at least this is how we call this actress. After marking her success in Bollywood, she is up to mark her presence in Hollywood. But what about her surgeries? Although her lips were just perfect and looked damn sexy, it is said that she went for a lip job to make it look beautiful her way.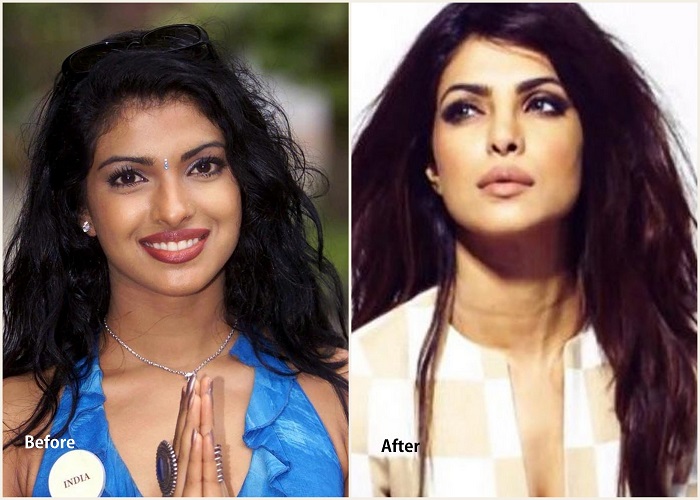 9. Sridevi: She is probably one actress whose plastic surgery didn't go unnoticed. The reason for this is the disaster that happened to her face. Well, have you noticed Sridevi's smile recently? It is very clear that she is struggling to smile even. Well, after a bunch of successful movies and getting that respect, her face has definitely now become a matter of joke.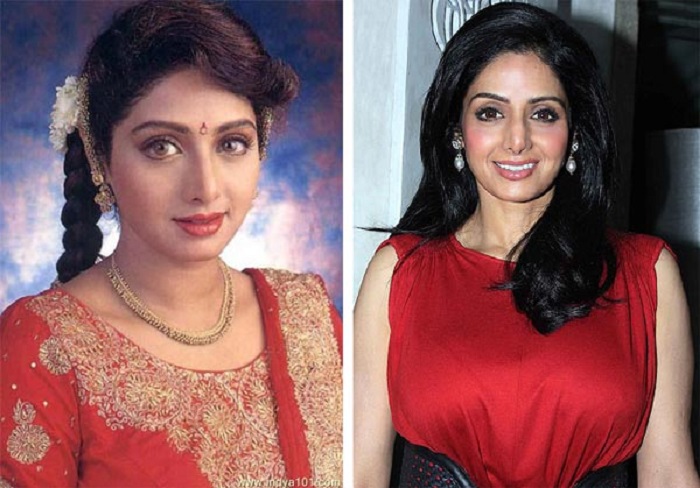 10. Shilpa Shetty: If you are looking for an example of actresses for whom plastic surgery was a grand success, then who better can it be than Shilpa Shetty! Imagine the fact that you used to know of this actress when she was just a newbie to the film industry. Getting shocked, isn't it? She has transformed to become a diva now and with her fitness regime, she definitely gives a tough completion to a lot of actress of recent days.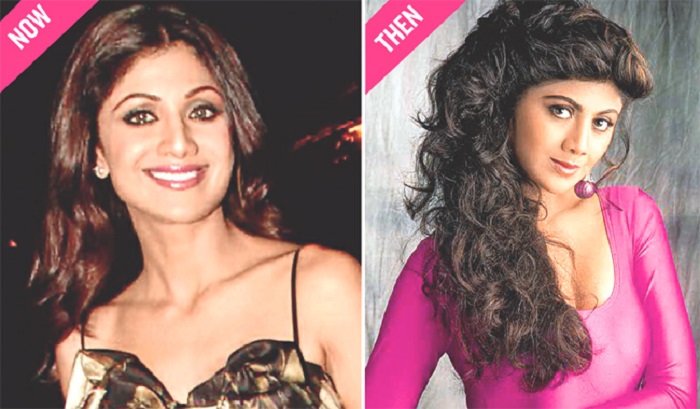 11. Sofia Hayat: While she was able to generate a number of fans from her participation in a number of reality shows, this actress was again in news recently and this time it was her lip job that could manage to catch the limelight. She is looking extremely funny after her plastic surgery.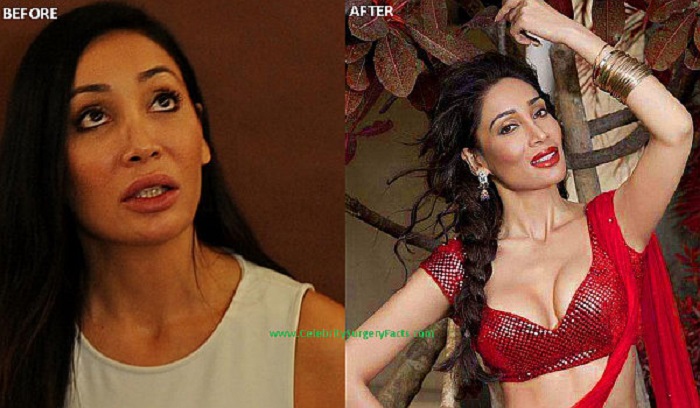 12. Preity Zinta: The bubbly actress that you used to know is no more the same. She is a prime example of Botox treatment and how it can take away your charm! That's right, going by the general reviews, many people have claimed that Preity looked much better before.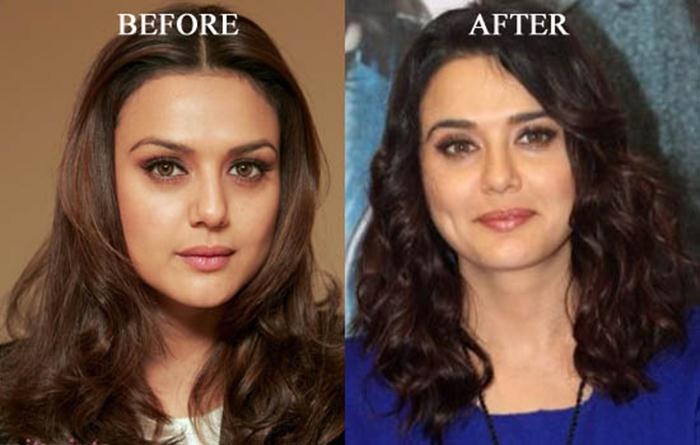 13. Kareena Kapoor: Undoubtedly, this diva successfully ruled Bollywood for quite a few years and is rightfully doing so. But based on her recent pictures, one can easily understand the different surgeries that she went through. The biggest highlight here is her jawline, which is quite distinct now. Although her cuts and lines makes her look brighter than before, she looks a bit older now than before.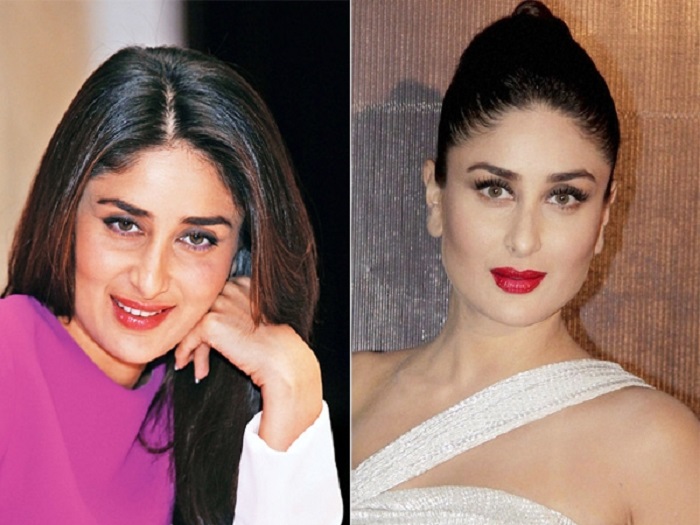 14. Ayesha Takia: Going by her recent pictures, we feel pity for this actress. While she has been doing cosmetic surgeries, her previous breast enhancement and liposuction surgery was not a disaster and because of her big sizes, she could even gain quite a number of fan. But her recent lip surgery was just a disaster and she looked very pathetic. Hope, Ayesha goes for another correction surgery quite soon.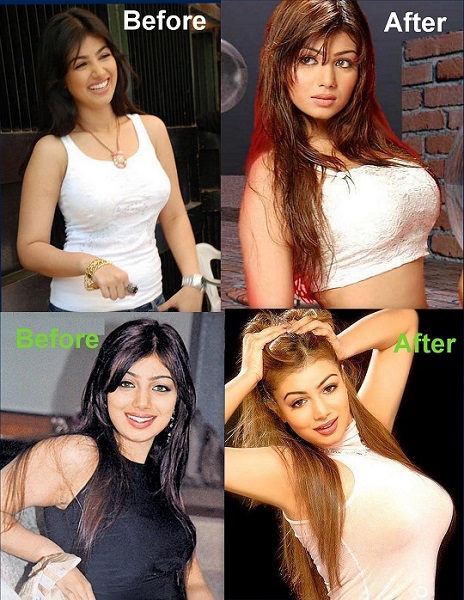 15. Gauri Khan: The last but not the last entry on this list. She doesn't need any form of introduction because of her very famous and talented husband, Shahrukh Kahn. Her transformation over the years is simply mind-blowing but when it comes to her set of cosmetic surgery, her lip job, making her pout more distinct has somehow taken away her real beauty.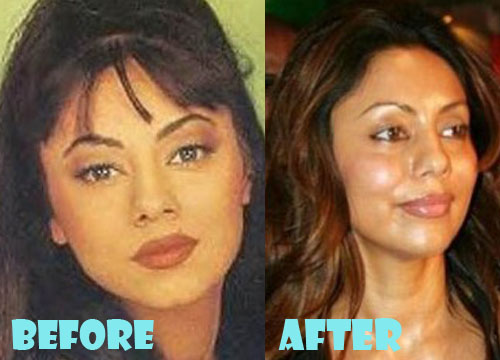 Well, what do you decide then? Up for a cosmetic surgery, or, just happy with the fact that God has gifted you? Do let us know in the comment section below!