Bodylastics 19 Piece Strong Man Resistance Band Set
Nowadays people from all around the world want to stay fit. Whoever he or she may be, a regular office goers or a teenage, everyone wants to look good in terms of styles and their physique. No wonder why people spend so much of their savings in buying useless fitness equipments.
Bodylastics brings to you some of the coolest gadgets you have very imagined by using which make your life much easier than ever before. Using bodylastics might help you to get the kind of resistance even at your home. You might be wondering that this is just another one of the fitness equipments which come and gone but if you spend few minutes of your time in reading the below content you will realize that this is what you actually need.
Bodylastics 19 piece strong man resistance band set might prove to be the exact products for those who love to love to workout in their free time but also travels a lot. This complete set of fitness equipment helps you in achieving the exact heavy resistance, which you often don't find anywhere else other than at gyms. One of the greater advantages of using bodylastics is that, practically anyone can use it anywhere they want without hampering other person's daily routine.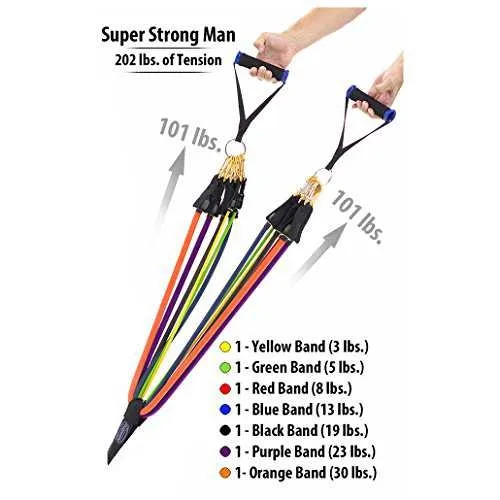 What exactly is Bodylastics 19 Piece Strong Man Set?
Bodylastics are high resistance bands at the end if which a carabiner is attached which gives you the idea about the kind of resistance you will be experiencing while using them. Depending upon the type of product you that you opt for you will receive the gears such as Ankle straps, heavy duty components and many more.
Bodylastics 19 Piece Strong Man Set comprises of 7 Ankle Snap Bands, 4 Heavy Duty Handel, 4 Heavy Duty Ankle Straps, 2 Door Anchors and a bag to cary all these stuffs. The products thus provided to you are made from best materials which will ensures it's durability and longevity. The whole pack also comes with an instruction manual hence there is no need for the beginners to worry about anything.
Buy Bodylastics 19 Piece Strong Man Set
Pros and Cons of Bodylastics
Like every other product bodylastics too have certain pros and cons which you should consider before purchasing such product.
Pros:
The metal carabiner attached at the end of each resistance band has the resistance amount engraved in it, thus enables you to use these products with much more accuracy.
It is comfortable and easy to use without any concerns of getting injuries during the workout session.
Materials used in making of bodylastics ensure the quality of product
Every sellers offer you 3 months guarantee satisfaction as well as life time warranty against any defects.
Portable and affordable, hence you can use it anywhere you want.
Affordable
Cons:
Elderly persons might face difficulties while using such products.
Experienced bodybuilders may find the resistance to be quite lower as they are used to lift far more weights in gym.
The system limits to cardiovascular exercise.
Reviews
The customers who have already opt for bodylastics 19 Piece Strong Man Set are completely satisfied with the product. The wide range of fitness exercise and resistance level of the product no doubt helps them to achieve everything they have ever dreamt of without going to the gym.