Dusky skin tone is beautiful in reality compared to what they actually projected in advertisements. We generally consider fair complexion as beautiful. However, brown skin tone always wins more hearts!!
Dusky-skinned women are blessed in several ways. They have lesser problems of tanning and blemishes; their skin is less affected by UV rays etc. Moreover, Indian make-up artists love dusky skin tone as they can experiment new make-up with this skin color! They can easily use bold and adventurous colors which enhance the beauty of the this complexion.
Related Posts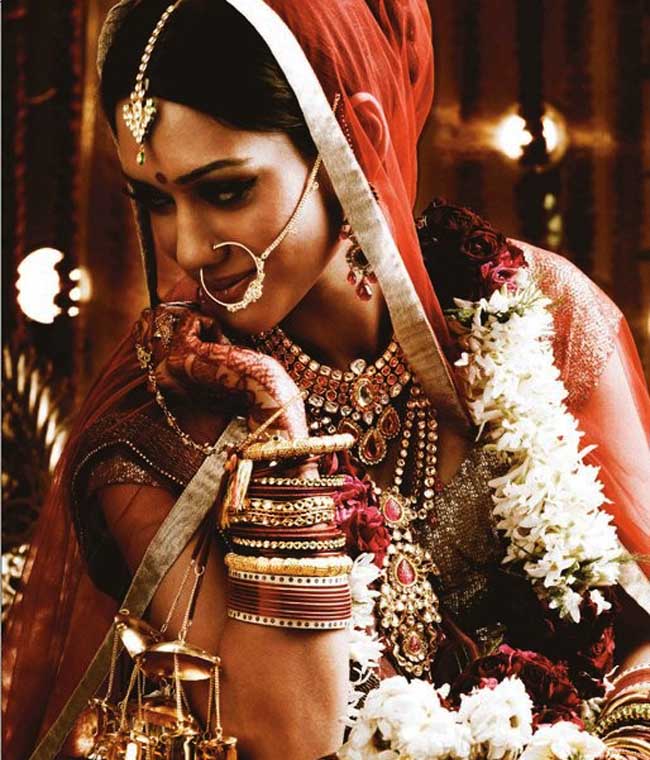 If your special day is round the corner then you should get an appointment with a make-up artist to use his/her creativity on your dusky skin.
However, only make-up cannot make a dusky-skinned beauty, gorgeous. Along with that a dusky-skinned bride also needs to follow some 'secret beauty tips' to look at her best. So, we have listed some beauty tips for dusky skinned ladies to help them look perfect on their special day!!
Moisturize properly
Moisturizing is essential for all skin tone types. It helps in making the skin look supple and fresh. Dusky-skinned beauties with dryness problem feel shy about their looks. But a quality moisturizer after every shower can help them regain the beautiful and glowing skin in no time.
You simply need to invest in a quality moisturizer and use it. This will solve the dryness in few weeks and make your skin look hydrated and refreshed.
Try to pick a moisturizer with glycerin, lanolin and at least 30 SPF for better results!
Tip: Dusky complexion ladies are more prone to acne and pimple problems. So, they need take proper skin care and keep it clean!
Use sunscreen
Considering how hot India becomes during summers, everyone should apply quality sunscreen irrespective of the skin tone. Generally, the dusky and dark skin tone people ignore sunscreen as their complexion is more resistant to the harmful UV rays. However, the experts around the world suggest them to apply sunscreen to protect their skin. It means that dusky skinned brides shouldn't avoid using sunscreens. It keeps your skin safe and healthy. Try to choose sunscreen which is more suited to your skin tone and type!
Find the right Foundation
Foundation is the base of a proper make-up. The right foundation can enhance the whole look. So, the dusky skinned brides should choose their foundation carefully.
You will need two shades of foundation: A light one and a natural skin tone one! The lighter one will go to the center of your face and the natural tone foundation has to be applied onto the rest of the face. This method can make your skin look brighter. The shade should evenly spread out and fix all the discolorations on the face.
Warning: Don't use transparent powder. It gives a grayish tinge which may not look good.
Use quality concealer
Dealing with dark circles and blemishes is one hell of a task. Dusky-skinned brides especially need to take proper care about their blemishes to look their best on their special day. You don't really want dark circles on your wedding day, you really don't!
So, you need to invest on a quality concealer. It counter attacks the blemishes under your eyes. You simply have to apply it on the tops of your cheekbones near the end of your eyebrows. It's more like drawing a triangle. This trick is used by professional make-up artists to conceal dark circles.
Choose the right shade of Lipstick
Picking the right lipstick shade can be quite troublesome if you don't understand your skin tone properly. So first you need to learn what your skin tone type is. Once you know, you need to choose those shades which will suit with your skin color and dress color. Selecting the right shade for your wedding day is more essential so if required, you can also seek help from a professional. However, shades such as soft pink, beige, burgundy, berry, coffee, chocolate, plums, and gold look best on dusky skin tone.
Warning: Stay away from shades which have a shiny or glossy effect to it!
How to Find the Perfect Lipstick Color for Fair, Wheatish, Dusky or Dark Skin Type
Some more tips!!
Darker complexion has a tendency for more oily skin so try to stick to powdery make-up products.
Try to keep your make-up minimal. True beauty comes out only when the natural skin tone is enhanced.
Add a blush of warm colors such as bronze or deep pinks to make your make-up look more exotic!
Try out wild colored eyeliners like purple, blue, green and more on your night-outs.
Don't be afraid of trying out new bold colors in your makeup.
Avoid bright colors in your eye-makeup and go for more subtle colors such as brown, pinks, and grays!
And never forget 'Dark is beautiful!'