The rumors of Kartik Aryaan and Sara Ali Khan dating have been doing rounds since a very long time. This all started when Sara confessed on the Karan Johan chat show that she wants to date Kartik Aryaan. Kartik Aryan who is the current heartthrob of the nation seems to be more than interested in dating the daughter Nawab.
This is a massy vs classy affair as per the words of Kareena Kapoor Khan. Ranveer Singh played the cupid between the two young birds and arranged their meeting on the sets of Simmba. And since then the pair have been inseparable.
https://www.instagram.com/p/BzX-83dl3f5/
The two are sported at many public spaces. They are always dining together or maybe chilling out together. What is more important here is that the two have been cast in Love Aaj Kal 2. And at present, they are shooting for the same in Uttarakhand. The duo is spending quality time with each other amidst the clouds and hills.
When both of them were signed for Love Aaj Kal 2, Kartik was quick to comment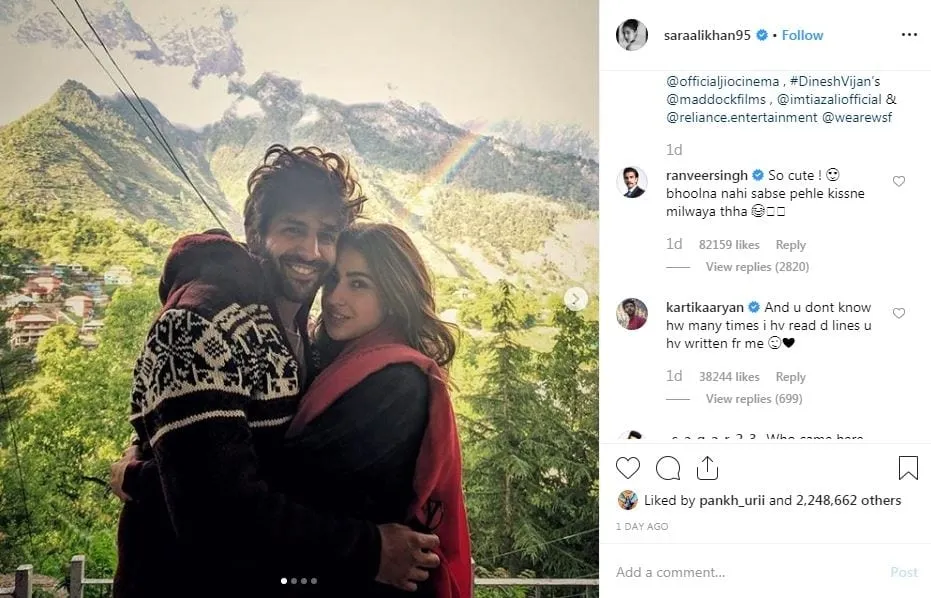 "A film I never wanted to end. Thank you to my dream director. And couldn't have asked for a better saathi in this journey than Princess Sara Ali Khan. Want to work with you again and again and again."
Recommended Read :
Sara even said once
https://www.instagram.com/p/BvbC50iHs8U/
"Thank you Kartik Aaryan for instantly making me comfortable with you, for selflessly giving and for consistently looking out for me. From coffees about you to chais with you, I wish we could do it all over again. I'm going to miss you more than you know and more than I can admit,"
Ranveer as quick and witty as he is quickly commented on the post and wrote
https://www.instagram.com/p/BvPGEYfH_fb/
"So cute! Bhoolna nahi sabse pehle kissne milwaya thha (Don't forget who got you to meet each other)."
Kartik replied to his comment saying:
"And you don't know how many times I have read the lines you have written for me."
It seems that something is seriously brewing between these two. We will get to hear soon.