Playwright, actor, and screenwriter Crazy Mohan passed away on 10th June. The man breathed his last at Chennai's Kauvery hospital when he was just 67 years old. He passed away as a result of his massive heart arrest. On this same day another veteran actor, Girish Karnad has died.
Do check the list of celebrities died in 2019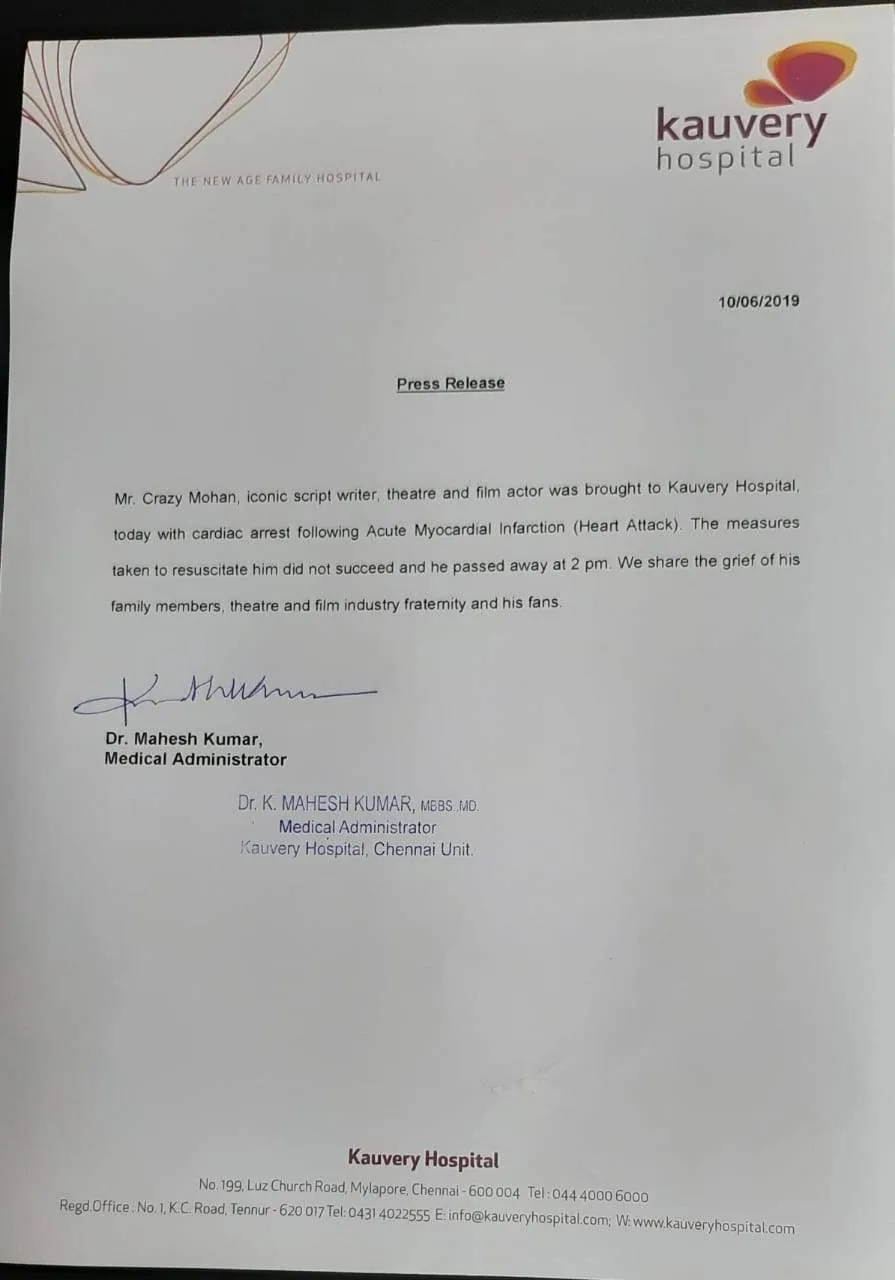 He was born as a Mohan Rangachari in the year 1952. He was quite keen into writing since his college days only. he wrote the script of "Great Bank Robbery" as his intercollegiate contest. He then started writing scripts for his brother Maadhu Balaji's drama troupe. In the year 1976, he wrote his very first full-length play "Crazy Thieves in Paalavakkam". This play earned him the title of "Crazy".
In the year 1979, he started his own drama troupe Crazy Creations which wrote over 30 plays which have been staged more than 6500 times. Some of his most popular plays are "Chocolate Krishna", "Satellite Saamiyar", "Marriage Made in Saloon" and "Return of Crazy Thieves".
Actor Sathish who is a part of Crazy Mohan's drama troupe announced this sad message on social media and the hyper-social media gripped the message quite fastly.
Further on probing, it was found that the actor had a massive heart attack because of which he was admitted at the hospital. And the doctors tried their best to revive him but couldn't and thus the man left at 2 pm.
Many notable people also commented about his death and expressed their condolences.
South Indian theatre has lost two of its darling sons on the same day! Irreplaceable loss! RIP 'Crazy' Mohan sir🙏🏽

— Rahul Ravindran (@23_rahulr) June 10, 2019
Even few days back when I met my friend dir @rs_prasanna we were talking about #CrazyMohan sir and how he added value to our film #KSS his writings and performances have always been top notch. His comedy sense non stop. A fantastic human. RIP Crazy sir. Will miss u

— Prasanna (@Prasanna_actor) June 10, 2019
Deeply disturbed to hear about #CrazyMohan sir.

— Prasanna (@Prasanna_actor) June 10, 2019
Will miss him #CrazyMohan , very sad.

— Radikaa Sarathkumar (@realradikaa) June 10, 2019
OMG #crazymohan saar!!! My deepest condolences to the family. #ripcrazymohan

— venkat prabhu (@vp_offl) June 10, 2019
https://twitter.com/Actor_Siddharth/status/1138004924560683008?ref_src=twsrc%5Etfw%7Ctwcamp%5Etweetembed%7Ctwterm%5E1138004924560683008&ref_url=https%3A%2F%2Fwww.news18.com%2Fnews%2Fmovies%2Ftamil-actor-and-playwright-crazy-mohan-dies-at-67-condolences-pour-in-2180123.html
Recommended Read:
Bosskey, actor and stand up comedian also wrote
"Dear MOHAN ! I never thought u would be so crazy to jus leave us in life ! How will i ever forget u literally stalking me to make me write stage plays ?! The times in 1980s when i accompanied u for ur vethala paaku sessions? the immortal lines u have spoken to me on humour in various forms ? the wisecracks of urs even on the sad occasion of ur dad's passing away ? Mohan, u have deprived us all of atleast 3 more decades of jokes and laughter ! I wish somebody does a revival act like ur Vasool raja sequence ! I poignantly ( ur pet word) presume that u have just left to a different planet to entertain another tribe of humour lovers !But here, the humour world is now short of one erratic genius…CRAZY MOHAN ! love u boss !"