Talk about the best entry level stethoscope and you remember the name of 3M Littmann Lightweight II S.E. Stethoscope. It is an ideal medical instrument with its dual-sided chestpiece, tunable diaphragm and highly reliable acoustic performance. Due to its teardrop shape, auscultation around blood pressure cuffs becomes easier.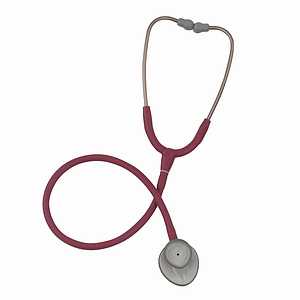 Buy Stethoscope and Read Customers' Review
3M Littmann Lightweight II S.E. Stethoscope is preferred by medical practitioners for providing reliable acoustic performance that is highly desired for obtaining accurate blood pressure readings and physically assessing adult patients. It weighs just 118 grams so it is extremely light, which makes it highly comfortable for physicians who have to carry it all through the day.
Recommended Post
It features tunable diaphragm technology, which is a 3M invention that allows clinicians to hear sounds of different frequency by making simple adjustments to the pressure on the chestpiece. Chestpiece held with light pressure allows hearing low frequency sounds whereas a little more pressure allows hearing high frequency sounds. This is a time saving feature that aid in better patient care. The non-chill diaphragm and rim ensure additional patient comfort.
Fold it tightly into a pocket, but it will not lose its shape and flexibility due to the resilient tubing construction. Squeeze together or pull apart the eartubes to easily adjust the headset tension for comfort and head size. Soft-sealing and snap-tight eartips easily fits individual ears offering excellent acoustic seal and perfect fit with great comfort.
The use of natural rubber latex has been avoided in its next generation tubing to help sensitive users and patients. In order to avoid any threat on human health and environment, the tubing system is kept free of phthalate plasticizers. It is made in USA and comes with large soft-sealing eartips.
Millions of medical professional find 3M Littmann Lightweight II S.E. Stethoscope quite useful when it comes to achieving the best patient outcomes. The instrument also ensures superb acoustic performance with its high-quality construction.
Some smart features to look for:
Designed with a simple tear-drop shape to fit easily under the blood pressure cuff
Extremely light in weight instrument that ensures reliable and clear response to make for an ideal entry level device
Has anatomically designed headset that is angled to meet the ear canal path
Provides comfort with its Non-chill rim and diaphragm
Diaphragm is tunable that responds with a simple pressure change to capture high and low frequency sounds
Strong and durable instrument backed by 2-year warranty
The downsides of 3M Littmann Lightweight II S.E. Stethoscope:
Some users found this stethoscope limiting in performance during complex diagnostic procedures, but they also agreed on its quality, which they confirmed to be high for basic physical assessment like blood pressure.
A few users also found the diaphragm to be highly prone to damage.
Final words:
The stethoscope is of high quality, overall with its light in weight construction and clear acoustics and rugged exterior. If you have to wear for all day long, then this is definitely a good purchase. Users give it an average rating 9.5, which is really good and gives quality assurance as well.
This is what users have to say about 3M Littmann Lightweight II S.E. Stethoscope. Share what you personally feel about this product. Do you really find a great product to spend your money for?
Buy Stethoscope and Read Customers' Review