Women with long and beautiful tresses are always desired by men because with every new hairstyle it gives you a new look. Long hair is the USP of Indian women and they love to give them some twist and turns to adore a new look.
Nowadays, Indian women are following the western trend of short or medium length hair but at some point in time, they miss those long locks.
India is rich in culture and traditions and there are various hairstyles for Indian women which will suit your face cut which can be easily styled and you can even carry those hairstyles at your workplace.
There are various options of hairdo such as buns, curls, wavy styles, braid, twist, puffs, and many more. You can accessorize them with hairpins or flowers. Normally Indian hairstyles have middle parting but the new contemporary look also includes side parting.
Let's discover some new hairstyles for Indian women of 2023: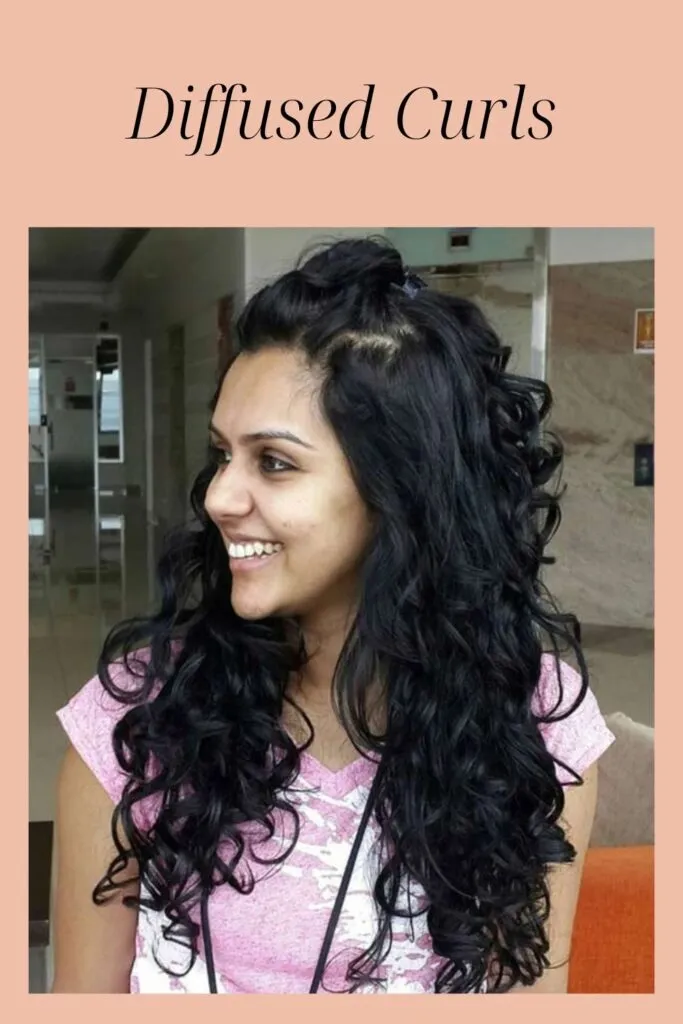 Naturally diffused curls are a commonly seen hairstyle in India. Most Indian women prefer to pin up the crown region with a claw clip or a hair clutch leaving the rest of the hair to fall free from the shoulders. These curls are usually detangled or lightly combed. It is worn daily by college students and teenagers in India.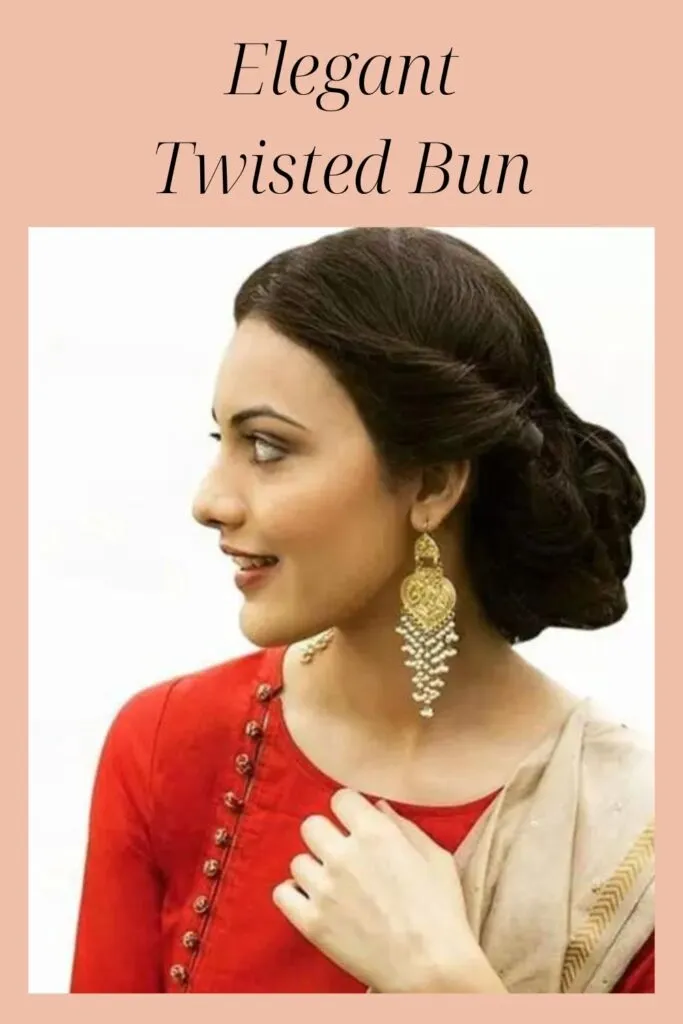 A side-twisted elegant bun is a go-to hairstyle for Indian women in their 30's or 40's. Indian women are seen wearing this style in traditional pooja and nuptials too.
To get this hairdo, section your hair from the middle, twist the bangs from either side and pin it to a low bun in the back. This look will give a classic look enhancing your face.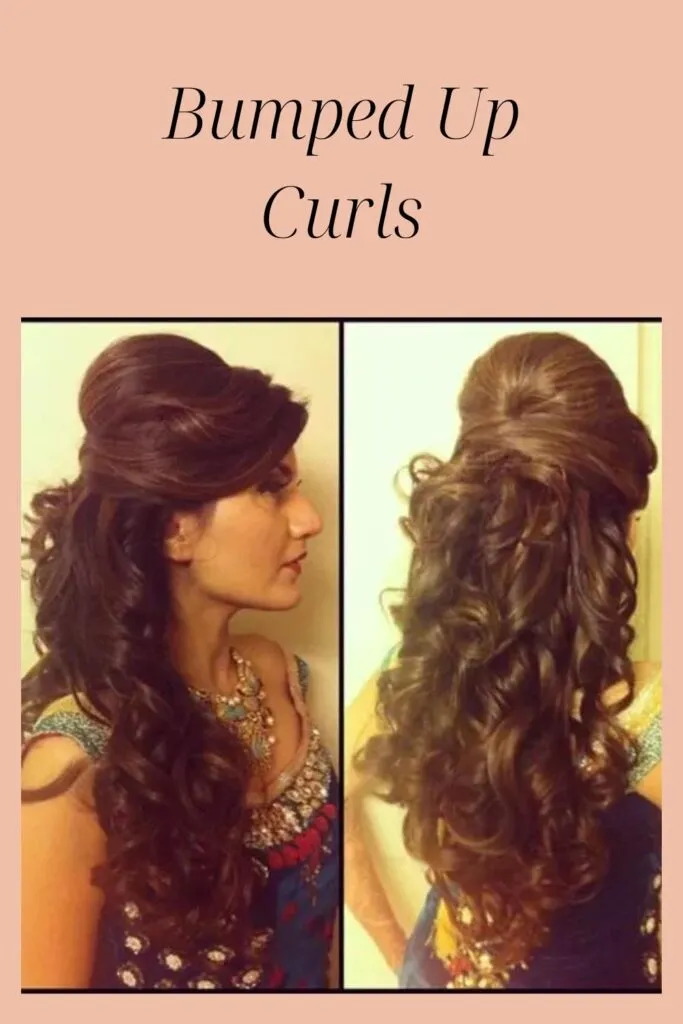 Loosely curled long locs with a bump in the crown region is an elegant hairdo commonly seen in Indian women. The hair from the front line is gathered to make a high curvy bump, usually referred to as a puff by Indians.
Accessories like puff makers that usually come with a clipping mechanism are used under the hair to get a thick hair bump. Many Indian women prefer this hairdo for attending parties and weddings.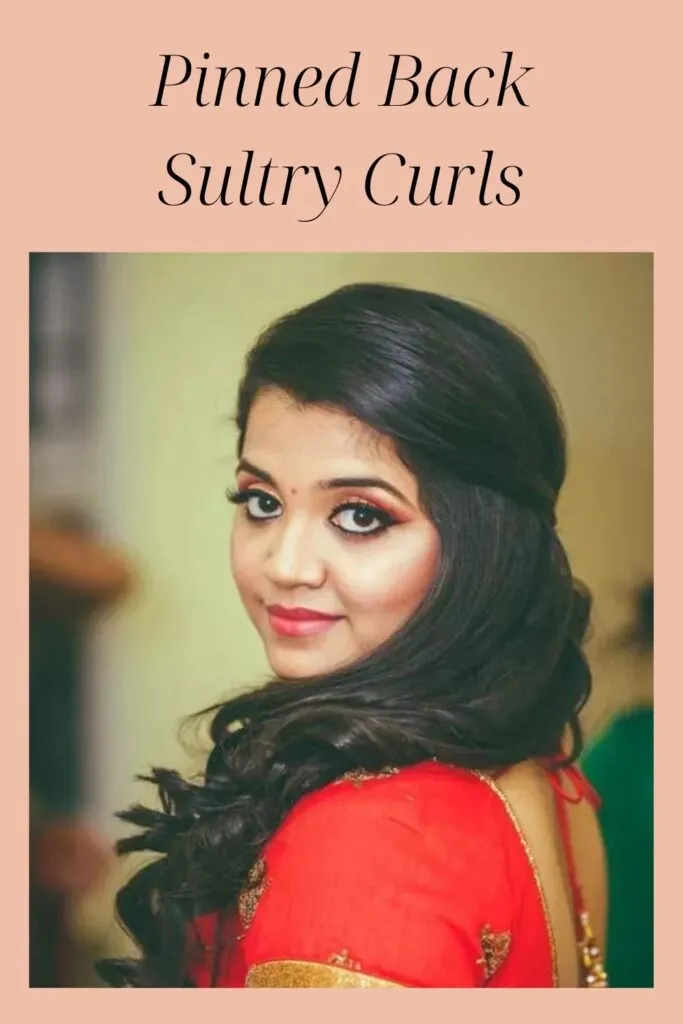 Slightly curled edges make the long locs look more beautiful. To get this style start with a side partition, comb back all the hair cleanly, and secure it in the back with a claw clip. Detangle the loose hair and curl the edges to get a lovely look. These pinned-back sultry curls look good on sarees or traditional Indian outfits.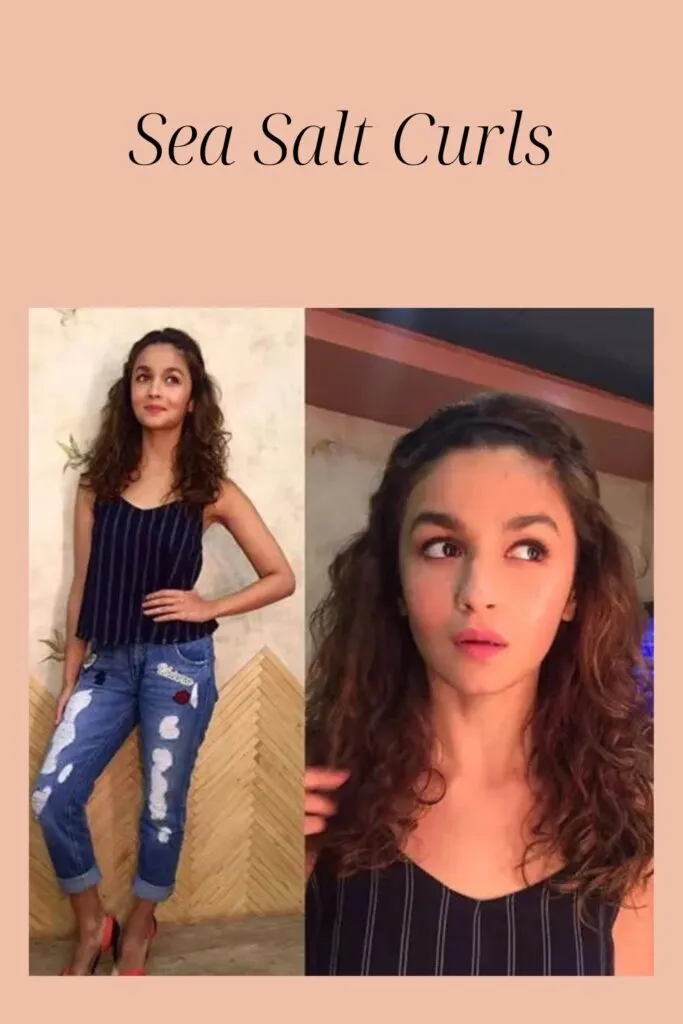 Women with short hair can try this style. It is a free-spirited look for any college student or teenager. Top knot your hair and add a hair band to enhance the look. These sea salt curls absolutely look cute and are an easy way to style your frizzy hair.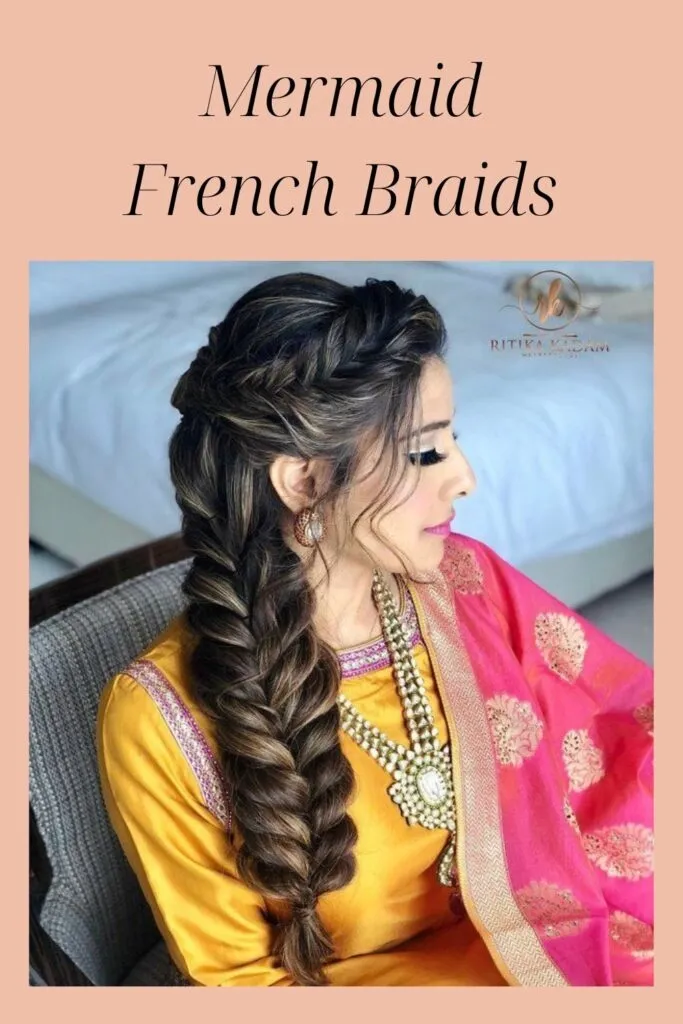 Super cute mermaid french braids will definitely make you feel like a princess. First, section your hair from the middle and start making a tight french braid until you reach the crown region. Then braid the rest casually and secure both braids with an elastic. You can try this style on western or indo-western outfits.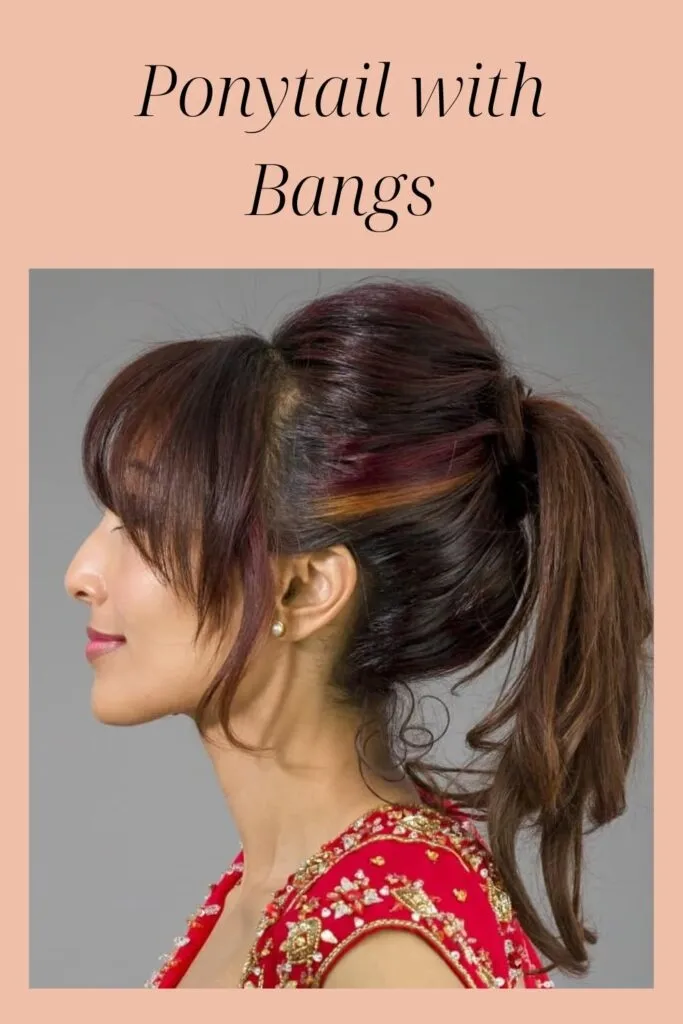 Ponytails can change any outfit's look completely from an old basic look to a classic hot look. This ponytail with bangs is an easy option to begin your super hot transformation. First, combat all your hair leaving the bangs, make a medium puff, and secure it into a ponytail. Then, comb down the bangs to fall freely onto the face so it can enhance your face and collar bones.
Braided Half Up Half Down Hairstyle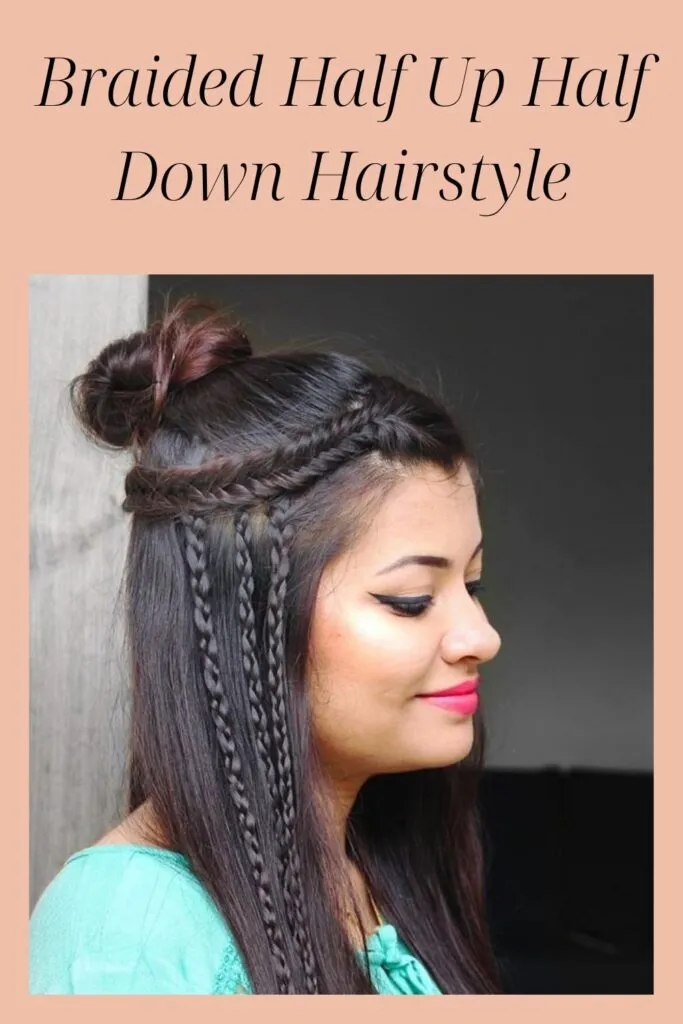 This hairdo is for Indian women with long hair; it matches all your ethnic outfits and can also try indo-western looks. Section the hair in the crown part, leaving the temporal and frontal hair. Tie the hair in the crown part into a tight bun, and braid the frontal hair at a backward angle to fix it in the back. Make some loose braids from the temporal region and secure them with elastics. Let the loose braids fall free onto the shoulders.
Three-Strand Fishtail Braid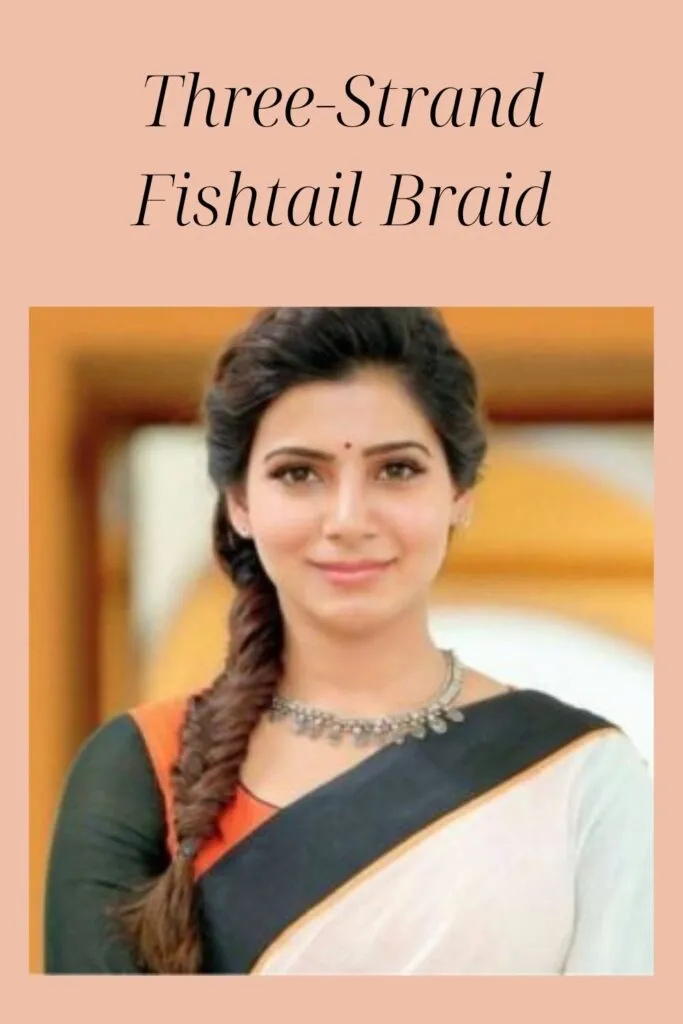 This hairdo might look tricky, but it has a simple trick to get this awesome look. First, section your hair into three as we usually do for a normal braid; start braiding a fishtail with two side strands using the middle as a common strand. Finally, grab some hair from the side strands alternatively for every step. This hairdo goes well with any Indian outfits like sarees and Kurtis.
Wavy Hairstyle with Side Partition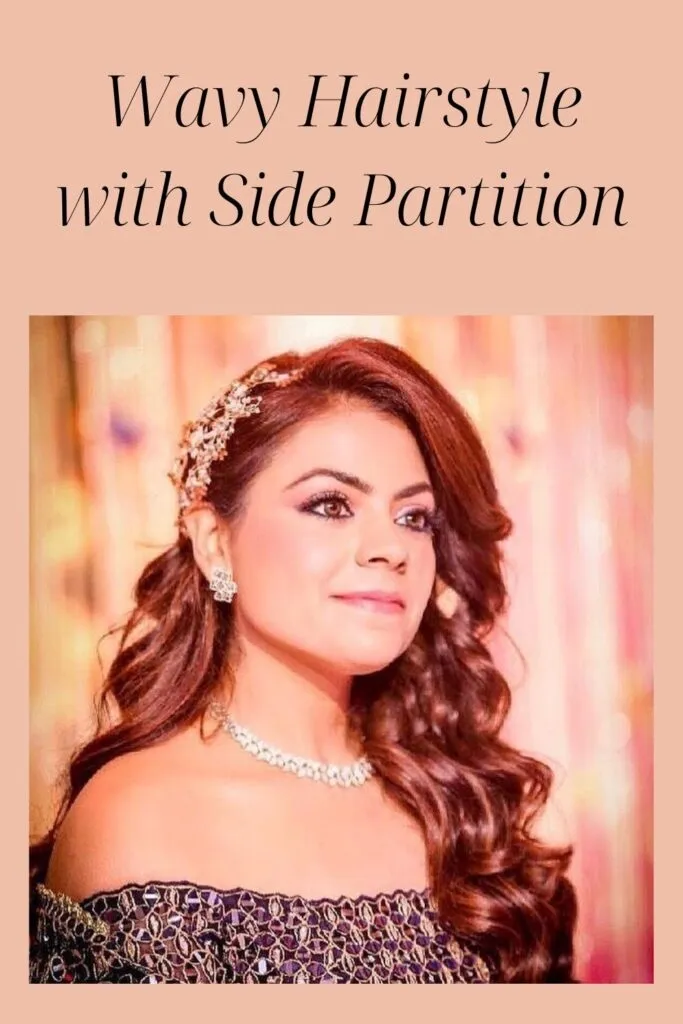 You can try this hairstyle for weddings and parties by adding some accessories like a side mang tika or Jhoomar and chandeliers. It enhances the beauty of your long waves. To adore this look, you have to brush your curls, then make a half side partition and leave bangs on the sides and wear a Jhoomar on the left side as shown in the picture. If you don't have curly hairs then you can go for perming. You can also wear this hairdo in the office with light makeup, but no jewelry as it will be too much bling.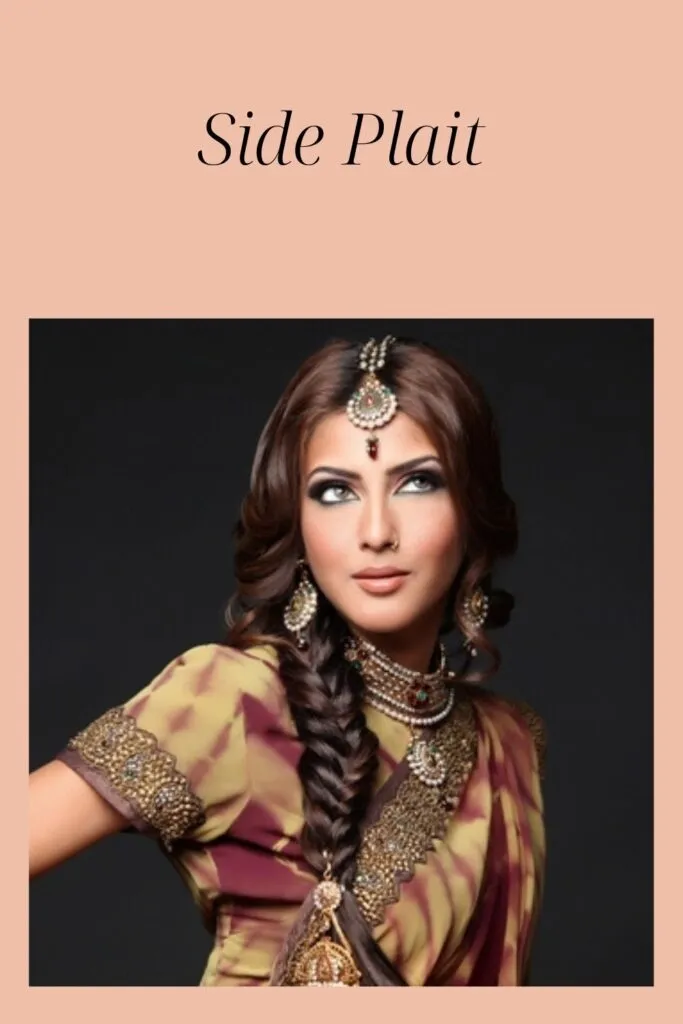 A regular plait is a common Indian hairstyle and seems boring sometimes, but aside plait is very much in vogue. You can make a side plait either with a side parting or middle partition and wear a mang tika and matching danglers or chandeliers. To make this hairstyle you have to make a side or middle partition and then tie your hair in a loose plait or braid on one side. Pull out some bangs near your temples and curl them so it falls on your face and gives you a sensual look. Complete this look with light makeup and some jewelry. You can try this hairstyle casually or even at parties.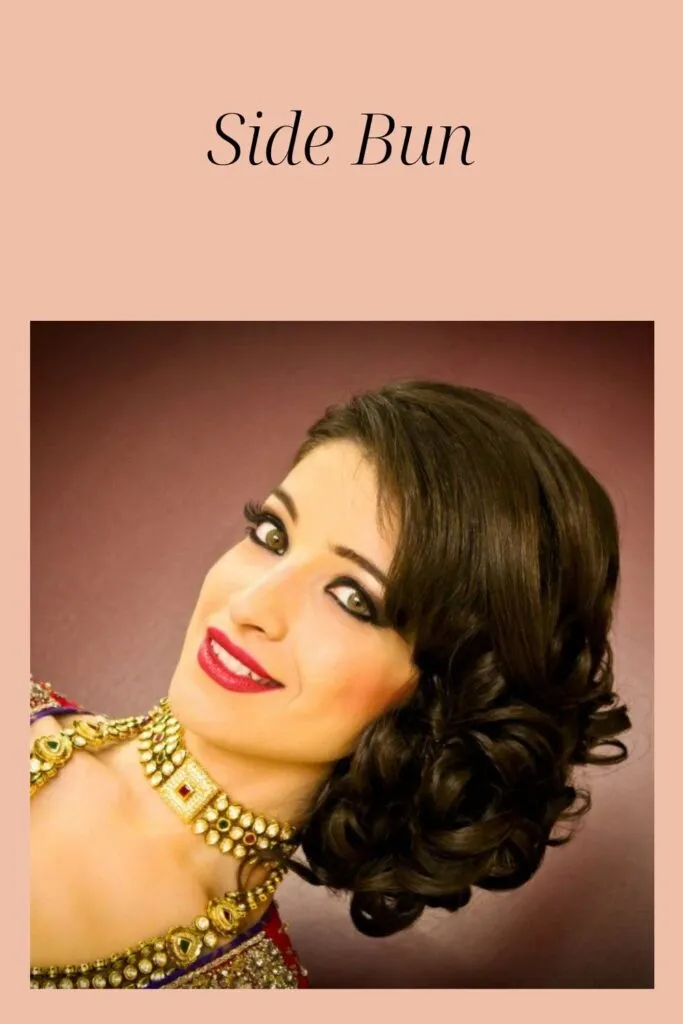 A messy low side bun or a braided bun is very classy and easy to carry hairstyle. It is an ideal hairdo for summers and it looks very sexy with a deep black blouse or backless choli. To make a side bun, comb your hair gently to one side. Divide the hair into three or four parts and make small braids out of them. Make a knot by holding the small braids at one place below the ear. Complete the look with minimum or small jewelry because the beautiful pattern on your bun it will get all the attention. You can enhance the look by placing a beautiful flower on the bun.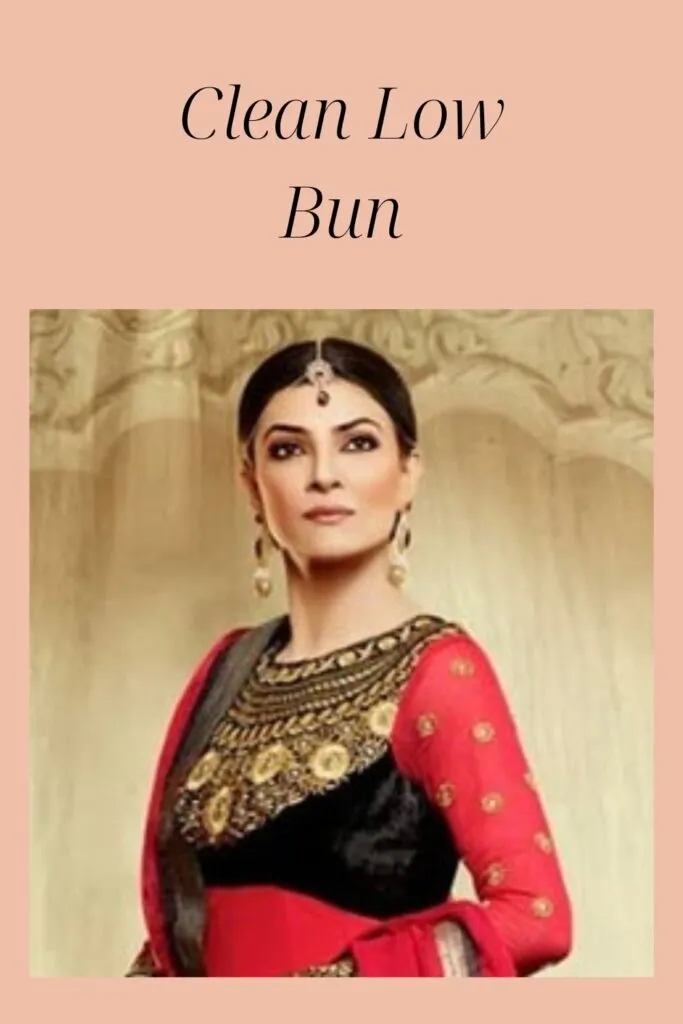 Messiah has its own charm and very popular nowadays but a clean look is an evergreen style. Indian women usually prefer this style in daily routine, festivals, or special occasions. This traditional style can be made with or without partition and team it up with simple accessories like mang tika or gajra (flower garland). This style highlights your facial features like cheekbones and forehead. Apply some serum or spray-on hair and comb them in the backward direction. Hold them tight to make a low bun and use some hairpins to hold it in place.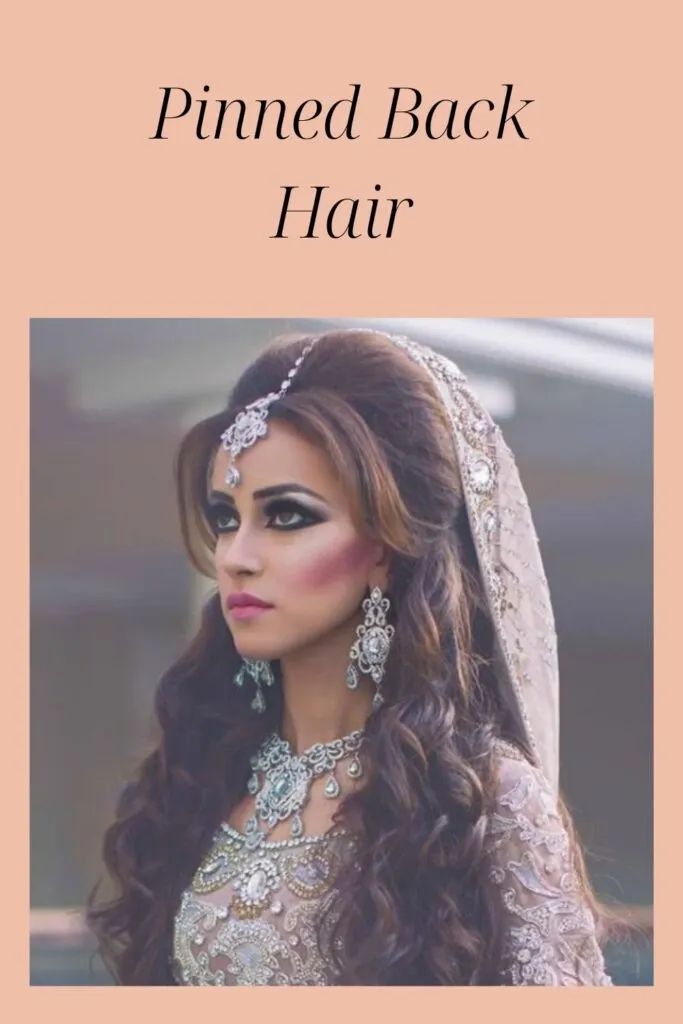 This is a very elegant hairstyle when it is done properly and make your hair look voluminous. To get this hairdo, you have to comb your hair just above the forehead to make a partition and do some more combing behind the partition to add some volume to the back hair. Pull some hair from either side of the partition and pin it on the backside with a hair clip or pin. Let the rest of the hair fall in wave and end in curls on the shoulders. You can either leave it like that or ornate it with jewelry. This look highlights your eyes, cheekbones, and covers the forehead with beautiful bangs on either side.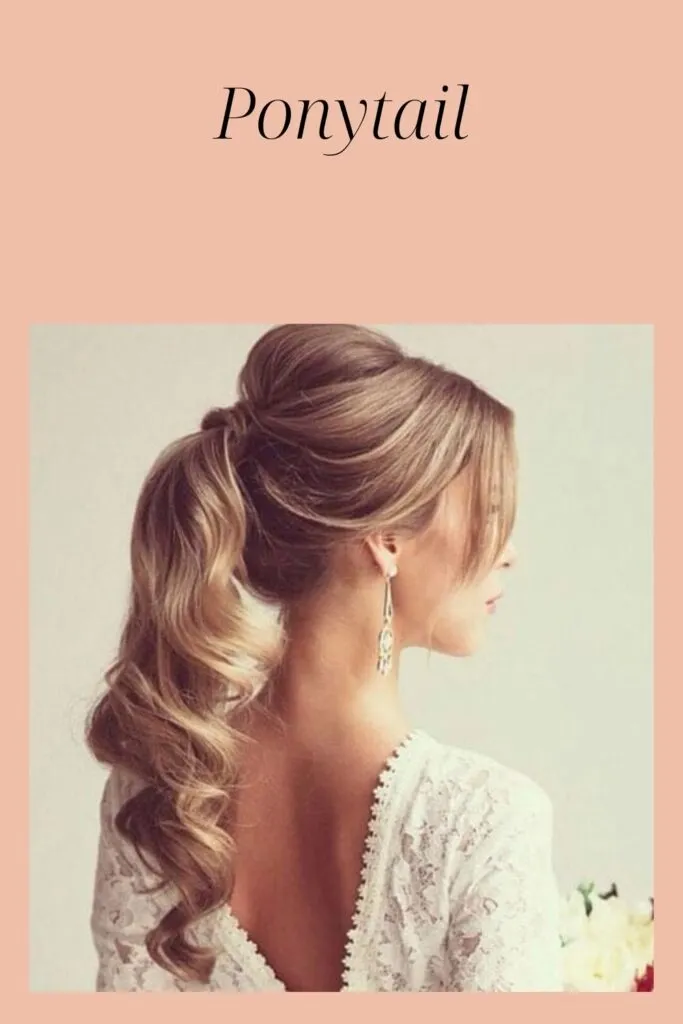 This is the evergreen hairstyle and totally fuss free. You can make it in the blink of an eye and ready for your work. This is a very clean hairstyle that puts the focus on your face. You can pair this hairstyle with large sunglasses and small jewelry like studs. You can make this hairstyle by combing and pulling your hair in a backward direction and tie it with the help of a rubber band. You can carry this look with any outfit be it Indian or western. It looks cool and makes you appear taller.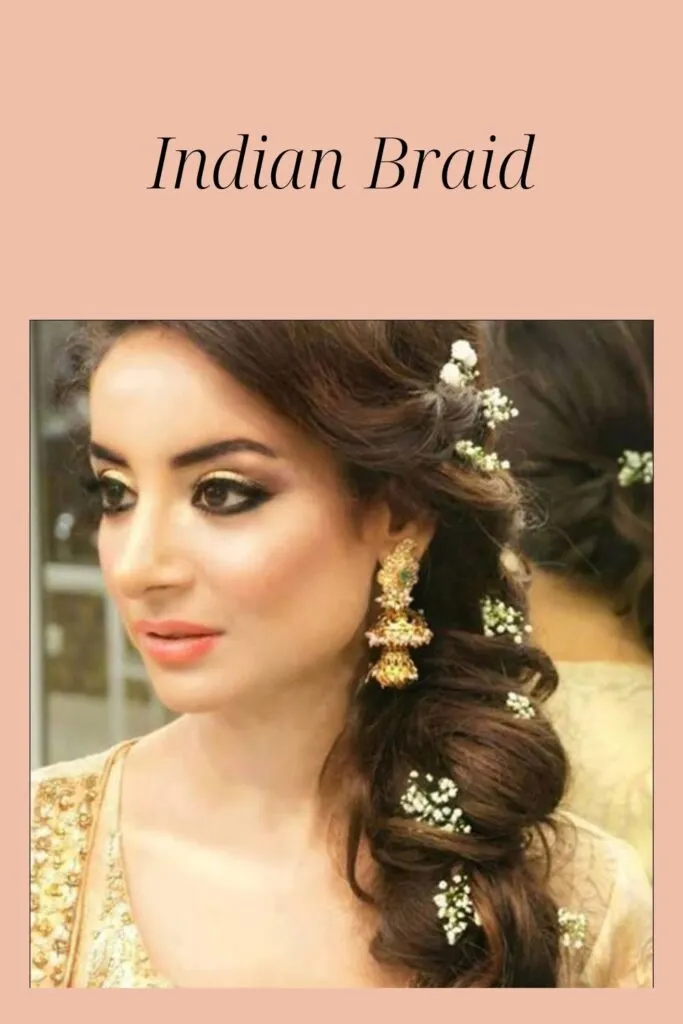 This is especially for those who have long hair, but you can add false hair if you have short or medium length hair. It is mostly preferred in weddings in south India and braid is decorated with flower garland by wrapping it to the length of the braid. To get this hairstyle you have to remove all tangles in the hair, then hold all the hairs into a ponytail at the back and comb it again. Fix the hair with a rubber at the center and divide the ponytail into three sections of the same density. Hold the right and left section in respective hands and hold the middle section in either hand in such a way that it remains separated from the other two sections. Then put the right section in the middle section so it becomes the new center section and hold the middle section in your right hand. In the next step, put the left section on the new middle section and hold the middle section in your left hand. Continue to braid by switching between left, middle, and right sections by repeating the above procedure till you reach the end of a ponytail and then put a rubber band at the end of the braid.. You can twist a flower garland around the braid to ornate it. You can make this braid with or without partition and pair it with a mangtika.
Which hairstyles for Indian women do you like the most. Tell us in comment section.